Bill Alston
The RGZ Export Series

An RGZ Custom in Purple Pearl
This range was made in Taiwan except for the Custom and The 820R BS which were made in Japan. Again it looks as if except for the 820R BS the period was around 1988 to 1990 some models appear in the 1990 catalogue none in the 1991, also none in the 1988 US catalogue. I have no access to 1989 catalogues to check which models appeared in them. I am reasonably certain that the 820R BS was made in the early 90s but I can't find any catalogues with that model in. Axebition a site which is usually correct says it is 1993 to 1994. The R at the end of any model indicates a reverse headstock, some models also have a p version, This appears to be later models with slightly different specs as I will explain later.
It is worth noting that D in the model name indicates direct mounted pickups whereas a P indicates a pickguard.
An X in the neck pocket would indicate a Limited Edition.


RGZ Custom
Pictured above this is the top of the range:
Body Lightweight Ash
Neck Maple and Mahogany through neck
Pickups Active 2 Yamaha HIPS single coils and a Yamaha HIPS Humbucker with coil split
Measurements 648mm scale 350 mm radius 43 mm Nut width
Fretboard Bound Ebony
Frets 24
Bridge RM pro 11
Controls 1 volume 1 tone mid boost and 5 way switch
Colours Black, Pearl White, Rosethorne Red, Purple Pearl
Astonishingly the one pictured above was sold by guitar auctions for only &pound260 plus auction fees

RGZ Standard


Body Maple Top Mahogany Back
Neck Bolt on Flamed Maple
Pickups Passive 1 Humbucker 2 stacked single coils
Measurements 648mm scale 350 mm radius 43 mm Nut width
Fretboard Bound Ebony 24 frets
Bridge RM Pro 11
Controls 5 way switch, 1 volume 1 tone and coil split
Colours Orange Sunburst, Trans Blue, Cherry.

RGZ 820R
This is the signature guitar of the American rock guitarist Blues Saraceno. As mentioned earlier best information is that this guitar was made in 1993 and 1994 although strangely a picture of the man with his signature guitar appears in the 1992 catalogue but that catalogue contains no details of the guitar.


Some Pictures of this unique guitar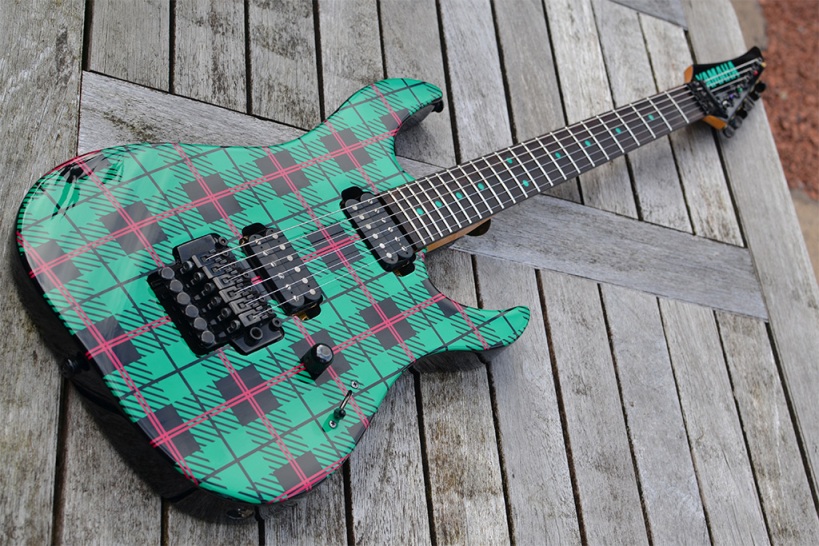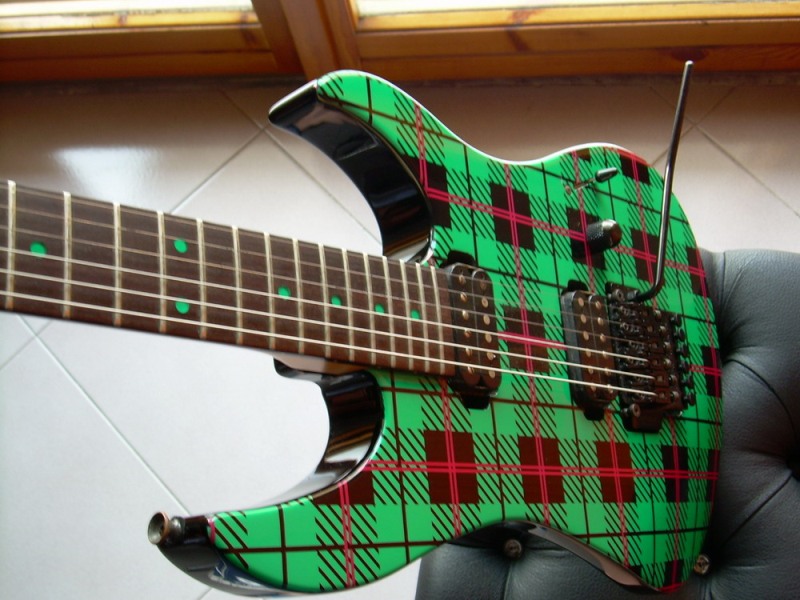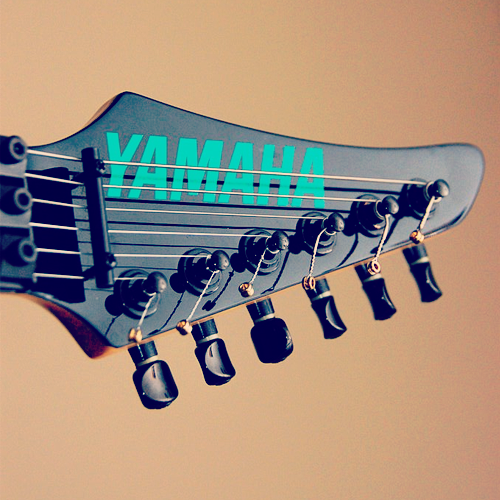 Specifications Body Basswood
Neck Maple Bolt on
Pickups Active 1 Yamaha GR-4 Humbucker and 1 Yamaha GR-5 Humbucker
Measurements 648mm scale 350 mm radius
Headstock Reversed with Green Yamaha logo
Fretboard Rosewood
Frets 22 Jumbo
Bridge TRS pro
Controls Black 1 volume and 3 way switch
Colours Green Plaid with green dot inlays also said to be available in Black, or Red Metallic but I haven't seen these colours and suspect they don't exist.

Launch Advert