Yamaha Superflighters

This is my own SF500
I have resisted for a long time adding Superflighters to my pages, mainly because of the excellent Superflighter website run by Liam. As at October 2023 the site isn't available so I have no idea what's happened to it.
I have decided to include Superflighters anyway just to do it in my own style and provide easy comparisons between models and ranges.
Yamaha Superflighters Ranges and Models

The conventional wisdom is that:
1977 to 1980 First generation SF500 SF700 and SF1000*
1980 to 1982 Second Generation SF3000 SF5000 SF7000*
1982 to 1984 Third Generation SF400 SF600 SF1200*
There is also a mysterious SF800 seemingly a limited edition made in 1984
* This is as per most sources including Liam's site however as I type this I am looking at the Yamaha 1981 catalogue (UK) and the only SFs in there are the 500 and the 700. However the Japanese 1981 catalogue shows the Second series. The 1981 US and Canada Catalogue has no SF models at all. I can't find the second series in any Western catalogues. The third generation appears in a western catalogue that cannot be later than 1982 but not showing as "new models". I wonder if the so called second and third generation were not really export and domestic models. Further evidence of this is that only the first and second series appear in the Yamaha Archives.
A note from Leon
Leon who is Mimasu on the Yamaha Musicians forum has provided the following information
The third series seems like export only, but not to the US. The third series (SF1200, 600, 400) is first mentioned in the 1982 Combo Products nr 9 indicated as "New". In the same year the second series (SF7000, 5000, 3000) still is mentioned in the Japanese catalog
The third series is included in the export catalogs of 1982 and 1983 as printed for Europe (don't know if they were used elsewhere).
The US export catalogs of 1982 and 1983 don't include the third series.
Last catalog mentioning the third series is the 1984 Combo Products nr 11.

What we can now be sure of is
First series 1977 to at least 1981
Second series Domestic only 1980 to probably 1982
Third series Export excluding North America 1982 to 1984

The Superflighters first series
These appear in the 1977 Japanese and English Catalogues, obviously intended for all markets. I don't believe there is any difference between the Domestic and Export offerings.
A comparison of the specs
All models are 24 Medium Jumbo Frets,Tune O Matic style Bridge, 628mm (24.75") Scale 350mm (13.75") neck radius and grover style Yamaha branded tuners. They all came with a fitted hard case

| | | | |
| --- | --- | --- | --- |
| | 1000 | 700 | 500 |
| Body | Maple and Alder | Maple and Alder | Taun and Mahogany |
| Neck | Maple set neck | Maple set neck | Mahogany Bolt on |
| Fretboard | Ebony split pearl markers | Rosewood split Pearl Markers | Rosewood dot markers |
| Pickups | 2 Yamaha F-I Humbuckers | 2 Yamaha F-II Humbuckers | 2 Yamaha F-II Humbuckers |
| Controls | Speed dial type 2 volume 2 tone with coil split 3 way switch | Speed dial type 2 volume 2 tone no coil split 3 way switch | Speed dial type 2 volume 2 tone no coil split 3 way switch |
| Hardware | Gold Plate | Chrome Plate | Chrome Plate |
| Colours | Blond or Oil Stain | Persimmon Red or Brown Stain | Ivory White or Brown Sunburst |
Strangely the catalogue says all of these guitars weigh 4.3kgs (9.5Lbs) as they are different woods I can't see how there can't be differences in weight but I can vouch for mine being pretty heavy.
Some Pictures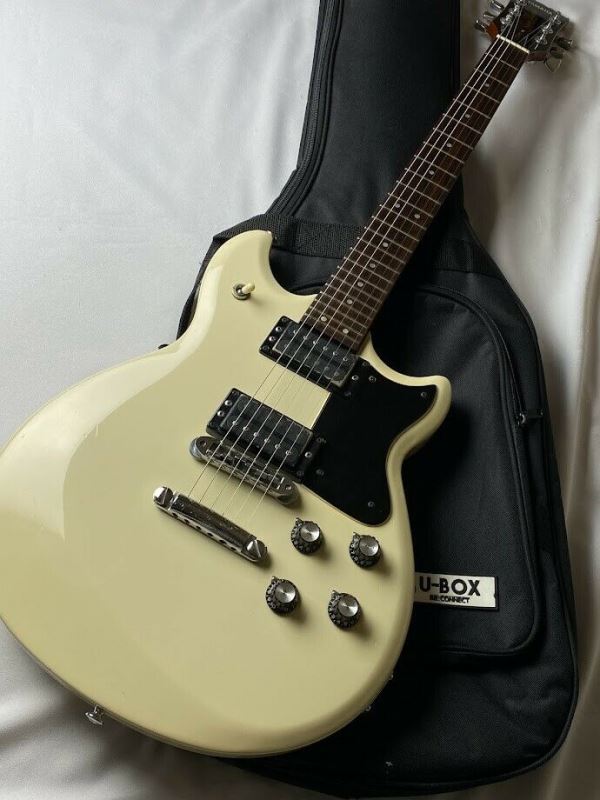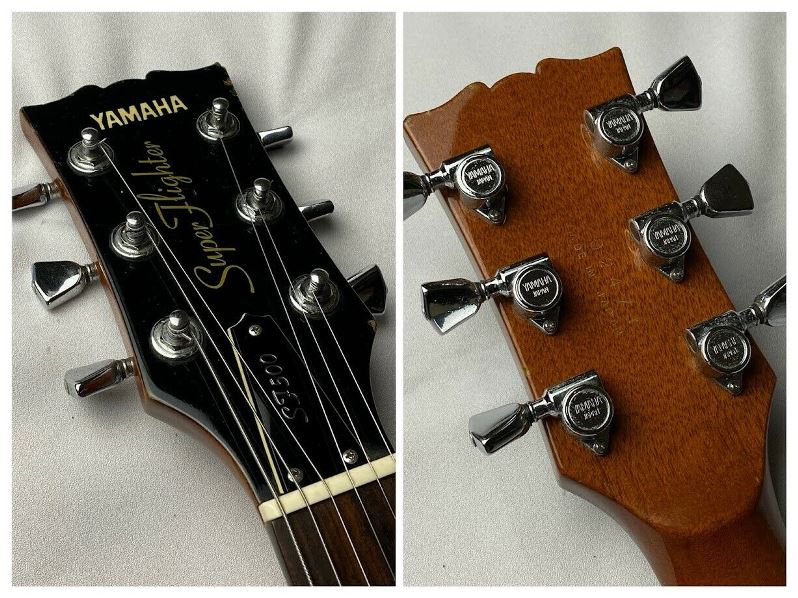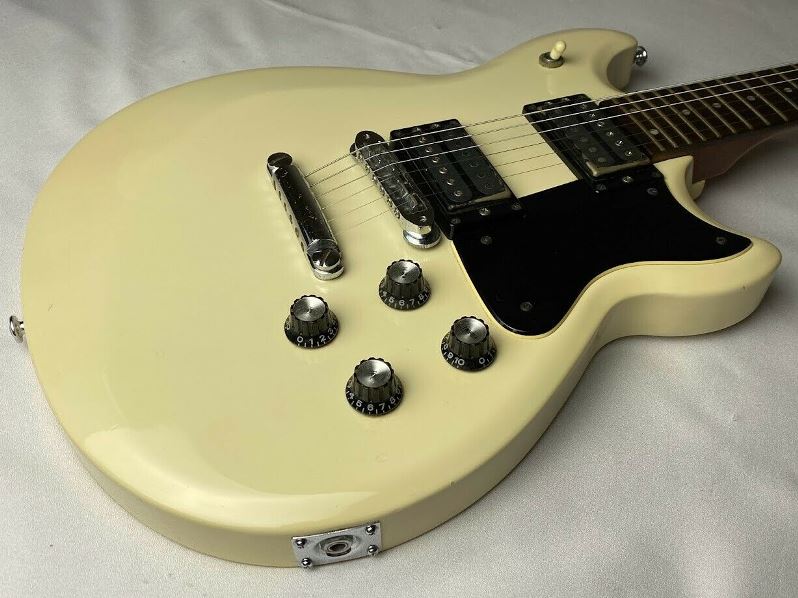 This is an Ivory White SF500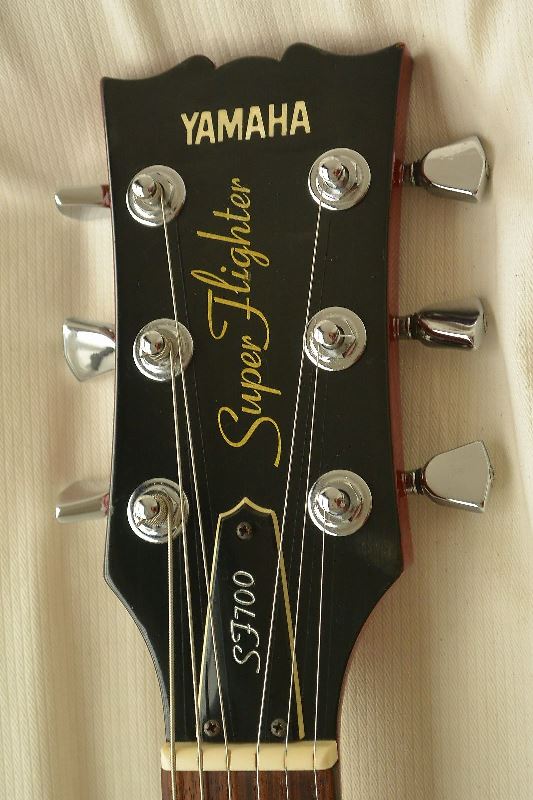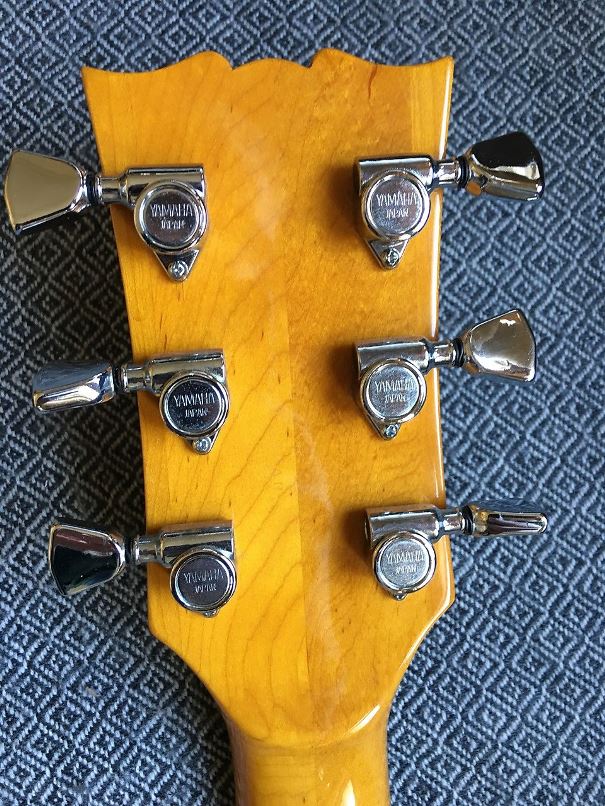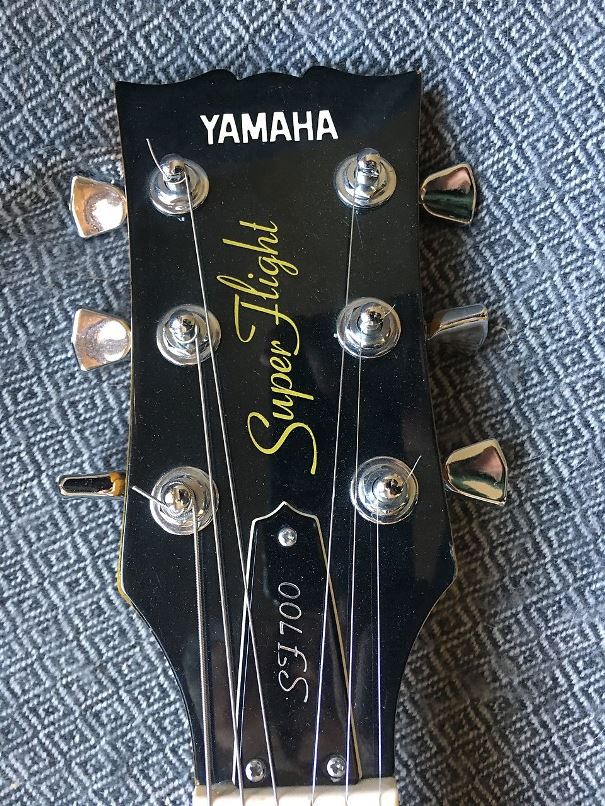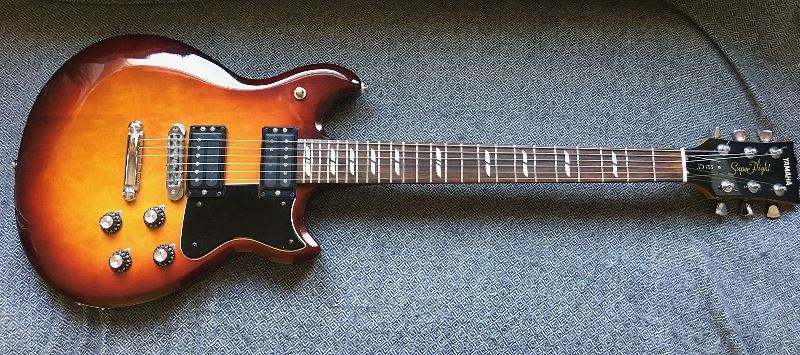 Details of the 700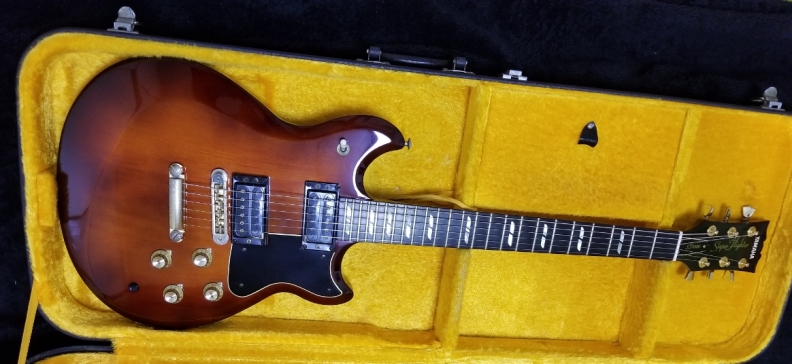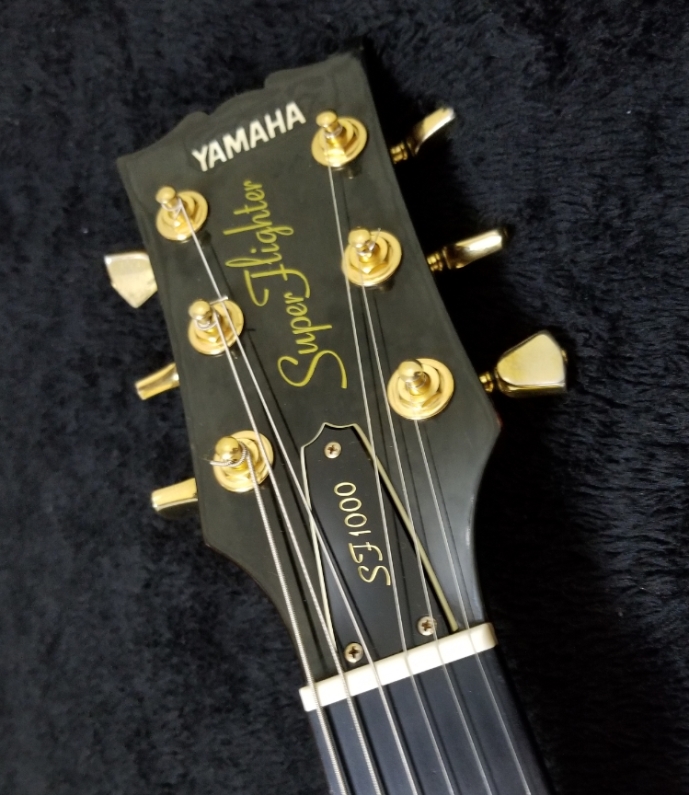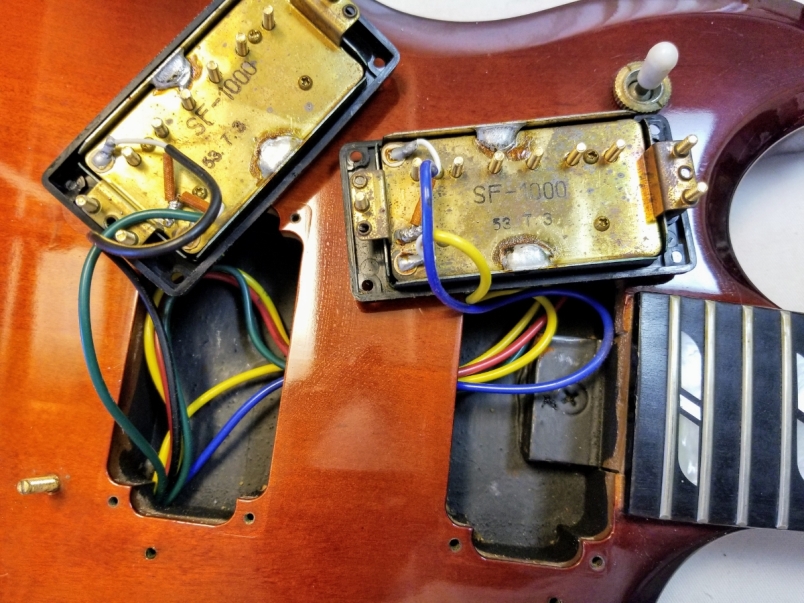 A 1000 particularly note the number on the pickup the 53 indicates the 53rd year of the reign of Hirohito this makes the guitar 1978. You can date many Yamahas and some other Japanese guitars this way.
Next on to the second series.
Second Generation