Yamaha YSG Guitars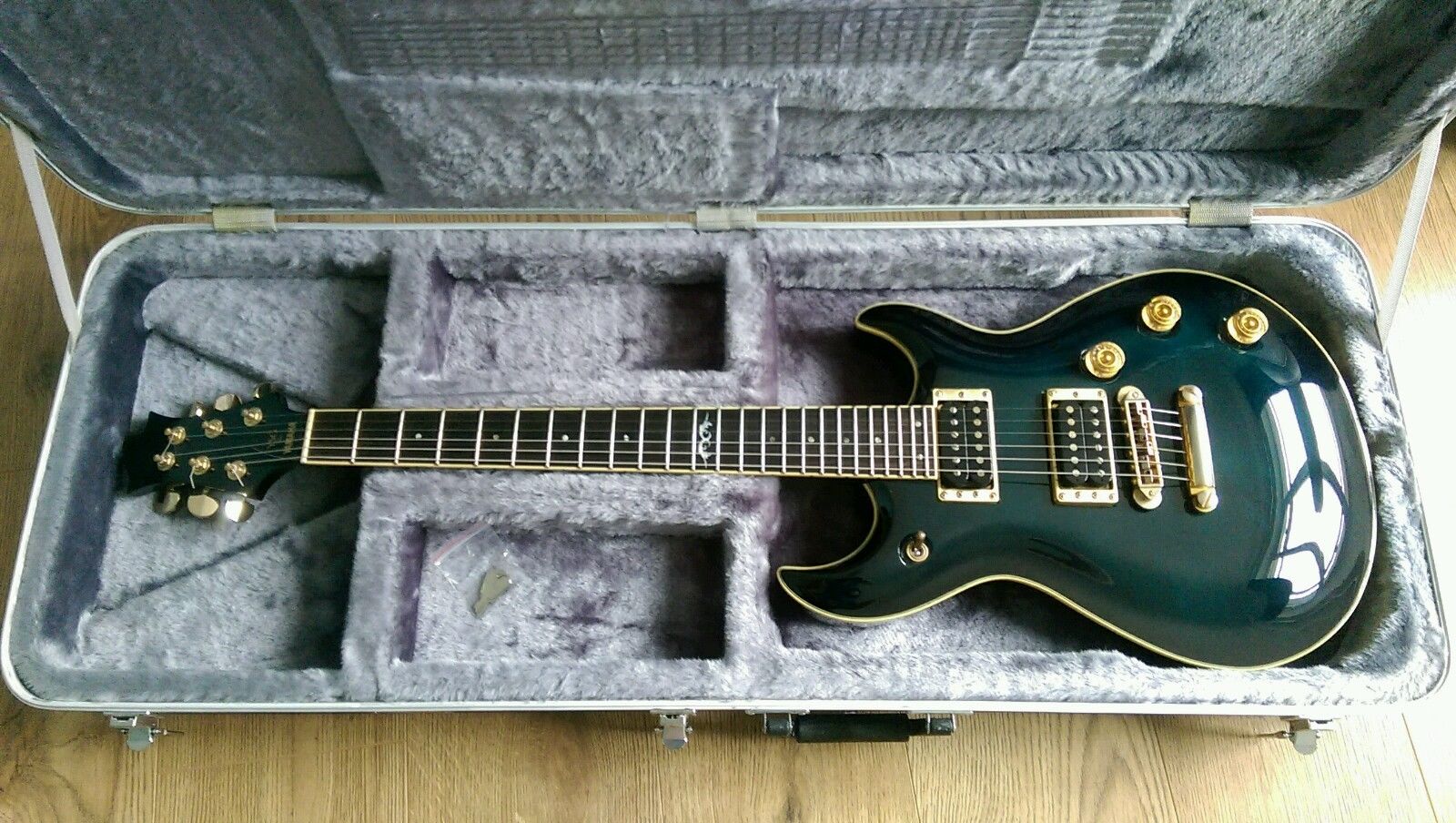 This YSG1 recently sold on Ebay for £500 in September 2016 which is probably too much. The bridge marks it as not a T and the gold hardware as a 1 not a 2.
The YSG range consists of 4 models all launched in May 1988 and discontinued in 1990. They were for the Japanese domestic market only although it is known that a few came into the UK possibly by mistake. There is a full comparison of specs available at the end of this page. The models are designated the 1 the 2 the T1 and the T2. The 1 and the T1 had gold finish hardware the other two chrome. The T series have vintage pro bridges and the others TSG-1G (tunomatic style) bridges. Hence it is fairly easy to tell which model.
Some pictures showing the different models
First the 1 Gold Hardware tunomatic style bridge as above.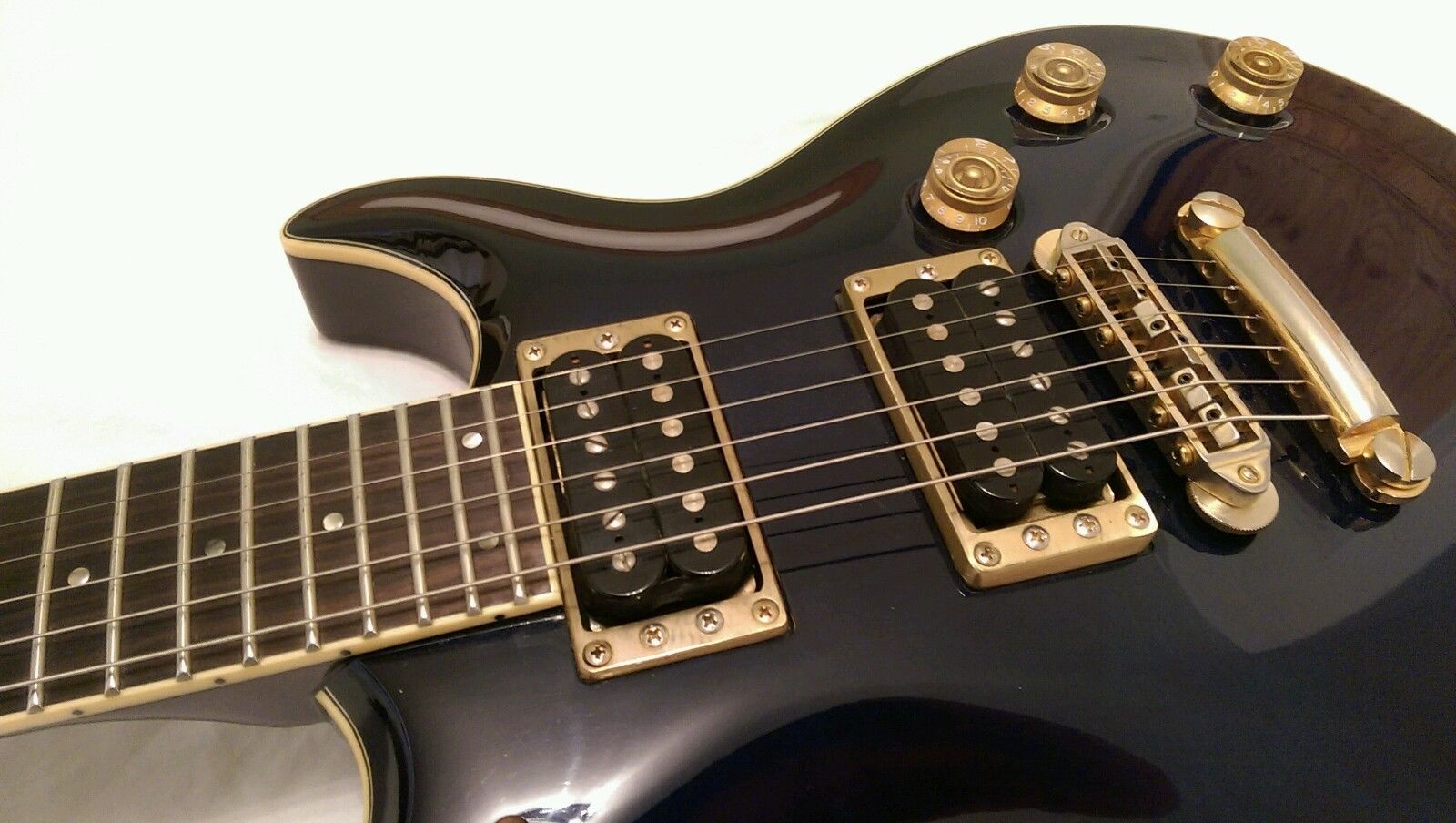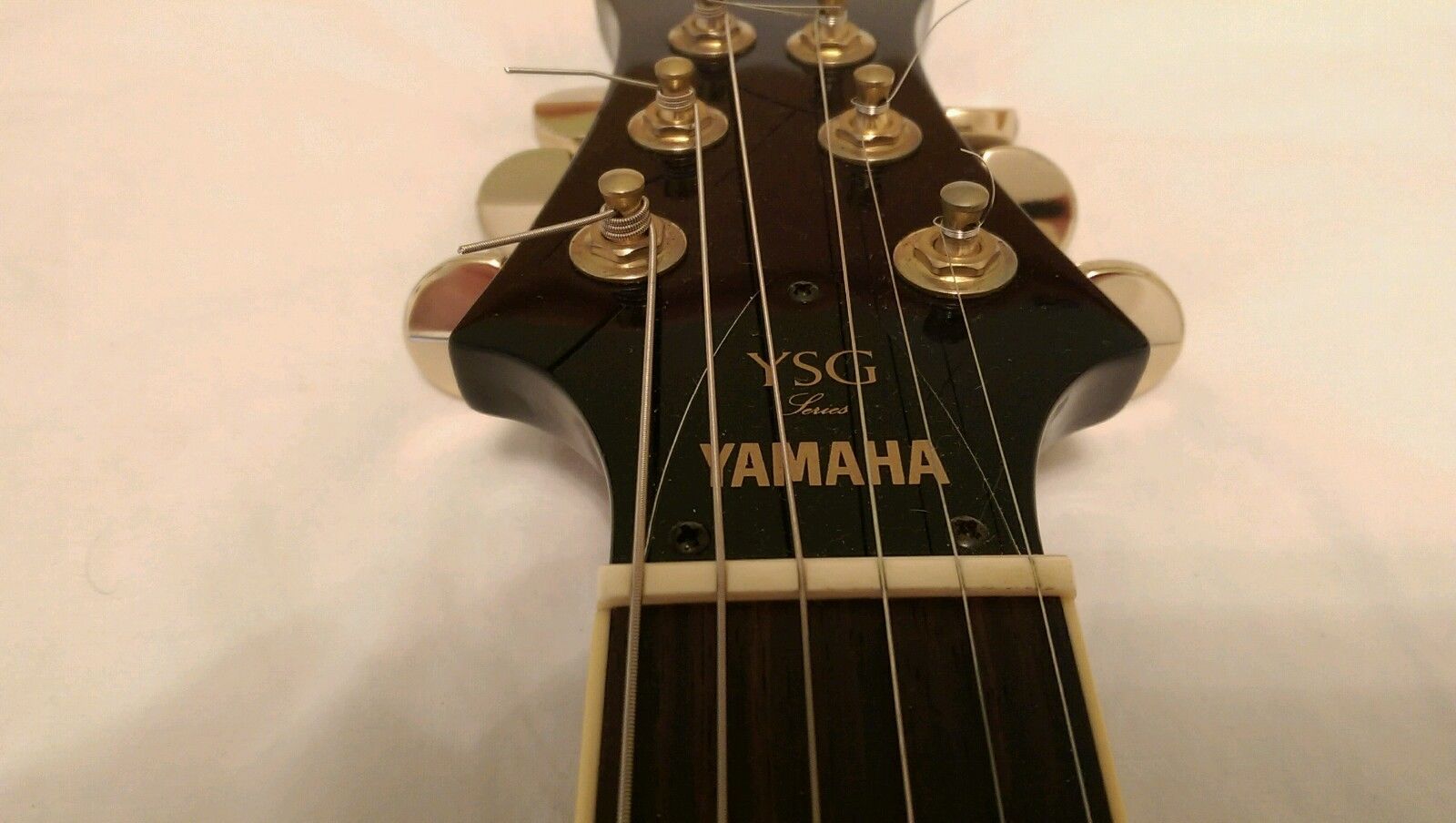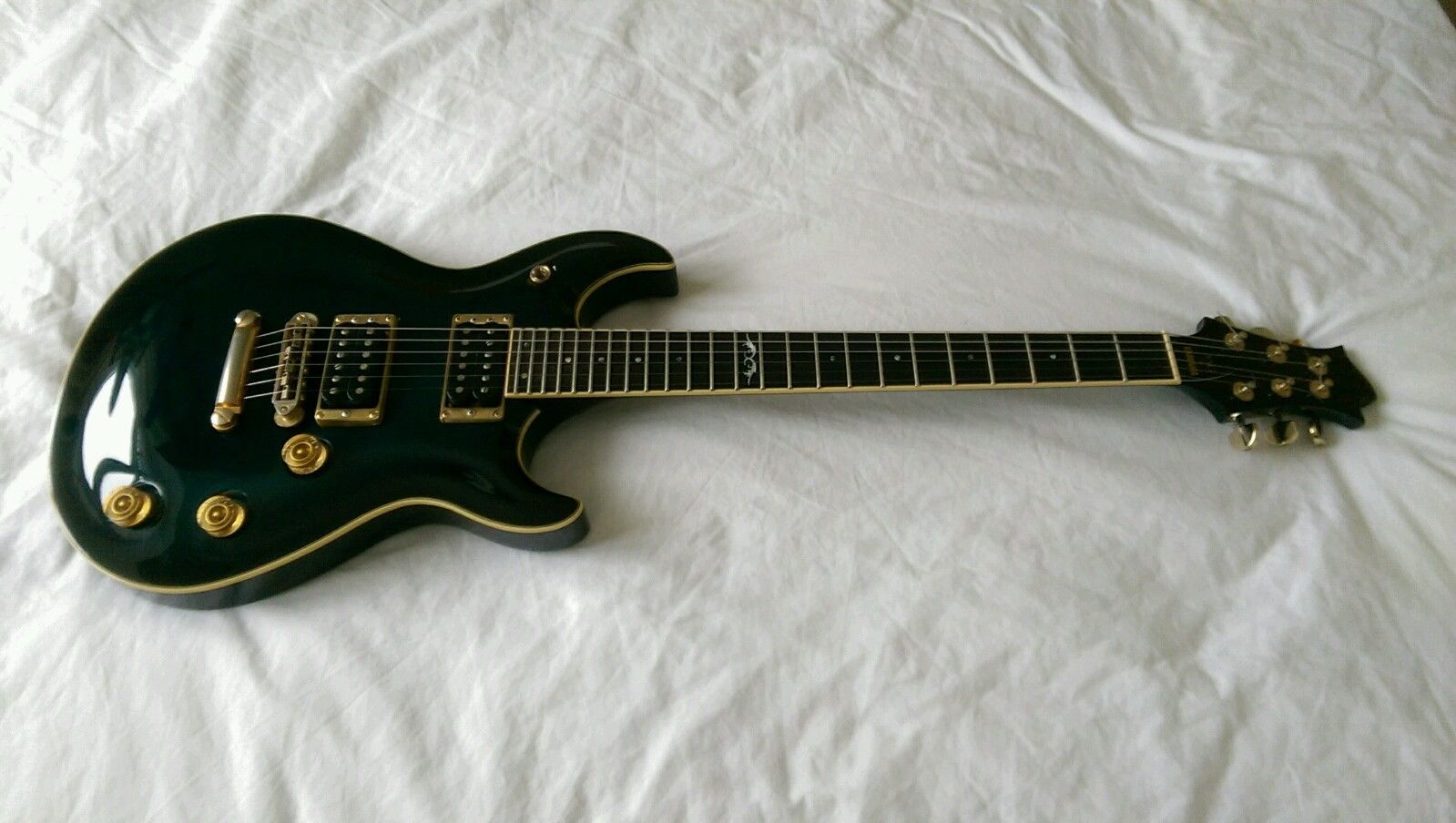 Now the 2 Chrome Hardware but same style bridge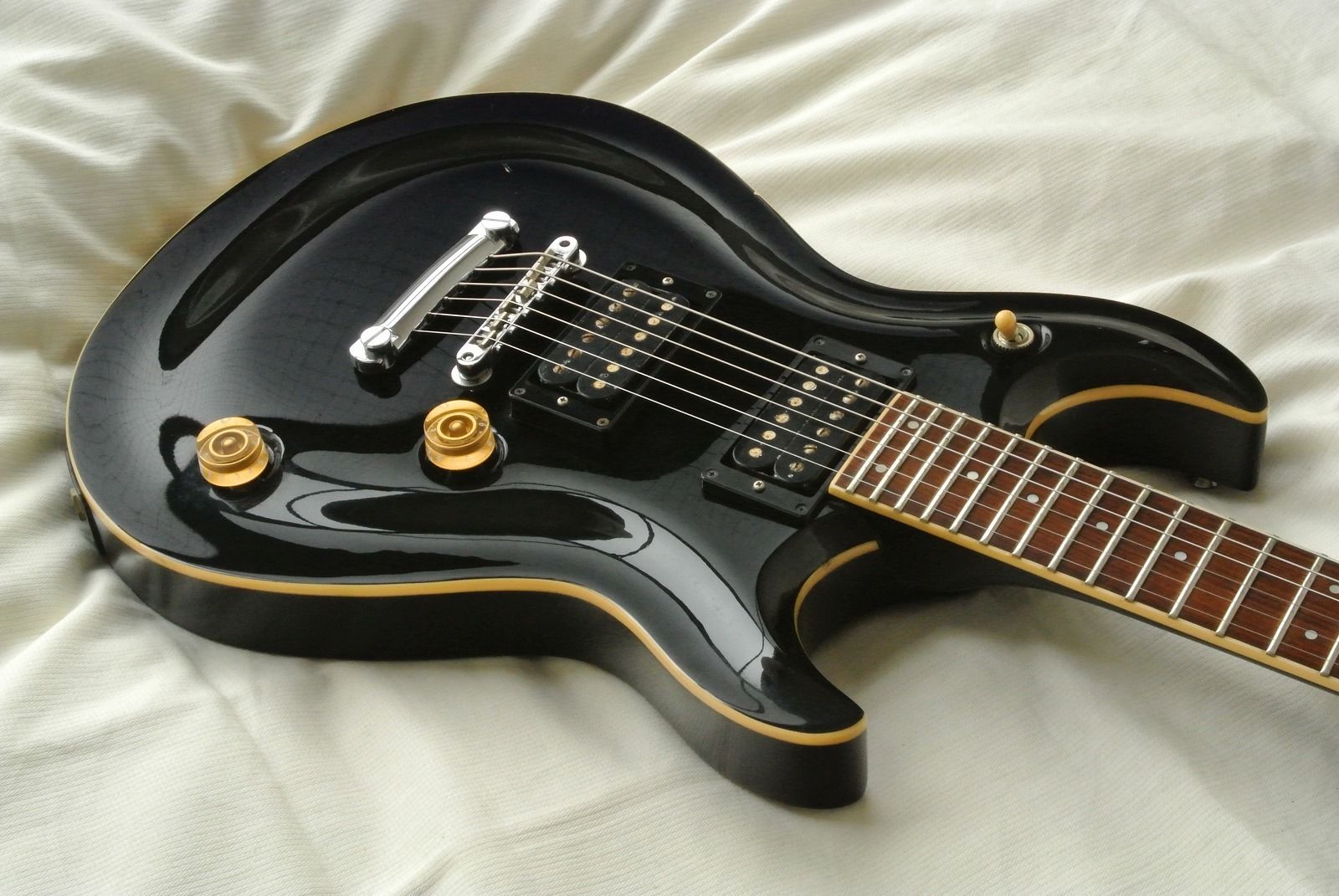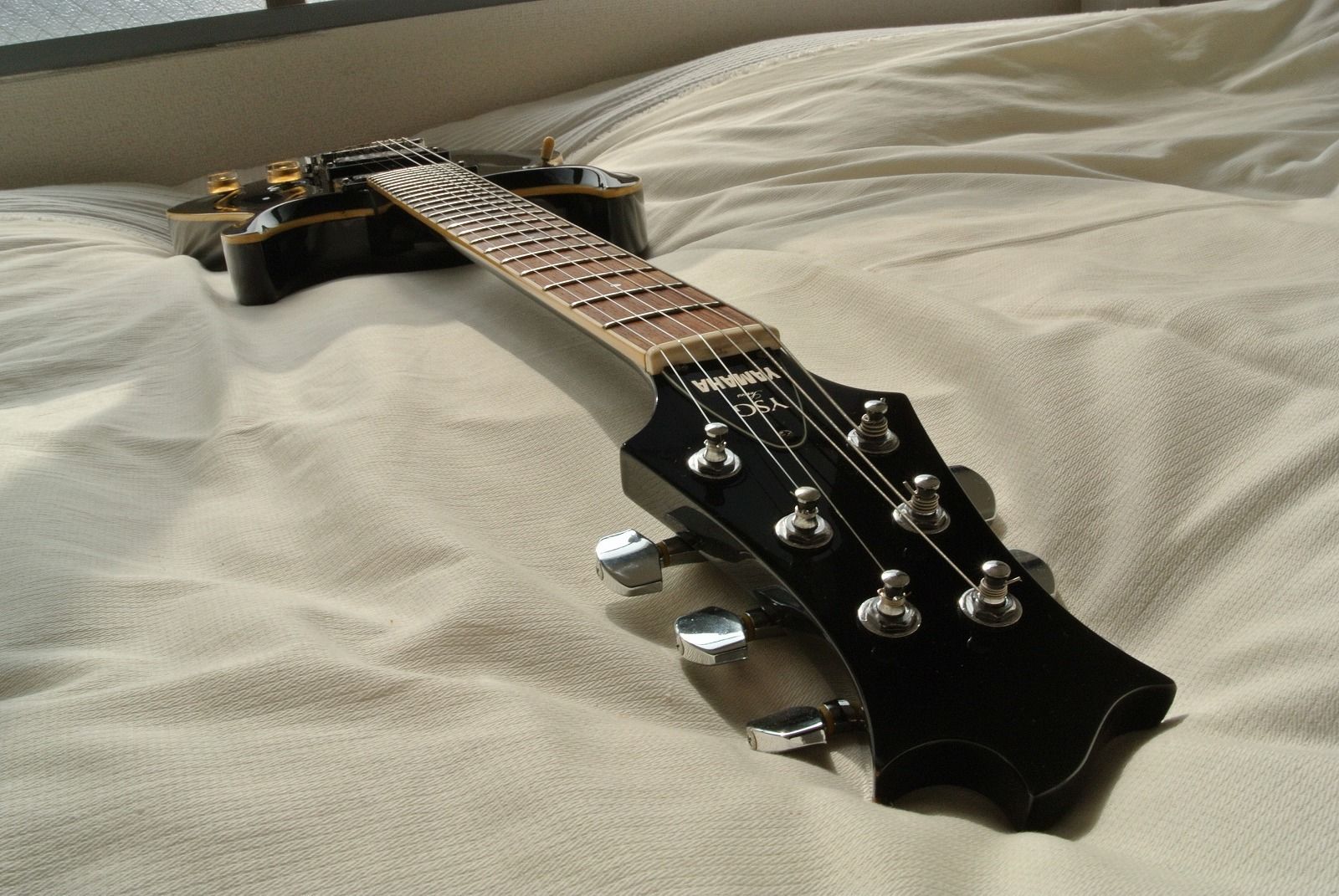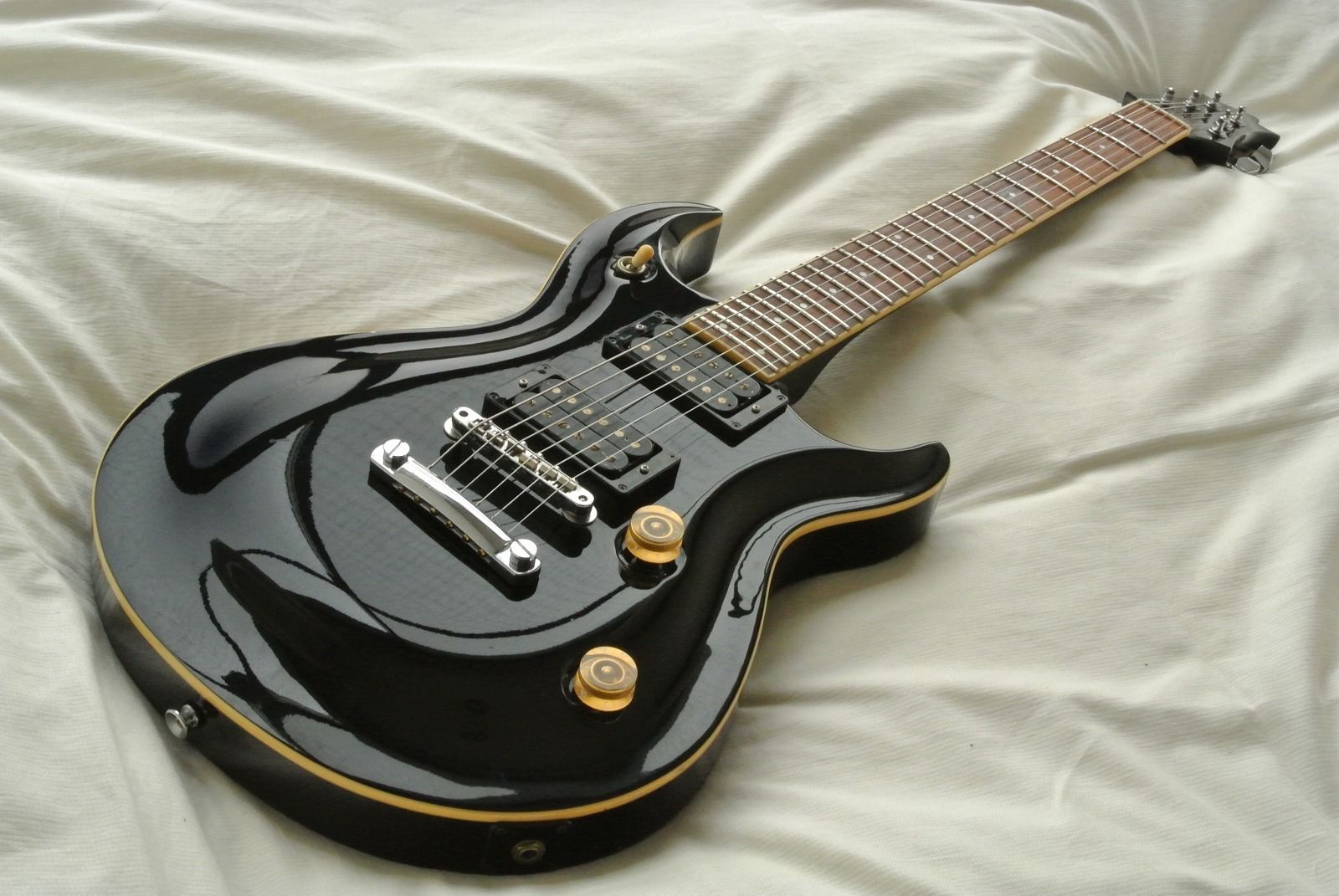 Now the T series first the T1 with gold hardware and vintage bridge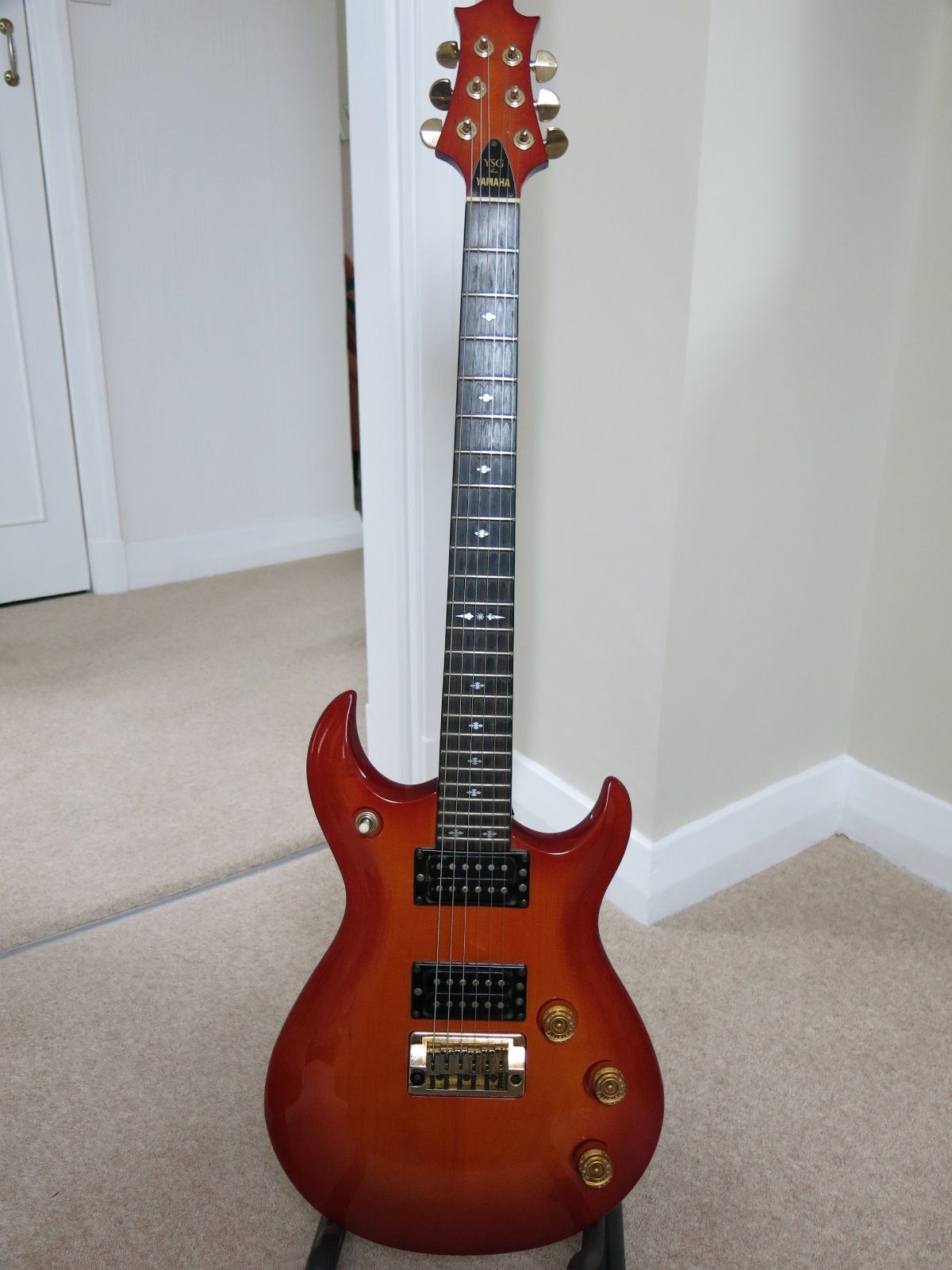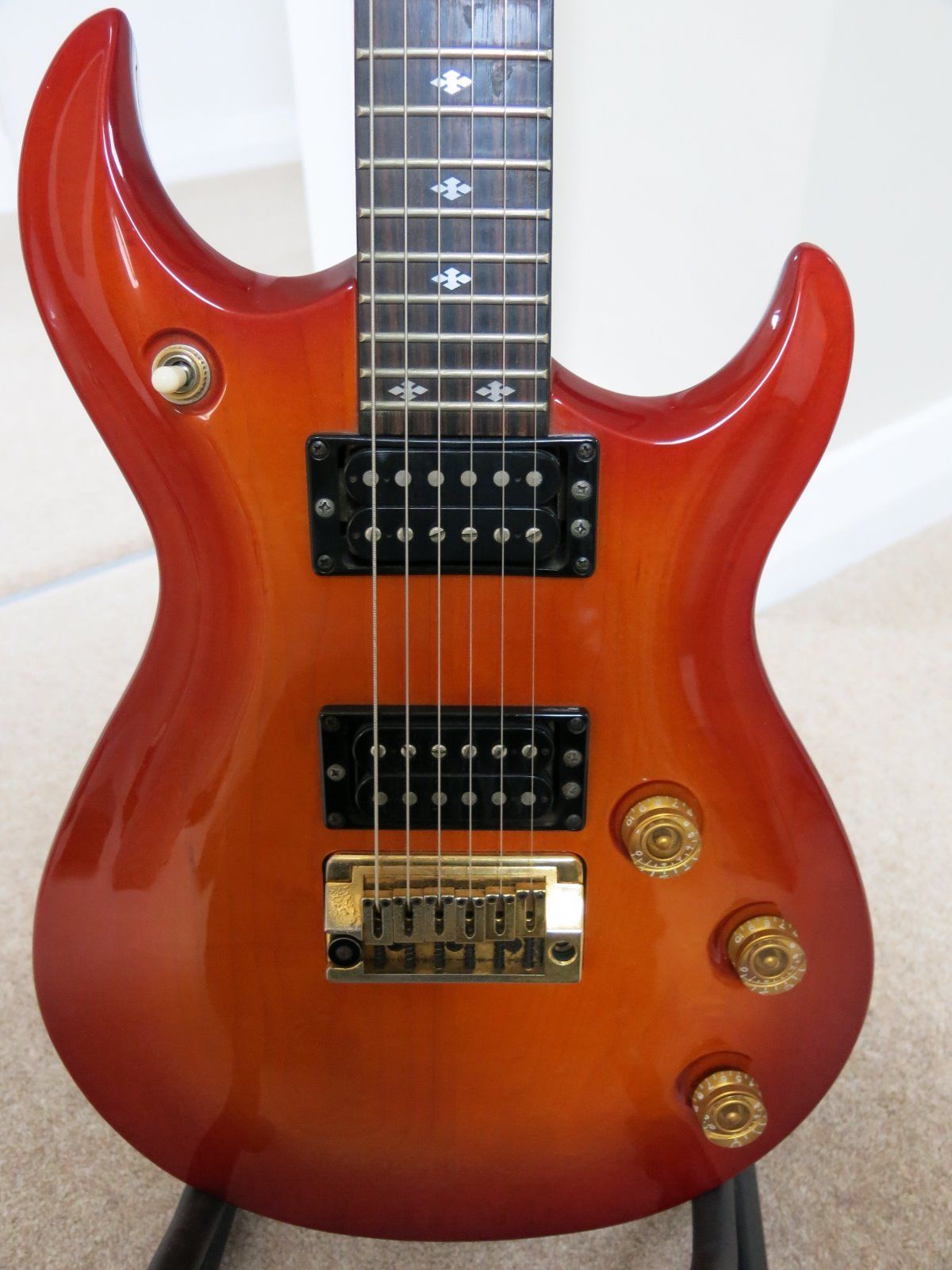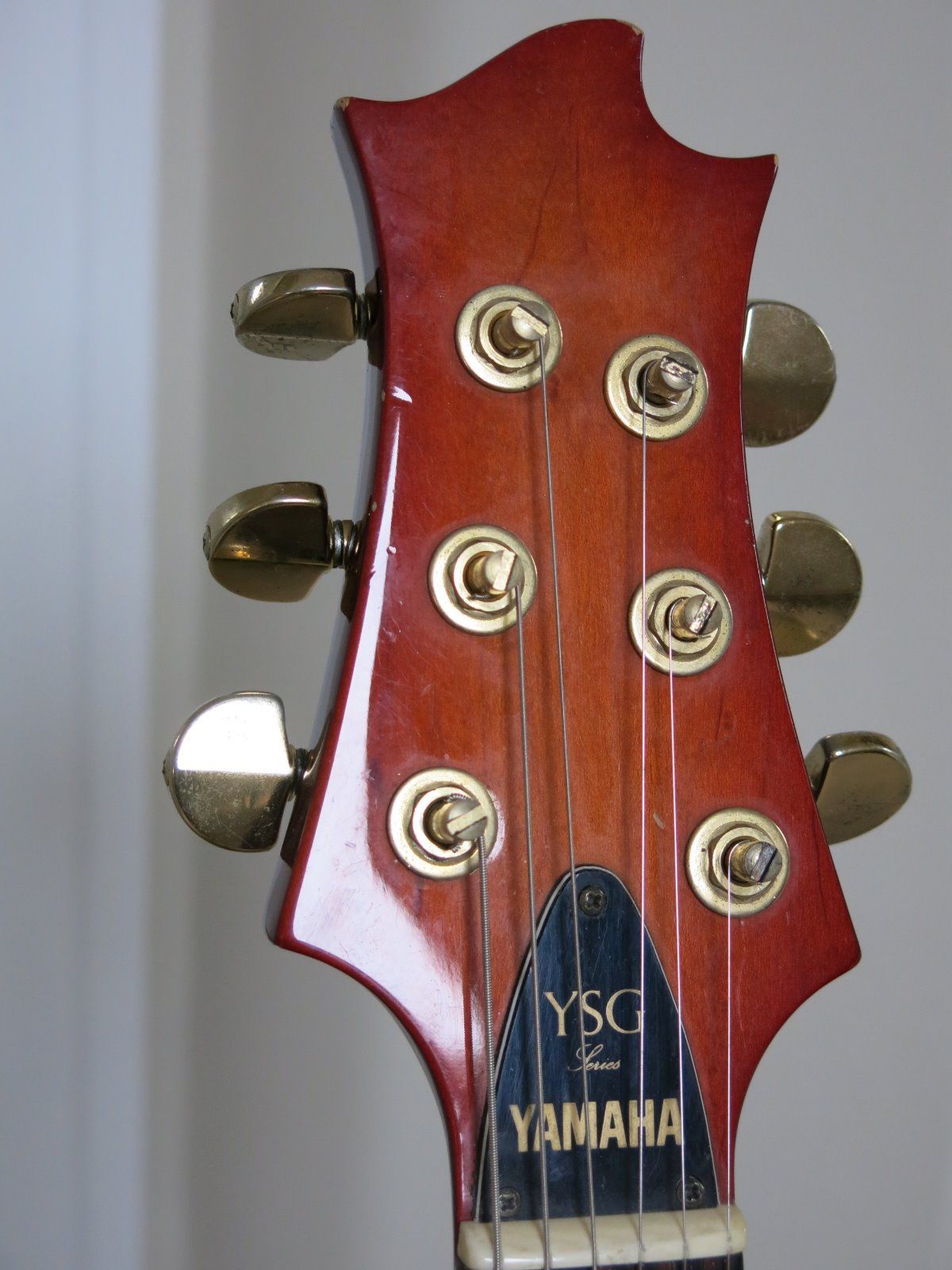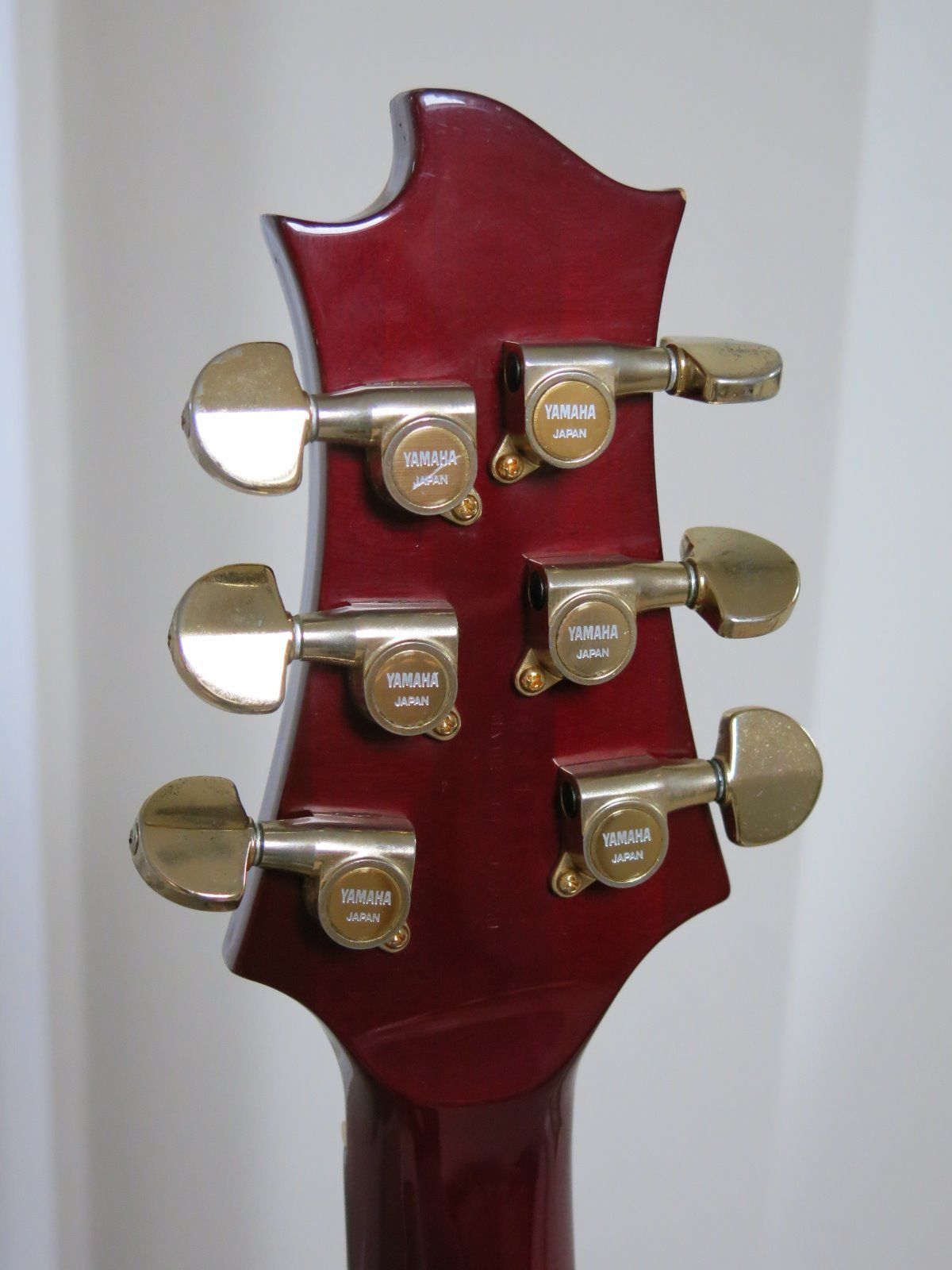 Finally the T2 Chrome Hardware vintage bridge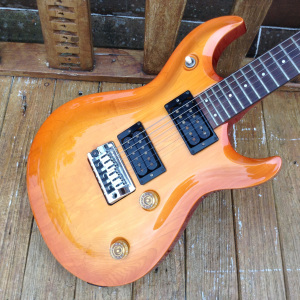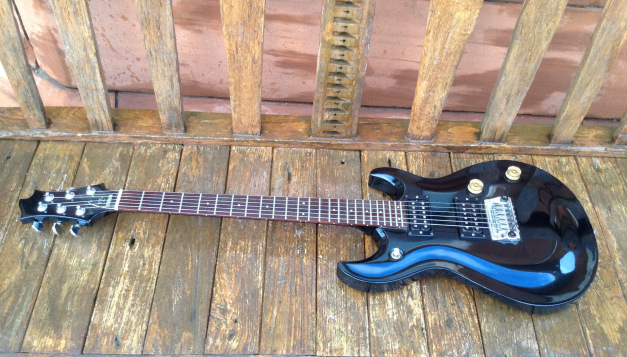 The more observant of you may also notice the difference in the 12th fret markers.
29th August 2019
I found some catalogue scans on the net here they are: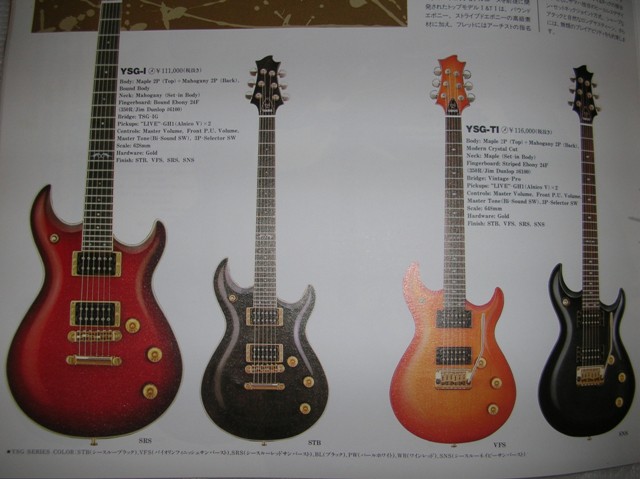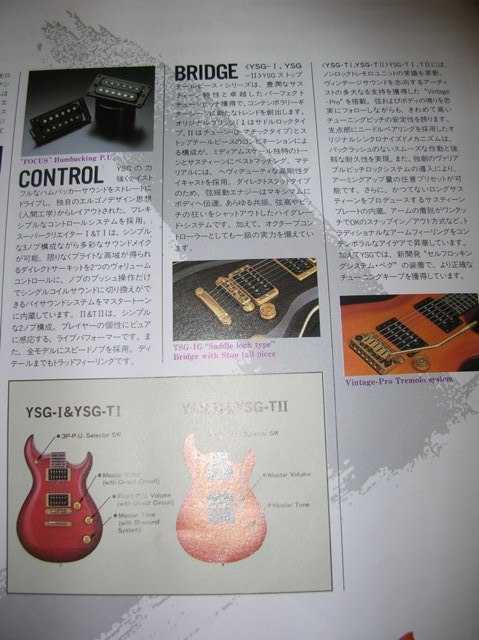 YSG Guitars Specs and Comparisons
| | | | | |
| --- | --- | --- | --- | --- |
| Model | YSG1 | YSG2 | YSGT1 | YSGT2 |
| Available | May 1988 to 1990 | May 1988 to 1990 | May 1988 to 1990 | May 1988 to 1990 |
| Launch Price | &yen120000 | &yen65000 | &yen125000 | &yen70000 |
| Neck | Set | Set | Set | Set |
| Fretboard | Bound Ebony 350mm radius 24 Jim Dunlop 6100 frets | Bound Rosewood 350mm radius 24 Jumbo Frets | Striped Ebony 350mm radius 24 Jim Dunlop 6100 Frets | Rosewood 350mm radius 24 Jumbo Frets |
| Body | Arched Maple Top 2 layer, with 2 layer Mahogany Back | Arched Maple Top and Mahogany Back | As YSG1 | As YSG2 |
| Neck | Mahogany | Mahogany | Maple | Maple |
| Tuners | Gold Yamaha Branded sealed diecast type | Chrome Yamaha Branded sealed diecast type | Gold Yamaha Branded sealed diecast type | Chrome Yamaha Branded sealed diecast type |
| Hardware | Gold | Chrome | Gold | Chrome |
| Bridge | TSG Saddle lock type | Tume-O-Matic | Vintage Pro trem | Vintage Pro Trem |
| Pickups | 2 Active GH1 Alnico V HBs | 2 Focus SH1T Ceramic HBs | As YSG1 | As YSG2 |
| Controls | 2 Volume 1 Tone with Coil split and 3 way switch | 1 Volume 1 Tone | As YSG1 | As YSG2 |
| Colours | Violin Finish Sunburst, Trans Black, Trans Red Burst or Trans Navy Burst | Black, Pearl White, Wine Red or Trans Navy Burst | As YSG1 | Black, Pearl White, Violin Finish Sunburst or Trans Navy Burst. |
| | | | | |
| | | | | |
| | | | | |