Yamaha SA 800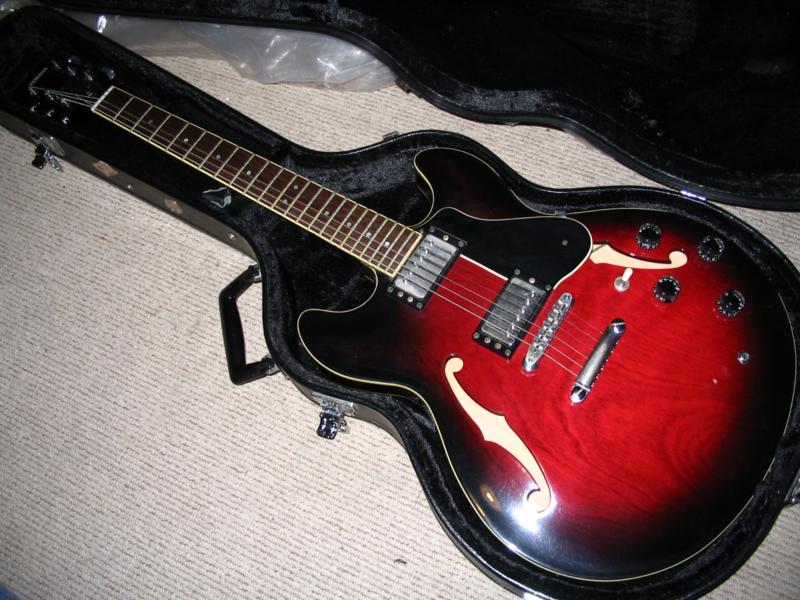 Nice 800 in Wine Red
This guitar was made in Taiwan up to about 1989 it appears in the 1981 US catalogue with the following spec. It does not appear in any of the Japanese catalogues of the time that I can see. It appears to be built to sell outside Japan but I have no way of proving that.
I have now seen an 800 that was made in Japan in 1982 showing as I have said on other models that Yamaha often made the same model in both countries and maybe more than two countries.
I have received information from a member of the Yamaha Forum 59Bassman (Mark) who recalls trying one of these in a music shop in the UK around 2009/10 and has adverts showing that these were still for sale around that time. I assume this is old stock but 10 years old may be stretching it.
However they do not appear in any catalogue after 1987 that I can find so when production actually stopped is uncertain
One thing of note with the 800 is that other than the word Yamaha the headstock is bare. Others contain a stylised swirly logo or the words Super Axe in a script usually in gold.

Specifications
Body Beech and Birch back and top Alder Block Spruce Filling
Neck Mahogany dot inlays
Fret board Rosewood 22 fret 22.75" scale 13.75 inch radius
Headstock Black Plain no extra logo or motif just Yamaha with SA800 on truss ro cover
Tuners Yamaha Diecast Chrome
Controls Black 2 volume 2 tone no coil split 3 way switch with white tip
Hardware Chrome with Lightweight Compact Bridge
Pickups 2 Spinex Humbucking pickups*
Bridge Chrome T-O-M stoptail
Colours Natural Yellow, Wine Red or Black


Some Pictures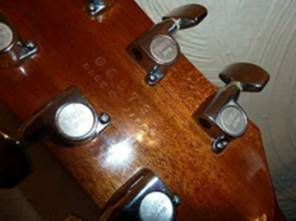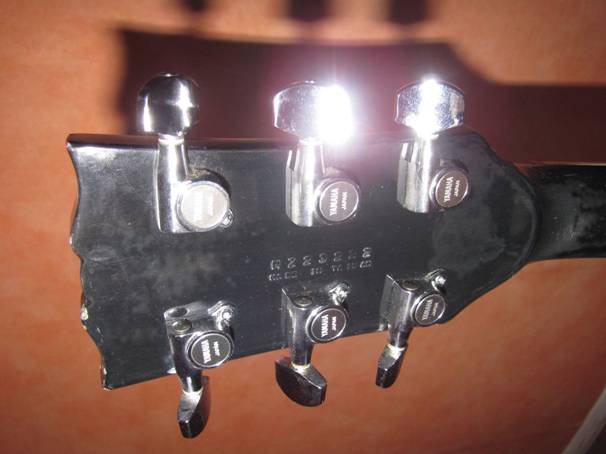 On the left is an MIJ 800 known to be 1982 by the pickups on the right an MIT 1986 by the serial number
June 2018
There is a natural SA800 for sale on Ebay. I suspect made in Taiwan as he is carefully hiding the bit that would tell us. He quotes the 1981 catalogue as follows:

The SA800 pickups are basically of the standard hum bucking design, but with brand new magnets designed for ideal sensitivity and response. These pickups deliver warm sound that can be delicate or dynamic depending on the type of music you play. A new lightweight, compact bridge with brass saddles further contributes to the SA800's original sound. The relatively low overall mass of this bridge transfers string vibration to the guitar body without damping them as much as heavier bridges, emphasising the fine acoustic properties of the body's woods and structure.
The SA800 has a distinctive tonal character that is largely determined by the overall body construction. The top and back are formed of beech and birch with a special alder block running through the centre of the body. The spaces between the inner block and arched top and back are filled with spruce. The result is an unusually sensitive, "acoustic" sounding guitar.
SA800
• Two newly designed humbucking pickups
• Yamaha chrome-plated stop-bar tailpipece for additional sustain
• Yamaha special truss rod held in aluminium channel
• BODY: arched beech and birch top and back with a special alder block
• FINGERBOARD: Rosewood, dot inlays, 22 frets - 24 3/4" scale
• NECK: mahogany set in body
• COLOURS: Wine red, Natural, Black
• Spinex magnet, covered humbucking pickups, 8.4 kOhm DC Resistance, 0,06 mm coil gauge, 5,300 Turns per pickup
• 22 fret fingerboard with 350 mm radius
• frets are 2.9 mm wide by 1.0 mm height
• Tuner gear ratio is 18:1



March 2021
A most unusual 800 has appeared on Facebook all is normal except that it has a logo on the headstock that I haven't seen before. Leon from Vintage Yamaha Guitars (see my links page) tells me that it's a logo from the FG series from the late 80s. As 800s were made in Taiwan up until about 1989 I guess it's one of those. The Facebook says it's 1982 but who knows how they got to that.
Further update
Received this reply from the Facebook poster Robert Stefan
Thanks for the info, I have visited your page while I was researching this guitar. The impressed serial # in back of the headstock reads Made in Japan 087165 The database Gives me 1982.
That would be the right year for an SG with that number but SAs are more problematic.
Some pictures.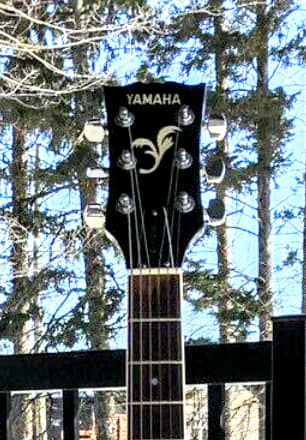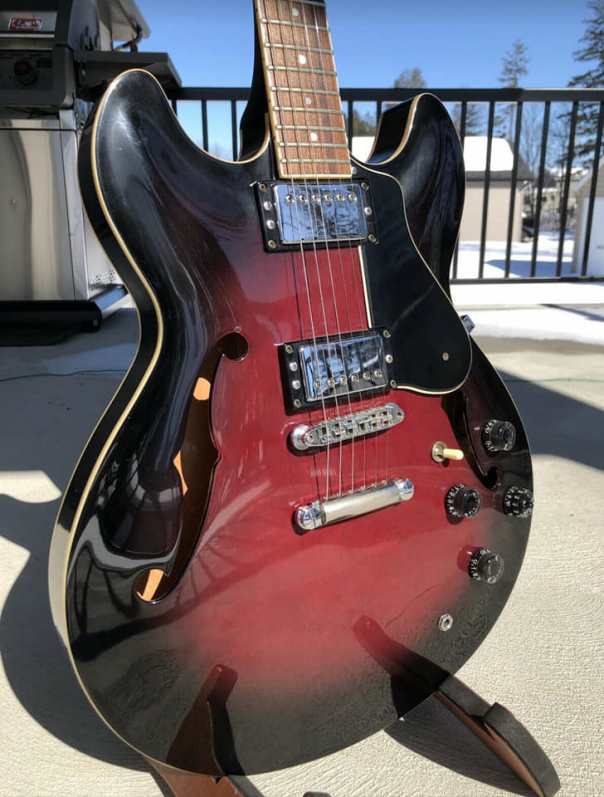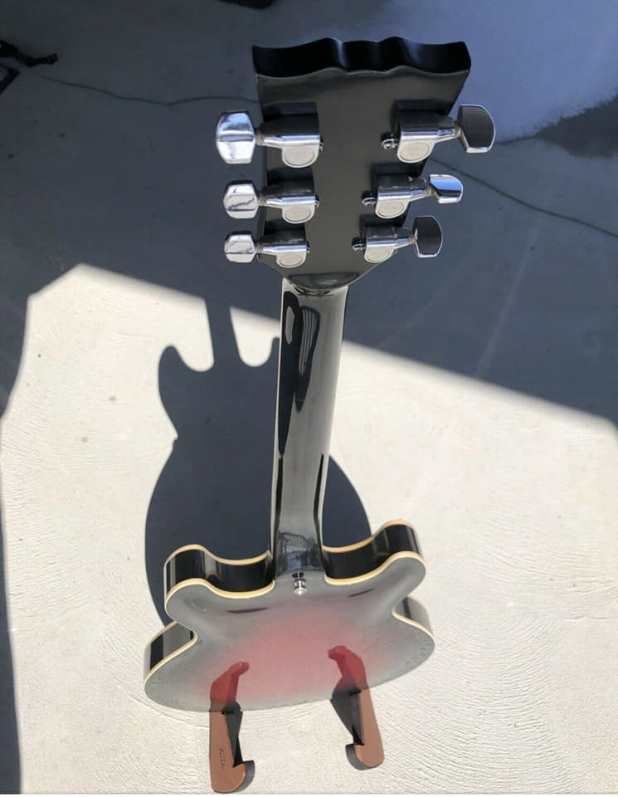 June 2023
A pickup discussion thread on the Yamaha Forum has revealed a lot we didn't know about SA pickups see
Yamaha SA Pickups
I would recommend reading this thread better still join the forum
In the case of the 800 it has revealed that there were 2 different pickups unspecified Alnico pickups until about 1983/4 when they changed to Spinex
1st Version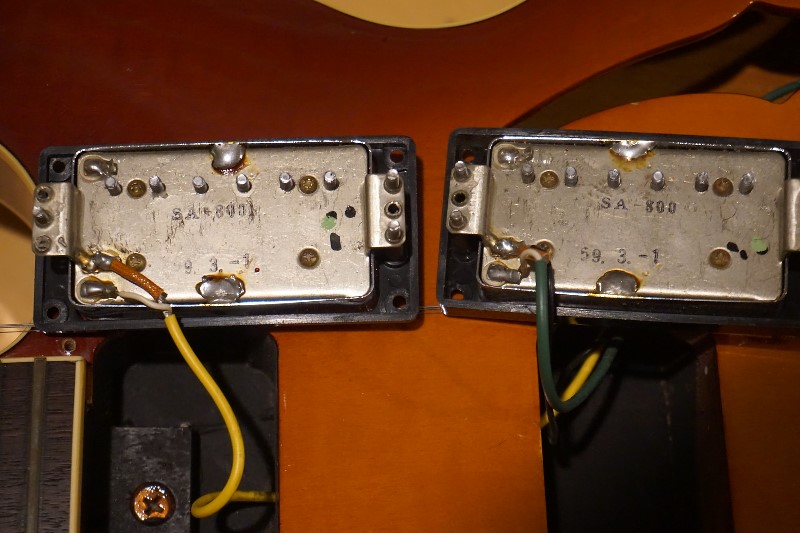 2nd Version