Fender Telecasters in The CBS Years
To quote from my CBS Strats page "CBS bought Fender in January 1965 and sold it in March 1985. There is much debate about the quality of guitars produced during those years and quality control was poor at times but some very good guitars were made during that era as well. It was the era which started Fender Japan and gave us the first vintage reissues so we must give them credit for that."

The CBS Era Telecaster


Blonde 1976 Telecaster

The Standard Telecaster not called the standard just the Telecaster continued during the CBS era with various changes along the way. it had had relatively minor changes in its previous 14 years or so. The specs from 1965 are: But please bear in mind that there will be some variation.
Specifications
Body Alder some Ash
Neck Maple medium C
Fretboard Rosewood see below 7.25" radius 21 Frets
Headstock Standard Tele various logos
Tuners Kluson Deluxe until around mid 1967 when they are the F stamped type
Pickups Standard Tele
Controls 2 plus 3 way switch see below
Nut 1.625" but at times other widths were available as custom orders but are rare.
Hardware Chrome
Bridge 3 steel saddle telecaster*
Pickguard laminated plastic 8 screw

Nick Fanis from the Telecaster Forum has pointed out that from 1965 to 1966 they had threaded steel saddles and from 1967 slotted steel saddles


Finish
Around 1968 all models changed from a Nitro Finish to a Poly finish (not just the Telecaster)
Serial Number
This was moved to the headstock around 1976
Fretboard options
Fretted Maple neck 1969 to 1983
Maple Neck with Rosewood Board CBS era to 1983
Maple Neck with Maple Board 1967 to 1969
Neckplate
A black gasket appeared under the neckplate in 1973
Headstock and Logo
1965 Traditional Spaghetti Logo
Late 1965 to Mid 1967 Transition Logo
Mid 1967 Onwards CBS logo
It wasn't just the logo that changed the placing of the serial numbers some of the wording and the string trees also changes best illustrated with pictures

: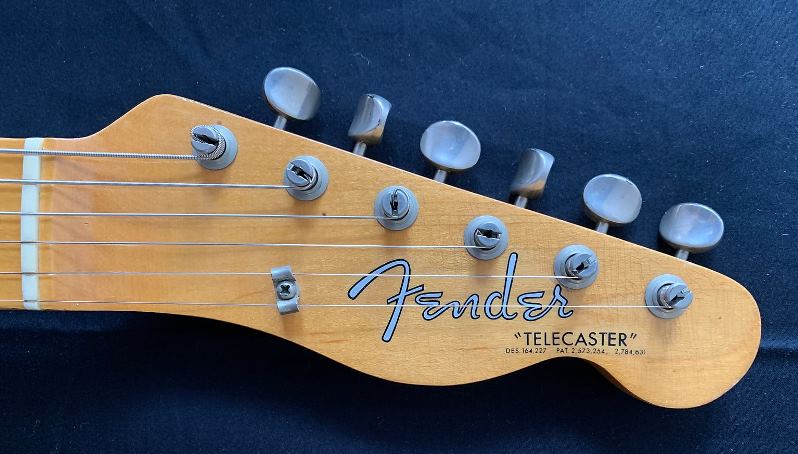 This is the headstock at the start of the CBS era traditional logo patent numbers etc under the word Telecaster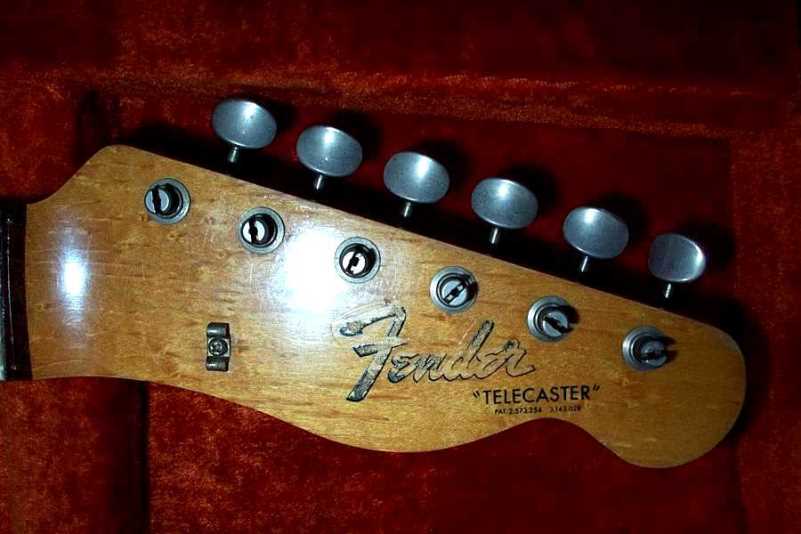 The 1968 Transition logo otherwise as before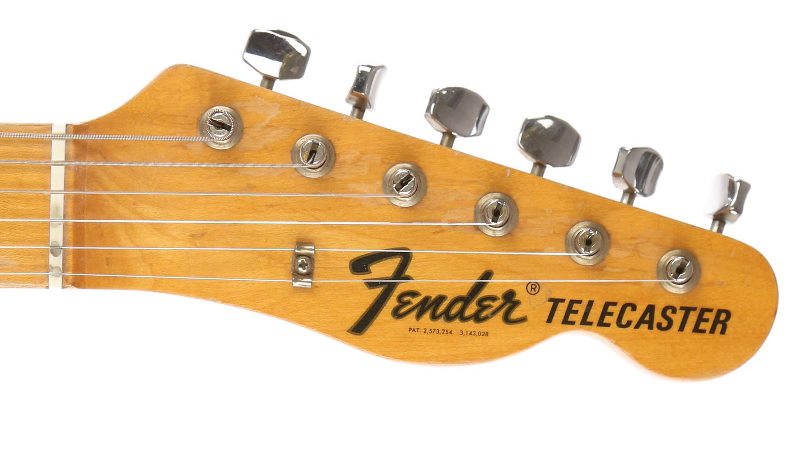 The 1968 now CBS logo with patents etc under the word Fender and the R next to it still one string tree.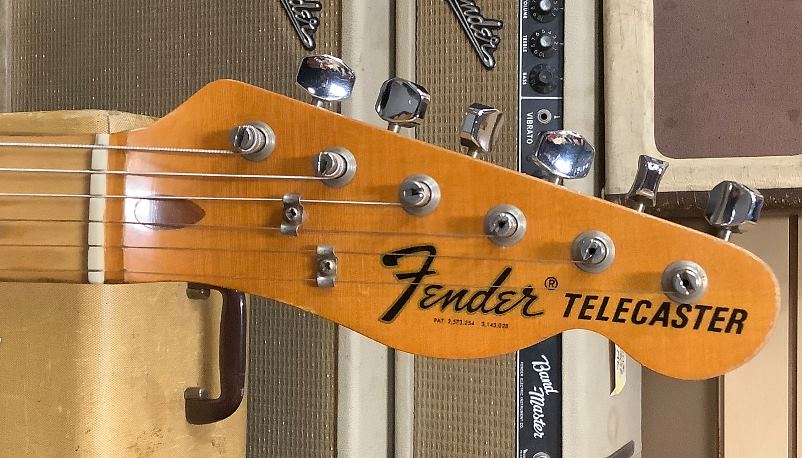 Second String Tree now added mid 1972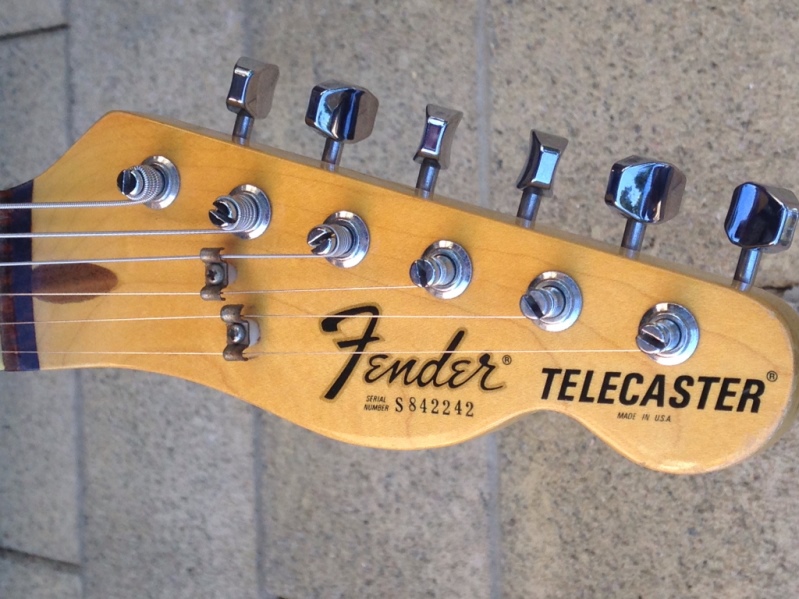 This is a 1978 the serial number is now on the headstock with made in USA now included.
These changes happened around 1976
Controls
At the start of the CBS era the Telecaster had what may now appear the rather strange traditional controls. The front control was a master volume the second a tone but the 3 way switch was configured so that the choices were
Neck Pickup no tone Control
Neck Pickup with tone control
Bridge Pickup with tone control
You could only get two pickups on by jamming the 3 way between 2 positions.
This changed fairly soon in the CBS era to the standard tele control system we now know.
Replaced by the Telecaster Standard in 1983

Body Shape
Hari Seldon from the Telecaster Forum has suggested I should cover the body shape during the 70s here's his words
In the 70's they botched the telecaster shape. The upper "cutaway" was way too shallow and the body looked misproportioned.
He then provides this quote from 6 Decades of the Telecaster by Tony Bacon

CBS Telecaster Variations

Often described as different models there were several variations with mainly cosmetic or construction differences.
Paisley Red and Blue Flower Telecasters
Produced in 1968 and 1969 these were no doubt an attempt to appeal to the hippies and really were just cosmetically different from the Tele of the day but with Maple cap necks only. The finish was basically a stuck on wallpaper sprayed round the edges with the appropriate colour and having a plexiglass transparent pickguard.
Kloun from the Telecaster forum has pointed out that the "Wallpaper" was made of a material called cling-foil made by Borden.
The "Pink" Paisley Red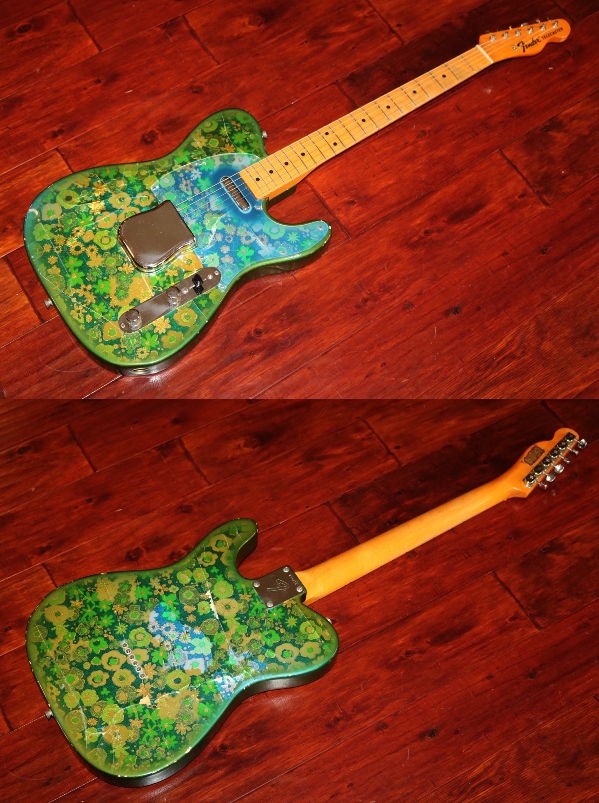 The Blue Flower with some interesting fading
Rosewood Telecaster
It well known that George Harrison played one of these less well known is that he really didn't like it that much. It was made from 1969 to 1972 some early ones were solid Rosewood bodies later ones chambered with mainly 4 pieces of Rosewood.
Rosewood neck with Maple Skunk Stripe. It is said that the early ones were Brazilian Rosewood and the later ones Indian Rosewood but I have no proof of this. Gold or Silver logo just the word Fender on the headstock Again specs otherwise pretty much as the Telecaster of the time .
Some pics note the logos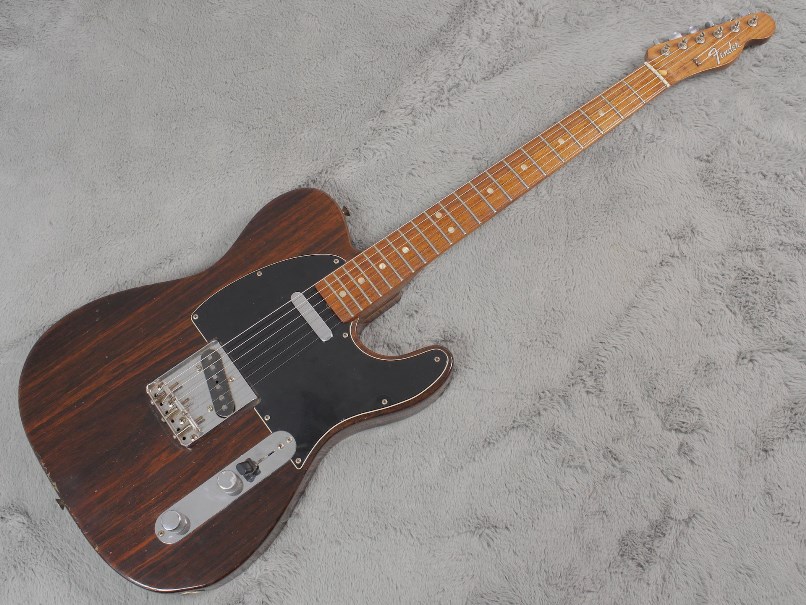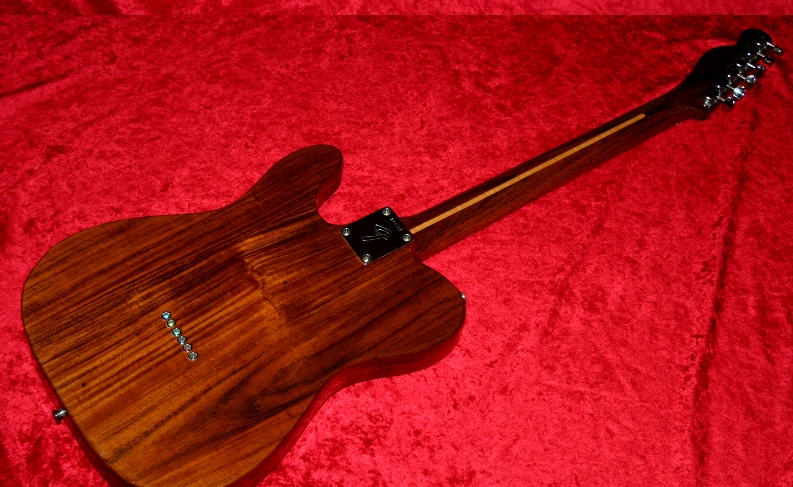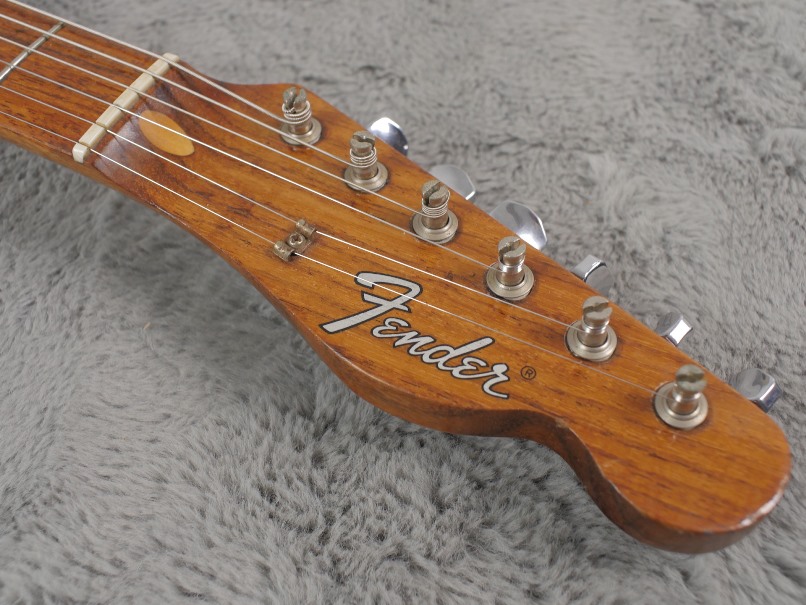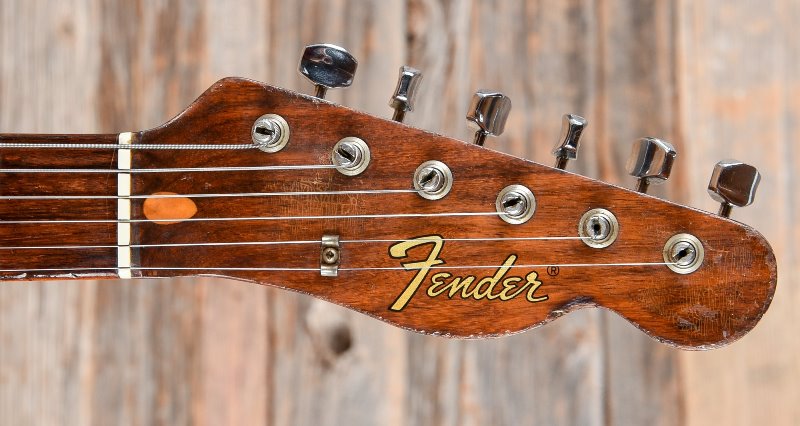 Antigua Telecaster
Made in 1977 to 1979 again similar specs to the the telecaster of the era just the finish is different and it has a laminated plastic pickguard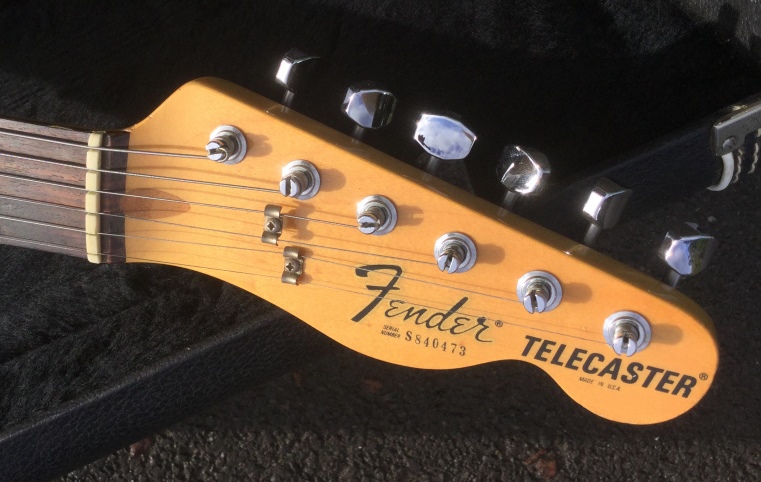 Note the headstock is exactly like the 1978 one shown in the pictures towards the beginning of the page.
Smugglers Telecaster
Not an official name but generally accepted the smugglers Telecaster appeared in 1967. This was an attempt to make a lighter Telecaster by some extra routing of the body. The guitar however still weighed in at 8.6lbs. They were fairly short lived and are now quite rare.
Here is the routing this particular guitar has been vandalised by an artificial relic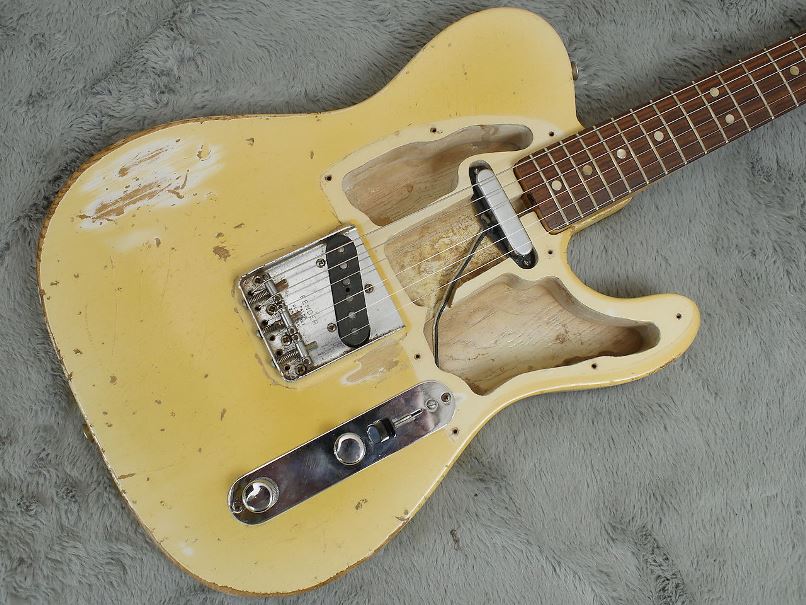 Bigsby
From around 1967 to 1975 Fender had the option of a Fender factory fitted Bigsby. Otherwise all specs correct for the Telecaster of that year.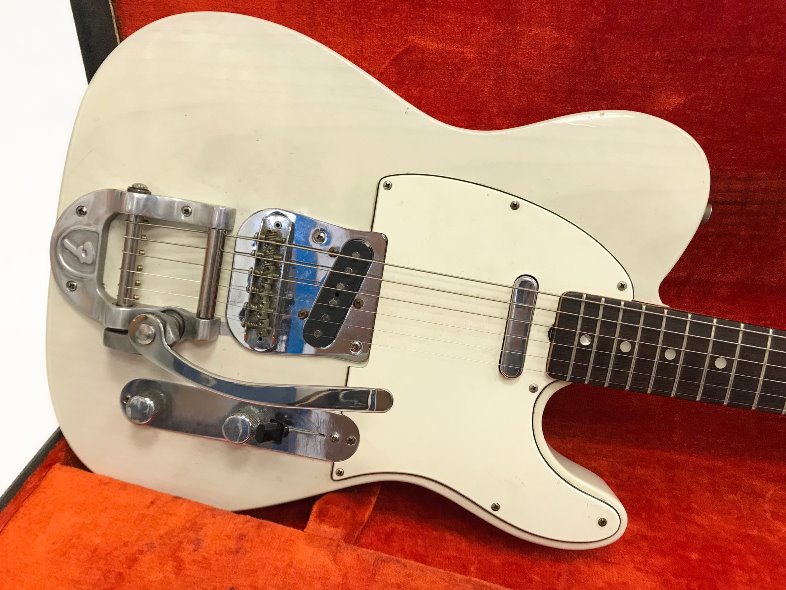 The Bigsby
Other CBS era Telecasters
Telecaster Standard 1983
I guess if the standard Stratocaster for this period is called the Dan Smith Strat then this should be the Dan Smith Telecaster big changes some are probably improvements some are not but there was a definite attempt to restore Fender's reputation which had suffered from some sub standard guitars having been produced in the earlier years whilst keeping costs relatively low.
This guitar was produced from 1983 to early 1985.
Specifications
Body Alder
Neck Fretted Maple with new Biflex truss rod adjusted at headstock with Microtilt
Fretboard 21 jumbo frets 12" radius
Headstock see below
Tuners Sealed diecast
Pickups Standard Tele
Controls Standard Tele
Nut Lokset 1.7"
Hardware Chrome
Bridge New design 6 saddle top load no through body stringing no raised edges
Pickguard White or Black 8 screw single ply later 5 Screw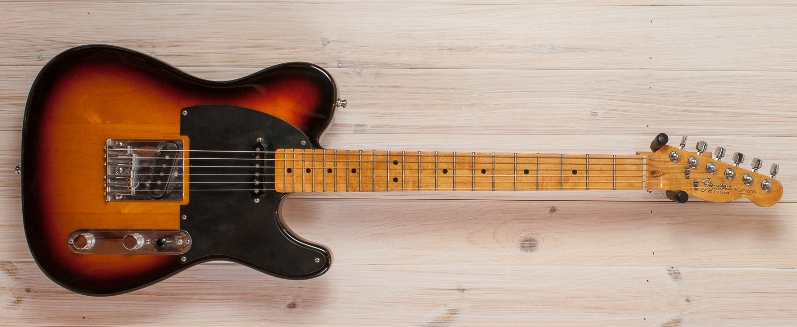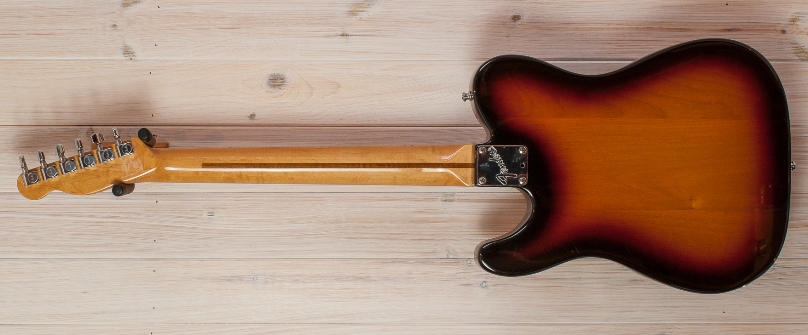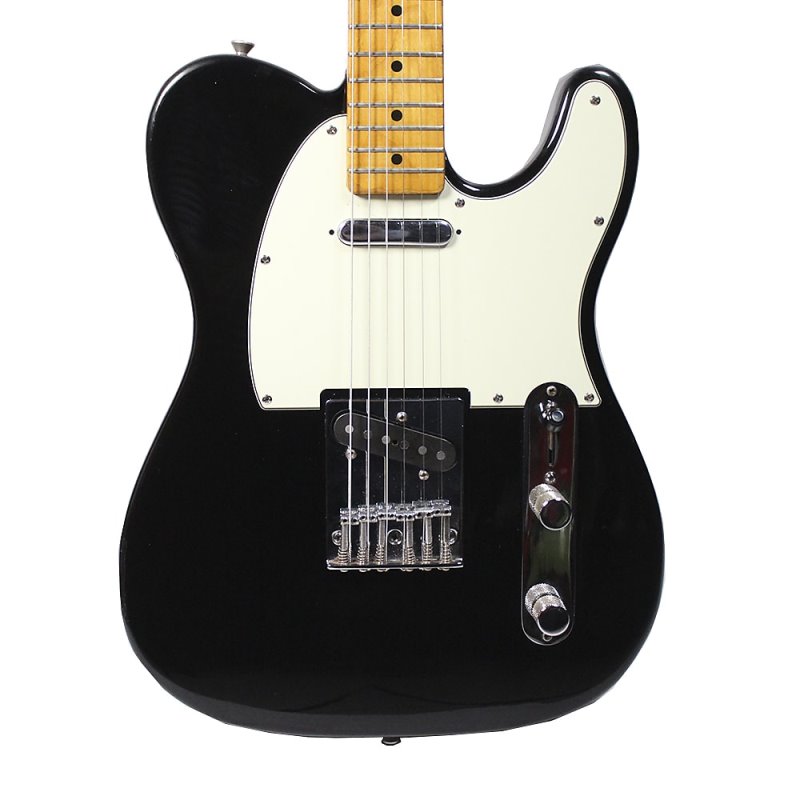 Note the headstock is very similar to the 1978 one except for the logo having changed
Variation
The bowling bowl or Marble Telecaster is a Telecaster Standard with a special finish, there are said to be only 75 Telecasters in several different colours I have no way of proving or disproving this.
One of the bowling balls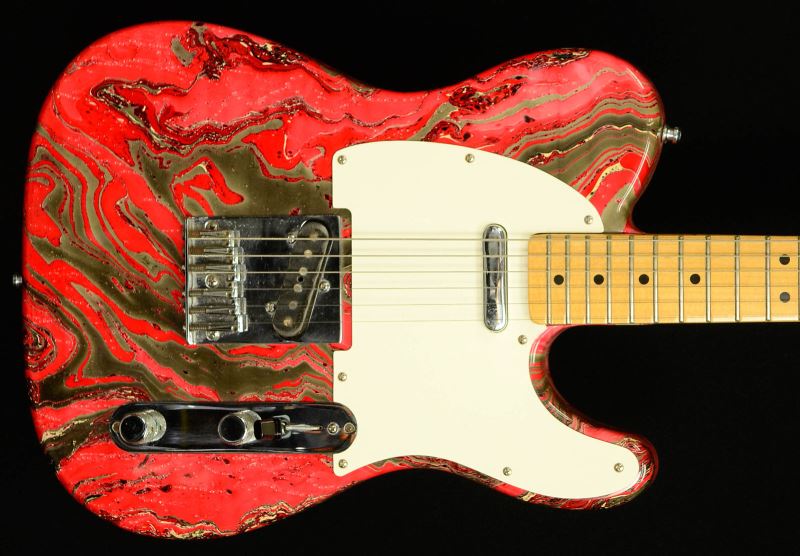 CBS Custom Telecaster V1 and V2
The Telecaster Custom Version was launched in 1959 and continued through the CBS era until 1972 when it was replaced by the second version. In the early days a custom was just a bound version of a ordinary Telecaster with all the same features and changes as the "standard" Telecaster described above except it had a bound body.

Some thoughts from knavel from the Telecaster Forum
Pre CBS the custom was referred to as the Custom Telecaster on the headstock by CBS times the Custom had been dropped from the description but version 2 said Telecaster Custom and the Version 2 had a contoured waist like a Strat.
Here are some pictures of a Version 1 the headstock is from a 1968 hence same as a regular 1968 Tele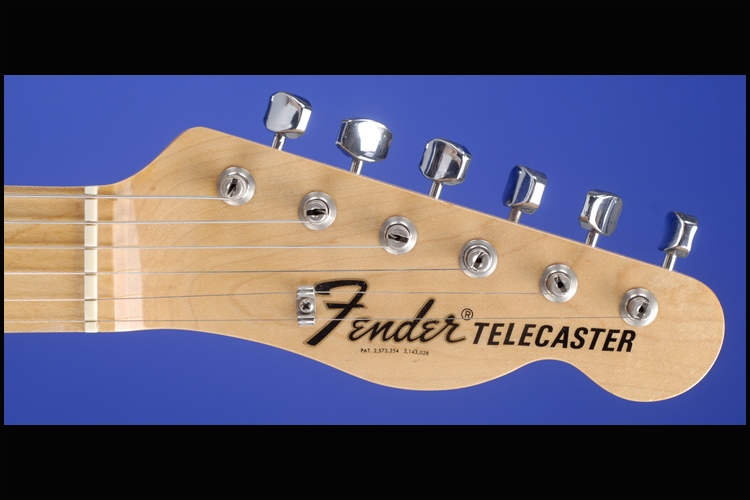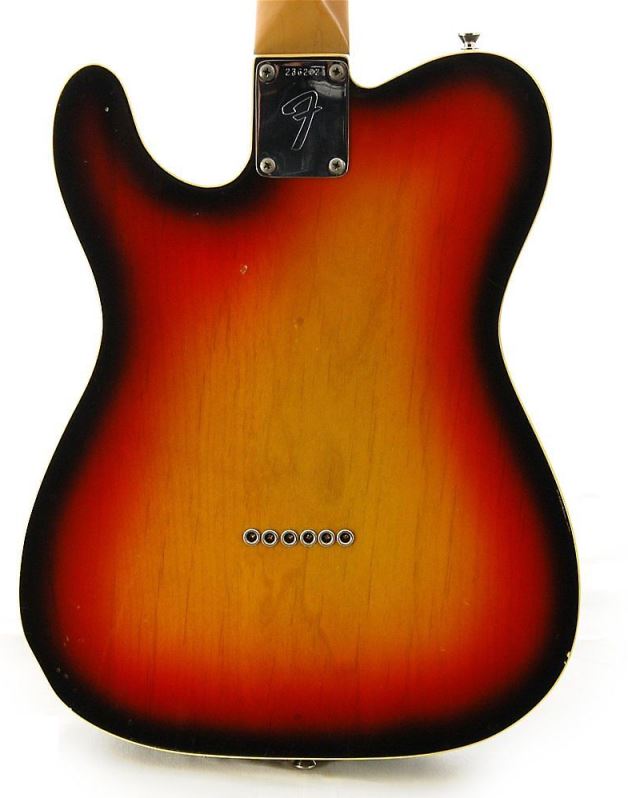 The version 2 however launched in 1972 and produced until 1981 was a completely different guitar. Here the Custom referred to the Humbucker in the neck.

Specifications
Body Alder or Ash
Neck Fretted Maple or Rosewood with Maple 3 Bolt Bullet Truss Rod Adjuster
Fretboard 21 frets 7.25" radius
Headstock As 1978 Headstock but with Custom written above Made in USA
Tuners F stamped
Pickups Seth Lover wide range Humbucker* at Neck Standard Tele at Bridge
Controls 2 Volume 2 Tone 3 way selector
Nut 1.65"
Hardware Chrome
Bridge Standard Tele 6 Saddle raised bridge some earlier ones 3 Saddle Brass
Pickguard Black 16 screw 3 ply very early ones 15 Screw
Colours in the 1979 catalogue shown as White, Blonde, Natural, Antigua, Wine, Tobacco Sunburst or Black
The Seth Lover pickups are unusual in that the are not Alnico they are CuNiFe which is Copper, Nickel and Iron now a very difficult material to get hold of so not found in any modern reproductions.

Comment from douellette from the telecaster forum
In your section on the 1972 Tele Custom you explain that the CuNiFe pickups aren't being made anymore, but of course Fender just started producing them again (along with a few smaller builders).


Antigua
As mentioned above there is an Antigua Version specs the same just a cosmetic difference and produced only from 1977 to 1979
The Antigua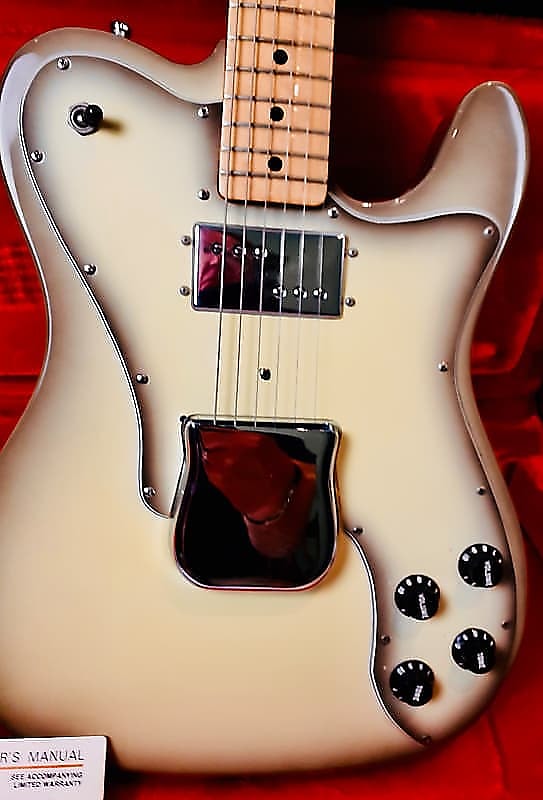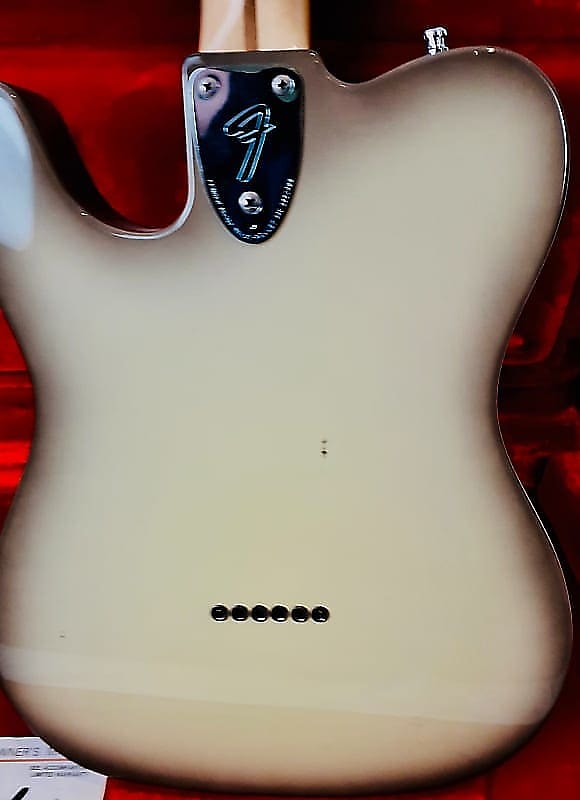 Telecaster Thinline V1 and V2
Version 1 was 1968 to 1971 Version 2 1971 to 1979
These really are 2 very different guitars as the spec comparison and pictures below will show. Specs
| | | |
| --- | --- | --- |
| | V1 | V2 |
| Body | Mahogany or Ash Semi Hollow with F Hole | Mahogany or Ash Semi Hollow with F Hole |
| Neck | Maple 4 Bolt Medium C | Maple 3 Bolt Medium C |
| Fretboard | Fretted Maple, Maple with Maple Board or Maple with Rosewood | Fretted Maple only |
| Headstock | 1 string tree Fender with patent numbers etc underneath and Telecaster | 2 string trees Fender with serial number underneath Telecaster with Thinline and Made in USA underneath |
| Truss Rod Adjust | Body end | Bullet at Headstock |
| Tuners | F Stamp | F Stamp |
| Pickups | Standard Tele | 2 Seth Lover wide range Humbuckers |
| Nut | 1.625" | 1.68" * |
| Bridge | 3 brass saddle standard tele | 6 saddle small hard tail Strat style |
| Pickguard | 12 screw Pearl | 12 screw Black, White or Pearl |
* Only seen this in one review so unsure of the accuracy could be 1.625" not able to check yet
Comparisons always version 1 as top picture version 2 underneath it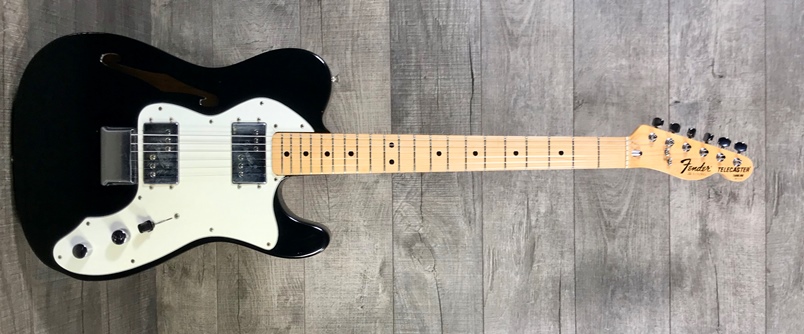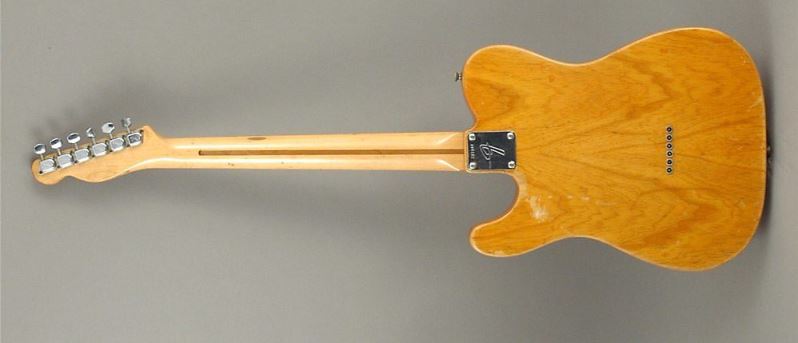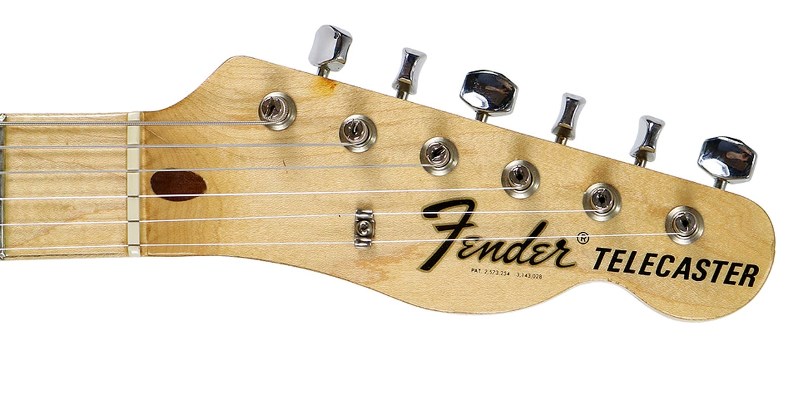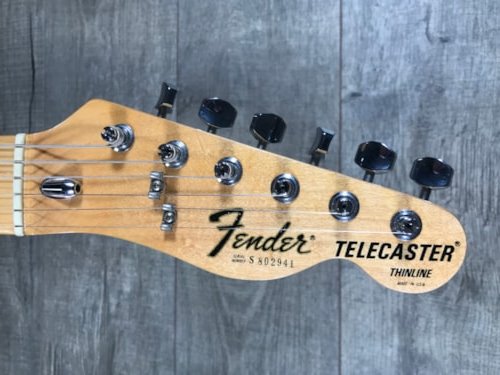 CBS Deluxe Telecaster
The Deluxe is an unusual telecaster in some ways it resembles a Strat. Released from 1973 to 1981 it had an Antigua option from 1977 to 1979.
Specifications
Body Ash have seen some said to be Alder but no proof
Neck Fretted Maple medium C with Microtilt 3 bolt
Fretboard Maple 21 wider Frets 12" radius
Headstock Large Strat style 2 string trees Fender Telecaster Deluxe in 1976 serial number and made in USA added Bullet Truss Rod adjust
Tuners F stamped
Pickups 2 wide ranging Seth Lover split polepiece metal covered Humbuckers
Controls 2 Volume 2 Tone black speed dial type plus 3 way switch
Nut
Hardware Chrome
Bridge 6 saddle small some have Strat style 6 pivot vibrato
Pickguard laminated plastic 3 ply 16 screw
Colours from 1979 Catalogue White, Black, Natural, Antigua, Wine or Tobacco Sunburst may be other colours in other years

The Strat style bridge was discontinued in 1974
Here's an extract from the 1972 catalogue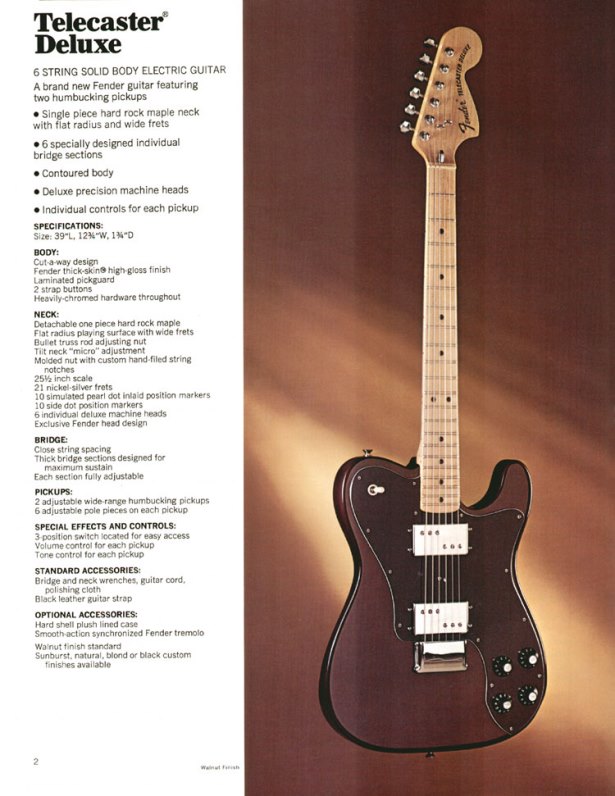 Some Pictures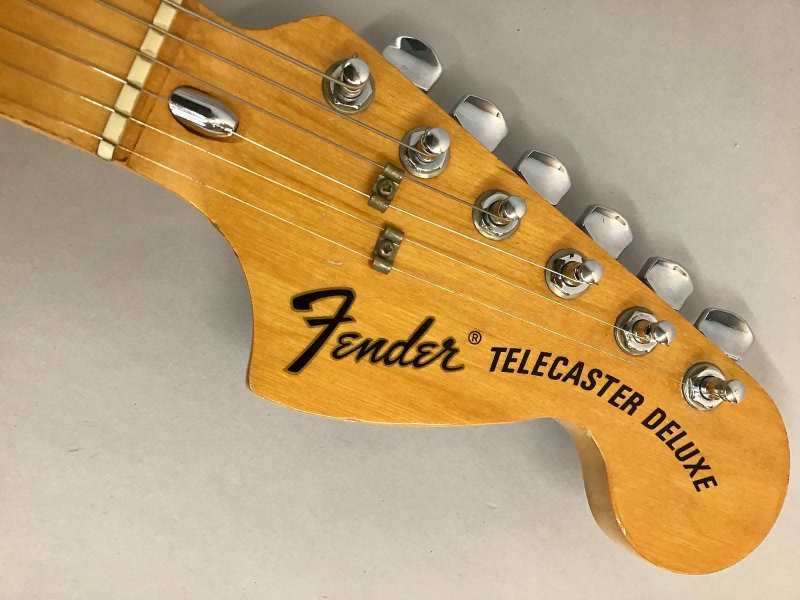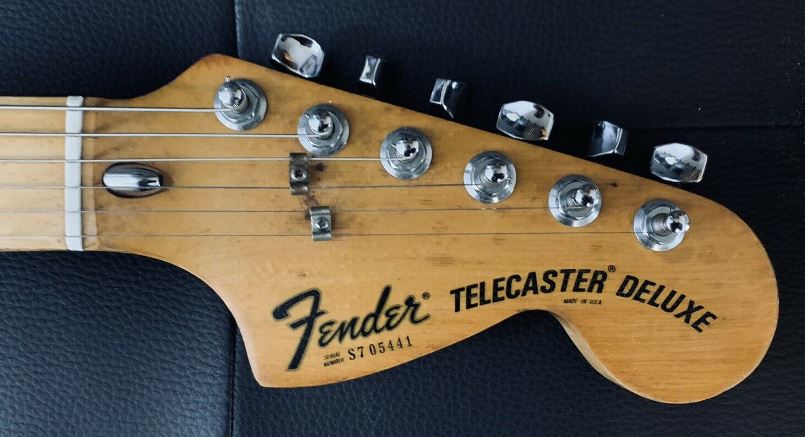 Top picture of the headstock is the early one the lower one is post 1976
Black Gold Telecaster
A fairly standard telecaster similar to the 1981 Telecaster with a few variations
Specs
Body Ash Black Finish
Headstock Black 2 String Trees Serial Number* under Fender Logo Made in USA under Telecaster
Neck C Shape 4 bolt Maple
Tuners F stamp Gold
Rosewood Fretboard 7.25" radius 21 Frets
Nut 1.650" Width
Pickups standard Telecaster Single-Coil
Controls Standard Tele
Bridge 6-Saddle Brass Gold Coloured
Gold Hardware
Serial Numbers on these are quite unusual all start with CE for collectors edition and the next digit is a 1,2 or 3 for 1981, 1982 or 1983
Some Pictures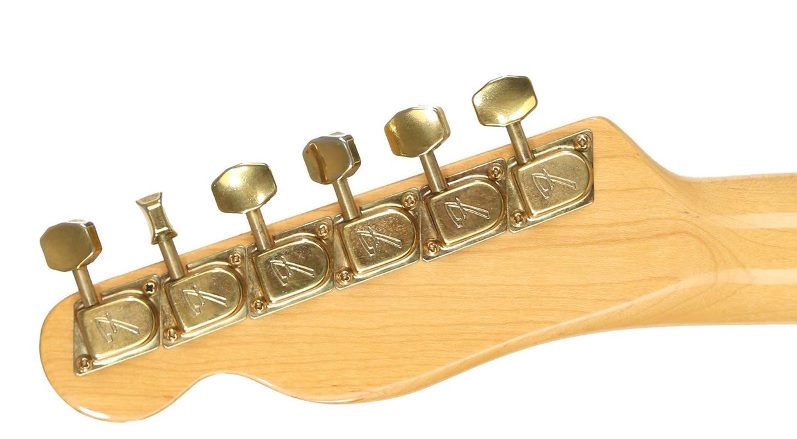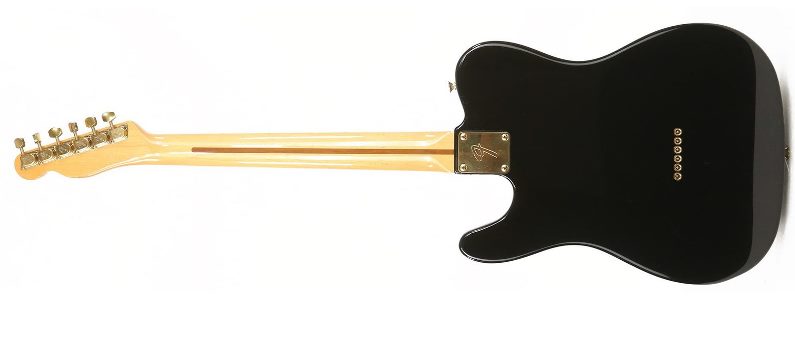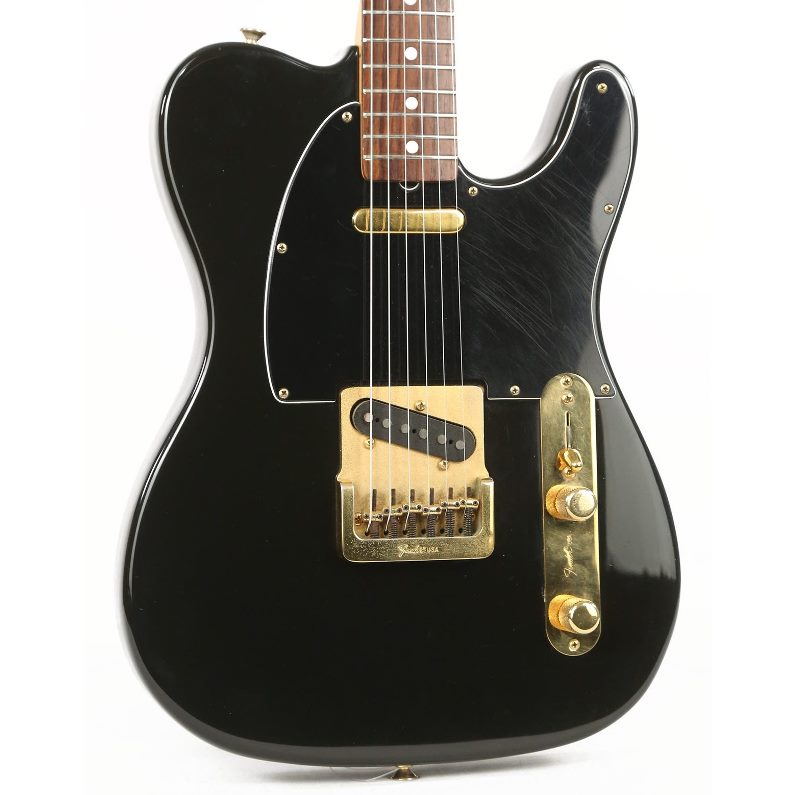 Elite Telecaster
The Elite Telecaster was released in 1983 and 1984, there were 2 variations the Gold Elite and The Walnut Elite in the same years. They featured some of the Fender Innovations of the time. This was a very different guitar to the regular Telecaster and was touted in the catalogue as the future of music.
Specifications
Body Alder Gloss Finish
Neck Maple 4 bolt soft V with new Bi Flex Truss rod adjusted at headstock
Fretboard Fretted Maple Neck or Maple with Rosewood Board 12" radius 21 Jumbo Frets
Headstock Plain 2 Ezy Glyder Roller String Trees Serial Number under Fender and Made in USA under Telecaster
Tuners Fender Stamped Sealed Diecast
Pickups 2 Alnico II Humbuckers white covered
Controls Knurled with Rubber Inserts and F stamp a Volume for each pickup Master Tone (TBX) and Mid Boost (MDX)
Nut 1.70"
Hardware Chrome Plated
Bridge Small Heavey Cast 6 saddle top loading
Pickguard Small white plastic optional stick on
Secure lock strap buttons.
Colours Standard Natural. Arctic White, Black, Sienna Sunburst, Brown Sunburst or Pewter
Colours Custom Solid Colours Candy Apple Red, Lake Placid Blue, Candy Apple Green or Aztec Gold
Colours Custom Transparent Emerald Green or Wild Cherry
Colours Stratoburst* Black Blue or Bronze
* According to the catalogue Stratoburst is a deluxe high gloss finish hand airbrushed in a unique shaded pattern that fades from black or blue to metallic silver or from bronze to gold.
Gold Elite
As above but with Gold Plated Hardware and Pearl Tuner Buttons
Walnut Elite As Elite but with Walnut Body and Neck, Ebony Fretboard, Pearl Tuner Buttons and Gold Plated Hardware
Telecaster 52 Reissue
The variable quality and changes during the CBS years meant that people looked back fondly on the pre CBS years and wanted guitars from earlier days, so Fender decided to make them again. Various reissues were released towards the end of 1982 and appeared in the 1983 Catalogue. There were some details of these that were not vintage accurate, probably because of re-tooling costs, but they were well received and started the whole business of vintage reissues
At this stage Fender did not use the word reissue but the model is described as The Vintage 52 Telecaster.
Specifications
Body Ash
Neck Maple C shaped 4 bolt
Fretboard Maple 7.25" radius 21 Vintage Frets
Headstock Original 52 style
Tuners Kluson Style Vintage Tuners
Pickups Standard Tele Single Coils described as "authentically original"
Controls Knurled Chrome 1 Volume 1 Tone 3 way switch*
Nut 1.65"
Hardware Chrome
Bridge 3 Brass saddle standard Tele
Pickguard Black 5 Hole
Colours Butterscotch Blonde
* From the factory it comes with the pre CBS switching see start of this page. Often it has been changed to the modern standard switching.
Pictures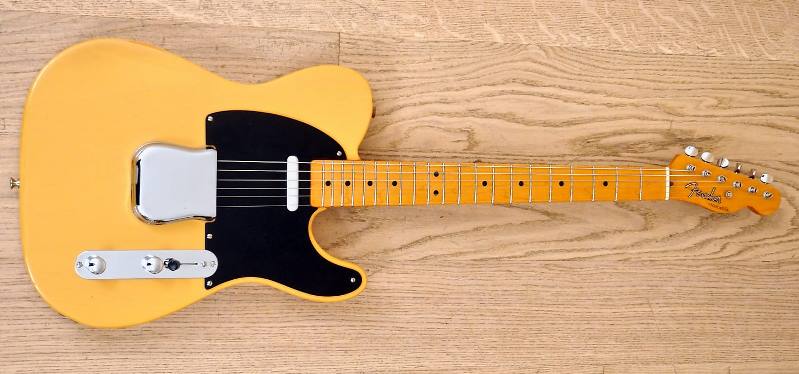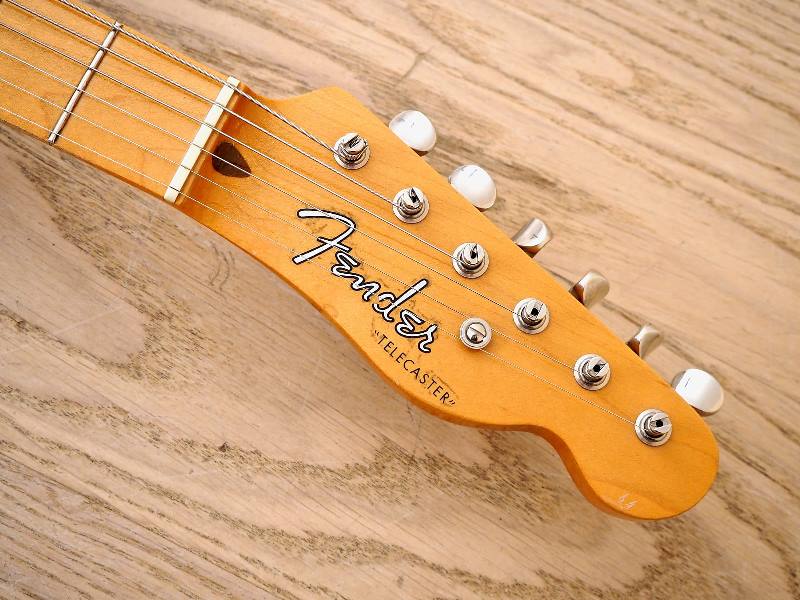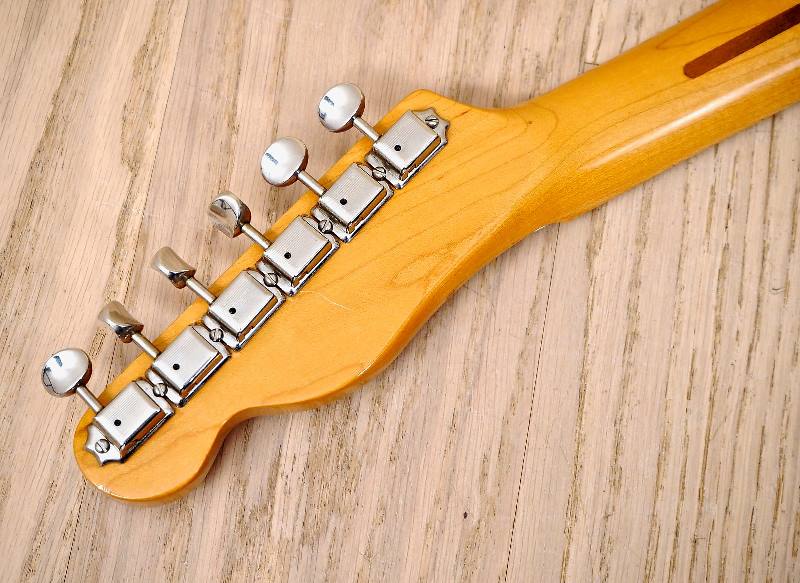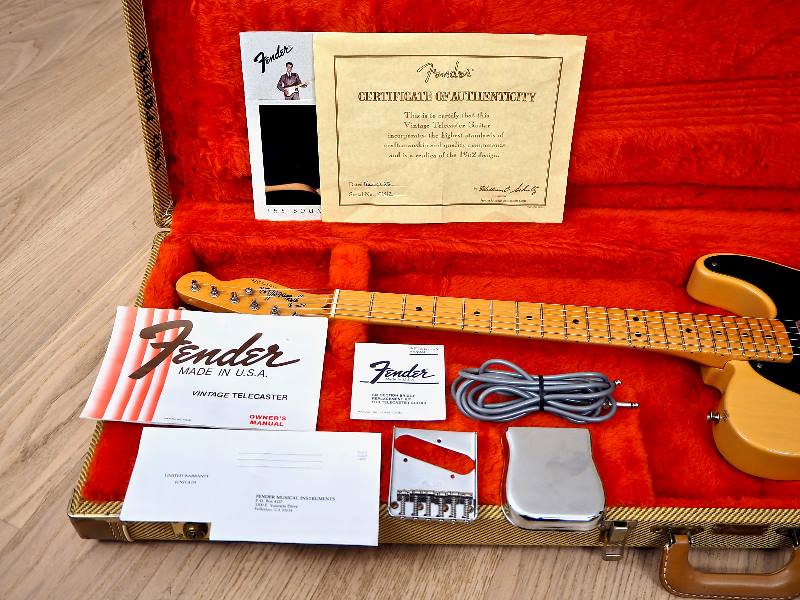 The Case Candy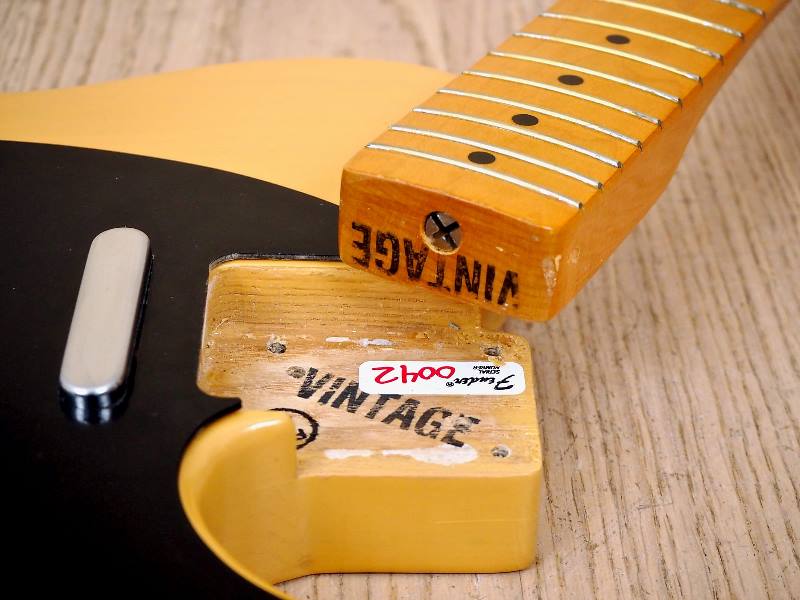 I believe the number on the sticker is the serial number and that this doesn't appear anywhere else on the guitar.
In has been pointed out to me that it appears on the Bridge also.
The Tele Bridge a development
This interesting piece of information comes from Yegbert of the Telecaster Forum
Fender around 1983 I think it was began altering the Tele bridge design, initially using a flat L-shaped plate with 6 saddles somewhat like the ones eventually used, but its offsets of the saddle mounting/intonation screws were offset to one side on the left 3, and the other side on the right 3. I thought it was a pretty design point, but I guess they eventually used them all offset one way for righties, and the other way for lefties.