Squier Branded Korean Teles
As I said on the strat page, it isn't intention to cover every Squier made in Korea, this page will be some general info and guitars I think are interesting but may develop further in due course. The definitive website for all things Squier is Squier Wiki
Some of the information on this page will be a repeat of the Strat page.

From the Strat pages Some General information about woods serial numbers and logos
I have posted this information many times on the Strat forum and one of the reasons for starting this section of my website was to have this readily available, although it is available in various forms elsewhere.


| | |
| --- | --- |
| Logo etc | Details |
| Black Logo | Made roughly 1992 to 1995 always thin plywood body and poor quality, CN and VN etc |
| Silver Logos | Unless Fender Branded with Small black Squier series these are 80s Guitars. See below |
| Silver Logo E7 or E10 serial numbers | Good quality Young Chang Guitars Alder bodies with Maple top and back |
| Silver logo E9 S9 or S10 serial numbers | Full width ply bodies |
| Silver Logo Squier II E9 S9 M1 or J1 logos | Thin Plywood body |
| Gold Logos | 1995 onwards various serial numbers all full width Alder Bodies except the Protone which is full width Ash |
Squier Telecaster TL354 E10 serial

A Black E10 with a changed pickguard

The E10 models were made in 1987, some sources suggest the E10 is later but that's wrong. The 1 indicates the first year of production in Korea. Good quality guitars built by Young Chang. The Strat equivalent also has some E7 numbered guitars but I don't think the Teles do. At least I haven't seen any. Details are not that easy to find but the specs below are what I know.
The serial numbers on these have a real tendency to fade to invisibility so if you can't easily see the serial number don't be unduly worried.
Specs
Body Solid Alder and Maple*
Neck Maple with Skunk Stripe
Fretboard Maple 21 Frets dot markers 12" radius
Headstock Small Silver logo with black outline 2 roller string trees
Tuners Gotoh
Pickups 2 single coil ceramics but some are known to have alnico
Controls standard Tele chrome flat top knobs
Nut 42mm
Hardware Chrome
Bridge 6 saddle chrome top loader
Pickguard White single ply 5 hole
Colours Black or Blonde
Years available 1987
* This information on the body wood is not from a verified source so if anyone knows different contact me please.

Some pictures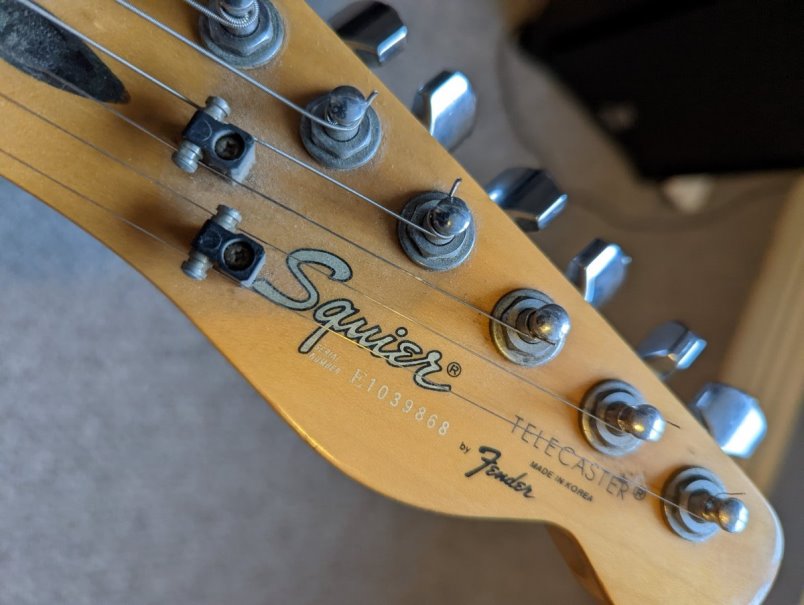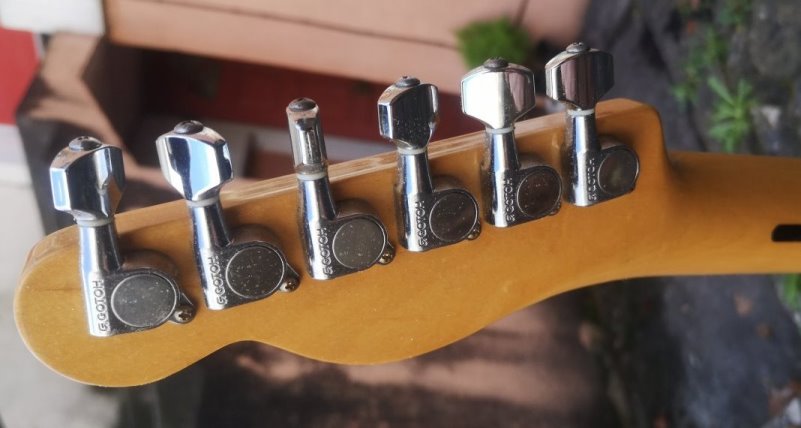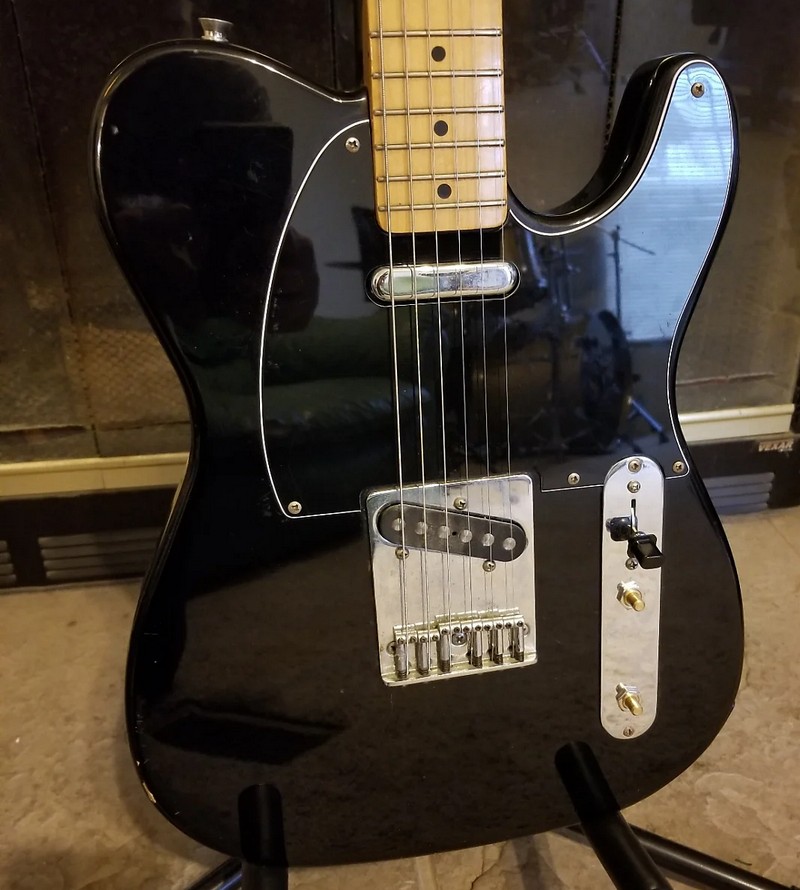 Pickguard changed
Squier Korea Protone Teles

From my Strat page
Most people will know the story of the Pro tones but just briefly in the mid 90s Joe Carducci became Squier Marketing manager he felt that Squier needed to up it's game as it was losing market share to the many competitors. He decided that the way forward was much better quality options. The Protones were born in 1996 well appointed great quality guitars and very good looking.
These guitars were made at the Cort factory.

There is a Thinline Tele 033-3700 and a Fat Tele 033-3802.

Specifications
| | | |
| --- | --- | --- |
| | Fat Tele | Thinline |
| Body | Ash Solid | Ash Semi Hollow with an F hole |
| Neck | 1 piece Maple C shape | 1 piece Maple C shape |
| Board | Rosewood 21 Medium Jumbo Frets 9.5" radius | Maple 21 Medium Jumbo Frets 9.5" radius |
| Nut | 1.65" | 1.65" |
| Headstock | Small tele style gold spag Squier logo Protone series written on 1 butterfly string tree | Small tele style gold spag Squier logo Protone series written on 1 gold butterfly string tree |
| Pickups | Alnico single coil at bridge unspecified humbucker at neck | 2 Alnico Single coils |
| Controls | 1 vol 1 tone 3 way switch on standard tele control plate | 1 vol 1 tone 3 way switch no control plate |
| Pickguard | Red shell multi ply standard tele size 8 hole | White shell multi ply thinline size |
| Hardware | Chrome | Gold |
| Tuners | Chrome Precision diecast | Gold Precision diecast |
| Colours | Natural | Crimson Red Transparent |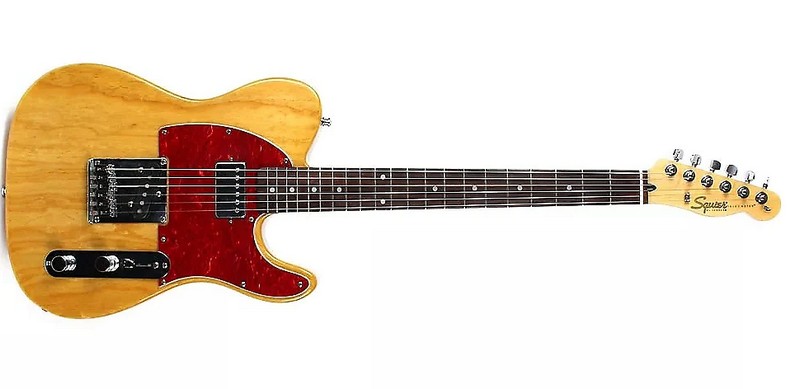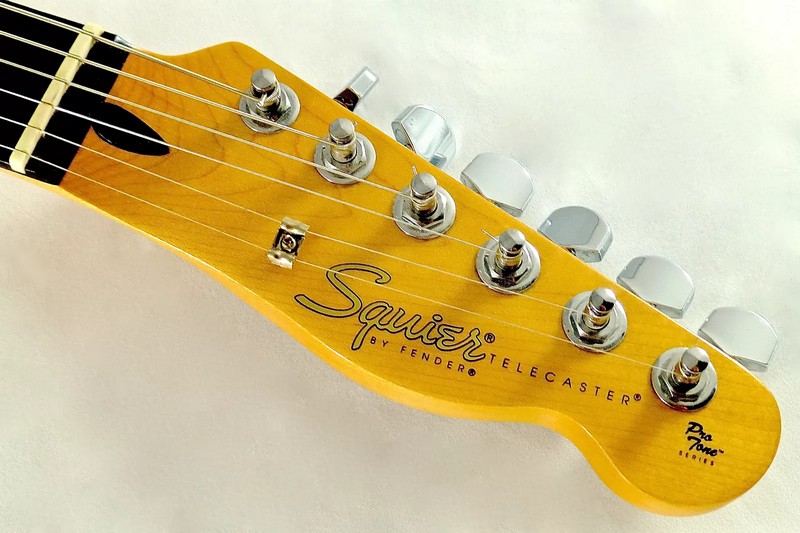 The Fat Tele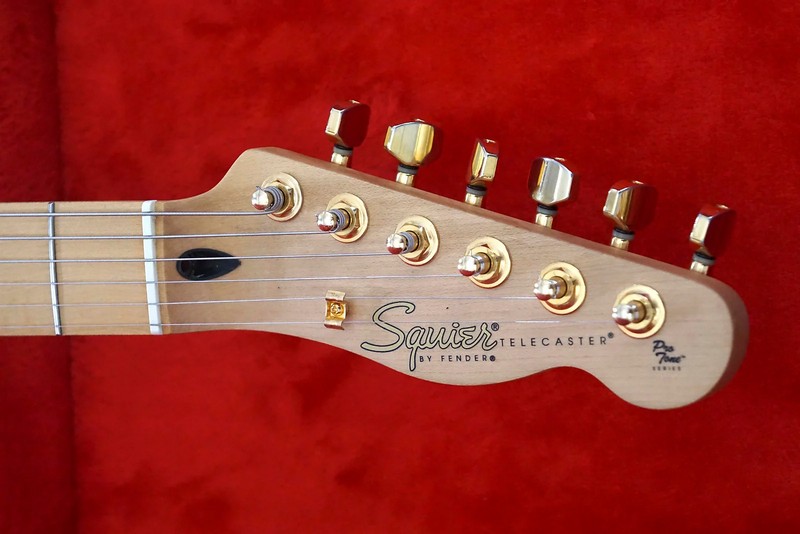 The Thinline
Squier Telecasters Mid 90s a return to quality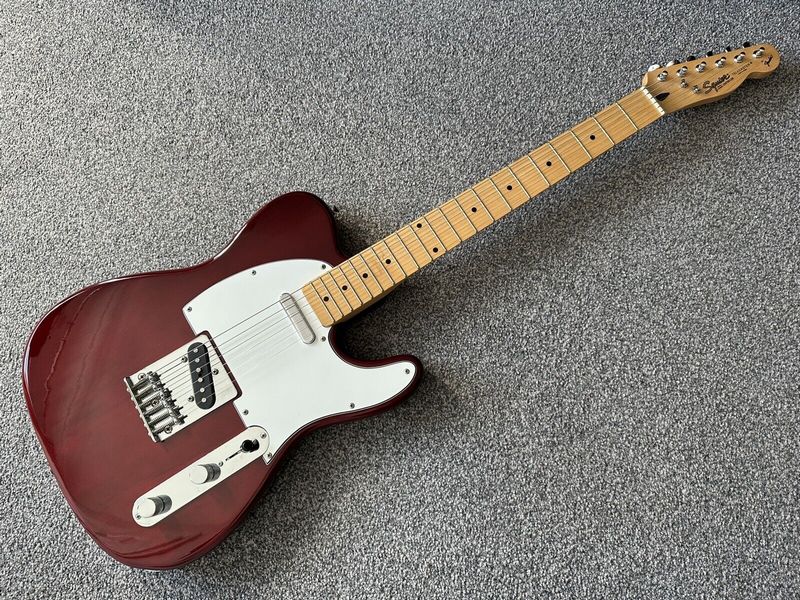 This has a VN7 serial number so a Saehan
Around mid 1995 Korean Squier Guitars ceased to be made of Ply or laminate cheaper materials and reverted to solid Alder or Ash in the case of the Protones full sized bodies. Easily identified by the change from Black to Gold Logo. These were initially made by two factories Cort and Saehan, Saehan is also known as Sungham. Those with serial numbers CN and KC are made by Cort and those with KV or VN serial numbers by Saehan. The telecaster is the standard telecaster model 033-1202. Specs varied and some early ones still sported the trap tuners.
Cort made Standard Telecasters for a short while and then changed to making Protones I don't think Cort continued making the standard model after they started the protones but I suppose there could be some overlap.

Specs
Body Full width Alder Poly finish
Neck 1 piece Maple 4 bolt
Board Maple 9.5" radius 21 Frets very wide 12th Fret markers
Headstock TRA at Head Black Plastic plug Gold Logo Serial Number on Front with Made in Korea 2 wing type string trees
In 1997 they changed from VN to KV and moved the serial number to the neck heel below the words Crafted in Korea in script
Tuners Hexagonal also known as "Trap" tuners on early CN and VN thereafter Sealed diecast
Pickups Ceramics SS
Hardware Chrome
Bridge 6 chrome saddles Top Loader
Pickguard 3 Ply 8 hole usually white
Colours Black, Blonde, Sunburst or Midnight Wine early models, Midnight Blue added later, changed to LPB and CAR on VNs
There may be other colours I haven't seen.
I have not come across any left handed models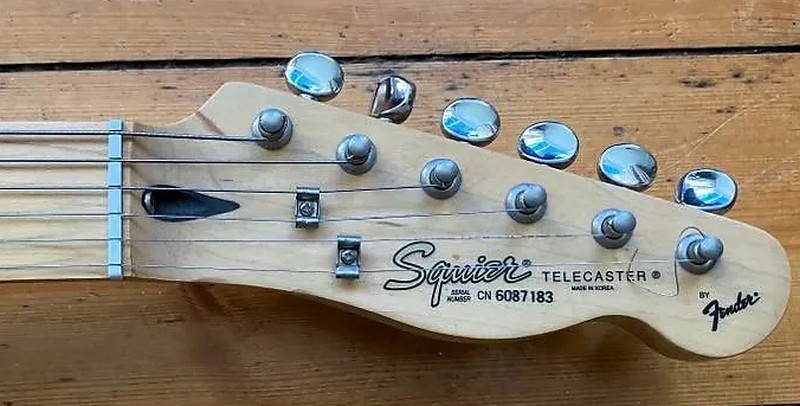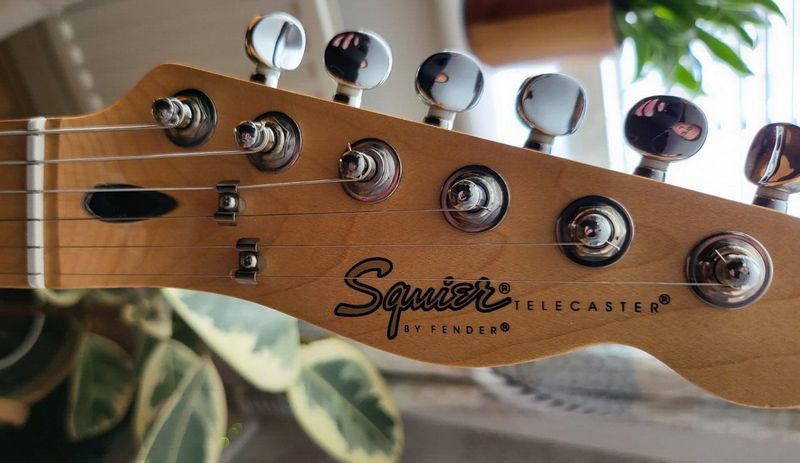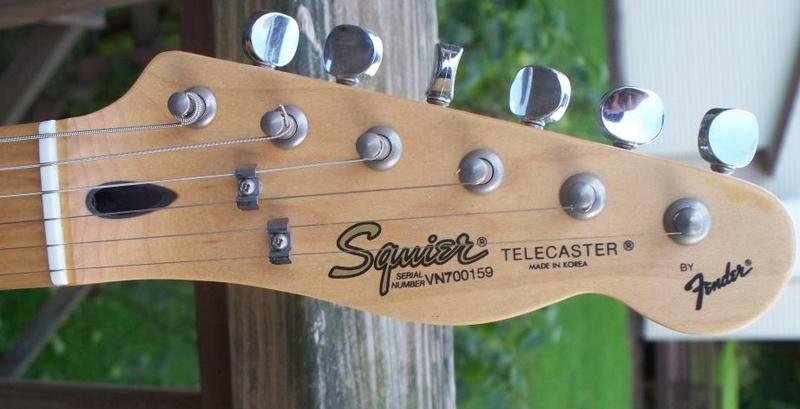 Headstocks CN, KV and VN respectively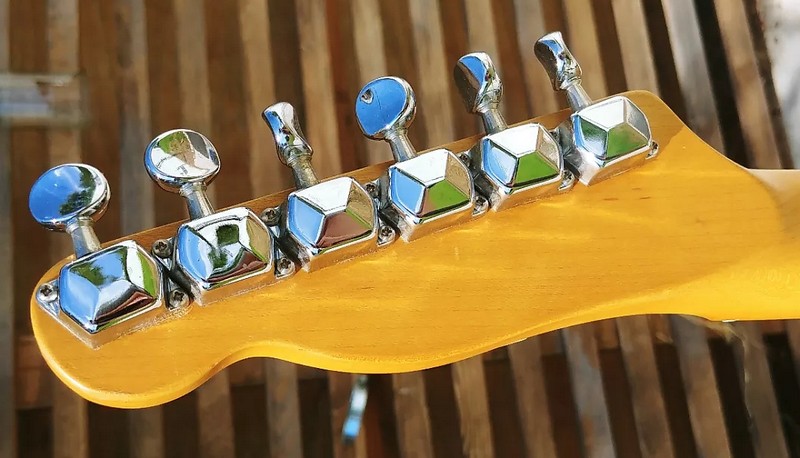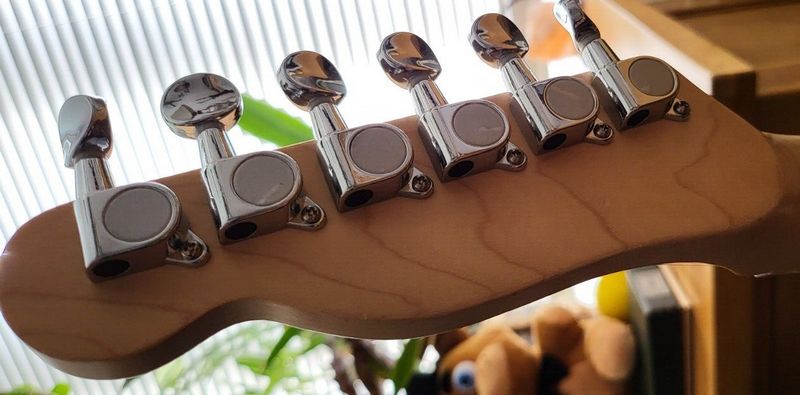 The Tuners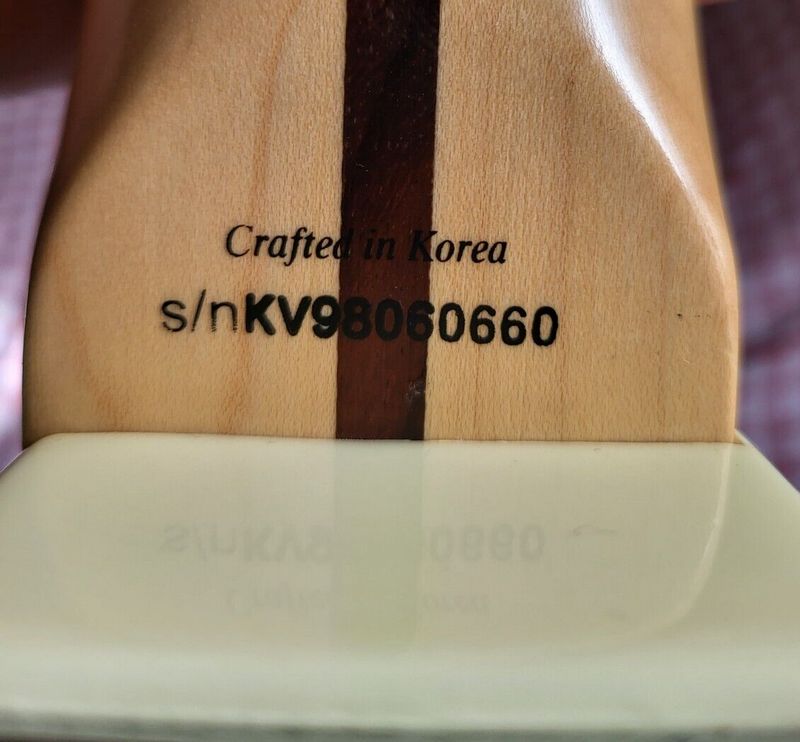 The neck heel although this is KV9 it is a 1998 model has date on neck.
They stopped making these in Korea in 1998.
Squier Korea Double Fat Tele Deluxe
Model 032-2300 made from 2001 to 2003 in the Cort Factory some untele like features.
Specs
Body Solid Mahogany Arch top with "German cut"
Neck Matching Set neck Mahogany C shape satin polyurethane finish
Fretboard Rosewood 22 Jumbo Frets 16" radius
Headstock Matching Squier Logo in gold with silver outline 2 butterfly string trees. Serial number on reverse
Tuners Black Diecast
Pickups 2 uncovered Humbuckers
Controls 1 Volume 1 Tone black 3 way Tone knob is a push push for coil split
Nut 41mms
Hardware Black
Bridge Black 6 saddle string through
Pickguard None
Colours Black Metallic, Atlantic Blue Metallic or Frost Red Metallic
Years available 2001 to 2003

Some Pictures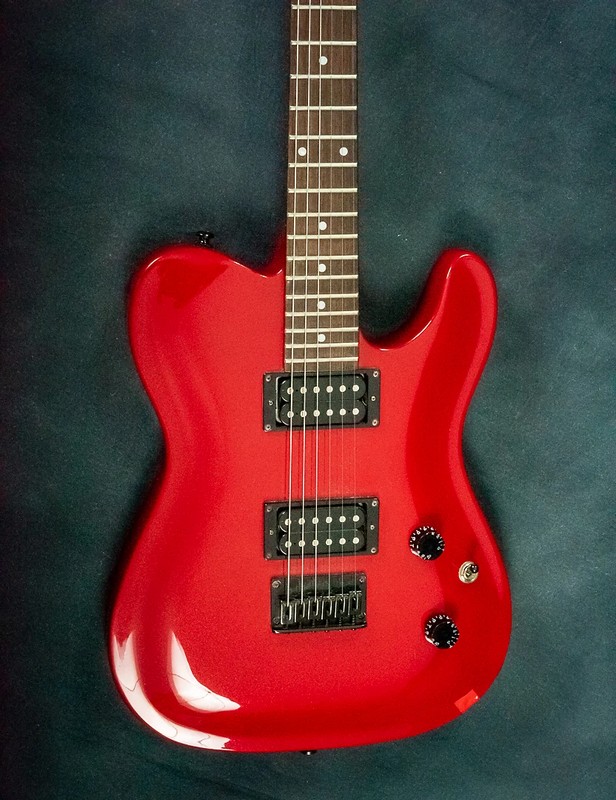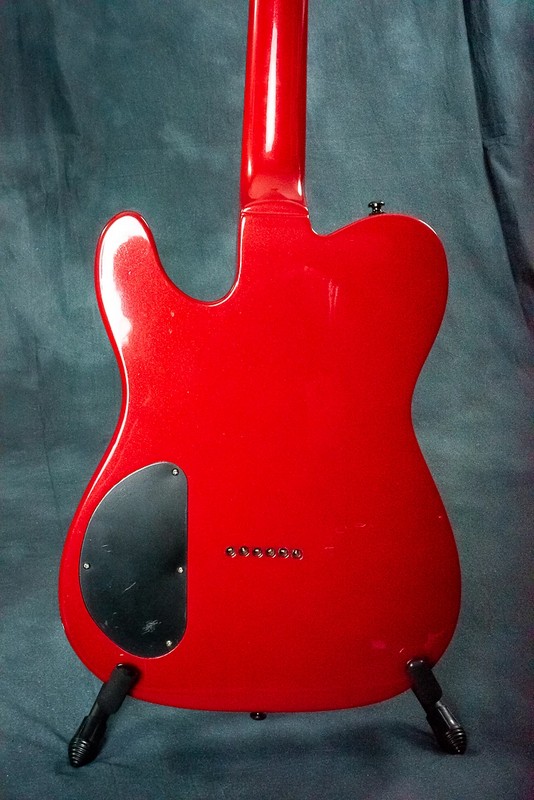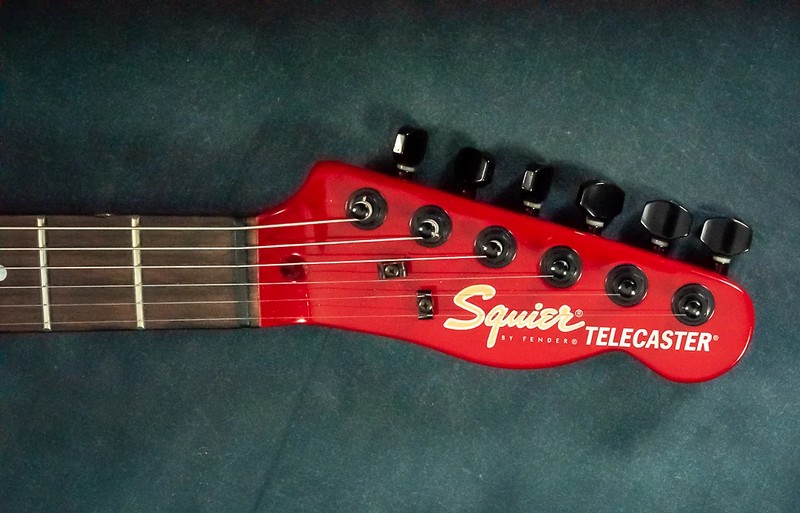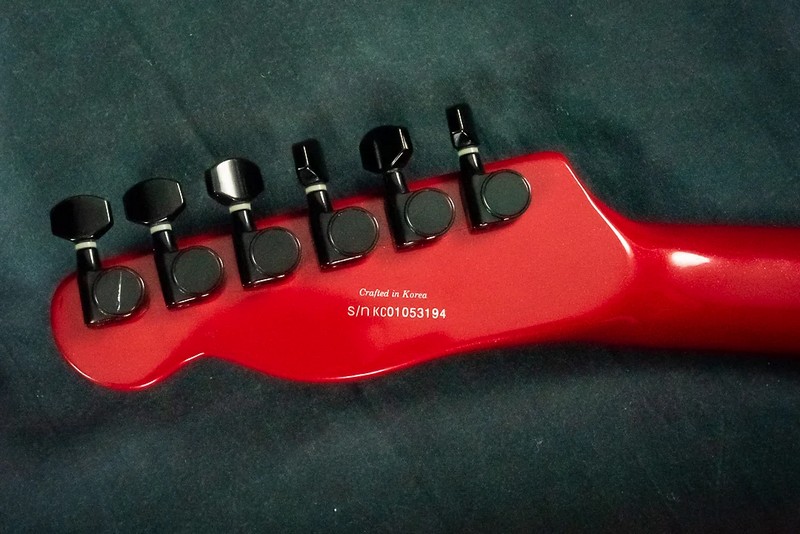 Squier Korea Chambered Tele HH
These were made at the Cort factory from 2005 to 2007, model 034-0200. Again a departure from the Telecaster as we know it in that it is a 24.75" scale and has a glued in neck. Part of the Master Series.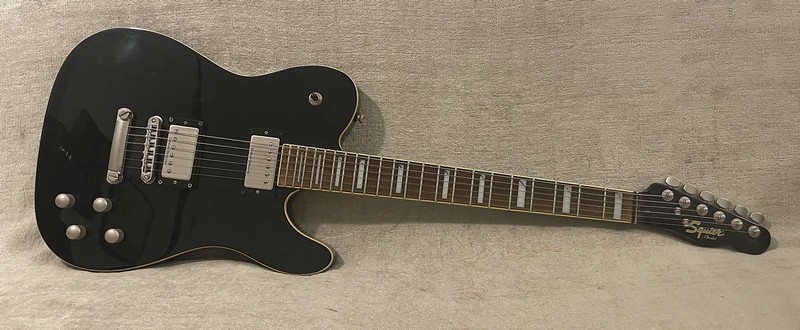 A nice looking guitar though
Specifications
Body Chambered Flat top bound Mahogany white binding
Neck Set neck Mahogany C shape satin polyurethane finish
Fretboard Rosewood 22 Medium Jumbo Frets 12" radius
Headstock Matching Squier Logo in gold with silver outline 2 butterfly string trees. Serial number on reverse
Tuners Diecast
Pickups 2 Duncan Designed metal covered Humbuckers
Controls 2 Volume 2 Tone Knurled round tops 3 way in Gibson position
Nut 41mms
Hardware Satin Platinum Finish
Bridge 6 saddle T.O.M with stoptail
Pickguard None
Colours Black, Crimson Red Transparent, Ebony Satin or Walnut Satin
Years available 2005 to 2007

Some more detail