The Yamaha SG-I Guitar The Issei Noro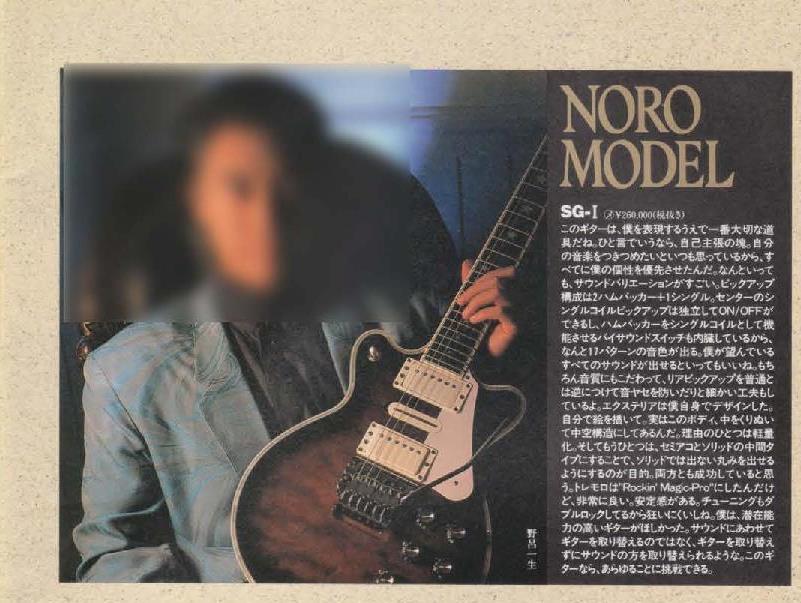 The man with his guitar
This guitar is the signature model of Issei Noro first produced in 1988 prodution ceased in 1992.
See also the IN 10 he also has a signature SG2000 which I will detail at some stage.
Yamaha SG-1 some details
This guitar was catalogued at 283,000 yen in 1988, so a little cheaper than the IN-10 I have seen a few for sale but it looks like they would want you to part with over &pound5000 for one.

Specs as far as I can find
Body Semi Hollow but no F Hole Mahogany with a T Cross Maple Top
Neck Through neck Maple and Mahogany
Board Ebony 22 Frets 628mm scale Star Fret Markers
Pickups HSH Spinex
Chrome Hardware RMPro Bridge
Headstock Bound WBWBW Yamaha written on and Issei on the Truss Rod Cover
Tuners Yamaha Branded Sealed Diecast
Nut Locking
Controls according to the Archive 2 Volume 2 Tone coil tap 3 way switch*
Colours Purple Sunburst**

* There are 5 controls all of which seem to be numbered so I don't know what the 5th control is doesn't look like it's to do with the coil tap
** Again according to the Archives but the pictures I have seen don't look that purple to me.
some random pictures