Yamaha Sessions and SE Guitars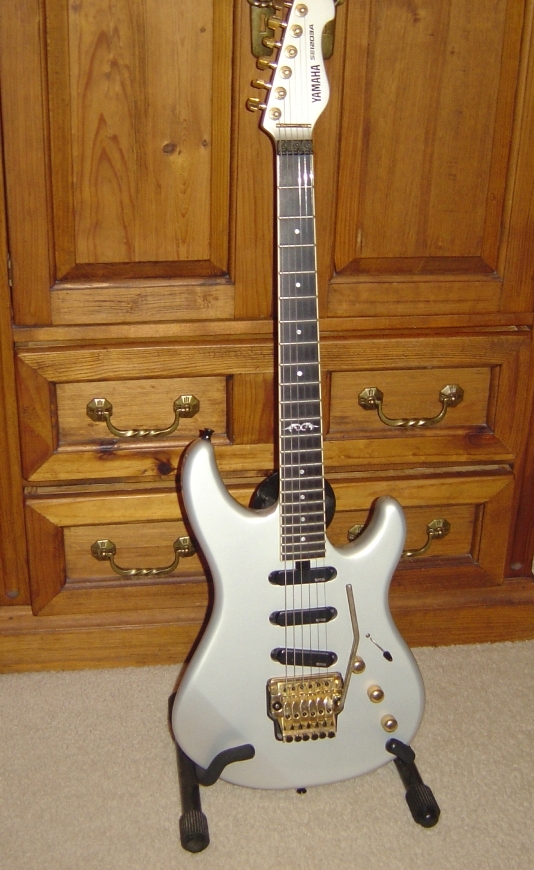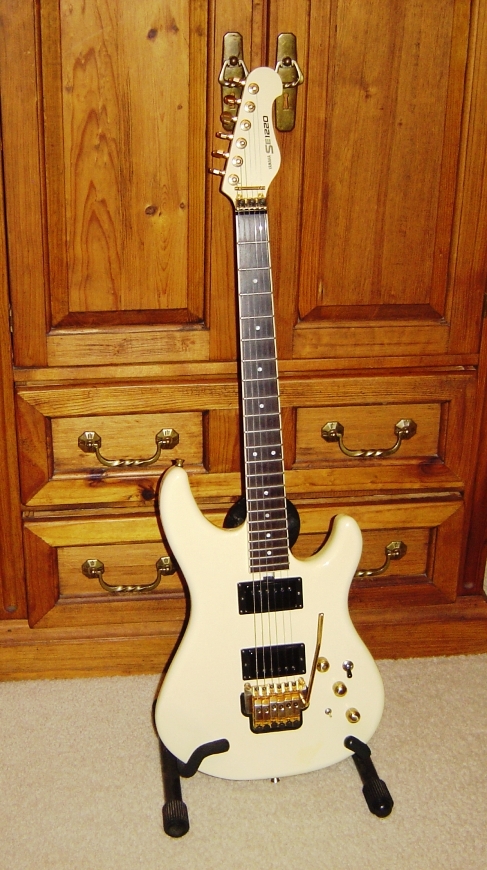 Two beautiful guitars courtesy of Jeff Plogger on the left an SE1203a on the right an SE1220 Thanks Jeff
Note the difference in the script sizes on the Headstocks
This is a developing project and needs your help to become a real resource for these guitars. Please let me have any corrections additional information and the like via my Email contact any pictures catalogue scans etc are always appreciated. These pages are being completely rewritten January 2019 with many updates. Now close to completion
Introduction to Yamaha SE and Session Guitars
The Sessions or SEs are an important step in the development of Yamaha's range they are the precursors to the Pacifica range first appearing in 1985 and ending at the end of that decade before the first appearance of the Pacificas in 1990. These guitars on launch were priced in the region of 60,000 yen in Japan which is about 350gbp, compare that with the cheapest SA of the time at around 110,000 yen and you can see that these are aimed at the budget market but still have that Yamaha quality. A wider range was launched in the UK with some higher quality models. Although these guitars are shown in the archives as launched in 1985 we know form owners, serial numbers etc that the 700s were available as early as January 1984.
Update January 2022 Owners Manual
A very kind gentleman Patrick Brommer has gone to a great deal of trouble to scan the Yamaha SE and SJ owners manual. It is available to download here
Manual
Thank you Patrick
Yamaha Sessions and SEs The first models
These guitars first appeared in the 1985 catalogues. They appeared in the winter of 1985 newcomers catalogue (Japanese) three models all priced at 60,000 yen. These were the Session 503, 512 and 520. In the English catalogue for 1985 many more models are available these are SE 200, 300, 450,700E, 700M, 700 HE and the 700 HM in the last four models the M is a maple fingerboard and the E an ebony one. The Japanese however never produced a lower range model than the 500 for the domestic market, just the higher range models. There were however many lower range models available in the west.
Session and SE Model Designations
This is Yamaha so rules are guides and exceptions will be found. The model designations of SEs follow the following rules. All start with SE, Session or Session ii these are broadly interchangeable and other than Session ii came after Session indicate nothing although Session tends to be used in Japan and SE in the West. All have 3 or 4 numbers and some will have some letters.
The first of the 3 numbers, or the first 2 of a four number model number indicates the grade the higher the number the better the grade.
The second number indicates the number of humbuckers sometimes, other times where the second number is 5 a letter H will be added to indicate humbucker
The third number indicates the number of single coils, sometimes it is not obvious looking at the guitar whether you are looking at a humbucker or 2 single coils in the same mounting.
The letters are:
E Indicates an Ebony Board
M Indicates a Maple Board
P Usually indicates a non locking trem type
A Indicates active pickups
H Indicates Humbucker(s) only
J No idea anyone help?
This system is similar to the system adopted on Pacificas
A word about woods
Nato also known as Eastern Mahogany and Bubinga (or Buvinga) known as African Rosewood are often used by Yamaha so where Mahogany and Rosewood appear in the specs there is a fair chance it is Nato and Bubinga.
Session and SE models
Model
Comment
Go To
110
1986/7 Model full specs available
100 range
112
In 1988 Catalogue have details
100 range
150
Have some specs 1986/7 Model
100 range
200
See first models English
First Models English
203
1987 Catalogue have full details
200s
203M
Maple board version of 203 launched the following year
200s
211
1987 Catalogue have details
200s
250
Have some details
200s
300
see first models English
First Models English
300H
Discovered this model March 2021
300s
312
1987 Catalogue have details
300s
312M
Maple board version launched a year later
300s
350
SSH MIT have got some specs
300s
350H
Some details
300s
450
See first models English
First Models English
503
Session see first models Japan
First Models Japan
503p and pm
Session11 non locking trem version one Rosewood one Maple
500s
512
Session see first models Japan also a session11 version
First Models Japan
512p
Session11 non locking trem version 1987
500s
520
Session see First Models Japan also a Session11 version
First Models Japan
603
In 1987 Catalogue have details
600s
603M
Maple board version launched later
600s
603MA
1988 Catalogue have details
600s
603p
Session11 have some details
600s
610S and SM
Archives and catalogue say 1987 Session11 60,000 yen very little other detail
600s
612
Session11 In 1987 and 88 catalogues have details
600s
612p
Non locking trem version of 612? Session11
600s
612A
Active pickup version
600s
620
Session11 In 1987 Catalogue have details
600s
620p
Session11 non locking trem version?
600s
700 E and HE
See first models English
First Models English
700 HE and HM
See first models English
First Models English
703j
session11 launched at 60,000 yen 1987 no other detail don't know what the j means
700j models
712j
session11 launched at 60,000 yen 1987 no other detail don't know what the j means
700j models
812
Session11 and SE in 1987 catalogue have details
800 range
820
Session11 and SE in 1987 catalogue have details
800 range
903a
I have a catalogue scan with lots of details but not sure of the year of the scan
900 range
903j
Session11 launched Oct 1987 at 90,000 yen available in 1988 limited details
900 range
903p
Session11 launched July 1987 at 90,000 yen discontinued same year limited details
900 range
912a
I have a catalogue scan with lots of details but not sure of the year of the scan
900 range
912p
Session11 launched July 1987 at 90,000 yen discontinued same year limited details
900 range
912j
Session11 launched Oct 1987 at 90,000 yen available in 1988 limited details
900 range
1203a
In 1988 catalogue have details
1200 range
1203
In 1987 catalogue have details
1200 range
1212
In 1987 catalogue have details
1200 range
1212a
In 1988 catalogue have details
1200 range
1220
In 1987 catalogue have details
1200 range