Squier Classic Vibe Guitars Made in Indonesia
Classic Vibe Guitars move to Indonesia
As this happened I kept updating my website so I have left it as it was as the sort of history of the move

2019

The Classic Vibe series production is moving to Indonesia. Fender have added to their classic vibe range by renaming the Vintage Modified series as Classic Vibes production of these continues in Indonesia.

Further Update and The Move to Indonesia is Complete
The Fender USA web site in July 2019 shows the new range it shows that all models are now made in Indonesia some changes are evident throughout all models.
Pickups are no longer the tonerider types but Fender designed Alnico Vs
The pickups on all the strats are the same as follows
Neck PTP 10149 Middle PTP 1014-1 Bridge PTP 1011-1
Headstock logos are different and feature Crafted in Indonesia on the back. The 50s and 60s models have gold logos the 70s black logos.
Frets are now Narrow Tall
Nuts are now 1.65" bone not synthetic bone.
Body woods and colours are different
Strat and Tele Models
Strat Classic Vibe 50s Body wood is Pine colours are 2 colour sunburst, Fiesta Red, Black or White Blonde
Strat Classic Vibe 60s Body wood is Nato colours are 3 colour sunburst, Candy Apple Red or Lake Placid Blue
Strat Classic Vibe 70s Body wood is Poplar colours are Olympic White, Natural or Black
Strat Classic Vibe 70s HSS Body wood is Poplar colours Black or Walnut
Tele Classic Vibe 50s Body is Pine colours are White Blonde or Butterscotch Blonde Black Pickguard
Tele Classic Vibe 60s Custom Body is Nato 3 colour sunburst
Tele Classic Vibe 70s Custom Body is Poplar colours 3 colour sunburst or Black
Tele Classic Vibe 70s Deluxe Body is Poplar colours Olympic White or Black
Tele Classic Vibe 60s Thinline Body is Nato colour Natural
Tele Classic Vibe 70s Thinline Body is Soft Maple 3 colour sunburst or Natural
A couple of the new style CVs Note the black logos

70s Strat

70s Telecaster Custom
A Strat CV 60s with the gold logo

The back of the two headstocks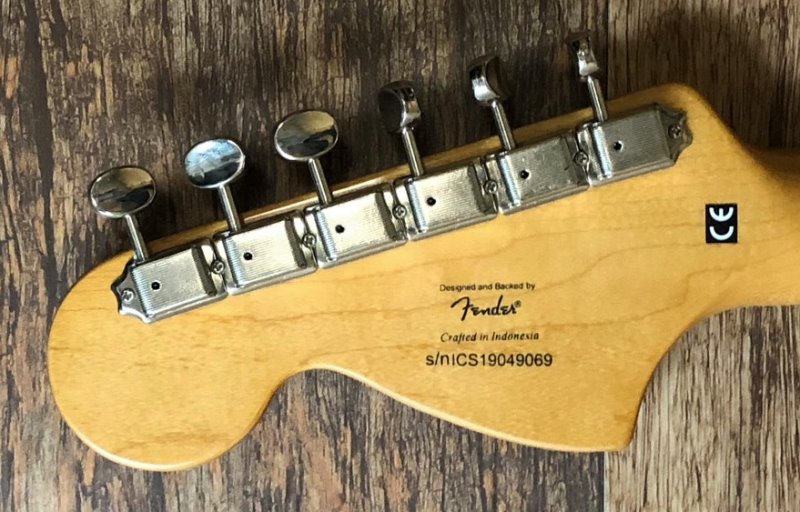 This is a 70s serial number indicates Cort factory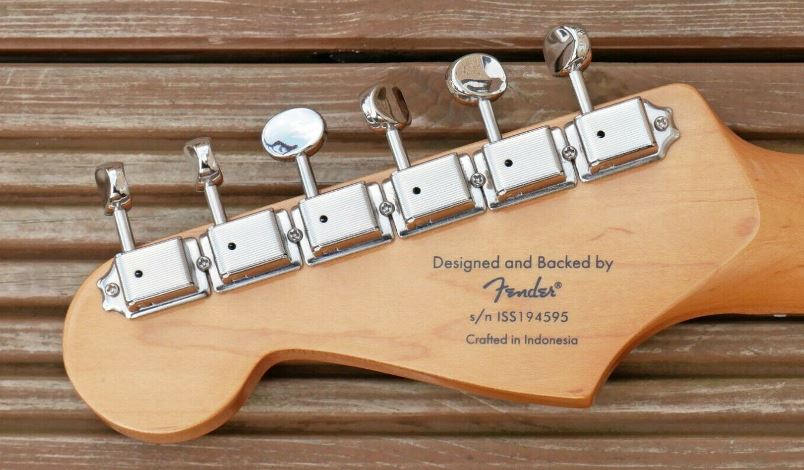 This is a 60s serial number appears to indicate the Samick Factory
18th November 2019
Comments below are from the late Guitarmaggedon from the strat forum Ryan knew more about Squiers than almost anyone else I know.

Not sure if everyone knows, but some of the new CVs are STILL made in China by Grand Reward same factory as the old CVs there are CV50s and CV60s Strats, MIC with 'CGRI19' serial number prefixes
Two identical guitars both with same new Squier logo and new Fender designed pickupssame as the Indonesian spec CV's just some are still being made in China.
I haven't seen a new Chinese one yet but I trust the source.
Further update August 2020
I have read that the Grand Reward factory has applied for bankruptcy so Chinese production will probably cease soon. There are reports on the Squier forum of some Indonesian guitars coming with full size trem blocks at some with the small ones also some with the tone control wired to the bridge pickup. So specs may be inconsistent.

Update Oct 2022
I hear that Chinese made classic vibes are still available in China but I can't be sure that any are still made there. The ones on Fender UK website all show Indonesia on the back of the headstock
The UK Offering is now
70s Tele Deluxe in Olympic White or Black &pound359
60s Custom Tele 3 Colour Sunburst &pound355
60s Strat 3 Colour Sunburst, Lake Placid Blue, Candy Apple Red or Fiesta Red &pound355
70s Thinline Tele 3 Colour Sunburst or Natural &pound355 or in Olympic White with Black Block Neck Markers &pound449*
60s style Baritone Custom Tele Black or 3 Colour Sunburst &pound429
70s Custom Tele 3 Colour Sunburst or Black &pound355
60s Custom Esquire Black LPB or 3Colour Sunburst &pound375
70s Strat Black, Olympic White or Natural &pound359
50s Strat 2 Colour Sunburst, White Blonde, Black or Fiesta Red &pound359
70s HSS Strat Black or Walnut &pound355
Boards appropriate to year are Maple or Indian Laurel.
* There don't appear to be any spec differences except for cosmetic ones to the White Thinline and the others.
Left handed models in limited colours 50s Tele 60s Strat or 70s HSS.
These are from the UK site other countries may be different.



This is the Oly White Thinline all you get for your extra &pound90 is block inlays and a different pickguard.
Squier Classic Vibe Hank Marvin FSR

An FSR reproduction of Hank Marvins Fiesta Red Strat was released around 2021 one was for sale on Ebay recently (2022) asking &pound500 unsurprisingly it attracted no bids.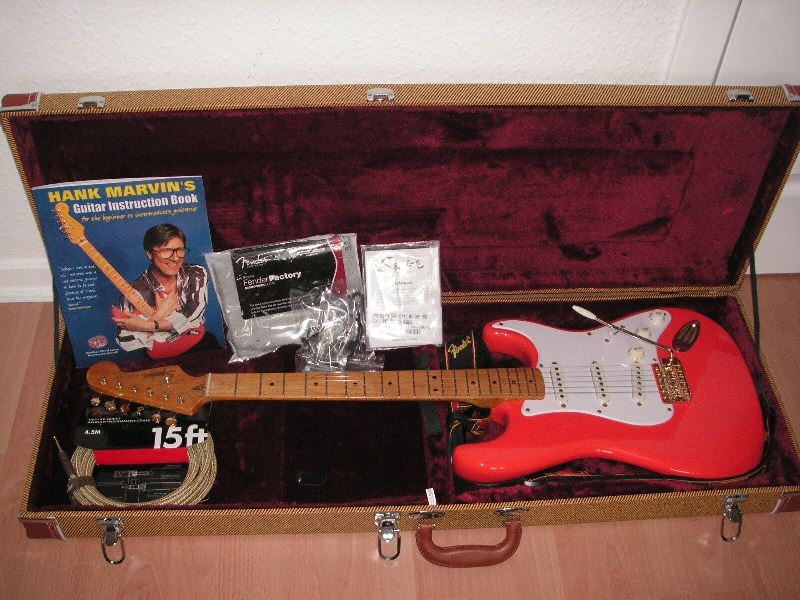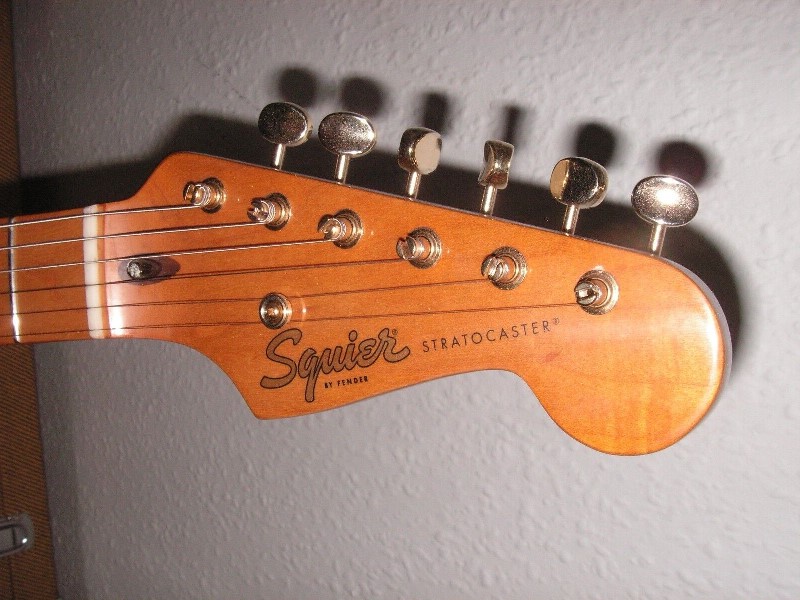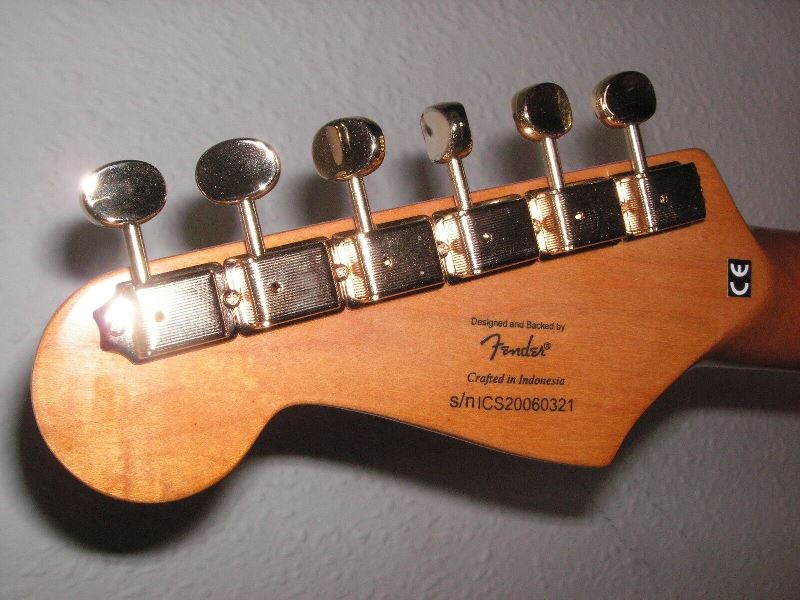 Specs
Body: Poplar Gloss Polyurethane
Neck Maple Tinted Gloss Urethane "C" Shape
Fingerboard: Maple Radius: 9.5" (241 mm) Frets: 21 Narrow Tall Black Dot Inlays
Nut: Bone
Pickups: Fender® Designed Alnico Single-Coil
Controls: Master Volume, Tone 1. (Neck Pickup), Tone 2. (Bridge/Middle Pickup) 5 way
Bridge: 6-Saddle Vintage-Style Synchronized Tremolo
Hardware Finish: Gold
Tuning Machines: Vintage-Style
Pickguard: 1-Ply White
Control Knobs: Aged White Plastic
Squier Classic Vibe Guitars as at 2023
Update April 2023 There are now 26 models, counting left handed as separate models on the website including Bass guitars, Mustangs Jaguars etc.
The available Strats and Teles are:
Strats 50s, 60s, 70s and a 70S HSS
Teles 50s inc LH, 60s Custom, 60s Thinline, Baritone Custom, 70s Deluxe, 70s Custom, 70s Thinline and 60s custom esquire.

The Strats
| | | | | |
| --- | --- | --- | --- | --- |
| Model | 50s | 60s | 70s | 70s HSS |
| Body | Nato | Nato | Poplar | Poplar |
| Neck | Tinted Maple 4 bolt C shape | Tinted Maple 4 bolt C shape | Tinted Maple 4 bolt C shape | Tinted Maple 4 bolt C shape |
| Board | Maple 21 Narrow Tall Frets 9.5" radius | Indian Laurel 21 Narrow Tall Frets 9.5" radius | Indian Laurel 21 Narrow Tall Frets 9.5" radius | Indian Laurel on Walnut or Maple on Black 21 Narrow Tall Frets 9.5" radius |
| Headstock | see pictures truss rod adjust at Headstock | see pictures truss rod adjust at Headstock | see pictures truss rod adjust at Headstock | see pictures truss rod adjust at Headstock |
| Nut | 42mm bone | 42mm bone | 42mm bone | 42mm bone |
| Pickups | Fender Alnico as previously SSS | Fender Alnico as previously SSS | Fender Alnico as previously SSS | Fender Alnico as previously SSH |
| Controls | Aged White master volume and 2 Tone 1 for Neck and Middle 1 for Bridge | Aged White master volume and 2 Tone 1 for Neck and Middle 1 for Bridge | Aged White master volume and 2 Tone 1 for Neck and Middle 1 for Bridge | Black master volume and 2 Tone 1 for Neck and Middle 1 for Bridge |
| Tuners | Vintage Style | Vintage Style | Vintage Style | Vintage Style |
| Hardware | Nickel Plated | Nickel Plated | Nickel Plated | Nickel Plated |
| Pickguard | White 8 screw single ply | Parchment 11 hole 3 ply | $ ply tortoiseshell | 3 ply black |
| Colours | Black, 2 Tone Sunburst, Fiesta Red | 3 Tone Sunburst, LPB, CAR | Natural, Olympic White | Black, Walnut |
| | | | | |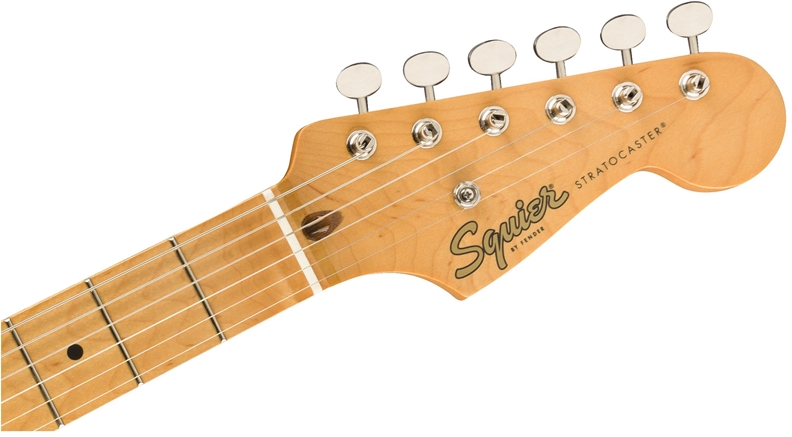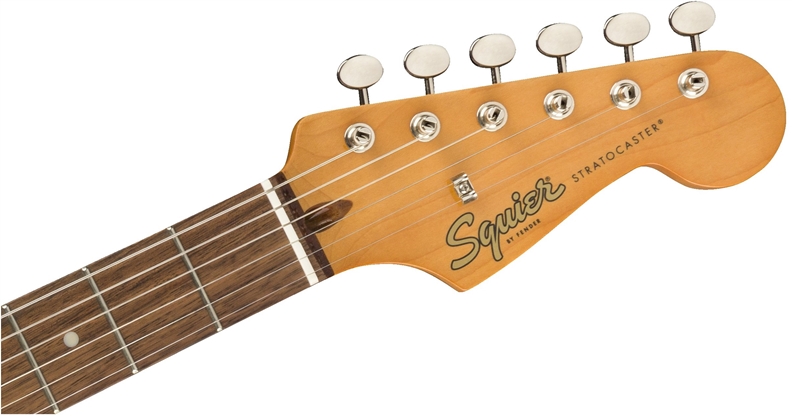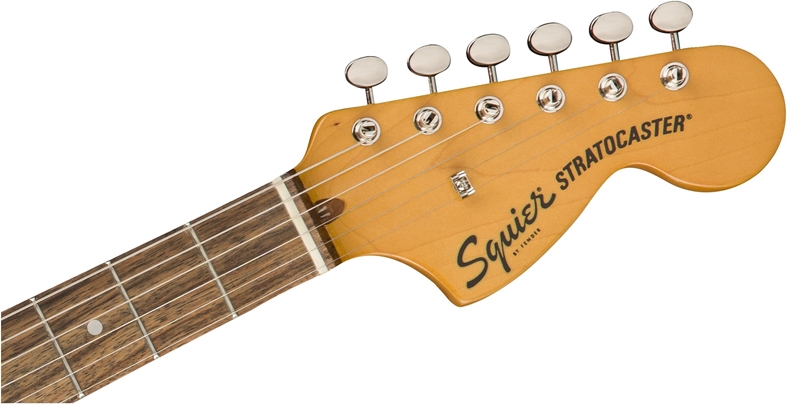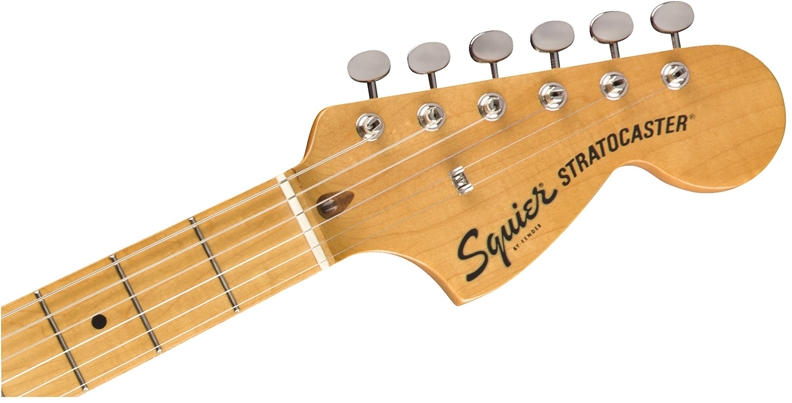 From Top to bottom 50s, 60s, 70s, 70s HSS
The Telecasters
There are now more telecasters with specs and colour option changes. The models are:
50s Telecaster including a left handed option
4 60s models
3 70s models
50s Telecaster
specs are now.
Body Pine Gloss poly finish
Neck Maple C shape
Fretboard Maple 21 Narrow Tall Frets 9.5" radius
Headstock 50s style with TRA at headstock
Tuners Vintage style
Pickups Fender vintage style Alnico
Controls Standard Modern Telecaster with Chrome knurled flat top Knobs
Nut 42mm bone
Hardware Nickel plated
Bridge 3-Saddle Vintage-Style Strings-Through-Body Tele with Chrome Barrel Saddles
Pickguard Black or white 8 hole
Colours with black pickguard White Blonde or Butterscotch Blonde
Colours with white pickguard Sonic Blue, Burgundy Mist, Vintage Blonde or 2 Colour Sunburst
Unless you want the left handed model when it's Butterscotch Blonde with Black pickguard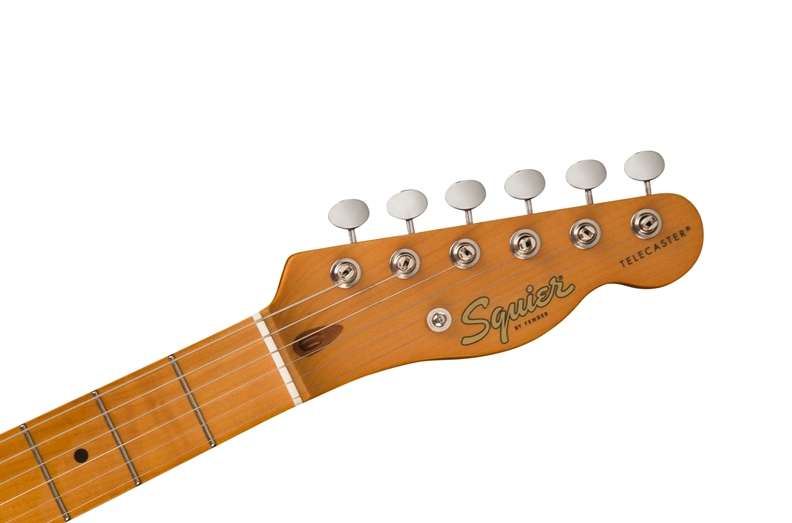 50s tele in Sonic Blue


60s Telecaster Models
Specs
| | | | | |
| --- | --- | --- | --- | --- |
| Model | 60s Custom | Thinline | Baritone Custom | Custom Esquire |
| Body all gloss urethane Finish | Cream Bound Nato | Nato | Cream Bound Nato | Aged White Bound Nato |
| Neck all tinted gloss urethane finish | Maple C shape | Maple C shape | Maple C shape | Maple C shape |
| Board | Indian Laurel 21 Narrow Tall Frets 9.5" radius | Maple 21 Narrow Tall Frets 9.5" radius | Indian Laurel 21 Narrow Tall Frets 9.5" radius 27" scale | Indian Laurel 21 Narrow Tall Frets 9.5" radius |
| Nut | 42mm bone | 42mm bone | 42mm bone | 42mm bone |
| Headstock | 60s style Gold logo single butterfly string tree | 60s style Gold logo single butterfly string tree | 60s style Gold logo single butterfly string tree | 60s style Gold logo single butterfly string tree |
| Pickups | 2 Fender designed Alnico | 2 Fender designed Alnico | 2 Fender designed Alnico | 1 Fender designed Alnico |
| Controls | Standard Modern Tele with Chrome Knurled Flattop | Standard Modern Tele with Chrome Knurled Flattop | Standard Modern Tele with Chrome Knurled Flattop | Master Volume Master Tone Knurled Flattop 3-Position Blade: Position 1. Volume Control, Position 2. Volume and Tone Controls, Position 3. Volume Control and Fixed Treble Roll-Off Capacitor. |
| Tuners | Vintage | Vintage | Vintage | Vintage |
| Pickguard | 5 screw 3 ply parchment | Thinline Style 4 ply aged perloid or single ply gold anodised | 5 screw3 ply parchment | 5 screw 3 ply parchment |
| Bridge | 3-Saddle Vintage-Style Strings-Through-Body Tele® with Chrome Barrel Saddles | 3-Saddle Vintage-Style Strings-Through-Body Tele® with Chrome Barrel Saddles | 3-Saddle Vintage-Style Strings-Through-Body Tele® with Chrome Barrel Saddles | 3-Saddle Vintage-Style Strings-Through-Body Tele® with Chrome Barrel Saddles |
| Colours | 3 colour sunburst | Natural, Aztec Gold or Sherwood Green with Parcment guard Sonic Red or Desert Sand with Gold guard | 3 colour Sunburst or Black | 3 colour Sunburst |
| | | | | |




From the top Custom, Thinline, Baritone and Esquire
70s Telecasters

| | | | |
| --- | --- | --- | --- |
| Model | Deluxe | Thinline | Custom |
| Body | Poplar Gloss Urethane Finish | Maple semi hollow Gloss Urethane finish | Poplar Gloss Urethane Finish |
| Neck | 4 bolt Maple C shape tinted gloss urethane finish | 4 bolt Maple C shape tinted gloss urethane finish | 4 bolt Maple C shape tinted gloss urethane finish |
| Fretboard | Maple 21 Narrow Tall Frets 9.5" radius | Maple 21 Narrow Tall Frets 9.5" radius | Maple 21 Narrow Tall Frets 9.5" radius |
| Nut | 42mm bone | 42mm bone | 42 mm bone |
| Headstock | 70s style large headstock black 70s logo etc | small tele style black 70s logo etc | small tele style black 70s logo etc |
| Pickups | 2 Fender designed wide range HBs | 2 Fender designed wide range HBs | Fender designed 1 HB 1 SC |
| Controls | 2 Vol 2 Tone black skirted amp style 3 way switch | 1 Vol 1 Tone chrome knurled flat top 3 way switch | 2 Vol 2 Tone black skirted amp style 3 way switch |
| Bridge | 6-Saddle String-Through-Body Tele with Bent Steel Saddles | 6-Saddle Vintage-Style Strat Strings-Through-Body Hardtail | 3-Saddle Vintage-Style Strings-Through-Body Tele with Chrome Barrel Saddles |
| Hardware | Nickel Plated | Nickel Plated | Nickel Plated |
| Pickguard | large 3 play black | large 4 ply white pearloid Oly white has 3 ply black | large 3 ply black |
| Colours | Olympic White or Black | 3 colour Sunburst, Natural or Olympic White | 3 colour Sunburst or Black |
| | | The oly white model has block fretboard inlays | |



Deluxe, Thinline and Custom