Yamaha Guitar Manufacturing
Yamaha electric guitars have been manufactured in several factories and several countries this page is a collection of information about those facilites. Much of information below looks like publicity material because it is it is lifted from Yamaha brochures etc.

The Yamaha Factory in China
Japanese Manucture
Central Guitar Design Hamamatsu
According to Yamaha
The central Yamaha guitar design division, a small group of dedicated individuals, represents more than 30 years of experience and know how in the creation of fine guitars. In addition to traditional methods this design team employs sophisticated computer-aided design equipment to keep the innovative ideas flowing. 
Tenryu Custom Shop Hamamatsu
According to Yamaha
The Tenryu Shop centers around four highly experienced craftsmen who turn many of our design ideas into reality. About half the output of the Tenryu Custom Shop are hand-made prototypes of new models. 
Art Studios Tokyo
According to Yamaha
The ART studio facility in Tokyo is a major feedback center for information from the field. Contact with more than 1,500 artists each year keeps Yamaha in touch with the real world of music providing the necessary feedback to refine existing product and develop new instruments that meet the needs of todays top players. Four artist contact specialists and two top-level guitar designers form the all-important "ears" of this essential facility. 
Yamaha Music Craft Hamamatsu
According to Yamaha
Yamaha began handcrafting acoustic instruments well over a century ago. Since that time, Yamaha has created many of the world's most highly regarded guitars, pianos, drums, wind instruments, and more. The reasons are simple: an unparalleled understanding of the way music and sound are created, a commitment to fine craftsmanship, and the ability to share knowledge and technology across product lines. More than 30 years ago, Yamaha focused its expertise on creating guitars. As a result, many of today's most celebrated musicians started their musical journey on a Yamaha guitar. We helped a generation find itself at Woodstock, on Bleeker Street, and even in the Rocky Mountains of Colorado. Today Yamaha has reached the pinnacle of handcrafted acoustic guitar development continuing this fine tradition at Yamaha Music Craft in Hamamatsu, Japan.
Other factories
There are strong indications that other Japanese factories have been subcontracted by Yamaha to build for them, names mentioned include Fujigen Gakki and Matsumoku, I have also seen references to Tokai but have no documented evidence at the moment. Don (see my Studio Lord and Lord Player Pages) Thinks that The SLs and LPs were made at Matsumoku but I have no hard evidence of this at the moment
Kaohsiung Factory Taiwan
Here's Yamaha's blurb
At Kaohsiung, top-quality selected woods go through 6 months of natural and kiln drying under precisely controlled conditions before the wood is even cut. After initial shaping, the woods are subject to another two weeks of seasoning - again at accurately controlled temperature and humidity. More seasoning stages are inserted at critical points throughout the manufacturing process to ensure that the woods are in top musical form by the time each instrument is complete. 
TOTAL AIR CONDITIONING
The woods and instruments are maintained under carefully controlled environmental conditions until the moment they leave the factory to ensure lasting stability and quality.
EXPERIENCED STAFF
Key members of the Kaohsiung factory's 850-strong staff are skilled veterans in the guitar-manufacturing field, providing knowledge and experience essential in the production of truly fine instruments. This includes the operation of advanced machinery and important jobs that require more human sensitivity such as fret leveling, final sanding and final inspection.
ORIGINAL TOOLS AND EQUIPMENT
Much of Kaohsiung's ultra-modern equipment, from computer-controlled routers to state-of-the-art spray-painting robots and neck curvature assessment machinery, has been custom-designed specifically for the creation of superior guitars.
NO-COMPROMISE QUALITY CONTROL
Elements of both human experience and computer precision are combined at Kaohsiung to create a quality control program that is second to none. Although the words "Made in Taiwan" have not always carried a high-quality image, the Yamaha Kaohsiung factory is truly one of the finest guitar-production facilities in the world. It is a facility of which we at Yamaha are rightly proud. But although the Kaohsiung factory itself is impressive, it is the quality of the instruments produced there that tells the real story.
Opened 1970-Closed 2007/8

Yamaha Musical Instruments Co Ltd Hangzhou China
Opened in 2007 when the Taiwan operations were closed Hangzhou plant appears to still exist but not sure what if anything it's producing
Yamaha Guitar Development
Weddington Street North Hollywood
In January of 1989, Yamaha opened a new facility located in the heart of the music industry in Hollywood, California. This marked the beginning of a new era. With the addition of YGD, custom guitar design and development reached new heights. Yamaha began to collaborate with artists of international stature on a consistent basis to develop signature models and unique customizations of existing Yamaha electric guitars and basses.
  This facility was responsible for the Weddington Gutiars and the Pacificas The Pacifica Custom The USA 1, USA 2 and 2C were built in the USA designed by Rich Lasner and Leo Knapp, The Weddingtons however were made in Japan
Yamaha Artists Services Factory
Info from Yamaha 2019 web pages
The Yamaha Artist Services (YASLA) facility located in Calabasas, Los Angeles is home to attractive development projects, special buildings and unique instrument modifications and an excellent place for artists to stop by, start jamming and feel right at home. YASLA is also a sacred space where Yamaha and luthier designers Pat Campolattano works wonderfully. YASLA is a place to unite the support of artists that is unmatched by research and development to make better instruments, Campolattano said. "Repair, modification, or custom manufacturing is not a problem, we are like a doctor who is called and we return the results very quickly.We are not a production facility and we are here only to provide support to our artists by using the knowledge we have gained to improve the quality of the guitars that we have developed. Everything we do here is the only one and truly unique for each project, and we can give it a level of detail and precision that is usually not associated with a company the size of a Yamaha. Pat was often given artistic freedom to incorporate his personal style into research and development projects, using his knowledge and experience in design and manufacture to create custom adaptations to known Yamaha models. In the past year, Revstar's product line has become a big focus on the work bench at YASLA, both for the demand of artists and R & D. I just want to use an interesting combination to get a new sound and make sure the instrument feels very comfortable for the players so they feel like they have owned the guitar for years when they chose it," Campolattano said. Some noteworthy examples recently include glorious gold and cream RS720B for Josh Weaver of Royal Thunder, and beautiful Blue Sparkle Revstar for Michael Fish Herring with P90 Lollar pickups, humbucker Suhr Doug Aldrich humbucker and Fishman Powerbridge. "Bolt-On guitar is an exercise in changing the construction of Revstar, but still maintains balance and nuance," concluded Campolattano. "The body is thinner than standard, and the custom contour feels very comfortable. I have balanced a full length 25.5 guitar and that way, I have changed the point where the neck meets the body. I have included a three-bolt dovetail design that ensures the neck cannot move at all in the pocket. I intend to get a Tele-esque vibration with maple neck, but I don't want it to be bright white, so it uses roasted maple with half bridge. Gold foil is my favorite pickup, so I bring it up to produce as good a tone as possible. " Whether it's repairing and modifying custom guitars for Yamaha artists, or developing innovations with Yamaha's new classic style, luthier Pat Campolattano is an important member of the Yamaha Artist Services family.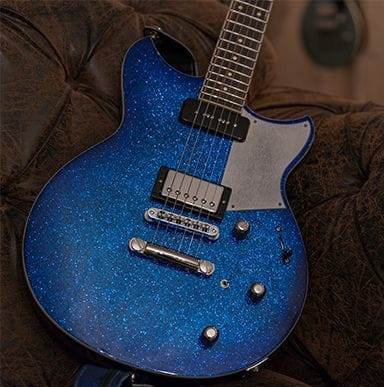 The Blue Sparkle Revstar referred to above
Yamaha Music Manufacturing Indonesia
In 2018/19 Yamaha opened a state of the Art factory in Bekasi East Jakarta but had been producing guitars made in Indonesia before then, it was founded in 1989 not sure of the factory but registered address JL Pulo Buaran Raya No.1 Kawasan Industri Pulogadung Jakarta.
Korea
Yamaha music Korea is still in existence in Seoul but there is no manufacturing in Korea at the moment (2019) They produced electric guitars there from around 1998 ended around 2007.