Fender Stratocasters in The CBS Years
CBS bought Fender in January 1965 and sold it in March 1985. There is much debate about the quality of guitars produced during those years and quality control was poor at times but some very good guitars were made during that era as well. It was the era which started Fender Japan and gave us the first vintage reissues so we must give them credit for that.
Standard CBS Strats Models and variations
There are 5 standard Stratocasters during the CBS era with some special editions or variations. These are

:


| | |
| --- | --- |
| Model | Special Editions |
| 60s CBS Stratocaster 1965 to 1971 | None |
| 70s Stratocaster 1971 to 1981 | Rhinestone, Antigua, 25th Anniversary and International colour |
| The Strat 1980 to 1983 | Gold on Gold and Walnut |
| Standard v1 1981 to 1983 | None |
| Standard v2 1983 1984 | Bowling Bowl or Marble |
The names I have used are not necessarily official or generally recognised names it's just to differentiate in these pages. The changeover from 4 bolt to 3 bolt did occur in 1971 but there are 4 bolt models as least as late as May 1972 it appears that this is just Fender using up leftover parts.


CBS Fender 60s Stratocaster
This covers the start of the CBS era up until the headstock change in 1971
Details

Body Usually Alder some Ash on Blonde or Custom Models Nitrocellulose until around 1968 when polyester Some late 60s will have Nitro with a thin coat of polyester over
Neck Maple some U profile some full C but others exist also
Fretboard Rosewood or Maple (67-69) boards Fretted Maple neck available no skunk stripe (67-69) Bound Rosewood neck available (65-68) In 1970 and 71 the bolt neck with maple had a skunk stripe 7.25" radius 21 Vintage Frets
Headstock Enlarged 1 string tree truss rod adjust at body end Transition Logo until around 1967 when Thick black CBS logo with Stratocaster written in bold capitals always Nitrocellulose finished.
Tuners 64-67 Nickel plated Kluson Deluxe stamped twice thereafter Fender Schaller Chrome plated F stamped
Pickups 3 white 6 polepiece single coils
Controls I volume 2 Tone white 3 way selector many retro fitted with a 5 way later
Nut Varies according to the code on the neck A=1.5" B the most common = 1.625" C =1.75" D = 1.875"
Hardware Chrome
Bridge 6 pivot vibrato or 6 saddle small hardtail through body stringing
Pickguard White 11 screw laminated some with tortoiseshell until 1967
Colours Sunburst and various colours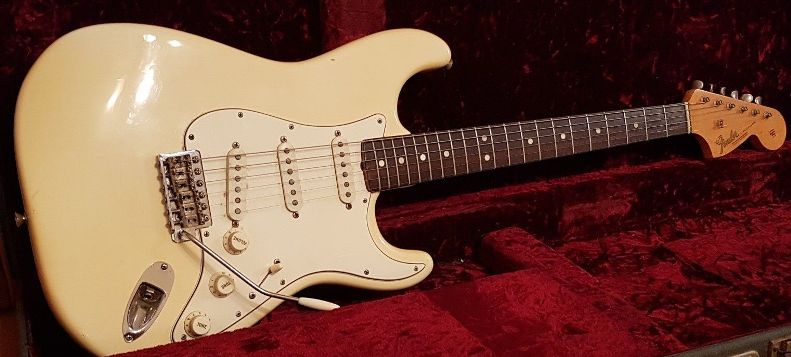 1967 Strat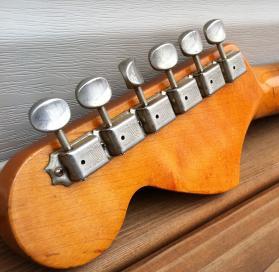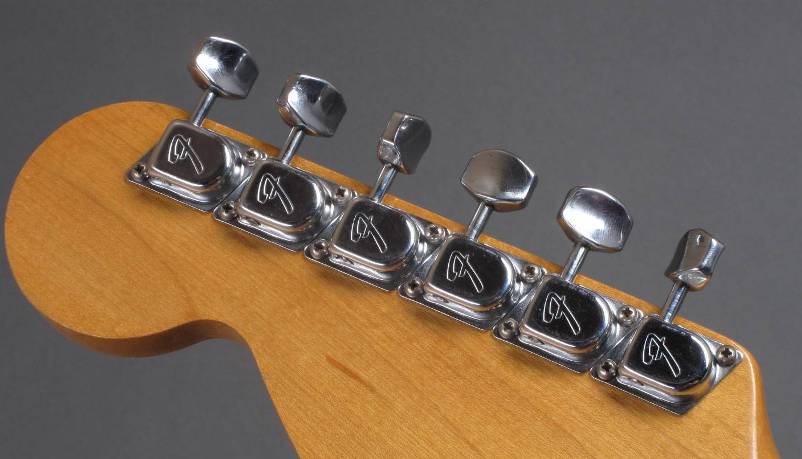 1966 tuners and 1968 tuners

This guitar belongs to gibsonsmu of the strat forum its a 70/71 with skunk stripe Thanks to him for the info
CBS 70s Fender Stratocaster
This is the standard stratocaster from 1971 to 1981.
Body Ash and Alder both used Ash on the natural finish then in late 70s nearly all Ash back to Alder in the 80s Polyester finish
Neck Now 3 bolt with microtilt skunk stripe at rear fretted maple or rosewood board U shaped getting a little flatter towards the end of this period
Fretboard 7.25" radius 21 frets
Headstock Large CBS thick black logo mainly 2 string trees although some were produced in 1971 with one string tree Bullet truss rod adjust
Tuners Fender Schaller Chrome plated F stamped said to change from open type to close type in 1975 not sure I can see the difference can anyone help?
Pickups 3 single coils white or black staggered polepieces except in 1975/6 when flush polepieces
Controls to match pickguard see below except in 1976 white knobs on black guard 1 volume 2 tone 3 way switch to 1977 5 way thereafter.
Nut 1.625" to 1.5625"
Hardware Chrome
Bridge 6 pivot vibrato or 6 saddle small hardtail through body stringing
Pickguard 11 screw laminated plastic white 1971 to 1975 black 1976 to 1981
Serial number on neckplate until mid 1976 when it is on the Headstock first 76 numbers were 76xxxxx before moving to S6xxxxx
Colours Sunburst and colours
Cerb from the strat forum tells me he has a verified 1977 natural finish strat with flush polepiece pickups could be an inconsistency or maybe just using up parts. He doesn't think that the finish is Nitro or poly so I am trying to find out more.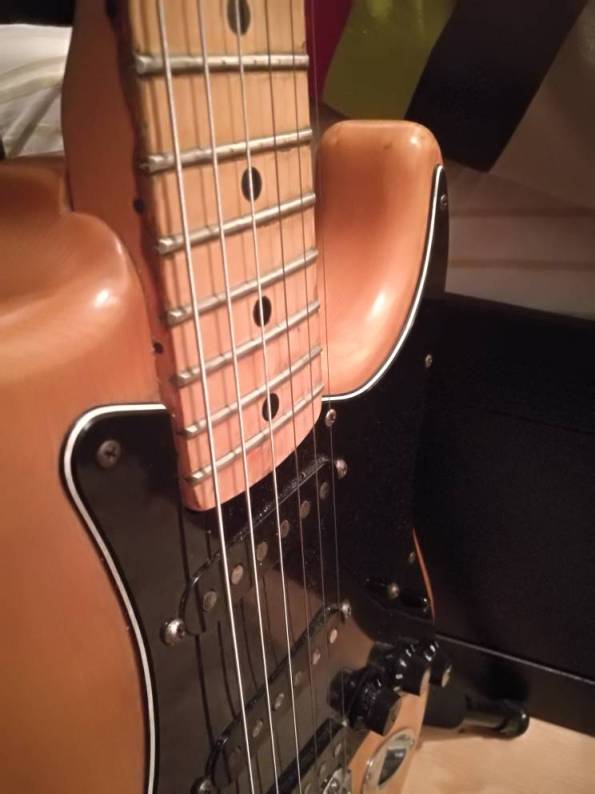 Cerbs 1977 with flush pole pickups

78 strat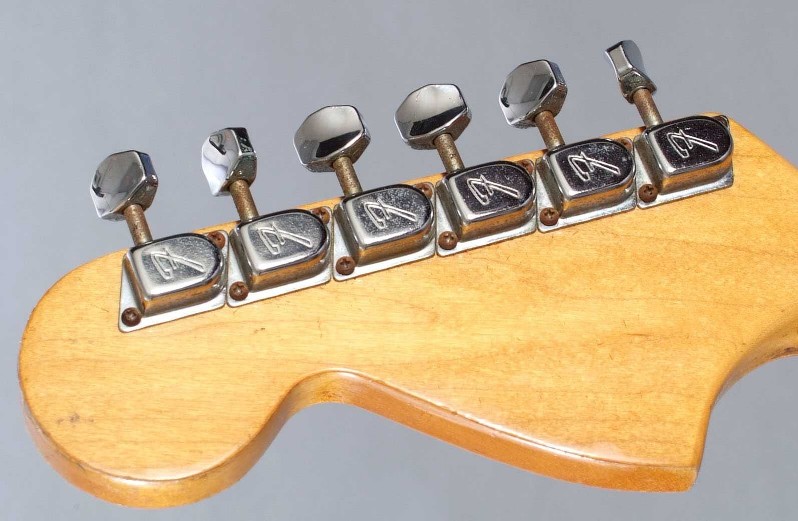 Tuners from a late 70s strat
Rastus from the strat forum points out The Fender logo itself gained a thin gold outline around the black script, that was increased in size by the end of the 70s.

Variations on the 70s Stratocaster
Rhinestone
Designed by the Sculptor John Douglas in 1975 suggested by Arbiter the Fender UK distributor. This is the same specs except it has a bonded metal and fibreglass body. Relief floral and leaf scroll design inset with Rhinestones. Very rare there are around 27 in existence.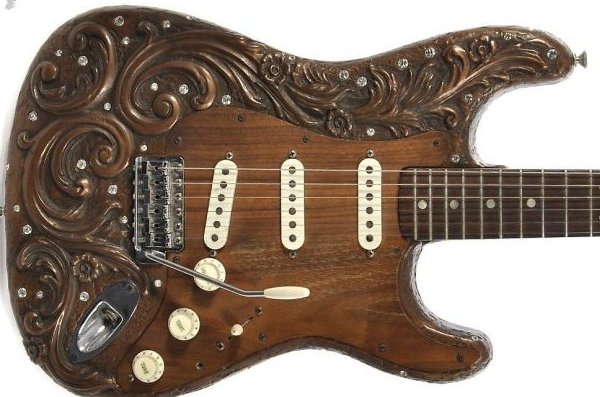 Rhinestone body the headstock was fairly standard
Antigua
Not really a special edition specs just as the Standard the only difference is the Antigua colour loved by some hated by others.



The Antigua Colour
25th Anniversary
Again the same as the standard except Fretted Maple 4 bolt neck, truss rod adjustment at body commemorative neckplate white or silver body with Anniversary written on in black.
John C from the Strat forum
the white finish on the 25th Anniversary models was an experimental water-based finish that cracked and fell off, so they switched to the silver finish. Only a few hundred of the white ones were made, and I believe a few owners had theirs refinished to silver at the factory under warranty.


The Anniversary Strat
It is also worth noting that the logo on the Anniversary was slightly different more gold less black see picture below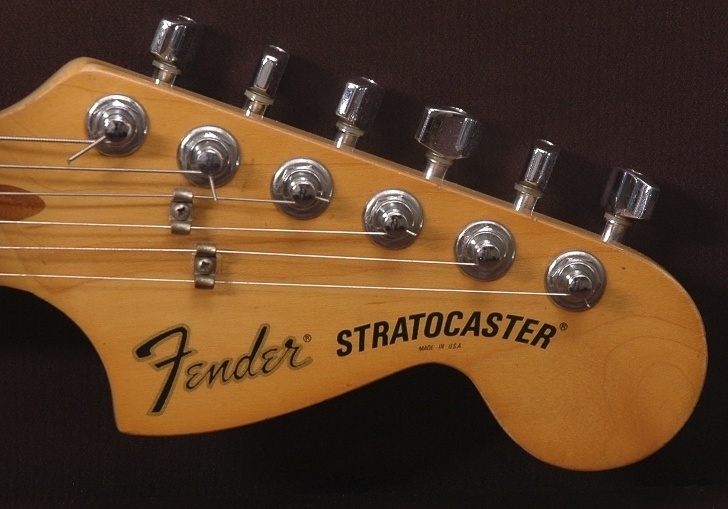 International Colour 1981

No significant spec differences white pickguard with black screws and controls and the international colours. Arctic White, Morocco Red, Monaco Yellow, Maui Blue, Capri Orange, Sahara Taupe, Cathay Ebony there also appears to be a Cherry Sunburst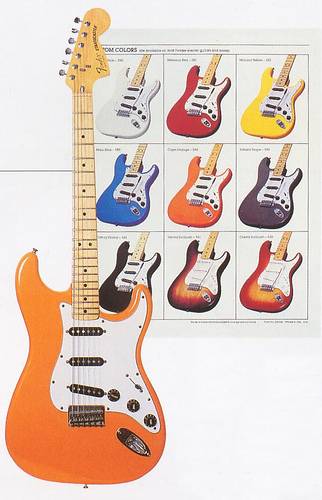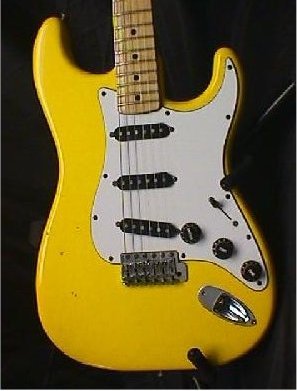 The series and a Monaco Yellow
The Strat
Launched in 1980 this guitar was completely different from the CBS models that went before.

Body Some Alder some Ash Gloss Finish
Neck Maple with Rosewood board or fretted Maple Skunk Stripe U, D and C shapes all available
Fretboard 21 Frets 7.25" radius
Headstock Small but not the same shape quite as pre CBS Matches body colour 2 string trees transition logo and STRAT written in black
Tuners Sealed Fender Brass some chrome
Pickups The Bridge has hotter X1 pickup than the other two positions 3 single coils
Controls F stamped 1 volume 1 tone and 1 4 way rotary switch plus standrd 5 way switch
Nut
Hardware 9ct Gold Plated
Bridge 6 pivot gold extra massive vibrato
Pickguard Black 3 ply 11 gold screw
Colours Lake Placid Blue Candy Apple Red and said to be Arctic White but I haven't seen one
Weight Due to the vagaries of Fender production examples of under 8lbs and over 11lbs exist Pickup combinations As well as the usual 5 way switch positions the rotary gave the following options:
neck and middle pickups in series - humbucking
middle and bridge pickups in series - humbucking
neck and bridge pickups in parallel
neck and bridge pickups in parellel, with the middle pickup in series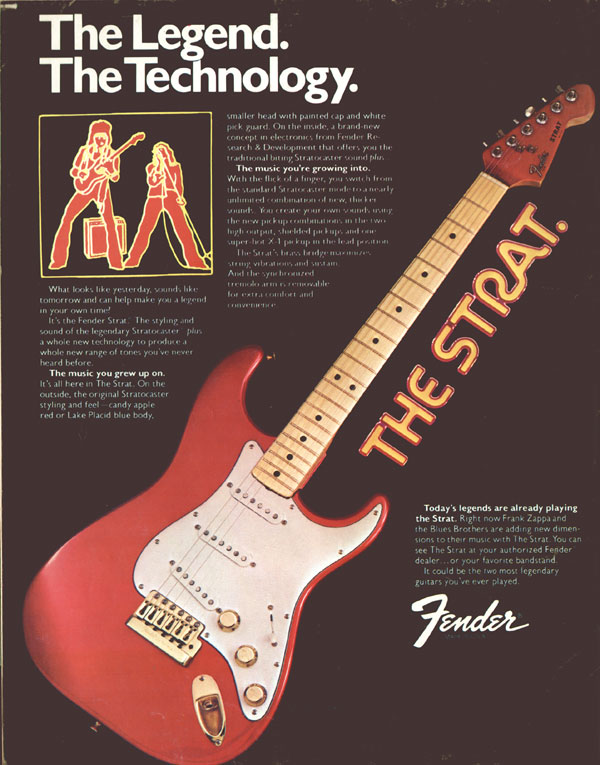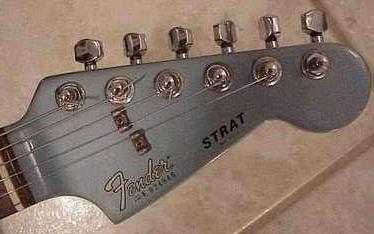 The launch advert and an LPB headstock with chrome tuners
The Strat Variations etc
Gold Gold Strat
Some variations on the Strat
Body Gold with all gold hardware
Headstock says Stratocaster rather than Strat
The rotary switch is replaced by an additional tone control and the controls are standard white plastic
Neck Fretted Maple only
Anyone have a picture I could use?

Walnut Strat Exactly the same specs as the strat except for the construction.
All made of Black American Walnut with a Rosewood (some say Ebony anyone know for sure it looks like Rosewood ) or Maple board and still the same hardware, electronics and pickguard etc.



Standard Stratocaster version 1 1981-83
This is known as the Dan Smith Strat after one of the three Yamaha men that rescued Fender, the other two being Bill Schulz and John McLaren.
Body Alder
Neck Maple with Rosewood board or fretted Maple 21 frets described variously as a soft V, a shallow V or a U shape. Given Fenders methods the necks probably varied
Fretboard 21 frets still 7.25" radius
Headstock back to pre CBS shape with CBS logo stratocaster in black capitals some later ones had the silver thick black outline logo 2 string trees
Truss Rod Adjust at Body end
Tuners Fender F stamped chrome
Pickups As the STRAT white flush poles
Controls 1 volume 2 tone all white 5 way switch with white tip
Nut 1.65"
Hardware Chrome
Bridge 6 pivot vibrato or 6 saddle small hardtail through body stringing
Pickguard White laminated 11 screw
Colours available as standard were Cherry Sunburst, Black, Natural, Brown Sunburst, White or Sienna Sunburst.
At an extra cost you could have custom colours Ruby Red, Sapphire Blue, Emerald Green, Pewter, Candy Apple Green, Mocha Brown or Aztec Gold
I have seen a suggestion on the internet that some of these had bodies made of Hackberry wood I have no evidence either way anyone know?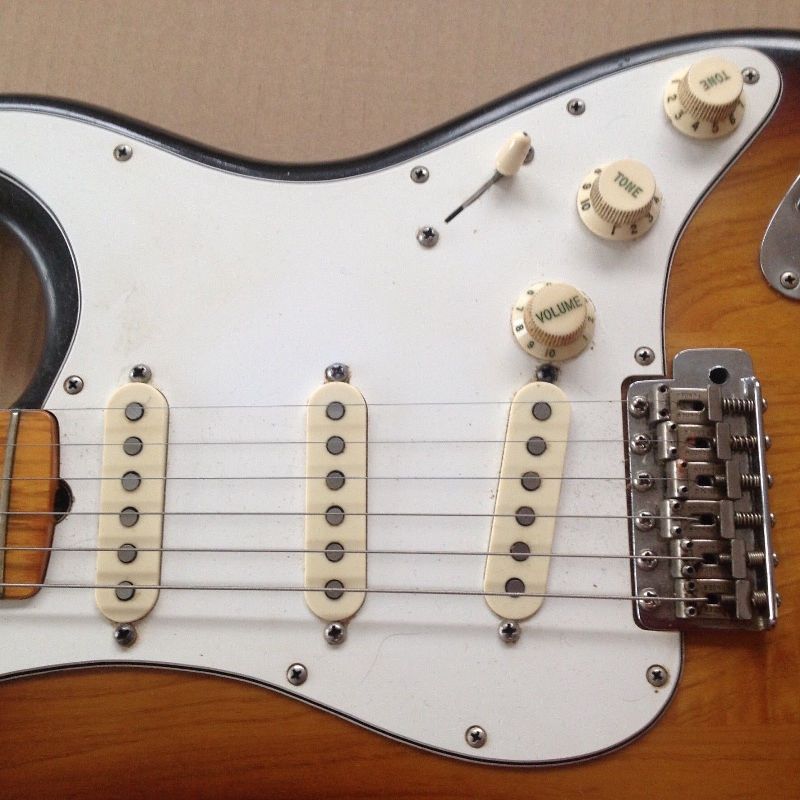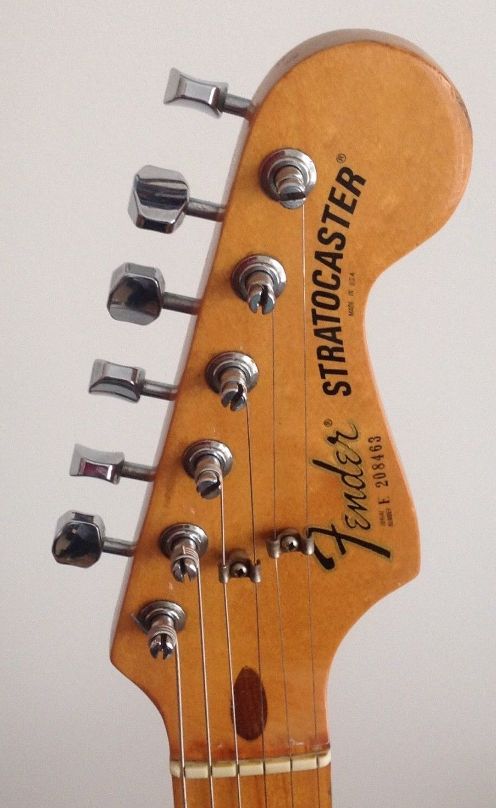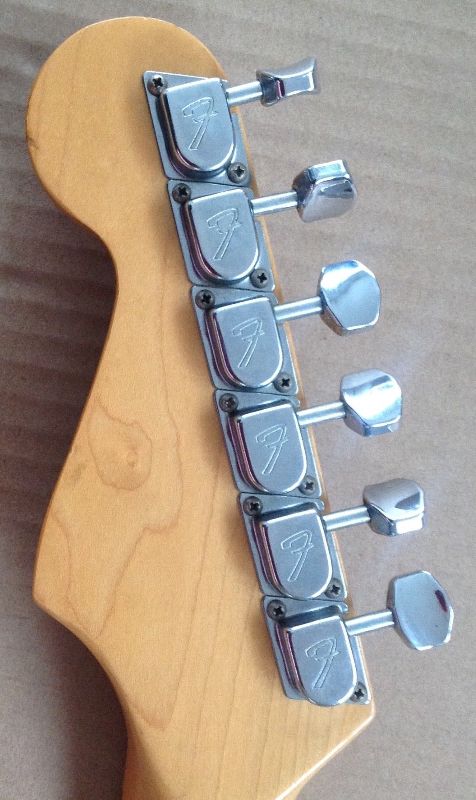 Details of the Dan Smith
Standard Stratocaster version 2 83-84
This is infamous 2 control model often incorrectly called the Dan Smith model. Not well thought of by a number of strat players, but I haven't tried one so don't know if this is just because people think that this layout isn't a proper strat or because it's a poor guitar.
It was however along with the Elite the first strat to feature the biflex truss rod. Fender in their 1983 Catalogue advertise all the cost cutting as improvements.
Body Alder Polyurethane finish there are said to be some with Nitro finish
Neck Fretted Maple or Maple with Rosewood board with Skunk stripe 4 bolt neckplate with Fender written on the back
Fretboard 21 jumbo frets 12" radius
Headstock Pre CBS shape with 2 string trees the Thick Silver with black outline logo stratocaster in black capitals
Tuners Die-cast Fender
Pickups 3 single coils white covered bridge is an X1 flush polepieces
Controls White plastic 1 volume 1 tone 5 way switch with white tip
Nut 1.7" the catalogue says it's a lokset nut which doesn't appear to be locking despite the name
Hardware Chrome
Bridge Freeflyte knife edge trem unit pop in arm no through body stringing or equivalent hardtail
Pickguard 12 screw single ply white plastic
It had special straplock buttons but you had to buy the strap fittings separately Colours Ivory, Black 3 colour sunburst, Sienna sunburst, Red, Yellow and the Marble or Bowling Bowl finish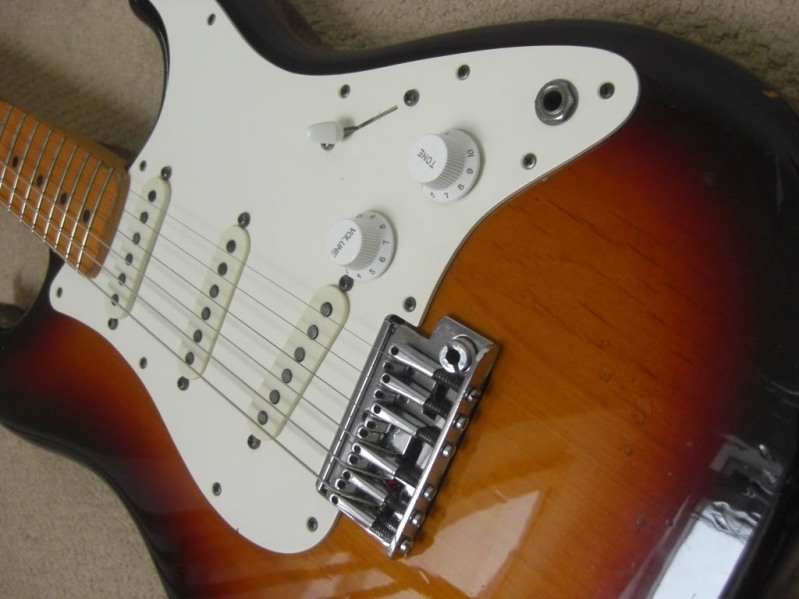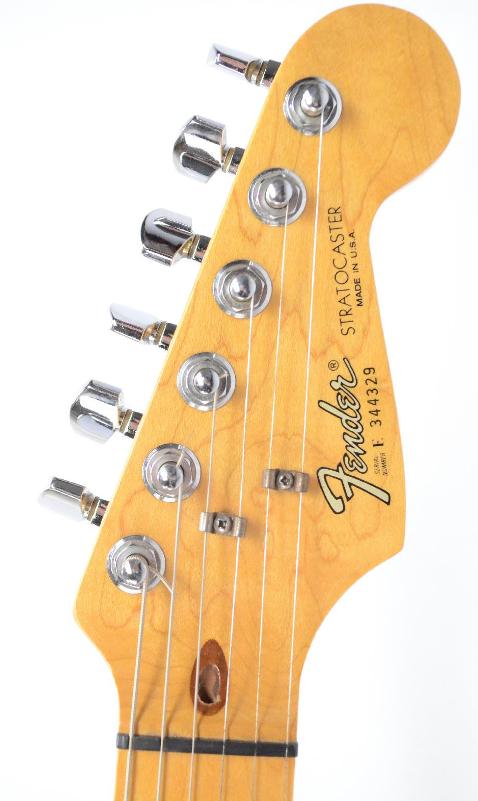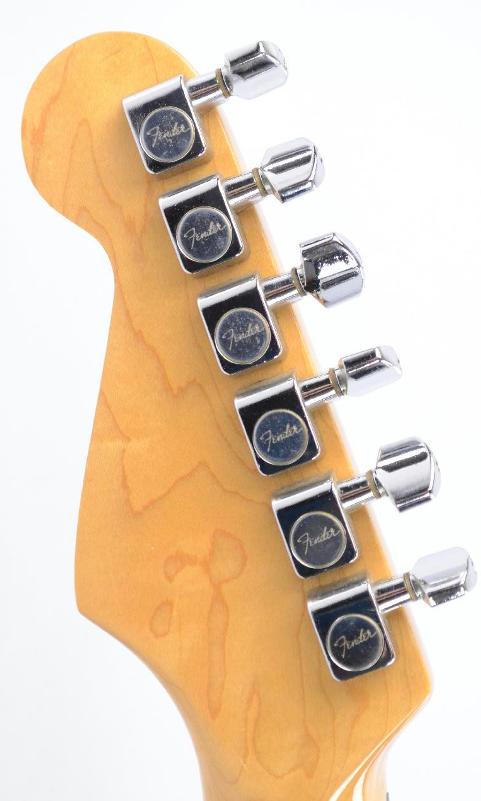 Details of the Standard V2
Bowling Bowl Stratocaster
Just a finish option not a variation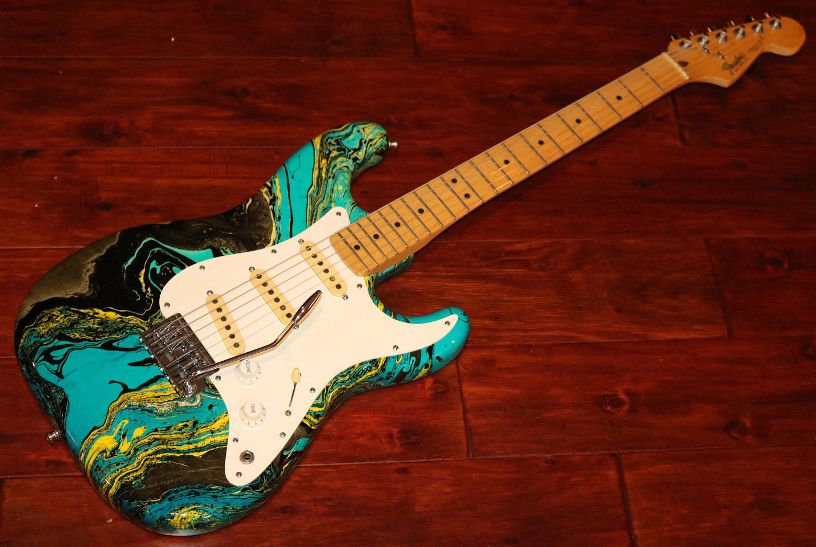 AKA The Marble Strat
The Hendrix Stratocaster 1980
This is a guitar of legend and speculation. Information from reliable sources is sparse. Best guess is that around 25 of these were made including or plus 4 or 5 prototypes. The prototypes have not for resale stamped on the back of the headstock. According to fenderreissue.com known examples of the prototype include one which belonged to SRV and one owned by John Mayer. Documented prototype serial numbers include, S972741, S972750, S972270 and S972257. I assume that because there are prototypes specs will vary slightly, here's what I know.
Body I assume Alder Polyester finish
Neck Maple 4 bolt U shaped Skunk stripe
Fretboard 21 vintage frets Maple only
Headstock Reversed Black logo with stratocaster written in black capitals 2 string trees truss rod adjust at body
Tuners Fender F stamped
Pickups three white six flush polepiece single coils
Controls 1 volume 2 tone 5 way switch all in white plastic
Nut
Hardware Chrome
Bridge Chrome hardtail 6 saddle through body stringing
Pickguard White 3 ply 11 screw
Colours Oly white

I have found some pictures on fenderreissue.com and am seeking permission to use them but have had no reply.
Update August 2020
I have seen another prototype serial number S972745 and a kind Gentleman name of Ernest from New York has sent me details of his cousins guitar serial number S972266 a prototype his cousin is Joe Fuoco a really talented guitarist who has played with some stars including Les Paul. He has kindly sent me some pictures and allowed me to post them. He has also sent me a sound clip which I will post when I figure out how to do it properly
Update July 2021
I have had an email from Phil Vince in Melbourne he has one of these guitars. This is his account of his
Hi Bill I came across your site while researching my Strat. I have one of those marked "Original Prototype not for resale fender musical instruments" like your listed SRV and John Mayall own / owned. I purchased mine here in Melbourne Australia in the early 90's serial number S972259 . It came with a letter of from the original US Fender dealer detailing it is a prototype status and quantity that they believed were produced. It was brought to Melbourne by the drummer of a Australian band touring America who put it under his bed until convinced by musician and local guitar shop owner he should sell. I purchased it as a mint condition collectors item and apart from the occasional viewing it has been in its case ever since. One thing that isn't mention on the internet is, apart from the not for resale stamp, reversed headstock, extra contour etc, the prototypes also have a small dot on the fretboard just to the right of the G string on the 18 fret. Happy to send Photos etc. if you are interested. Thank you for your website info. Regards Philip Vince Melbourne Australia

Update March 2023
A dealer in the USA Rockin' Robin Guitars & Music about 4 years ago had a Hendrix Prototype for sale. Strangely this wasn't white but natural. It doesn't look refinished, serial no. is S972737 it's plainly genuine.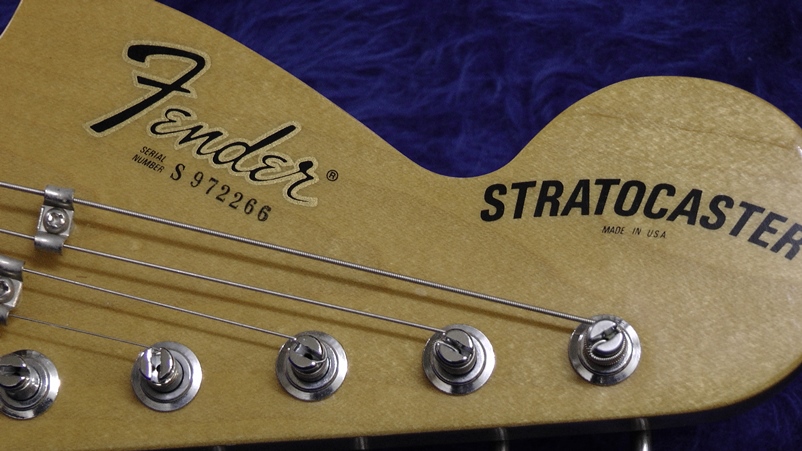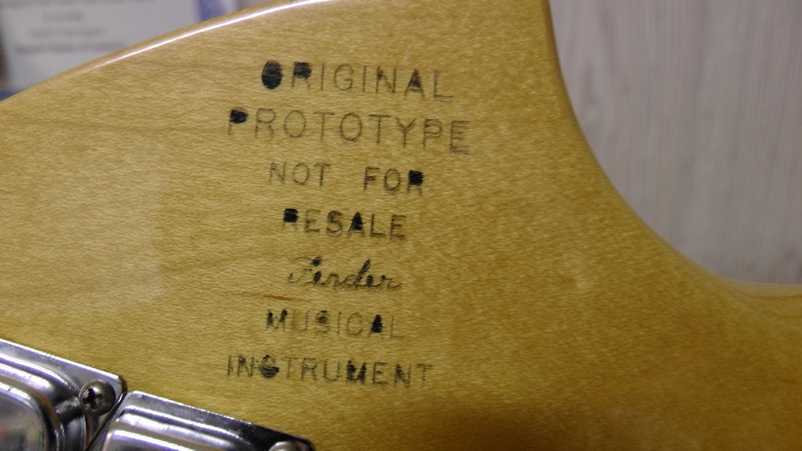 Joe's guitar
I think this should work for the sound clip
Here are some of Phil's pics many thanks to him.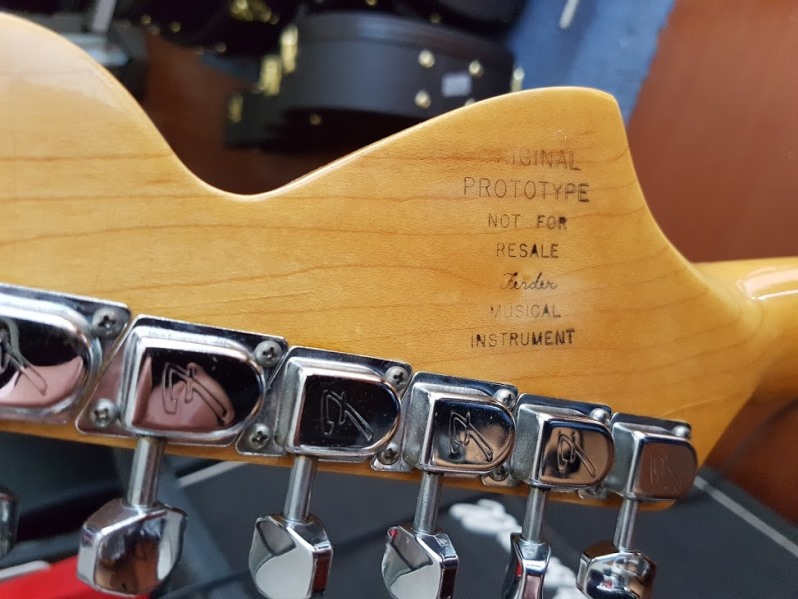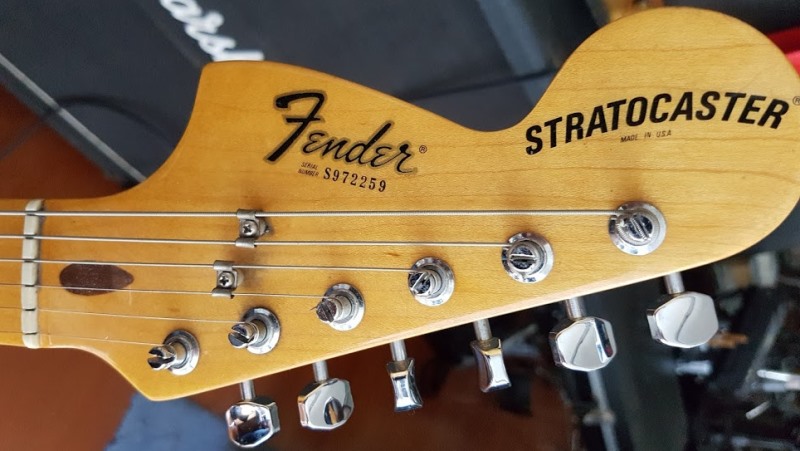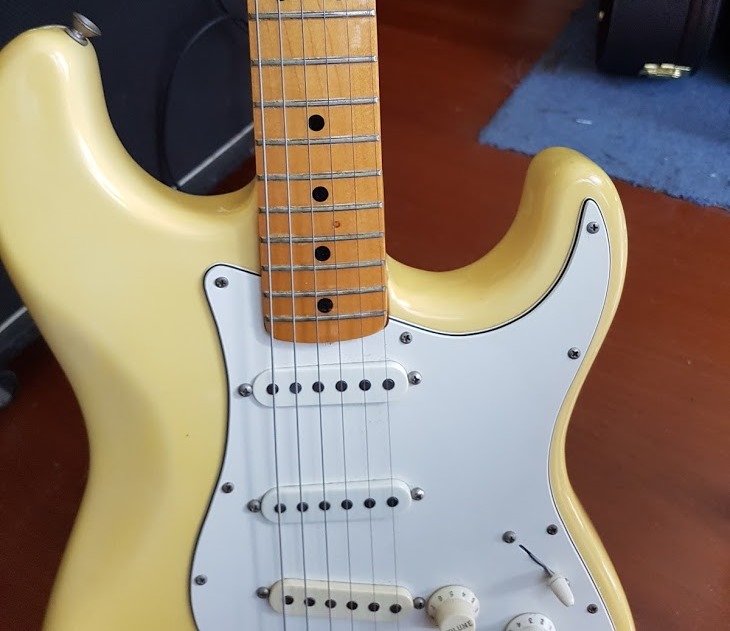 The last one shows the dot he mentions
Here's the dealer letter
March 2023 Natural Hendrix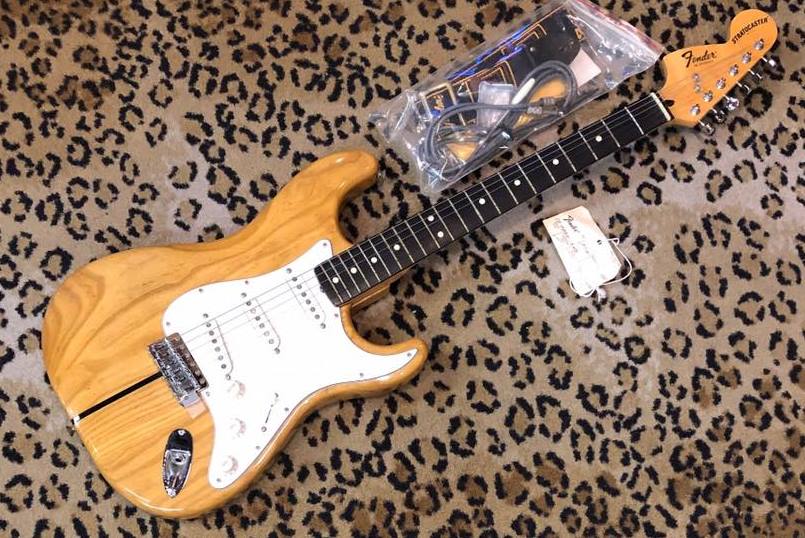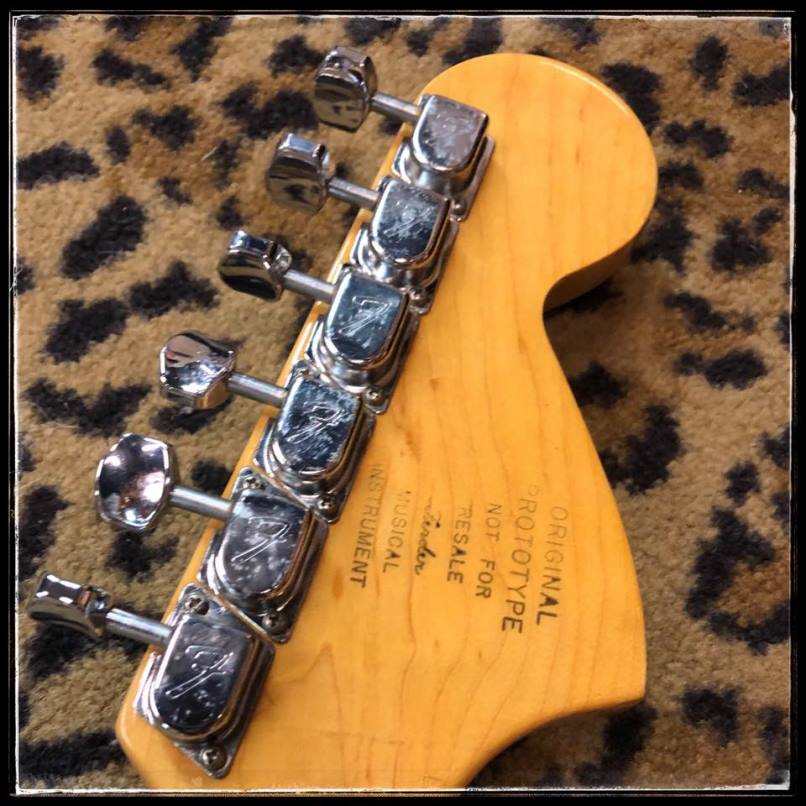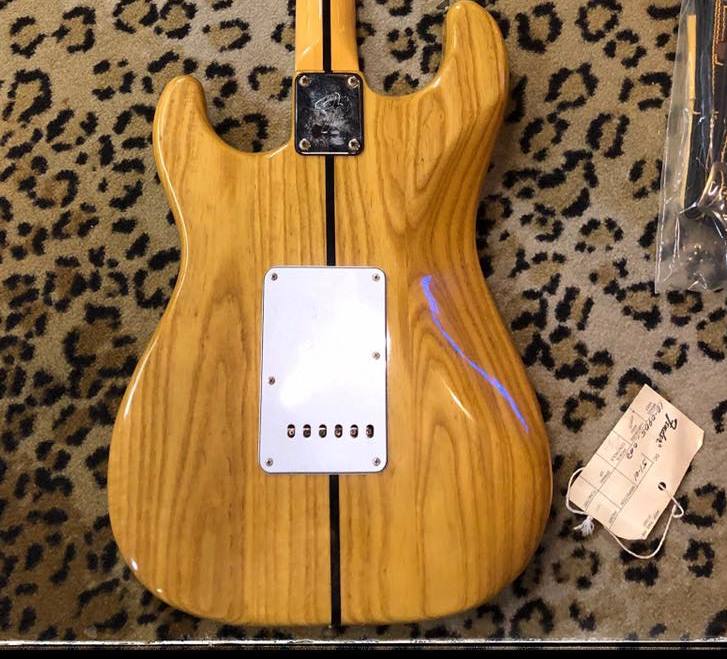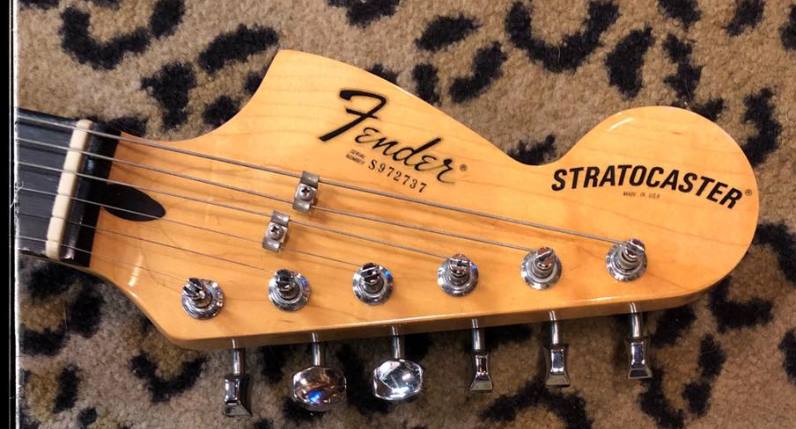 Fender Stratocaster Elite 1983-84
This model was almost two years in development and boasted lots of new patents and ideas, launched mid 1983 and on sale for around 18 months. From the work that went into this I suspect it was expected to be the future of the stratocaster.
Body Alder with a polyurethane finish
Neck 4 Bolt Maple with Rosewood board or Fretted Maple with Skunk Stripe said to be a "flatter" radius biflex truss rod
Fretboard 12" radius 21 Jumbo frets
Headstock Pre CBS shape Silver logo stratocaster in black capitals truss rod at headstock 2 Ezy glider string trees
Tuners Diecast Elite series high ratio tuner
Pickups 3 single coil alnico 11 flush polepiece white covers noise cancelling
Controls 1 volume 1 MDX mid range boost 1 TBX tone All white F stamped with black serated rubber sleeves 3 push buttons on of pickup switches also white
Nut 1.70" Lokset
Hardware Chrome
Bridge No through body stringing single pivot freeflyte trem unit with push in arm or small 6 saddle hardtail
Pickguard White Laminated 11 screw
Active pre amp circuitry
Security strap lock buttons and strap fittings, edge mounted jack socket, no back plate
Colours Standard colours Natural, Arctic White, Black, Sienna Sunburst, Brown Sunburst or Pewter
At extra cost you could have Candy Apple Red, Lake Placid Blue, Candy Apple Green, Aztec Gold, Transparent Emerald Green, Wild Cherry or one of the 3 stratoburst colours Black, Blue or Bronze.



The Elite
Gold Elite Stratocaster 1983-84
Just the same as the Elite except gold hardware with perloid buttons on the tuners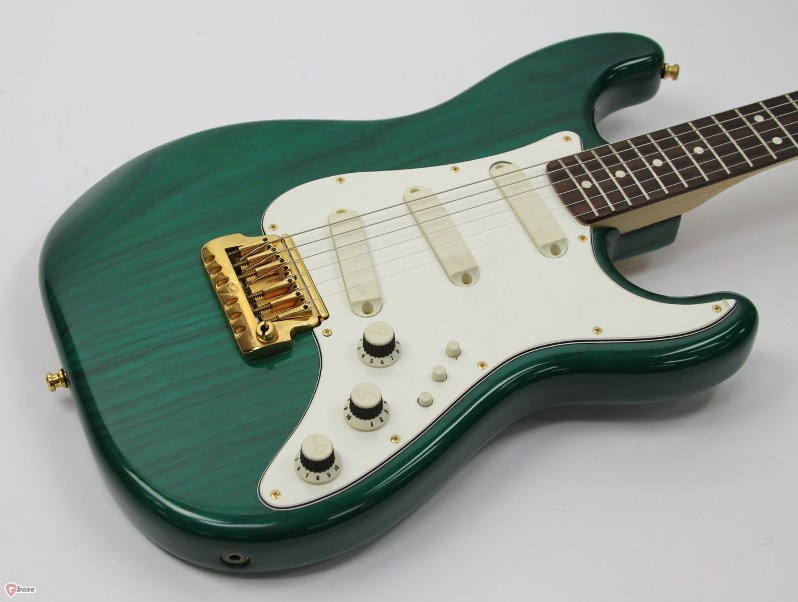 Gold Elite body in trans Emerald Green
Walnut Elite Stratocaster 1983-84
Same as the Gold Elite but constructed throughout of American Black Walnut with an Ebony board.



The Walnut Elite
Stratocaster Fullerton Vintage Reissues to the end of CBS
The variable quality and changes during the CBS years meant that people looked back fondly on the pre CBS years and wanted guitars from earlier days, so Fender decided to make them again. Various reissues were released towards the end of 1982 and appeared in the 1983 Catalogue. There were some details of these that were not vintage accurate, probably because of re-tooling costs, but they were well received and started the whole business of vintage reissues which is still carried on today. I doubt many would think that the 5 way switch wasn't an improvement on the three way so Fender solved this dilemma by fitting a three way switch but including a 5 way switch if owners wanted to fit it. These reissues are known as the Fullerton reissues or reissues having the Fullerton curves or Fullerton body.
57 Reissue Stratocaster
Fender uses the words "lovingly recreated" and "Faithful details on the 57 strat include" rather than say this is a copy of the stratocasters made in 1957.

Body Alder with Nitrocellulose finish
Neck Maple with Nitro finish and approx slim C profile
Fretboard Maple 7.25" radius 21 vintage frets
Headstock Pre CBS style with spag logo 1 butterfly string tree
Tuners Vintage Kluson Style Nickel
Pickups 3 staggered magnet black bobbin Alnicos white
Controls 1 volume and 2 tone all plastic 3 way switch* white tip
Nut 1.65"
Hardware Chrome
Bridge Vintage style 6 pivot vibrato
Pickguard 1 ply white 8 screw
Colours 2 colour Sunburst, Black, Candy Apple Red. Fiesta Red, Vintage White, or Lake Placid Blue


You can almost imagine this in the hands of Buddy Holly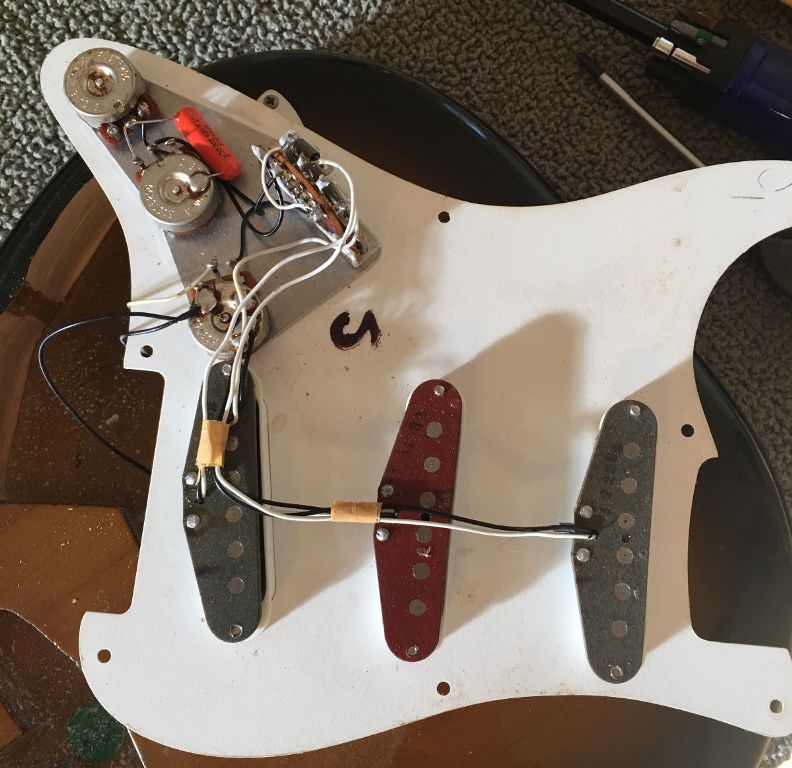 57 Strat grey and red bottom pickups from an 82 later ones have cloth covered wiring
62 Reissue Stratocaster
Similar in many respects to the 57 but with obvious 60s styling details
Body Alder with Nitrocellulose finish
Neck Maple with Nitro finish and approx slim C profile
Fretboard Rosewood 7.25" radius 21 vintage frets
Headstock 60s style with spag logo 1 butterfly string tree truss rod adlust at body
Tuners Vintage Kluson Style Nickel
Pickups 3 staggered magnet black bobbin Alnicos white
Controls 1 volume and 2 tone all plastic 3 way switch* white tip
Nut 1.65"
Hardware Chrome
Bridge Vintage style 6 pivot vibrato
Pickguard 3 ply white often described as having a greenish tinge 11 screw
Colours 3 colour Sunburst, Black, Candy Apple Red. Fiesta Red, Vintage White, or Lake Placid Blue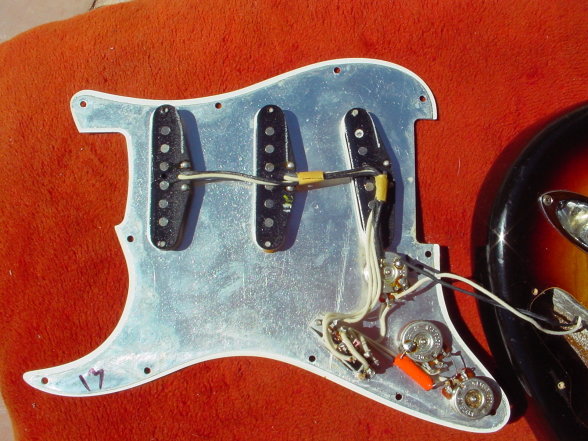 A 62 reissue and wiring a better picture of a 62 reissue would be nice.
The end
In March 1985 CBS sold Fender without the factory so virtually all Fender guitars were produced in Japan until Corona started around October 1985
Some useful pdfs
Owners or interested parties may find these useful
Strat Elite Manual
Parts list for The Strat
Walnut Strat Parts