American Standard Fender Telecasters post CBS
The intention is to cover in detail all of the post CBS versions of the US made standard Telecasters. The first Standard Telecasters were introduced in 1983 and are covered in the CBS Telecaster section of this website. When production began at Corona in the mid 80s the 1986 version of the standard Tele was launched. Referred to in the catalogues as American Standard Telecaster and ran until 2000 when it was replaced by the American Telecaster.
Interesting quote from John C of the Telecaster Forum
Interesting that since the American Standard Strats did start production in late 1986 and showed up on the March 1987 price list the American Standard Teles don't show up until the January 1988 price list.
Standard Telecaster Version 1
This guitar was produced with some variations from 1986 to 2000 at launch the specs are:
Specifications
Body Alder some Ash later Polyurethane Finish some Polyester
Neck Maple TRA at Headstock Micro Tilt Slim C Skunk Stripe Satin Finish
Fretboard Fretted Maple or Rosewood 22 American Standard Large Frets (Medium Jumbo) 9.5" radius
Headstock See pictures
Tuners Fender Branded Schallers sealed Diecast
Pickups 2 single coils 1 chrome covered at neck 1 Black set in the bridge
Controls 1 Volume 1 TBX Tone Knurled Chrome 3 way selector see note below
Nut Synthetic Bone 43mm
Neckplate Fender Stamped at an Angle last models around 1999 had Fender stamped horizontal with Corona California underneath
Hardware Chrome
Bridge 6 saddle flat with through body stringing some early examples have raised sides
Pickguard 8 Screw White laminated plastic
Colours obviously varied through the years but the 1988 catalogue gives Black, Brown Sunburst Vintage White or Gun Metal Blue

Some details of a 1987 Telecaster those of you that have been
paying attention so far will note that this colour isn't mentioned in the catalogue despite being one of the most common Telecaster colours.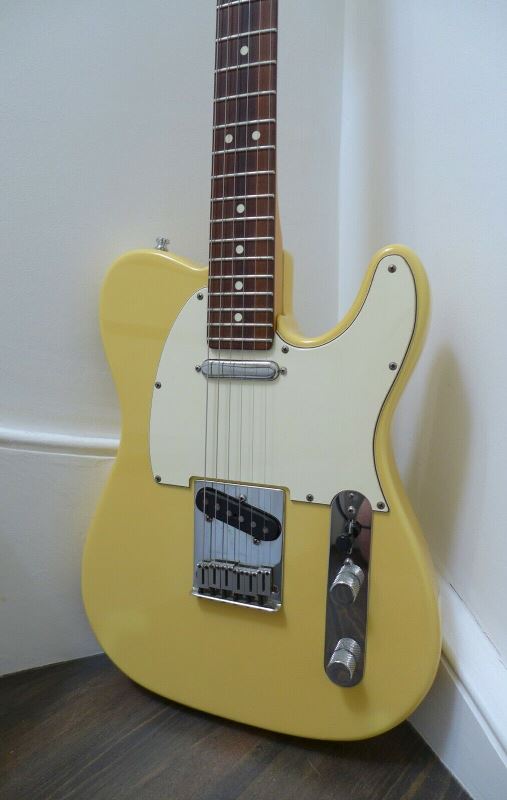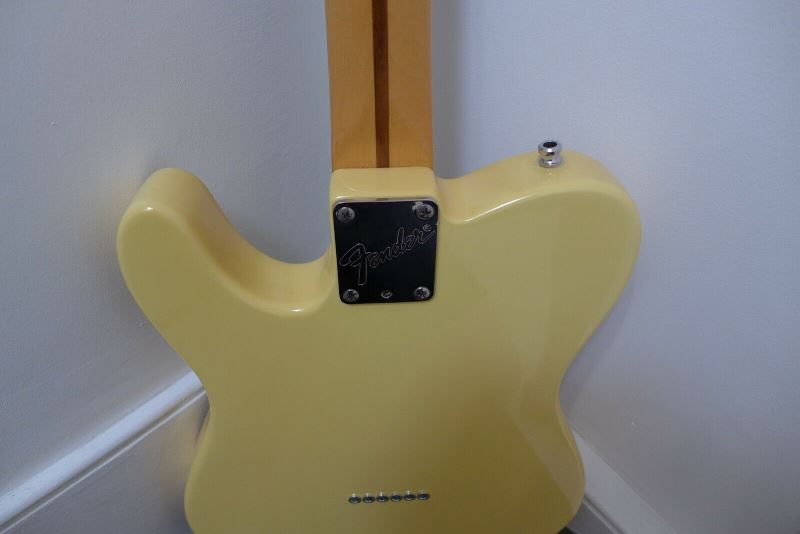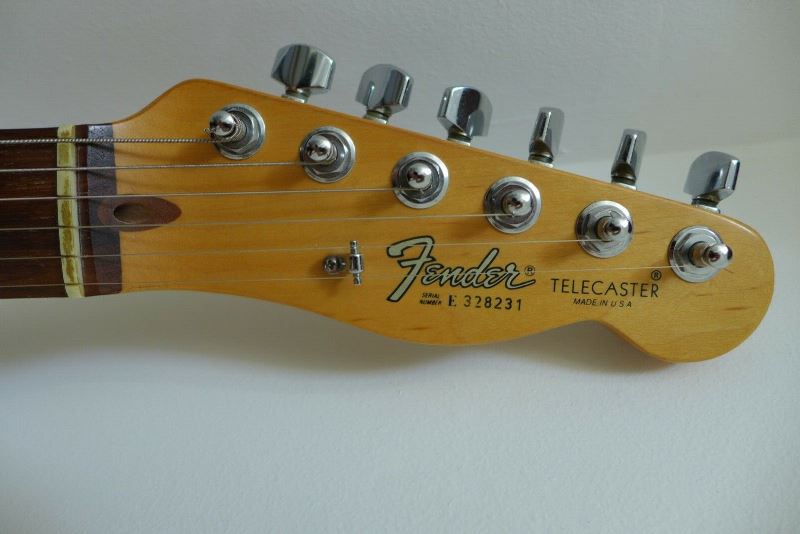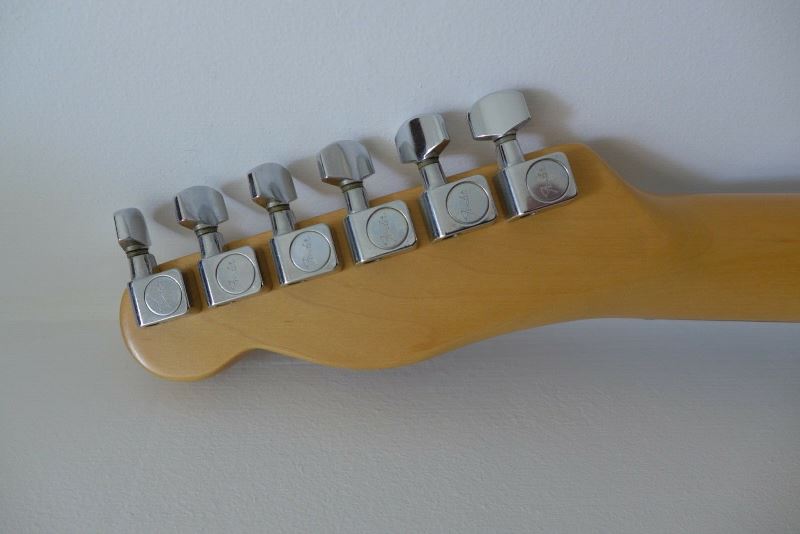 Note the Ezy-Glyder type string tree and the E3 serial numbers. The E3 and E4 numbers were used up by July 1988 and they moved to E8 Numbers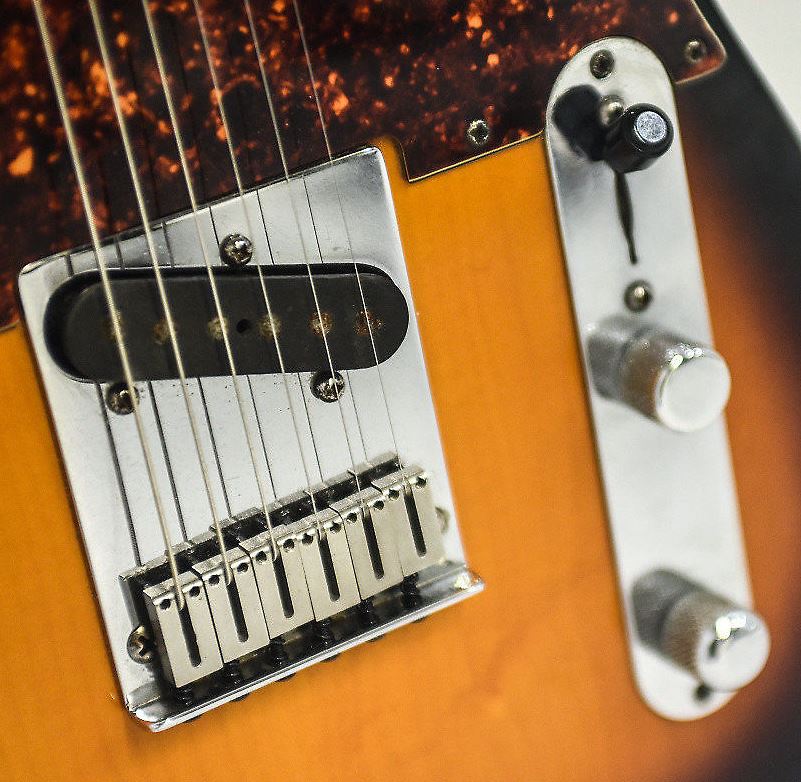 1990 Bridge and Controls
Serial Number Anomalies: The E3 and E4 numbers mentioned above were left over from the CBS years and used. By Autumn 1990 E9 decals used up; they then mistakenly use N9 decals (actually the "E" or "N" is one decal; the other 6 numbers are the second decal) Fender starts using the "N" prefix decal but keeps using "9xxxxx" number decals. It is corrected and N0 decals are used in late 1990


Some Changes In 1991 a lot of bodies were made of Poplar with Alder Veneers even some Alder bodies are Veneered. This lasts until around 1995. Although even then veneers were used on some finishes
In 1995 the headstock design changes with the serial number now on the back see below serial numbers now correct. The logo changes
Option of Maple board added as well as Rosewood and Fretted Maple Neck. By 1996 the fretted Maple neck option had gone.
Around 1998 The TBX tone control was replaced by The No Load Delta Tone System
In 1999 the neckplate was changed see above.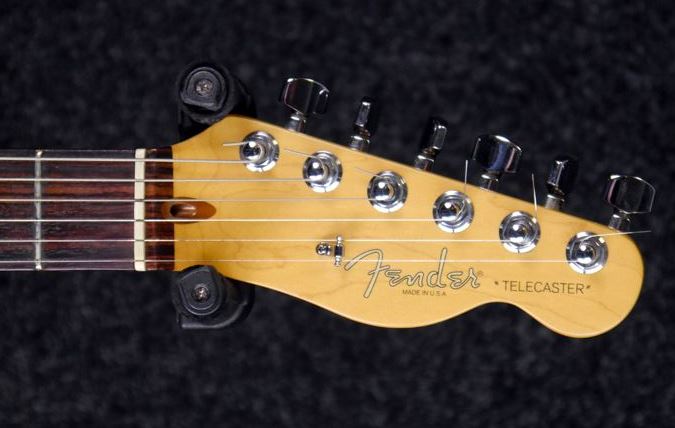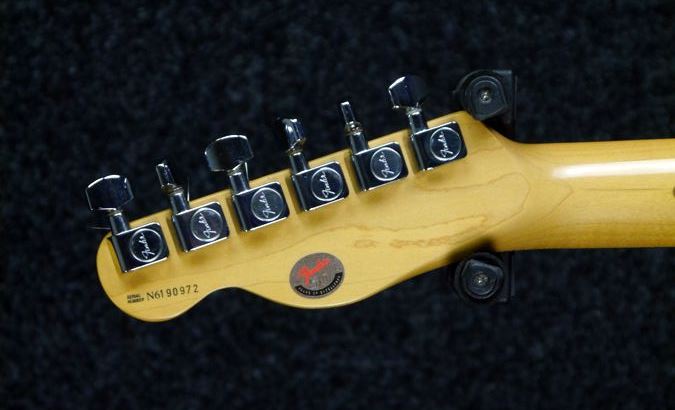 This is a 1996 Tele note logo all guitars produced in this year had the Anniversary sticker on.
Neckplate from a 1999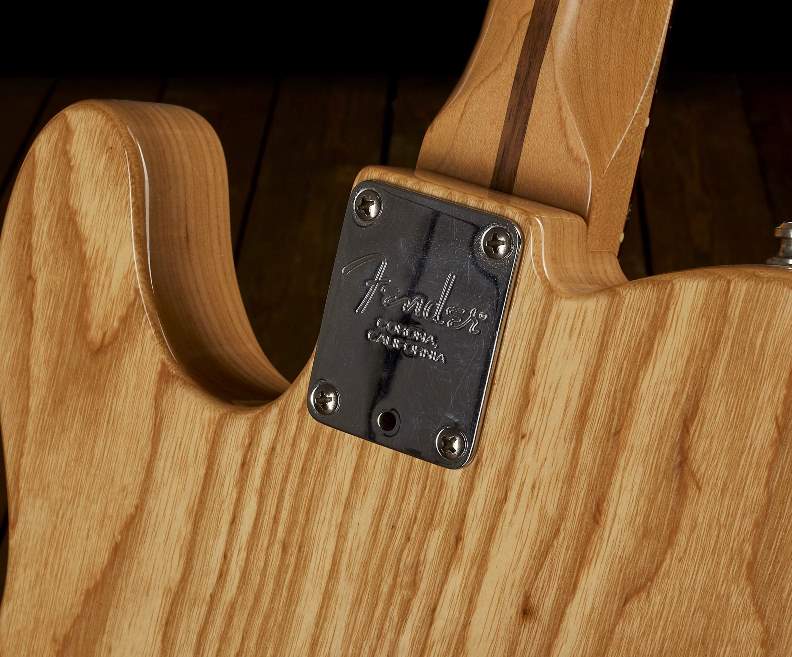 Go on a Bender
Actually a B Bender from 1995 to 1997 the Standard Tele came with the option of a B Bender version. It was
identical to the Tele of the time except that it had a B Bender fitted and had Fretted Maple as the only board option.
From Fender's literature
The B-Bender is a mechanical device that raises the pitch of a Telecaster's B string by a whole tone (up to C#), producing plaintive, sinuous bends very much like those produced on a pedal steel guitar. This is accomplished by spring-loaded levers inside the guitar's body, which connect the bridge to the strap button on the upper bout. The strap button itself is attached to a lever that moves up and down about an inch. When you wear the guitar over your shoulder and you push the neck downward, the guitar strap pulls the strap button upward, activating the lever system and raising the pitch of the B string. The B-Bender was invented by two country-rock pioneers, guitarist Clarence White and multi-instrumentalist Gene Parsons, both of whom played in Nashville West and the Byrds, among other acts, in the late 1960s and early 1970s. Their device was called the Parsons/White Pull-String, and it was designed to fit White's 1954 Telecaster (White was killed by a drunk driver in 1973; his guitar with the prototype bender mechanism is now owned by Marty Stuart, who has played it often).

50th Anniversary
In 1996 a 50th Anniversary model was released. There were only 1250 of these made. It was a standard Tele except for fretted maple neck only, sunburst only and gold plated hardware with a commemorative neck plate with the number in the release on it. All Fenders had a 50th Anniversary sticker on it that year but not the commemorative neck plate
The 50th Anniversary model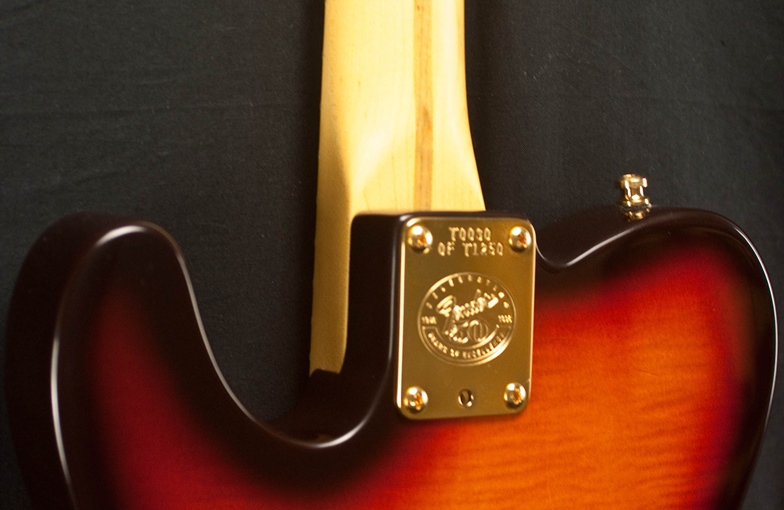 Aluminium
In 1994 Fender produced a Standard Telecaster with an Aluminium body. This body was anodised aluminium on an otherwise fairly standard Telecaster. There were only 100 made in three colours Blue Tie Dye, Purple Tie Dye and American Flag. I have also seen these colours referred to as Purple Marble, Blue Marble and Red Silver and Blue Flag.
Approximately 100 of these were made but no one knows how many of each colour.

The Aluminium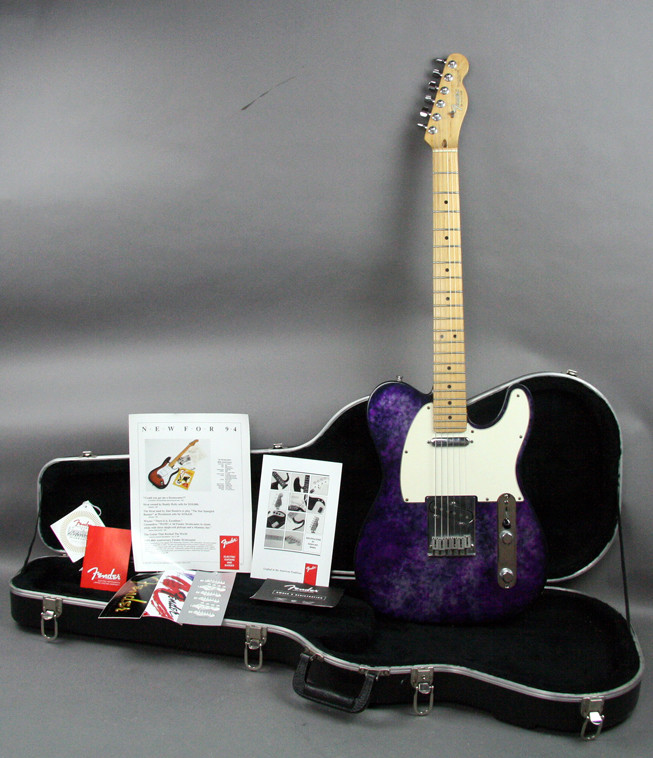 Special Edition 1994
This model has identical specs to the Standard model except.
Black or Blonde only
8 screw ggrey pearl or tortoiseshell pickguard
Commemorative Neckplate
I have no pictures yet
American Telecaster 2000 to 2007
The Standard Telecaster was replaced in 2000 by the American Telecaster shown in the catalogues at launch in 2000 as the American Standard Telecaster but in later catalogues just known as the American Series continued until 2007 when replaced by the American Standard Telecaster Version 2. Not a huge amount of changes the Logo is now vintage style, there are rolled fingerboard edges and the tuners are staggered height pickguard is parchment.
Specifications
Body Alder or Ash Poly urethane finish
Neck Maple TRA at Headstock Micro Tilt Slim C Skunk Stripe Satin Finish
Fretboard Maple or Rosewood 22 Frets Medium Jumbo 9.5" radius
Headstock See pictures
Tuners Fender Branded sealed Diecast Staggered Height
Pickups 2 single coils 1 chrome covered at neck 1 Black set in the bridge Alnico V
Controls 1 Volume 1 Delta no load Tone Knurled Chrome 3 way selector see note below
Nut Synthetic Bone 43mm
Neckplate Fender stamped horizontal with Corona California underneath
Hardware Chrome
Bridge 6-Saddle American Standard Strings-Through-Body Tele with Steel Saddles and Stamped Brass Plate
Pickguard 8 Screw Parchment
This guitar continued pretty much unchanged until it was replaced in 2008
Some Pictures of the American Series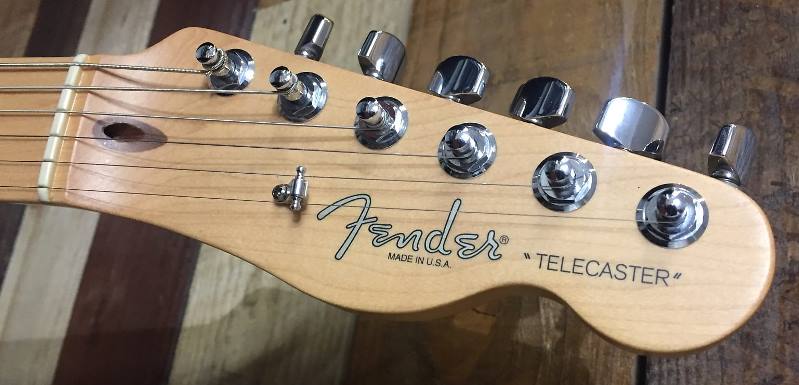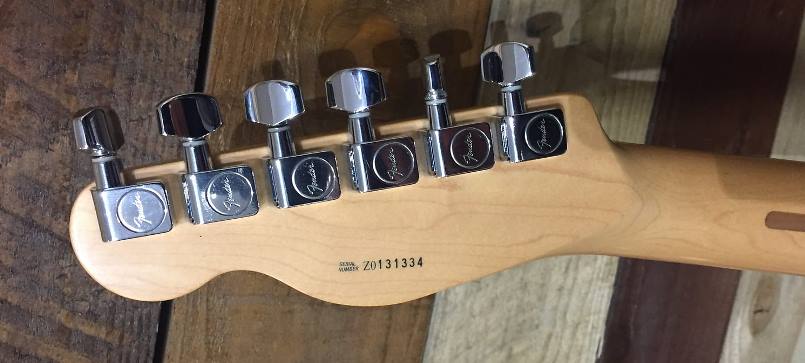 American Ash
From 2003 to 2007 a variation of the American Series. Ash body with a white or black 5 screw pickguard. Neck fretted maple only.
Available in Sunburst or Blonde. This is the much sought after 8502 model. There are a lot of people who regard this as a really special guitar it has similar specs to the "normal" American series but has different pickups full specs from Fender are:
Model Name: American Ash Telecaster

Model Number: 011-8502-(Color#)
Series: American Series
Body: Ash
Neck: Maple, "U" Shape, (Satin Polyurethane Finish)
Fingerboard: Maple, 9.5" Radius (241mm)
Frets: 22 Medium Jumbo Frets
Scale Length: 25.5" (648 mm)
Nut: 1.650" (42 mm)
Hardware: Chrome
Machine Heads: Fender®/Schaller® Deluxe Staggered Cast/Sealed Tuning Machines
Bridge: American Series Tele Steel Bridge with 6 Chrome-Plated Brass Saddles
Pickguard: 1-Ply Parchment on (703) 2-Color Sunburst,
1-Ply Black on (767) Honey Blonde
Pickups: 2 Modern Vintage Tele Single-Coil Pickups
Pickup Switching: 3-Position Blade:
Colors: (703) 2-Color Sunburst, (767) Honey Blonde, (Polyurethane Finish)
Other Features: Rolled Fingerboard Edges,
Sharp '52 Style Body Radius

Possible Anomaly
A very observant member of the Tele forum Yegbert has pointed out that the text says 5 Screw pickguard and the picture has 8 screw. Every picture I have been able to find has an 8 screw despite The Ultimate Fender Book saying 5 and the 2004 and 2005 Frontline picturing them with a 5 screw
There is a special 8502 club on the Telecaster forum I will ask them.
Appears they don't know or aren't telling

The Blonde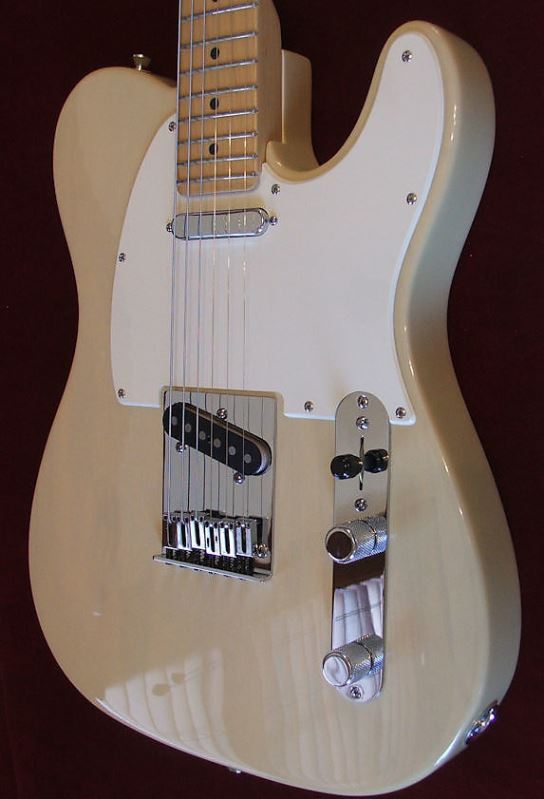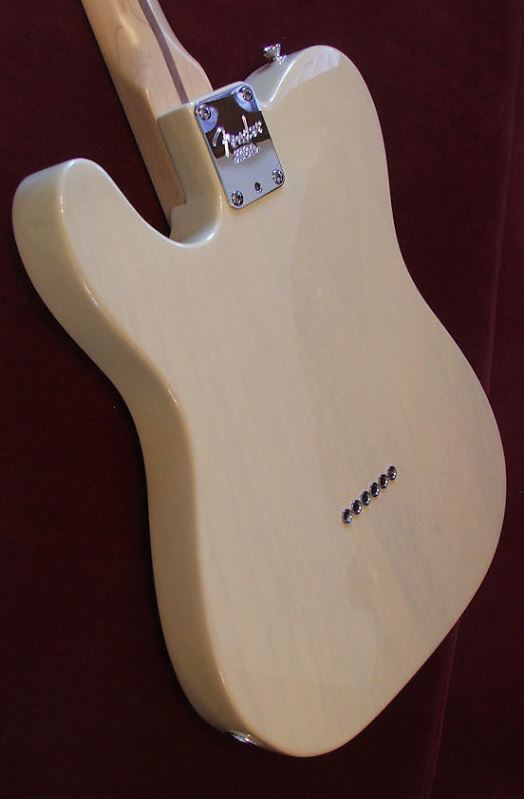 60th Anniversary Diamond Edition 2006
There is much confusion as a 60th anniversary Tele was issued in 2011 and 2 Diamond 60th Anniversary Teles in 2006. As well as the version of the standard Tele there is also an AVRI distinguished by a body inlay below the bridge and by a serial number of so many limited Edition.
The Standard Diamond 60th Anniversary 2006 has a normal Z serial number but still with the specs of a standard except for a commemorative neckplate and false diamond in the words 60 years below Telecaster on the headstock.
It was made in Sunburst only Rosewood board only
Some pictures of the Diamond 60th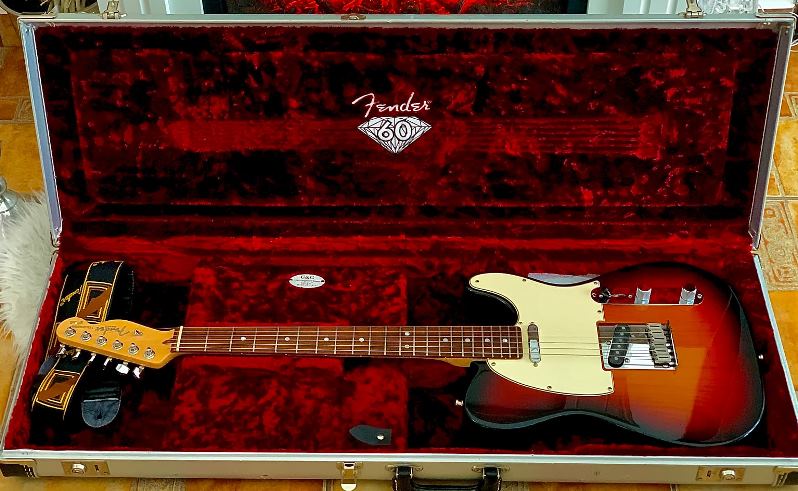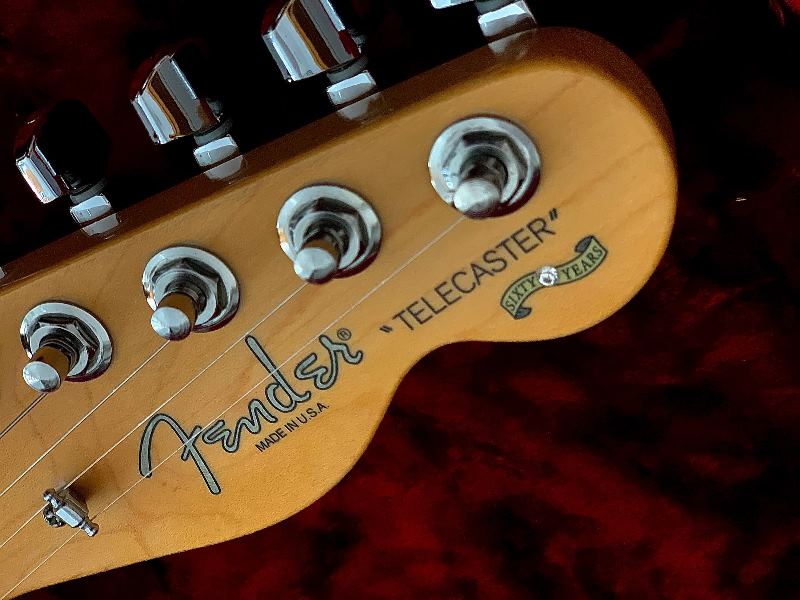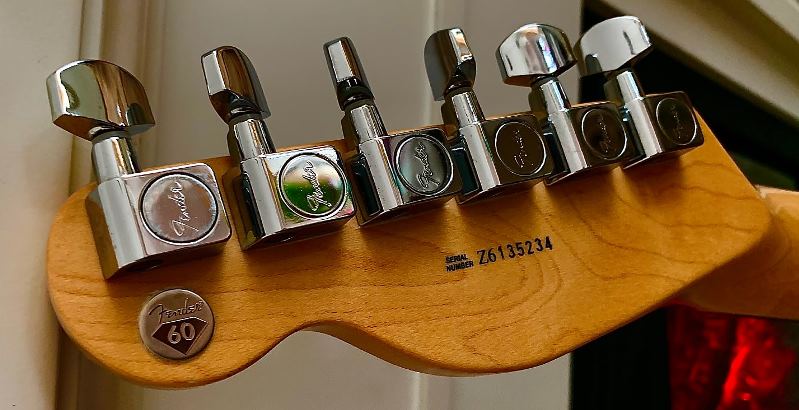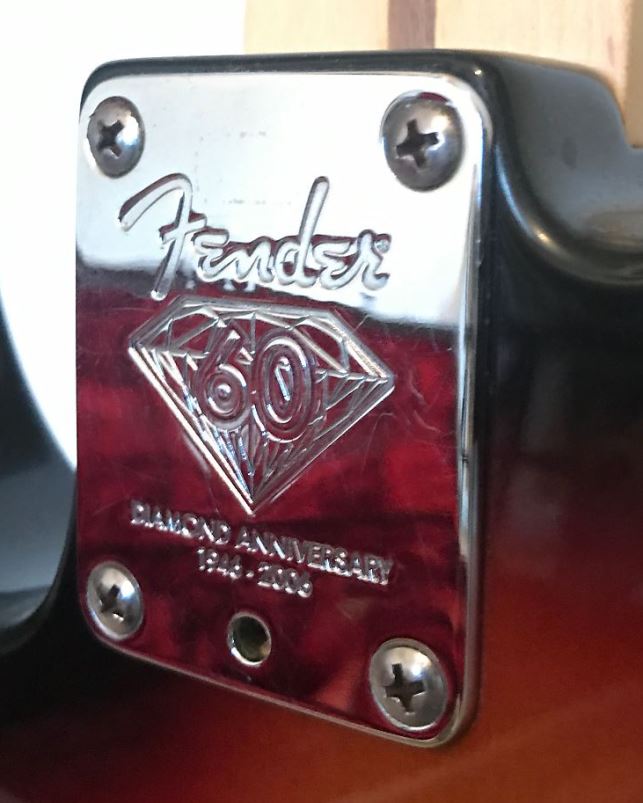 American Standard Telecaster Version 2
Launched in 2008 to replace the American Series. referred to again as the American Standard Telecaster Not huge changes. The bridge changed to bent-steel saddles (with centered adjustment screws), the pickups were revamped, and the finish was "made thinner and was now a Gloss Urethane on the body and the neck has a tinted satin finish on the back and gloss on the front.

Specifications
Body Alder or Ash Gloss Urethane Finish
Neck Maple TRA at Headstock Micro Tilt Slim C Skunk Stripe Satin Back High Gloss Front
Fretboard Maple or Rosewood 22 Frets Medium Jumbo 9.5" radius
Headstock As American Series
Tuners Fender Branded sealed Diecast staggered height
Pickups 2 single coils 1 chrome covered at neck 1 Black set in the bridge Alnico V
Controls 1 Volume 1 Delta no load Tone Knurled Chrome 3 way selector see note below
Nut Synthetic Bone 43mm
Neckplate Fender stamped horizontal with Corona California underneath
Hardware Chrome
Bridge 6-Saddle American Standard Strings-Through-Body Tele Bent Steel Saddles centre adjustment screws stamped.
Pickguard 8 Screw 3 ply Black or White
2012
The American Standard Tele got some updates in 2012 - they changed to the Custom Shop Twisted Tele neck pickup and the Custom Shop Broadcaster bridge pickup and they added the back contour ("tummy cut") to the body. These changes are first documented in the 2013 Frontline.
Model discontinued in 2016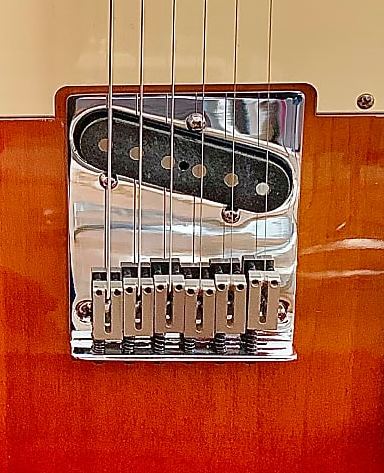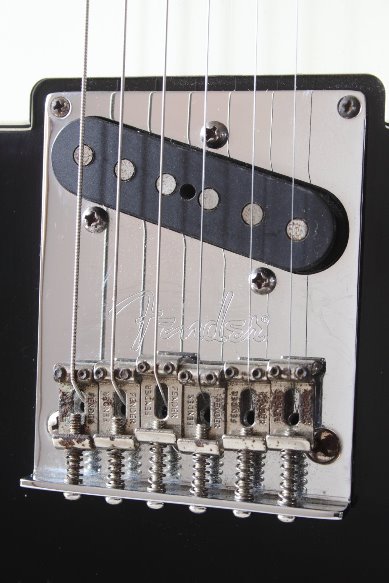 Tale of 2 Bridges American Series on the Left Standard Tele V2 on right
This is a Version 2 Standard

Pre 2012 body left post 2012 right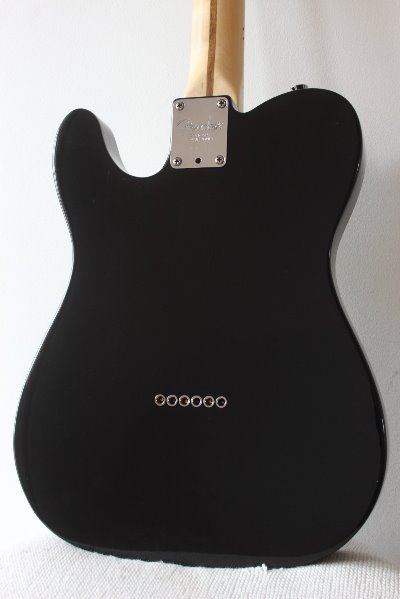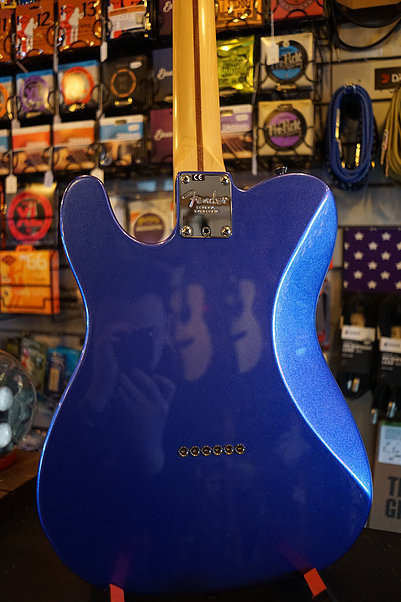 2011 60th Anniversary Telecaster
RadioFM74 from the Telecaster Forum has reminded me that I have not detailed this model and even better has written it all for me so here is an extract from his post on the Forum

Hi, my small contribution will be to remind you of the wonderful 2011 60th anniversary model. For all intents and purposes a 2008-2012 Am Std tele with ash body, nitro finish in "blackguard blonde". There's a few threads on it (although there's a great deal of confusion with the 2006 "60th anniversary" telecasters). Here's the technical data sheet and a couple pics.
Model Name: 60th Anniversary Telecaster
Model Number: 011-6112-(768)
Series: Limited Anniversary Edition
Body: Ash
Neck: Maple, Modern "C" Shape, Nitrocellulose Lacquer Finish 4 bolt with microtilt
Fingerboard: Maple, 9.5" Radius (241 mm)Frets: 22 Medium Jumbo Frets Scale Length: 25.5" (648 mm)
Nut 1.685" (42.8 mm)
Hardware: Chrome
Machine Heads: Fender® Deluxe Staggered Cast/Sealed Tuning Machines staggered
Bridge: American Tele with New American Standard Bent Steel Saddles and Stamped Brass Plate
Pickguard: 3-Ply Black/White/Black (8-Hole)
Pickups: 2 American Standard Tele® Single-Coil Pickups (Neck & Bridge)
Pickup Switching: 3-Position Blade:
Controls: Master Volume, Master Delta ToneTM, (The Delta ToneTM System Includes High Output Bridge Pickup and Special No-Load Tone Control)
Colours: (768) Blackguard Blonde,
Nitrocellulose Lacquer Finish with thinner undercoat
Strings: Fender USA Super 250L, NPS, Gauges: (.009, .011, .016, .024, .032, .042)
Other Features: 60th Anniversary Neckplate,
Five-Screw Mounted Brass Bridge Plate, Loaded with Improved Bent Steel Saddles with Elongated String Slots.
Lightly Tinted Neck, 4-Bolt Neck Attachment with Micro-Tilt™ Adjustment,
Bi-Flex Truss Rod System,
Rolled Fretboard Edges,
Sharper '52 Style Body Radius,
"Barrel" Switch Tip
U.S. MSRP: $1,899.99 INTRODUCED: 1/2011 DISCONTINUED: 10/2012
WRENCH SIZES: Truss Rod/Tilt Adjustment Wrench, (1/8" Hex), P/N 0023811000, Saddle Height Adjustment Wrench, (.050" Hex), P/N 0018531000
His pictures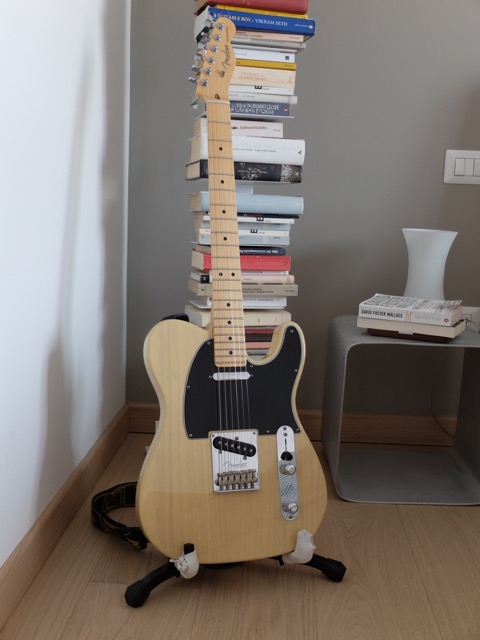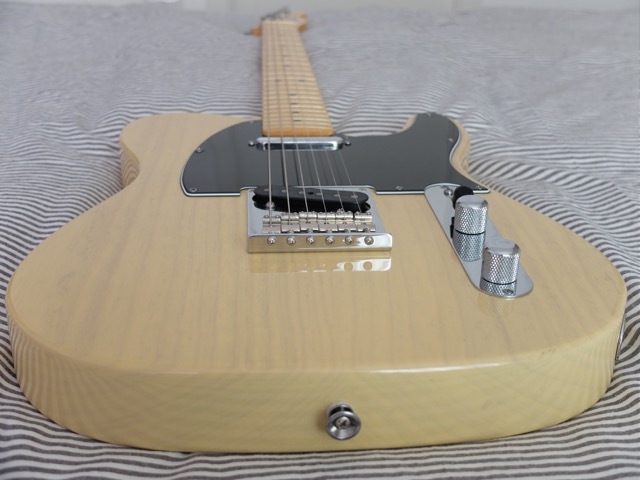 Certainly a beautiful guitar