American Standard Stratocasters Variants post CBS
This page will detail the post CBS Standard Stratocaster Variants up to 2017. There are a lot so may take some time before this page is complete. Variations to the American Standard or American Series Strats of the time will be listed. For details of these specs see my Standard Strat page here US Standard Strats
American Classic Strat
This is the Custom Shop version of the American Standard produced from 1992 to 1999. Specs do vary especially colours. There are advertised "standard colours" but it was possible to order individual variations such as custom colours. More of that later.


Specifications
Body Alder or Ash Gloss Catalysed Urethane Finish
Neck Figured Hardrock Maple TRA at Headstock Micro Tilt Slim C Skunk Stripe
Fretboard Maple or Rosewood 22 US Standard Frets 9.5" radius
Headstock Small Spag logo Fender then Stratocaster 1 Ezyglide String tree Custom shop logo on the back
Tuners Fender Branded Schallers sealed Diecast staggered height
Pickups 3 single coil Texas Specials middle RWRP
Controls 1 Volume 2 Tone 5 way switch
Nut 43mm
Neckplate Serial Number Custom Shop Logo and USA Early ones have Fender instead of Custom shop logo
Hardware Chrome or Gold The Gold option seems to be first mentioned in the 1996 Frontline.
Bridge 2 pivot standard strat powdered stainless block saddles
Pickguard 11 Screw Brown or White Shell according to colour but again variations are probably available.
Colours
The 1997 Frontline is the first to mention colours details:
3 colour sunburst Rosewood Board, Blonde, 2 colour Sunburst Maple Board or Olympic White. There are then 13 custom colour options.
Fuzzfaced on his excellent site also lists Champagne Sparkle, Black Holoflake and Starlite Blue
If ever a strat deserved pictures it's this one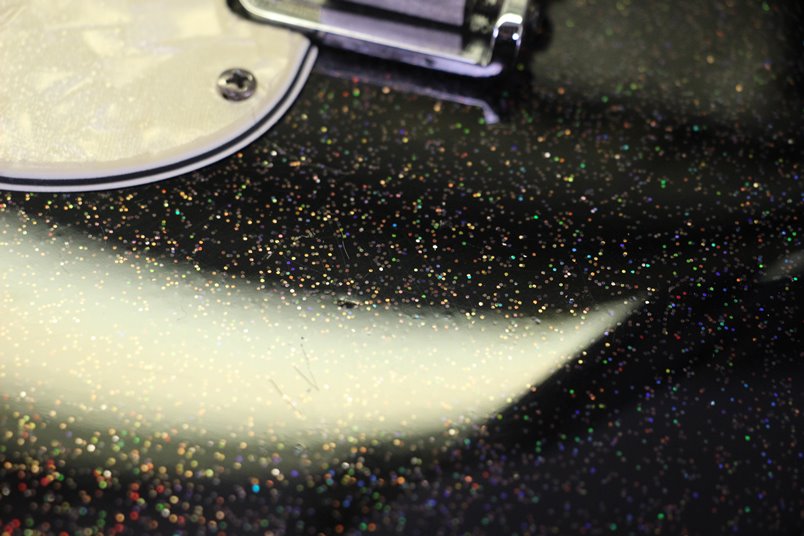 This colour is black holoflake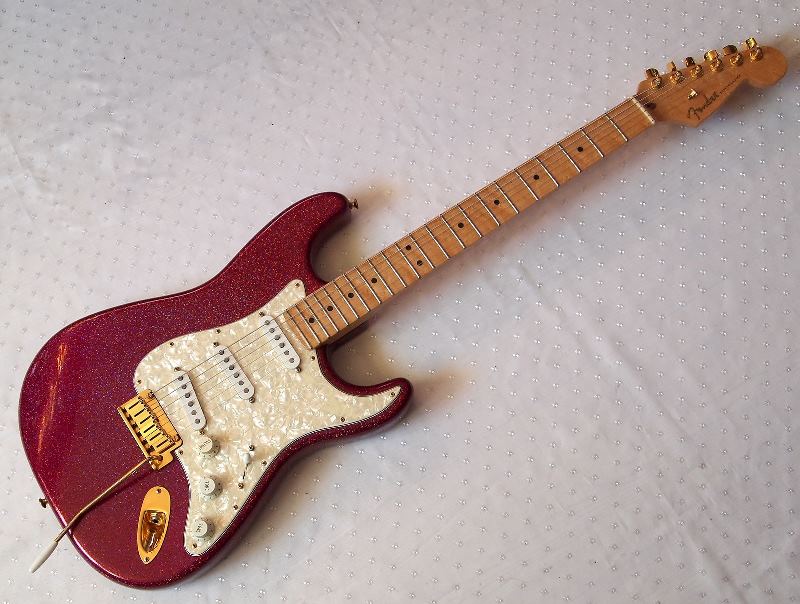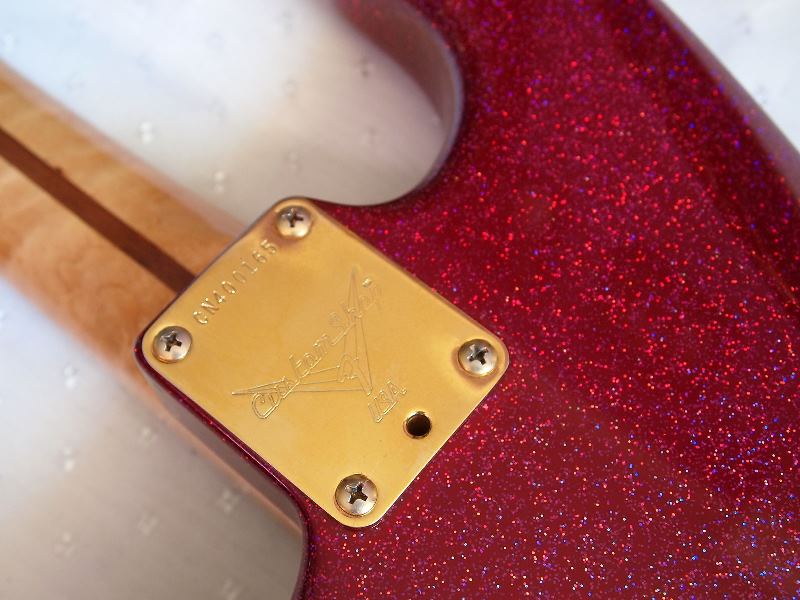 This is Violet Sparkle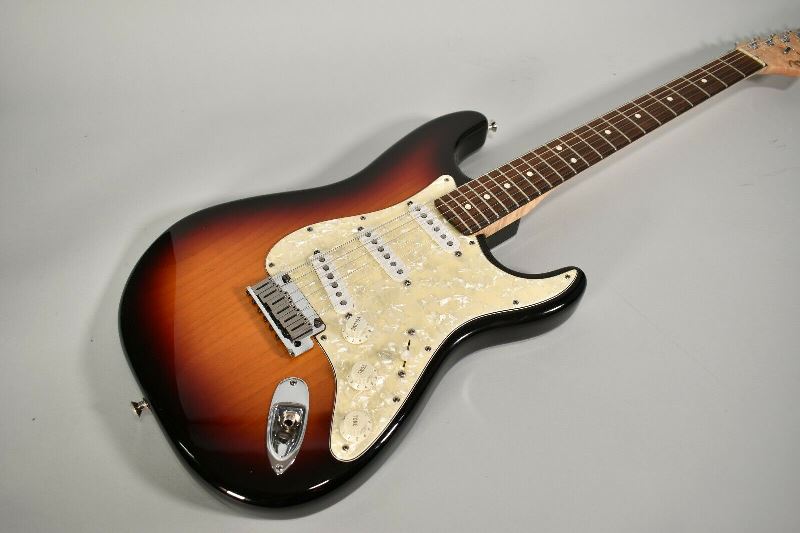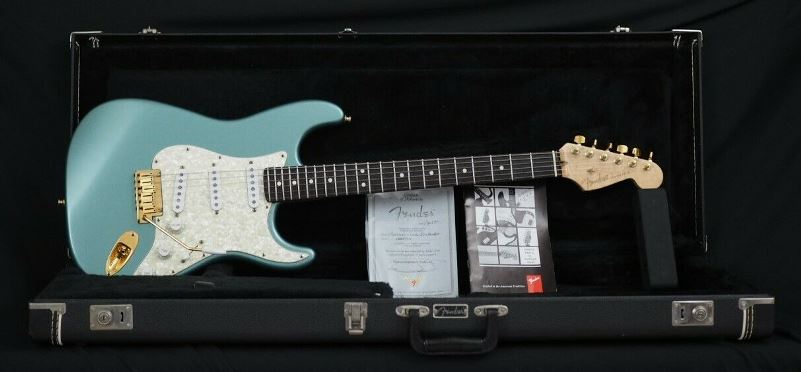 2 more colours I think the Blue may be the Starlite blue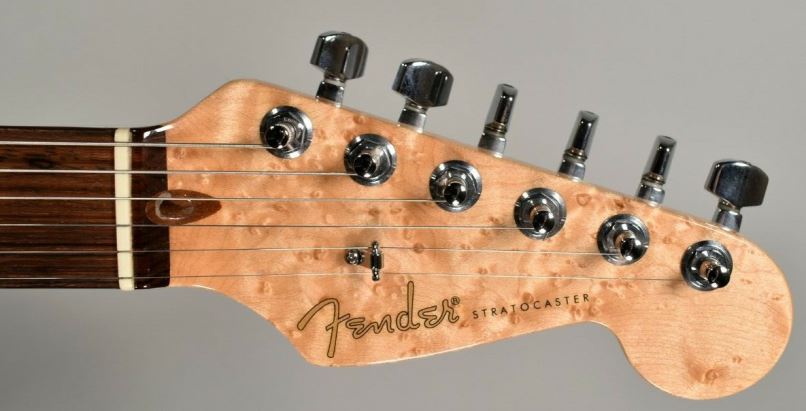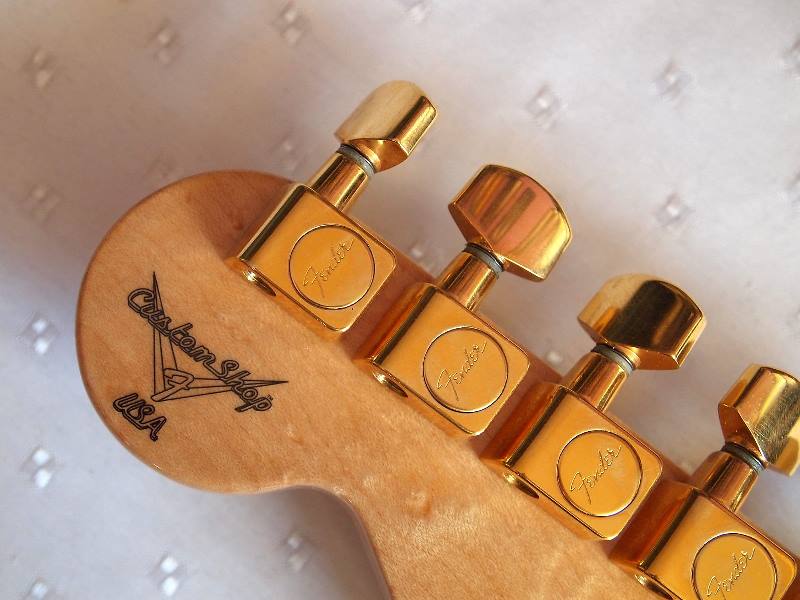 Some headstock detail
Stratocaster Special Edition 1993
I have one of these in a colour called Midnight Purple Sparkle. Only 400 were made in a total of 8 special colours. It was advertised as a sort of Custom shop guitar at Standard price.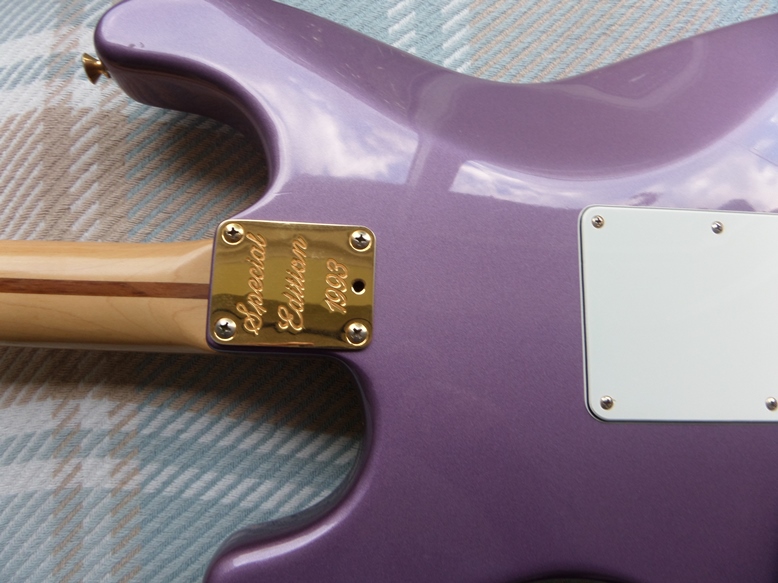 Some pictures of my guitar



Specifications
Body Alder Gloss PolyUrethane Finish
Neck Maple PolyUrethane finish TRA at Headstock Micro Tilt Slim C Skunk Stripe
Fretboard Maple or Rosewood 22 Medium Jumbo Frets 9.5" radius
Headstock Small Modern Late CBS logo Fender serial number below then Stratocaster Made in USA 2 Ezyglide String trees
Tuners Fender Branded Schallers sealed Diecast staggered height
Pickups 3 single coil Texas Specials middle RWRP
Controls 1 Volume Tone 1 TBX 5 way switch
Nut 43mm Synthetic Bone
Neckplate Gold Special Edition 1993 written on
Hardware Gold
Bridge 2 pivot standard strat powdered stainless block saddles
Pickguard 11 Screw 3 ply white shell.
Colours Midnight Purple, Antique Burst Montego Black,Vintage White, Candy Green, Frost Red, Burgundy Mist or Ocean Turquoise.
Here's the publicity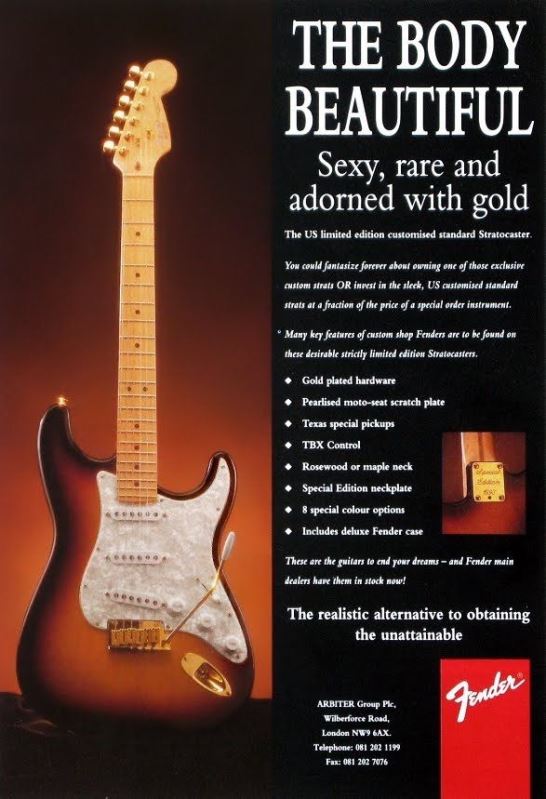 Aluminium Stratocaster
In 1994 Fender produced a Standard Strat with an Aluminium body. This body was anodised aluminium on an otherwise fairly standard Strat. There were only about 400 made in three colours Blue Tie Dye, Purple Tie Dye and American Flag. I have also seen these colours referred to as Purple Marble, Blue Marble and Red Silver and Blue Flag.
Approximately 400 of these were made but no one knows how many of each colour.


This one is The Flag
Stratocaster Special Edition 1994
A Standard Strat with commemorative neckplate all specs as American Standard at the time except
Colour Black or Blonde
Pickguard 11 Screw Pearl or Tortoiseshell laminated Plastic
Commemorative Neckplate

The 1994 SE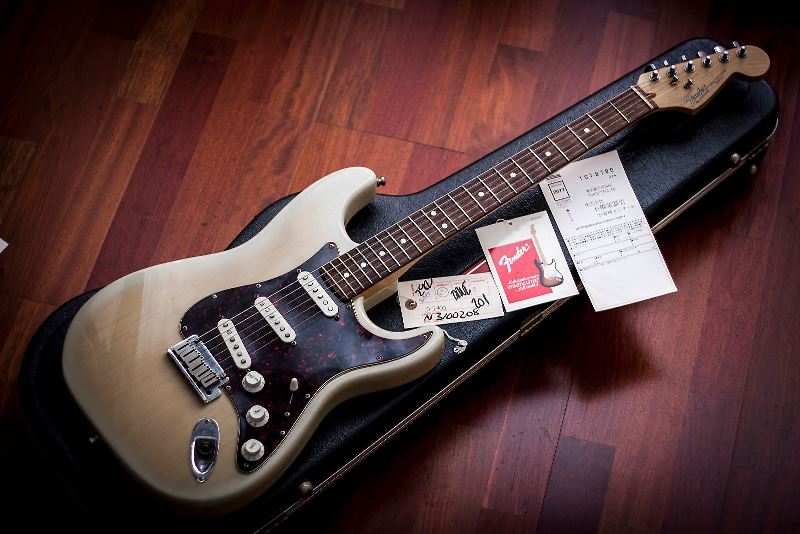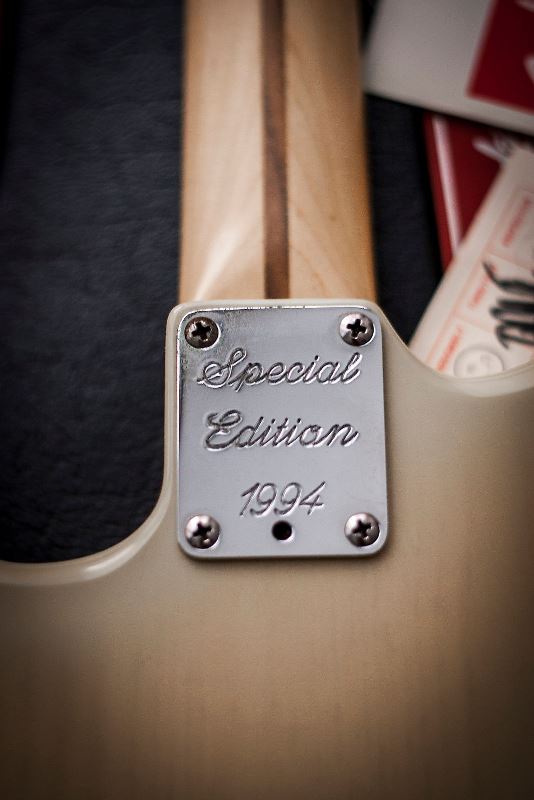 1996 50th Anniversary Stratocaster
Fender of course has various points where it produces anniversary models with the same number, there is also a 2004 50th Anniversary model.
This particular 50th Anniversary model was a limited run of 2500 plus some Custom Shop Limited Editions.
The variations from Standard specs here are:
Neck Maple with Rosewood Board
Commemorative Neck Plate
Colour Sunburst only with Gold Plated Hardware.
Crawdaddy from the Strat Forum has pointed out that this model also came in a Left Handed Version 250 were made so serial no is shown as N of 250.
The 1996 50th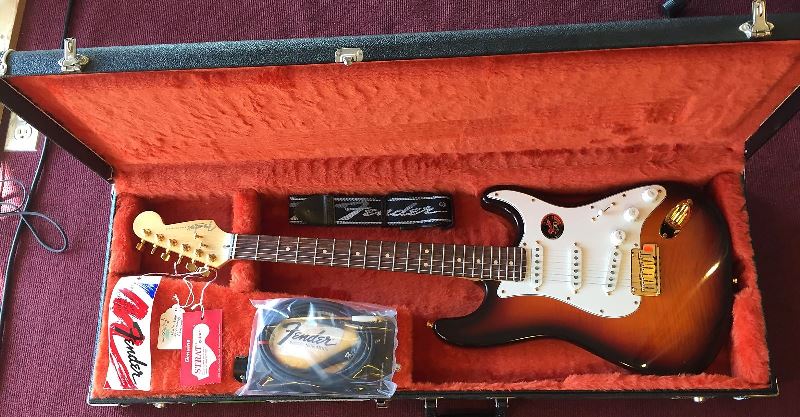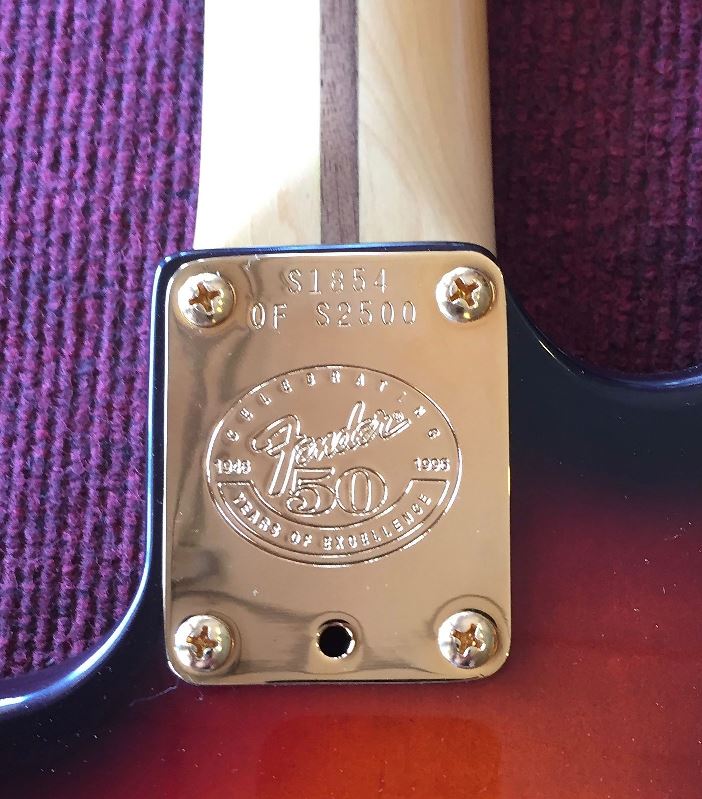 The "Left Handed" Neckplate picture from Crawdaddy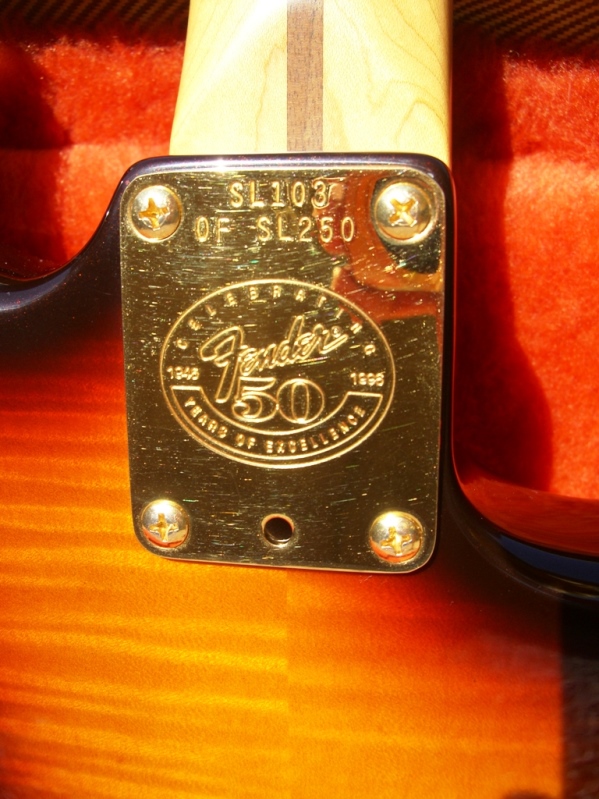 Roadhouse Stratocaster
This was launched in 1997 and continued until 2000. An American Standard with Texas Special pickups also some cosmetic differences being the colours and a pearl/shell pickguard. Colours at Launch 3 colour sunburst, olympic white, black (all with brown shell pickguard, candy apple red, shoreline gold metallic or teal green metallic (the last three with white shell pickguard.
All Alder only sometimes Ash is mentioned by people but that's just a confusing wording in the 1999 Frontline.
Replaced in 2000 by the American Series Texas Special. See later
One in Sunburst with the Brown Guard and One in Teal Green with White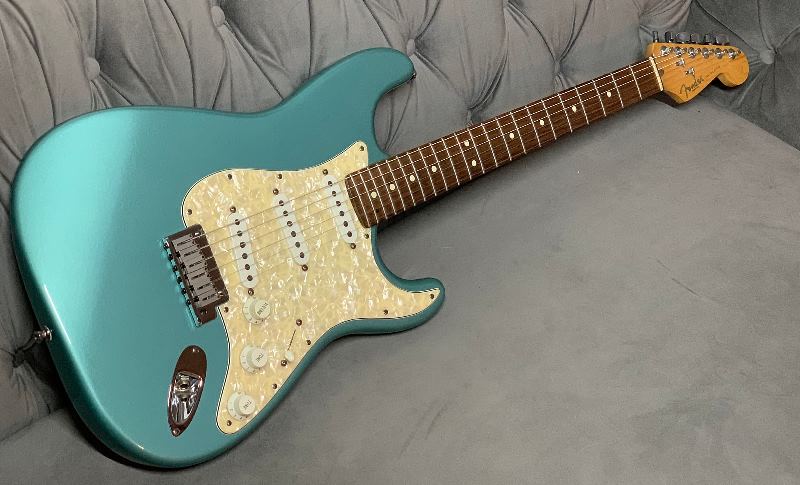 Custom Classic Stratocaster
from 2000 to 2008 The Custom Shop produced this model probably as a replacement for the American Classic Strat.
Specs
Body Alder or Ash
Neck Figured Maple Custom Shop Logo on Headstock choice of V or C shaped necks. Satin Poly finish
Maple or Rosewood Board
3 Texas Special Pickups
3 ply Parchment Guard Aged White Plastic Parts
2 Point trem with pop-in arm and polished saddles
Colours 3 Colour Sunburst, Black, White Blonde (ash body) or Cobalt Blue Transparent (Ash body).
In 2000 these become 3 Colour Sunburst, Daphne Blue, Black, Bing Cherry Trans (Ash), Cobalt Blue Trans (Ash) Honey Blonde (Ash)
Specs otherwise as American Series
The Fish is specified as Lacquer until 2002 when it is referred to as Nitrocellulose Lacquer but in the 2004 Frontline it is specified now as polyurethane
In 2002 the Pickups were changed Fender now describes these as "3 modern classic single coil pickups including a Hot Classic bridge pickup with custom steel inductance plate". This Frontline is also the first mention of choice of C or V necks but specs in the issue show C this is corrected to show the V as well in the following year.
2004 the finish is now thin Polyurethane
Bing Cherry Transparent I presume.
Texas Special Stratocaster

Replaced the Roadhouse Strat it was produced from 2000 to 2003 it is identical to the American Series except for the pickups which are obviously Texas Specials and a Pearl or Tortoiseshell laminated pickguard. Again Alder or Ash body came in
3 Colour Sunburst, White Blonde (Ash), Black, Candy Apple Red, Shoreline Gold, Teal Green Metallic or Sienna Sunburst (Ash)
Sienna Sunburst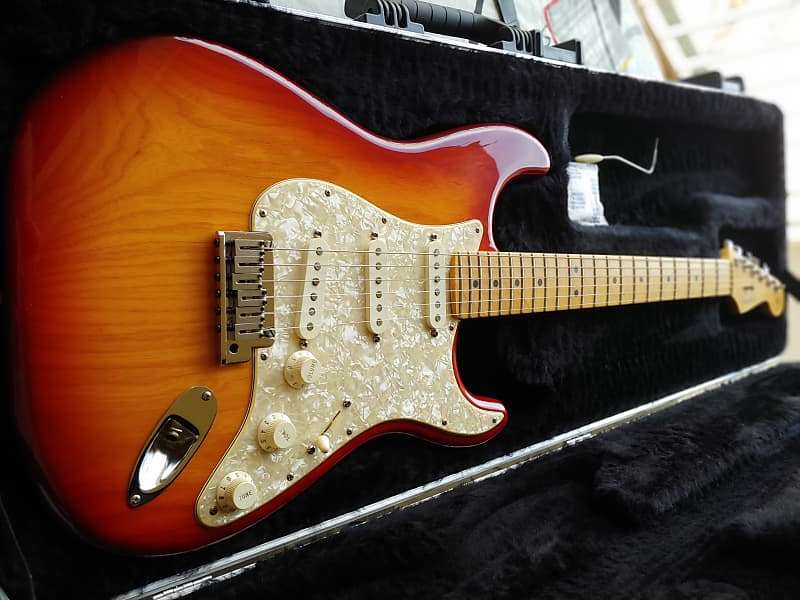 2004 50th Anniversary Stratocaster
Very little difference to the American Series except:
Neck Fretted Maple only with Commemorative neckplate
Ash body 2 Colour Sunburst only
Crawdaddy again the 2004 50th annv strat came with CS 54 pickups. that were only available in this model and did not have beveled edges.
This also caused me to relook at my notes and see that this guitar also had Parchment knobs and pickup covers and a single ply bevelled parchment pickguard
The main difference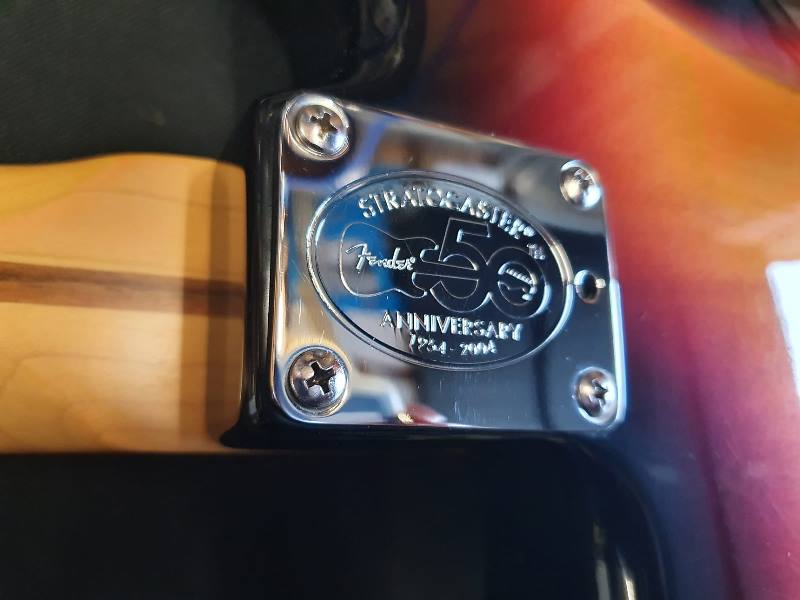 2006 60th Anniversary Stratocaster
Here we are 2 years after the 50th Anniversary and its already the 60th Anniversary.
This is of course a diamond anniversary so that features in some of the details of the guitar, here are the variations etc from the American Series
The headstock has a sixty years decal with an inlaid faux diamond actually a Rhinestone*
there is the usual commemorative neckplate
3 Colour Sunburst only
* Some sources say it's Zirconium but the 2 things are so similar I am not going to worry about it too much.
Quote from Fender
American Original '57/'62 Strat Pickups with the middle pickup reverse wound and reverse polarity. It's the first time Fender has ever done that trick with these more-vintage-than-vintage pickups, which have the original-style staggered, bevelededge Alnico 5 magnets and Formvar magnet wire.
Pictures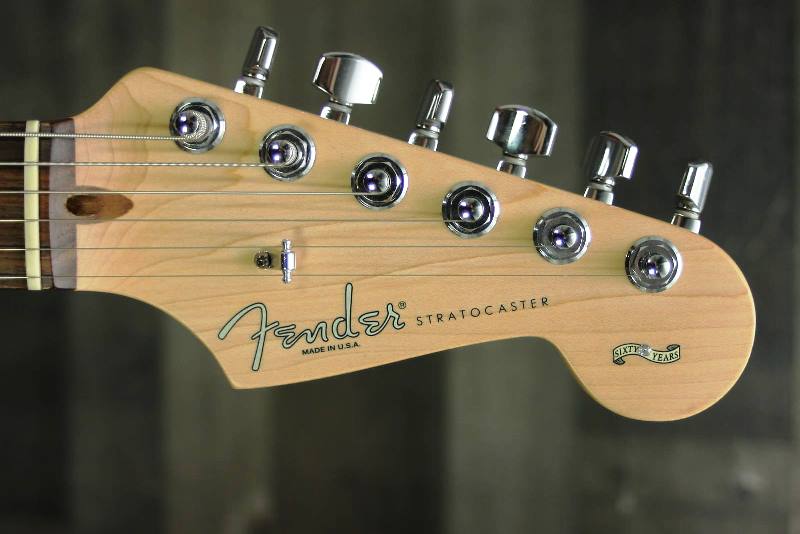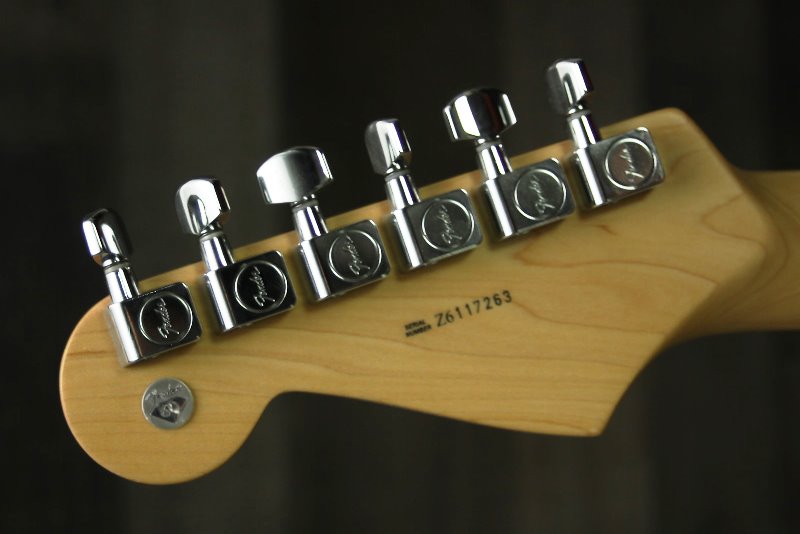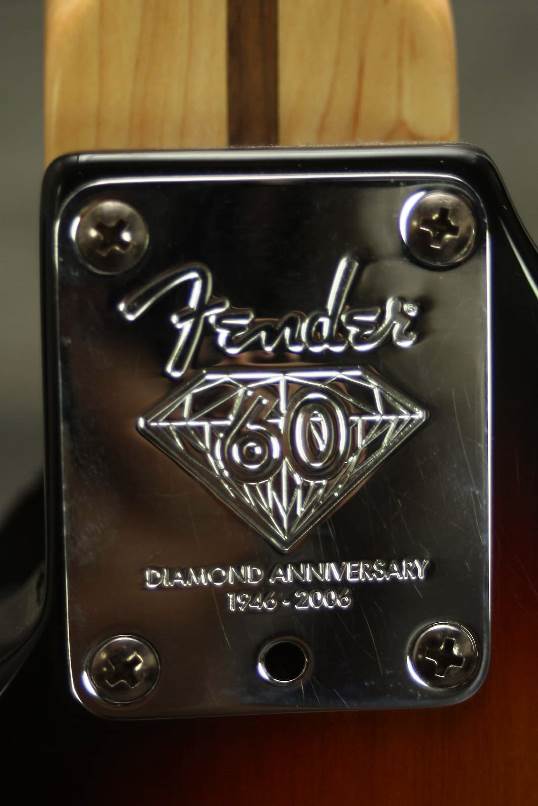 60th Anniversary Commemorative Stratocaster
Available in 2014 only, Fender's 60th Anniversary Commemorative Stratocaster is a beautifully crafted U.S.-made instrument that celebrates six decades of the world's greatest electric guitar. Fine features and appointments include an ash body with a comfortably contoured heel, three special-design 1954 single-coil Strat® pickups, a compound-radius fingerboard, gold hardware, custom-engraved neck plate and headstock ingot, and a beautiful 2-Color Sunburst gloss finish. Other premium features include a maple neck with modern "C" profile and satin finish, maple fingerboard with 22 medium jumbo frets and black pearloid inlays, Micro-Tilt™ neck adjustment mechanism, five-way pickup switching and "no-load" tone control for middle and bridge pickups, two-point synchronized tremolo bridge with vintage-style stamped steel saddles, and deluxe tuners with white pearloid buttons. Includes vintage-style tweed case with embroidered 60th anniversary logo, strap and strap locks, cable, polishing cloth and special commemorative book.
From the Fender publicity which tells us all we need to know including variations from the American Standard of the day.