Yamaha SGs launched in 1982 and 1983
Excluding those already covered in other pages there are 5 guitars launched in this period.
The SG2500 and the SG1600 which are quite high end models and the SG510, the SG400 and the SG300 which are not so high end
| | | | | | |
| --- | --- | --- | --- | --- | --- |
| | 2500 | 1600 | 510 | 400 | 300 |
| Body | Maple and Mahogany T Cross | Maple and Mahogany | Agathis | Maple and Mahogany | Mahogany |
| Fretboard | Ebony Chevron Markers | Rosewood Chevron Markers | Rosewood dot markers | Rosewood Dot markers | Rosewood Dot Markers |
| Headstock | Black Bound 3g 3b large thistle logo model on TRC | Black Bound 3g 3b large thistle logo model on TRC | Unbound black large thistle logo model on TRC | Bound black large thistle logo model on TRC | Bound black large thistle logo model on TRC |
| Tuners | Gold Yamaha Diecast | Gold Yamaha Diecast | Yamaha Diecast | Gold Yamaha Diecast | Yamaha Diecast |
| Pickups | Black Semi-open humbucking (Spinex) x 2  | Black Covered humbucking (Spinex) x 2 | 2 Black Ceramic Humbuckers | 2 Black Ceramic Humbuckers | 2 White Humbuckers probably Ceramic |
| Controls | Amber Speedial 2V 2T Push Push Coil Tap on Tone 3 way | Amber Speedial 2V 2T Push Push Coil Tap on Tone 3 way | Black Top Hat 2V 2T No Coil Tap | Black Top Hat 2V 2T No Coil Tap | Black Top Hat 2V 2T No Coil Tap |
| Hardware | Gold | Gold | Chrome | Gold | Chrome |
| Pickguard | Small Black Raised | Small Black Raised | Possibly Optional | None | None |
| Colours | Wine Red or Sunburst | Wine Red or Antique Stain | Black, candy tone red, dark blue, cream white  | Cherry or Brown Sunburst | Burgundy or Black |
| Weight | 4.4kgs | 4.2kgs | 3.8kgs | 3.9kgs | ? |
SG2500
This guitar is similar to the SG3000 and SG2000. It has the same T Cross construction and the brass sustain plate under the bridge. The archives say it was made from September 1983 to 1985, however other sources say it was a limited edition made for a very short time and it does seem to be pretty rare. The Wine Red colour is often described as Burgundy I guess it's the same.
It was released at 180000 yen.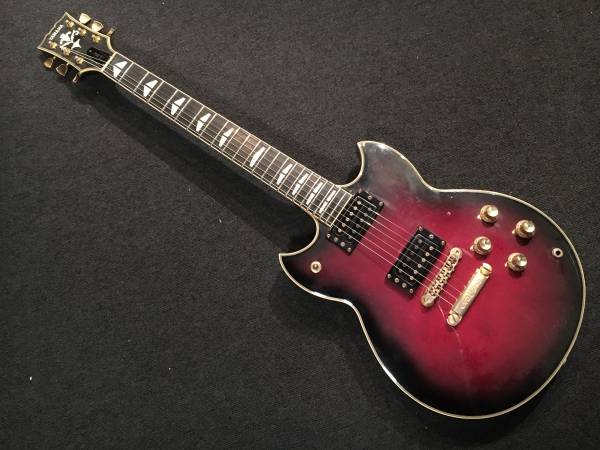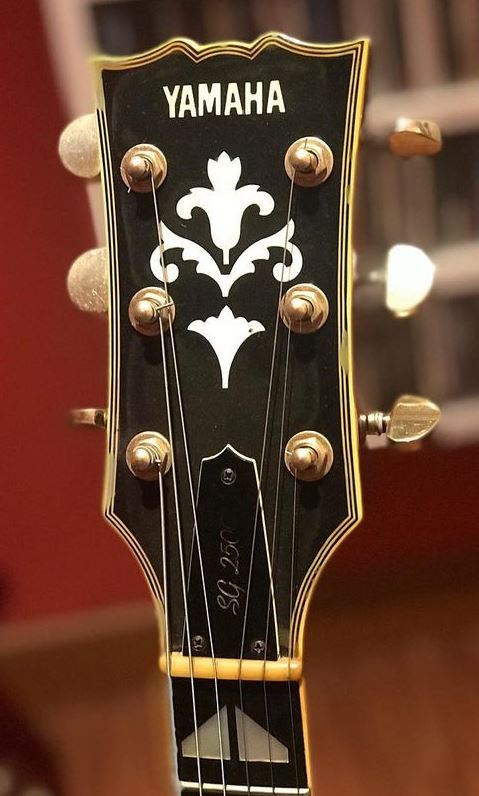 SG1600
Made from Sept 1983 to 1985 released at 150000 yen, another quality SG similar to the 2500 but lacking the T Cross and the through neck. With the Spinex pickups this is probably the top of the set neck SG range.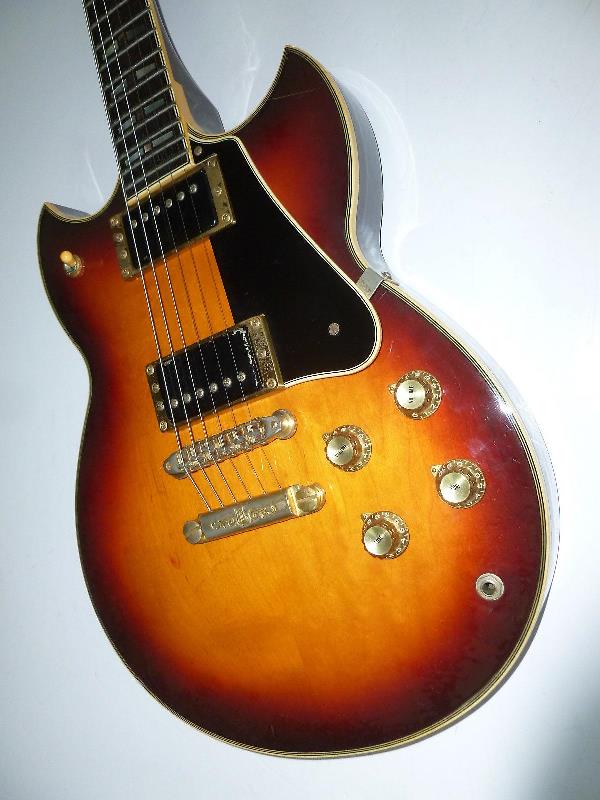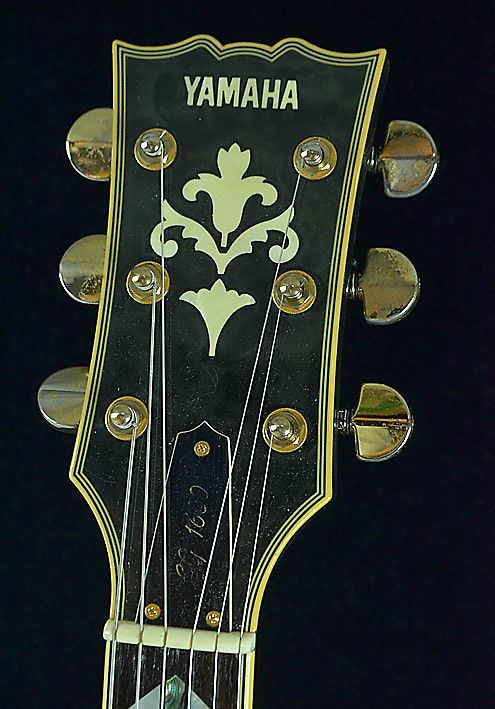 SG510
Released in Dec 1983 and made until 1986 a lighter SG with a flatter body it is said that the Blue is a short run special edition and quite rare. Released at 50000 yen a much cheaper guitar than the ones above. Still usual high quality Yamaha build. I have seen some with a small black raised pickguard and others I have seen have no pickguard could be optional or someone could have fitted one.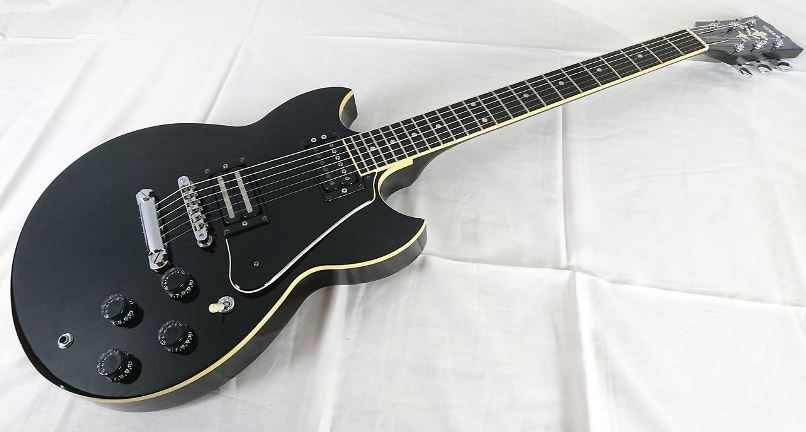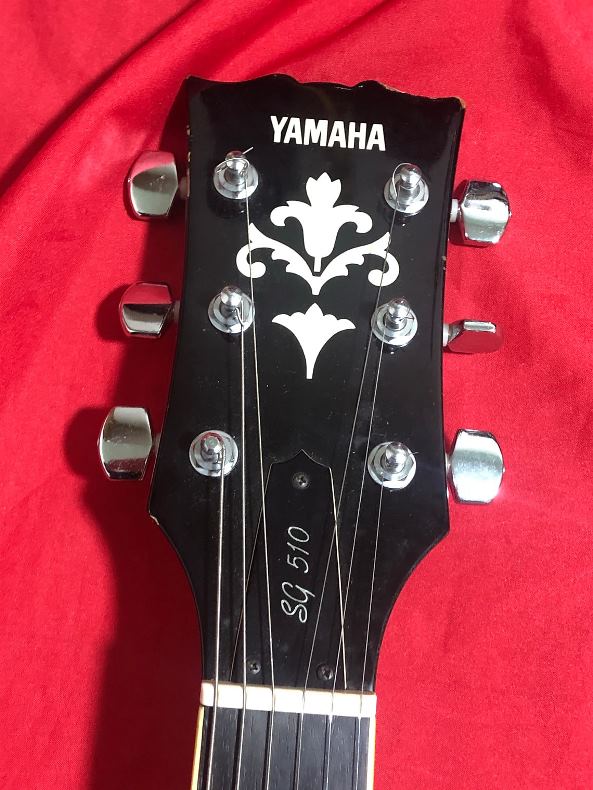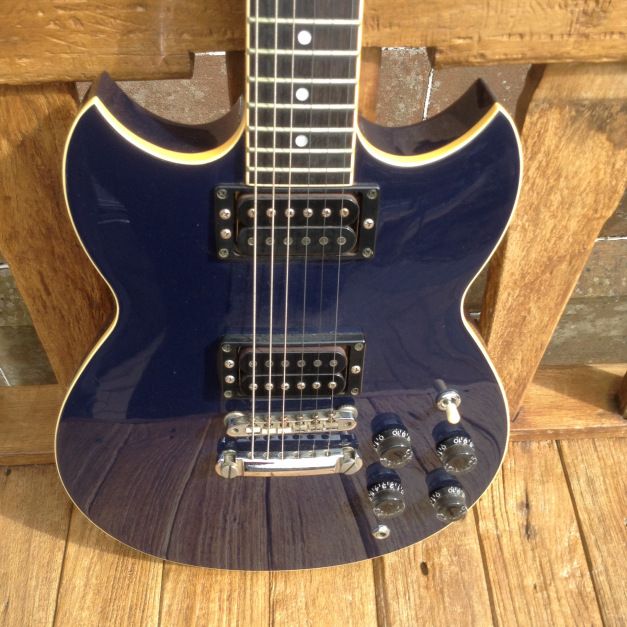 Note the placing of the 3 way switch first done on the earlier SG300 and SG400 see below.
SG300 and SG400
These are similar guitars the main differences being construction and cosmetic. They first appear in the 1982 catalogue and the 300 continues until at least the 1985 catalogue. I can't find the 400 after 1983.
The pickup switch is positioned near the controls this makes for slightly less routing helping with the cost. These again are lighter flatter guitars the 300 was never released in Japan and I can't see the 400 in any catalogues, and it isn't in the archives suggesting export only. Both under 4kgs no note of the release price. On the 400s I have seen the gold finish seems to have gone in parts suggesting a lower quality of plating than is usual for Yamaha.
Not sure why they have a white tip to the 3 way with all other controls black looks wrong to me.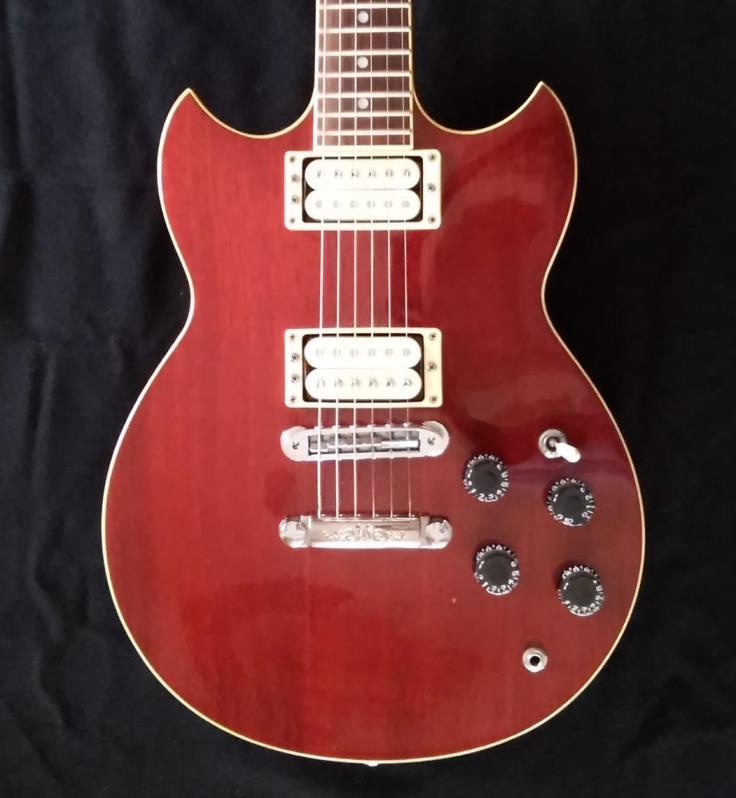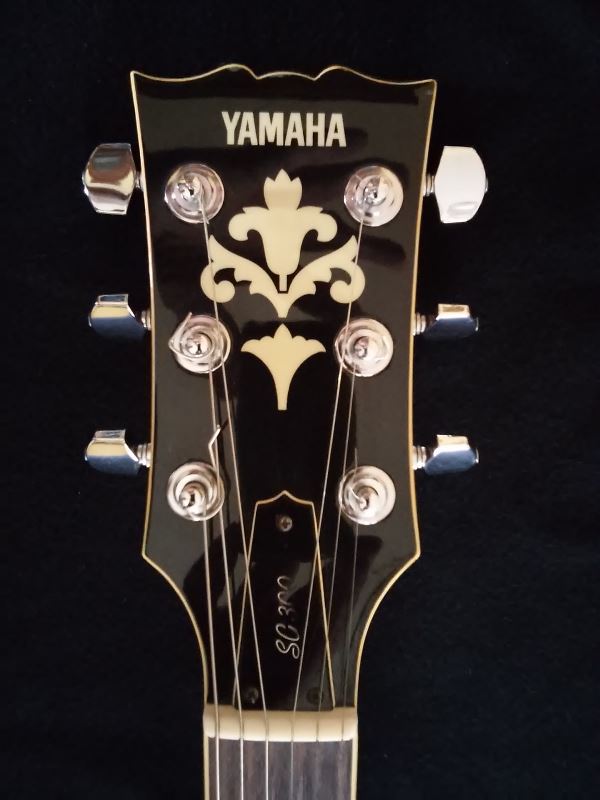 This is the 300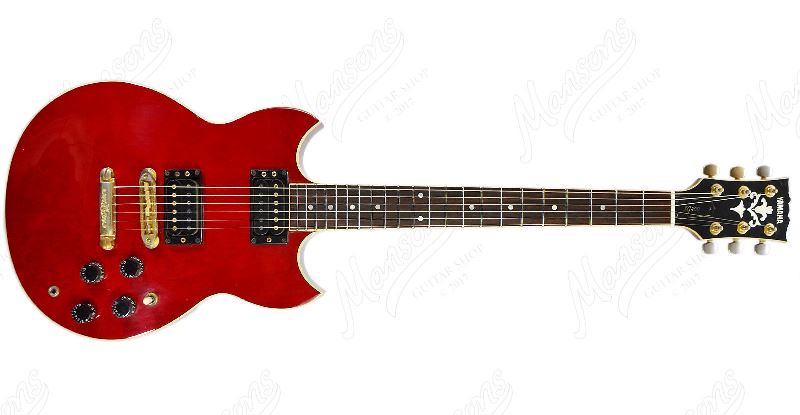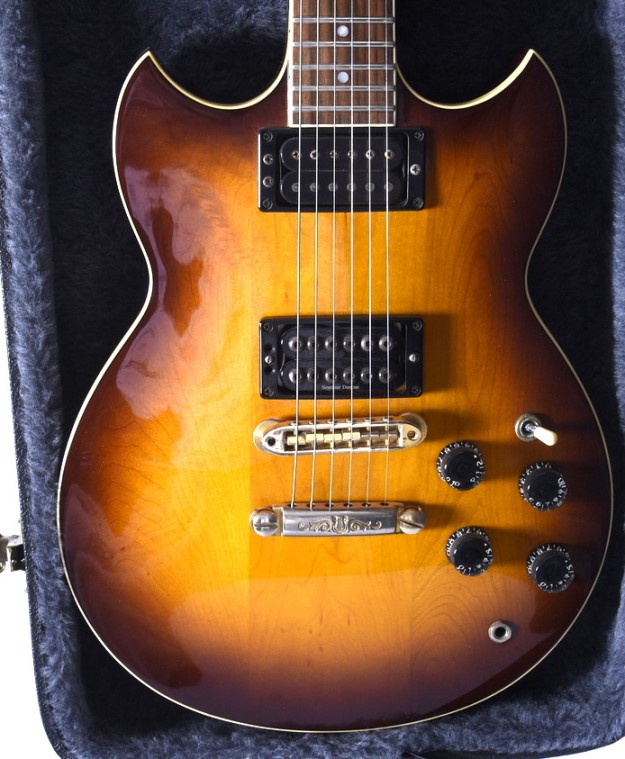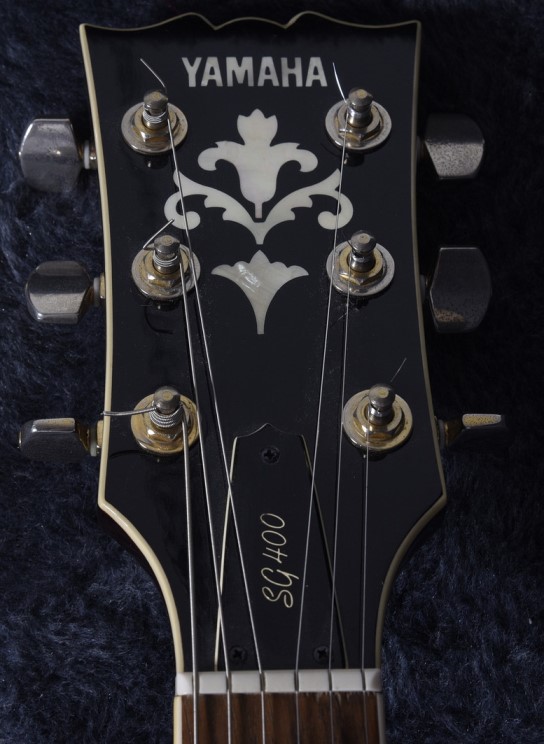 The 400