Bill Alston
The SC Samurais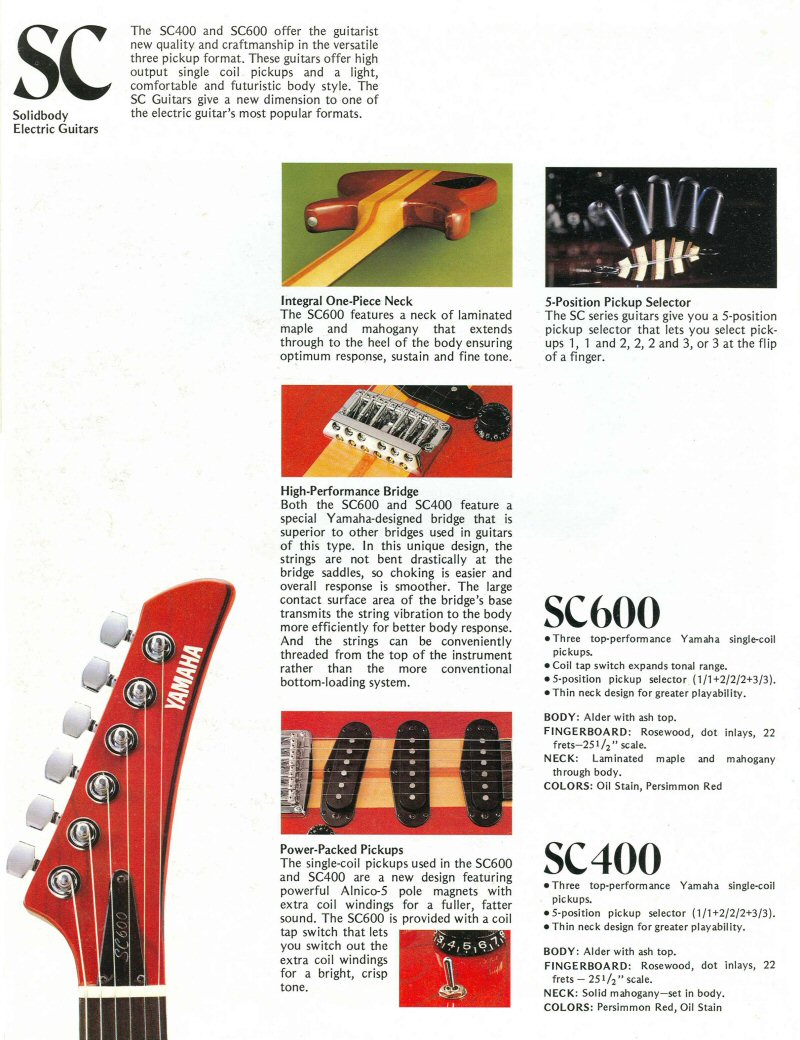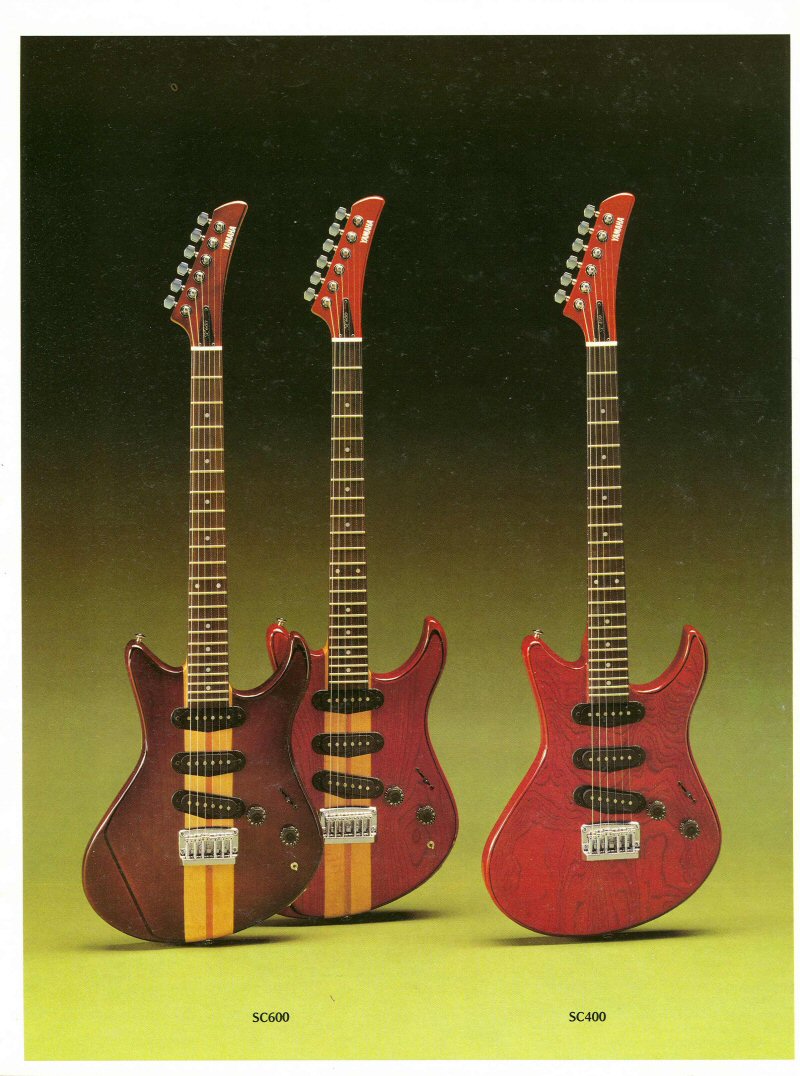 The 1981 catalogue launching this range again the top of the range the 600 has a through body neck and you may be able to make out the really nice figuring on the 400 body

The third and final range of the SCs was launched in 1981 and lasted until about 1983 comprised the 600 the 400 and the 300T. Interestingly these don't appear in the Yamaha archives nor any Japanese catalogues that I can find leading me to believe that they are export only models but again I have no other evidence for this. The 300T I can't find in any catalogues anywhere. These are strat style guitars with the Yamaha Samurai type headstock. Again they are all 25.5" scale 13.75" radius but unlike the other two series these all have 22 frets instead of 21. These were concurrent with the second series and seem to be for a different market, these also have no reason to be called SCs not having the super combinations but the 600 does have the split to reduce the number of the pickup windings in use.

Update July 2019
A member of the Telecaster forum called Halftone has bought a 300T. It is made in Taiwan and the serial number dates it to July 1984 so looks like these were still being made after the second series ended. The 400 and 600 were made in Japan.
The 600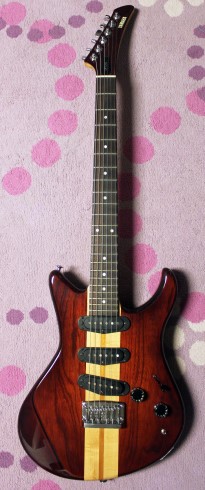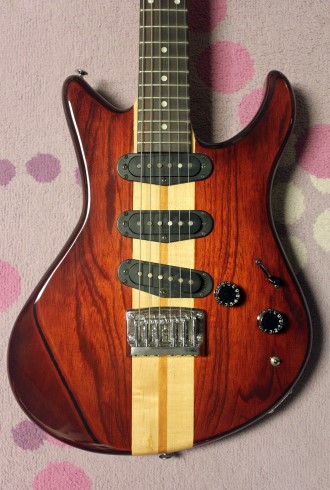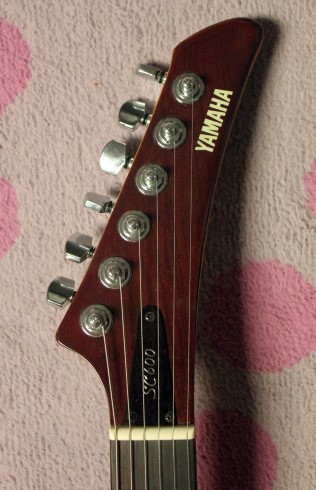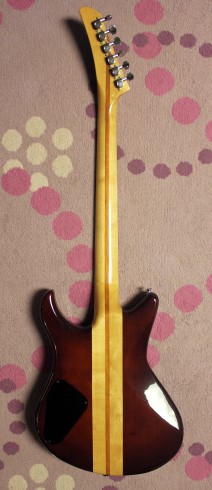 This one is in oil stain note the through body neck and the small toggle switch for the split.
The 400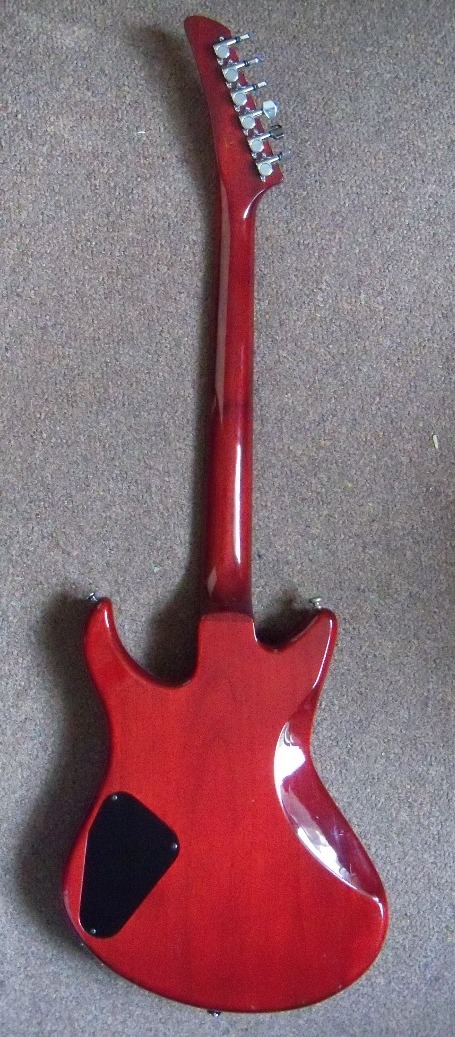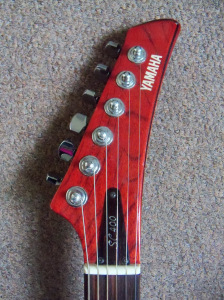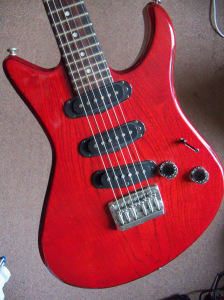 Note the set neck, no toggle switch, the wood configuration shows really well through the Persimmon red.
The 300T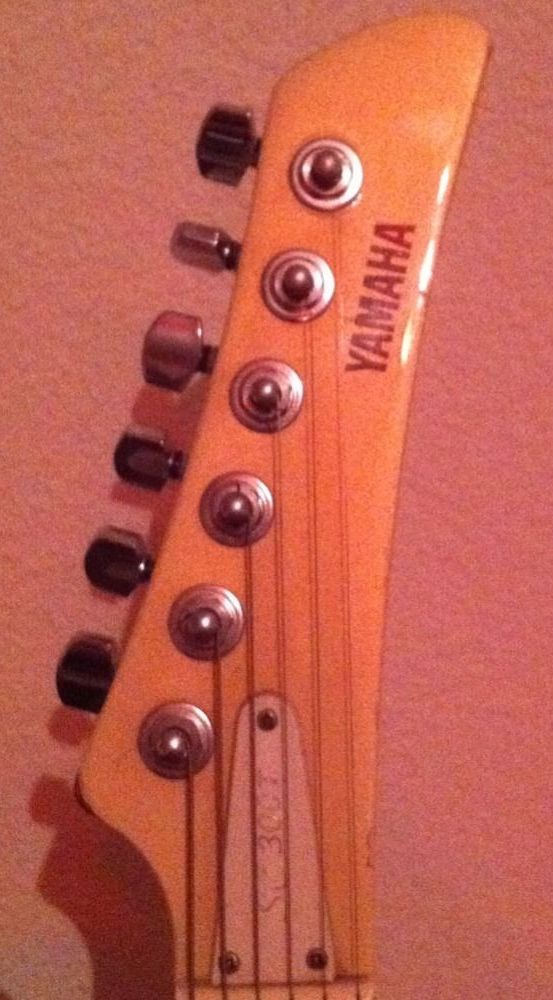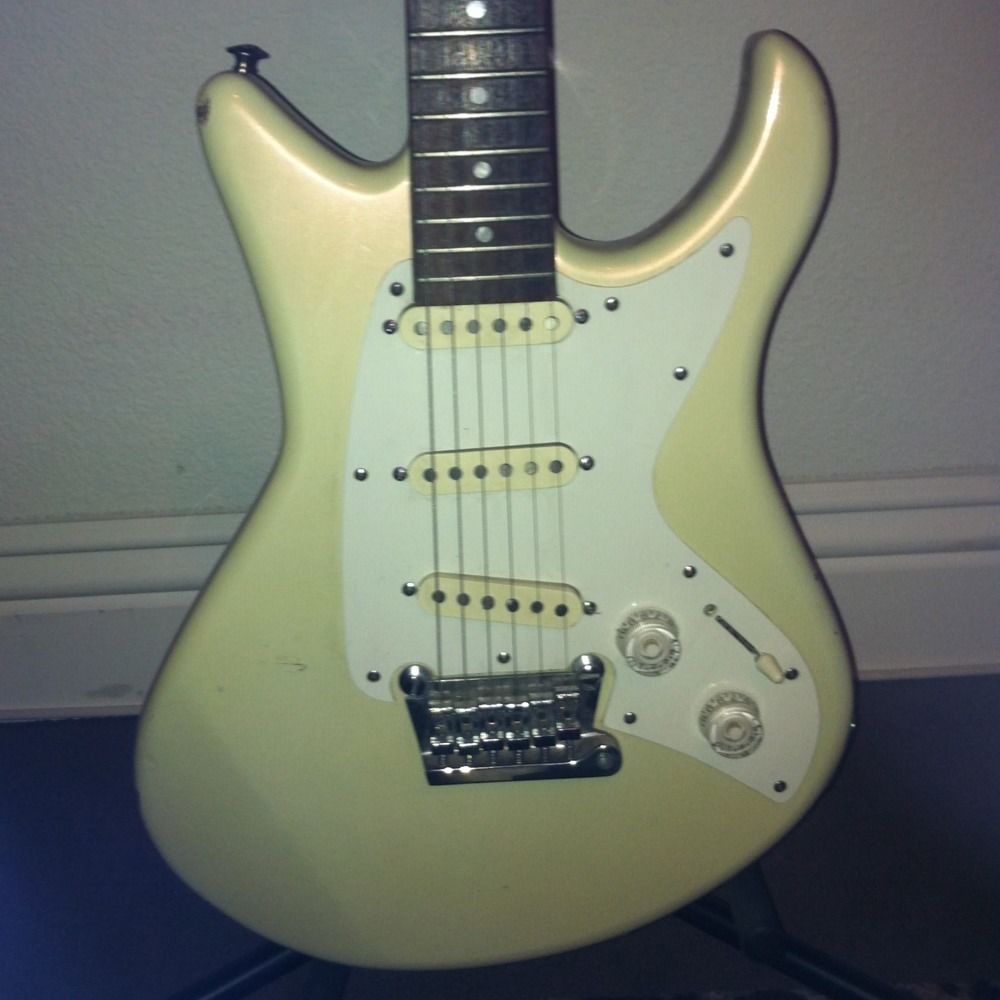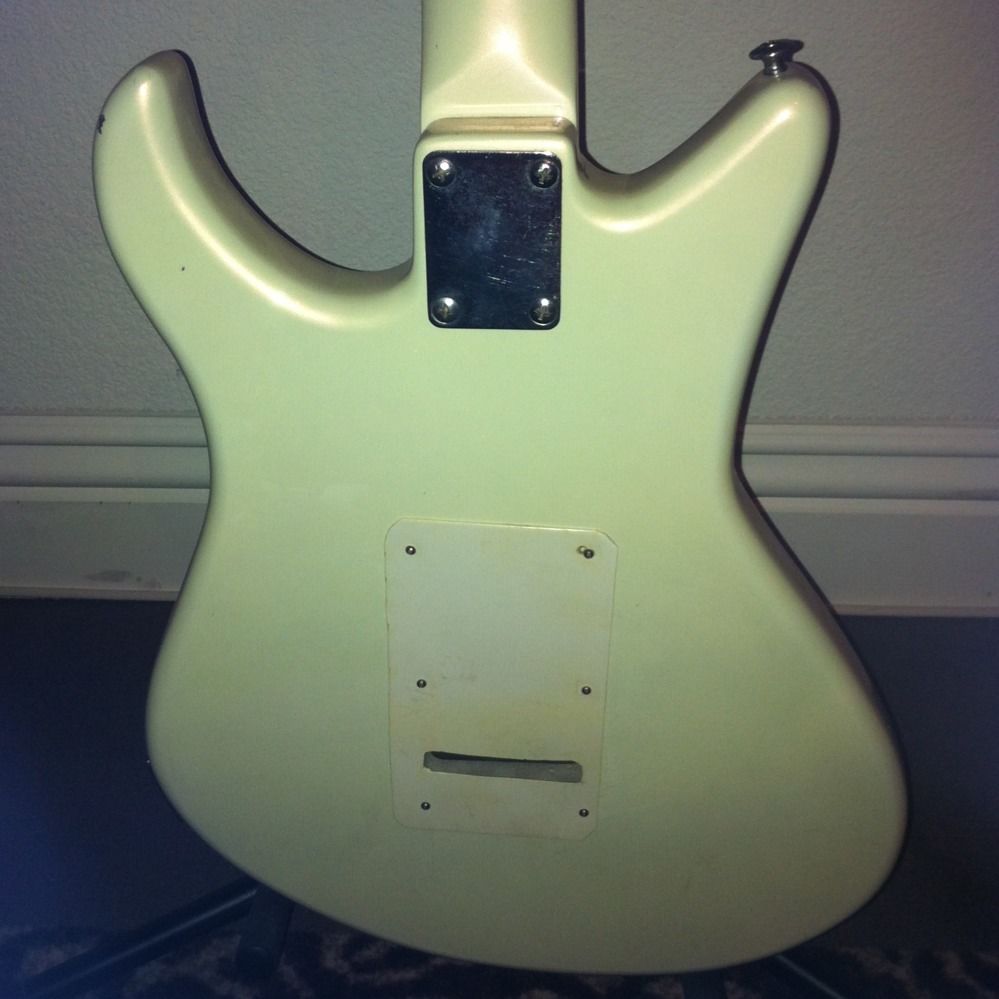 Showing Bolt on Neck and Trem type bridge presumably that's why it's a T
Specifications
| | | | |
| --- | --- | --- | --- |
| | 600 | 400 | 300T |
| Body | Alder and Ash | Alder and Ash | Alder |
| Neck | Laminated Mapel and Mahogany Through Neck | Maple set neck | Maple Set neck |
| Fretboard | Rosewood | Rosewood | rosewood |
| Tuners | Yamaha Gotoh Style | Yamaha Gotoh Style | Yamaha Gotoh style |
| Controls | Speed Dial Black 1 volume 1 tone 5 way switch | Speed Dial Black 1 volume 1 tone 5 way switch | Speed dial transparent 1 volume 1 tone 5 way switch |
| Coil Split | Reduced windings by toggle switch | None | None |
| Bridge | 6 saddle fixed | 6 saddle fixed | 6 saddle trem |
| Pickups | 3 high output black Alnico V single coils no pickguard | 3 Yamaha Alnico V Single black coils no pickguard | 3 Yamaha white covered Alnico V single coils in white pickguard |
| Colours | Oil Stain or Persimmon Red | Oil Stain or Persimmon red | Black, White or Red |
I have only seen a couple of these for sale by Ebay auction in the last few years and they have gone for fairly low prices a 300T went for &pound122 and a 400 for &pound220.

SC400T
Buzzard from the Yamaha forum has sent me pictures of a black guitar he owns labelled as a 400t I have since found a picture of a natural blonde one and another black one in a Ebay sale. Little information is available but from what there is it would appear to be made at the same time as and identical to the 400 except for the trem bridge. It doesn't appear in any catalogue I can find nor in the archives. Does anyone have any information to add.
Update 24th December 2019 A red 400T has appeared for sale on Ebay a bit battered. The seller says these where made in 1985 and only that year. However it is not in the Japanese or Western catalogues for 1985 so I can't verify that. It may be in the 1986 catalogue but I have no access to any 1986 catalogues.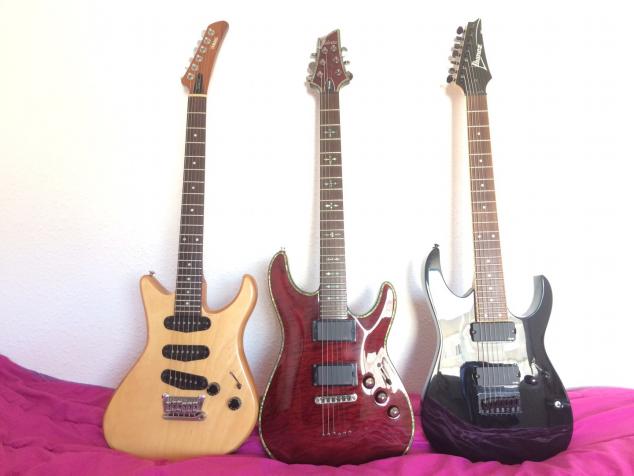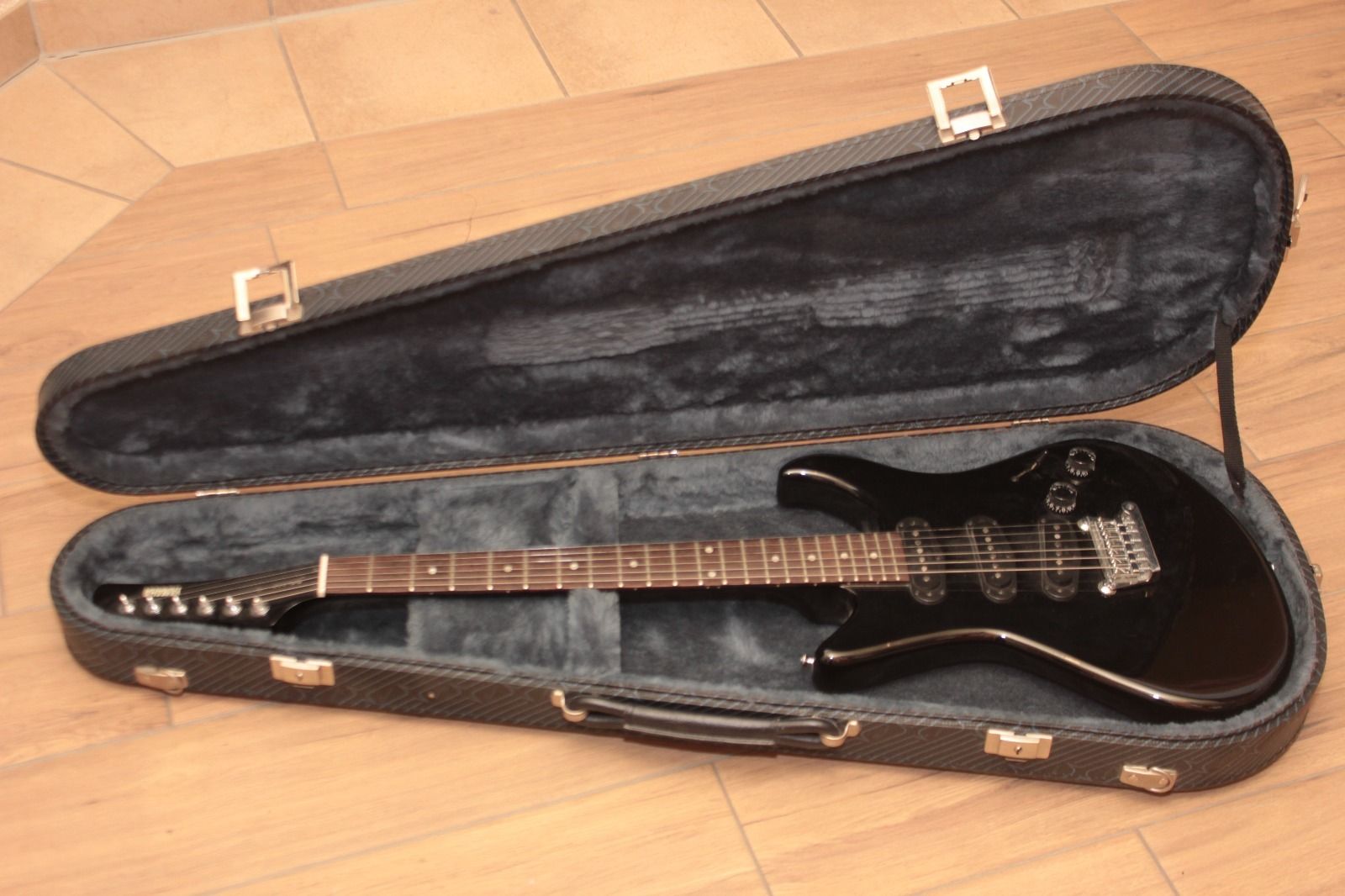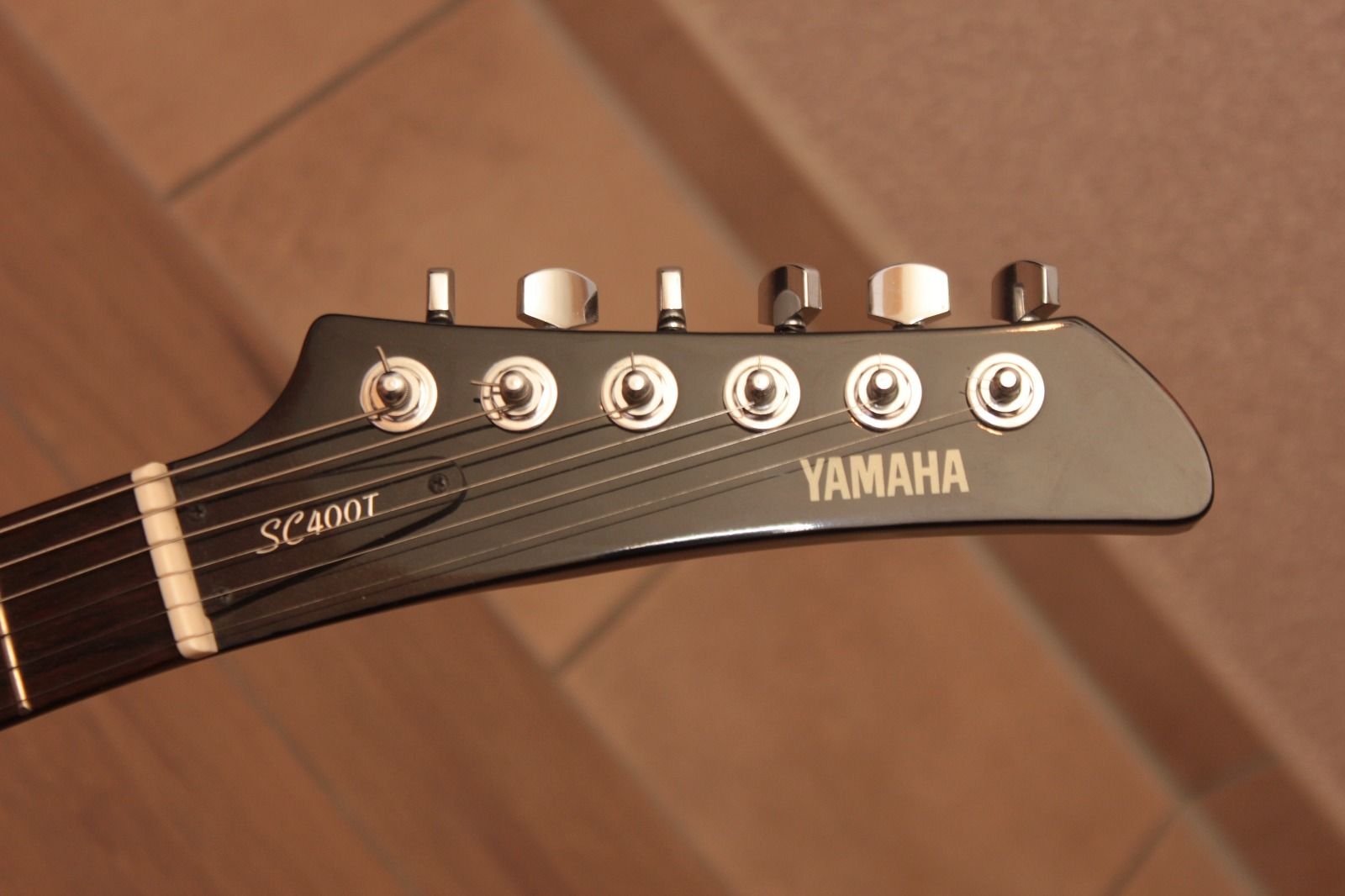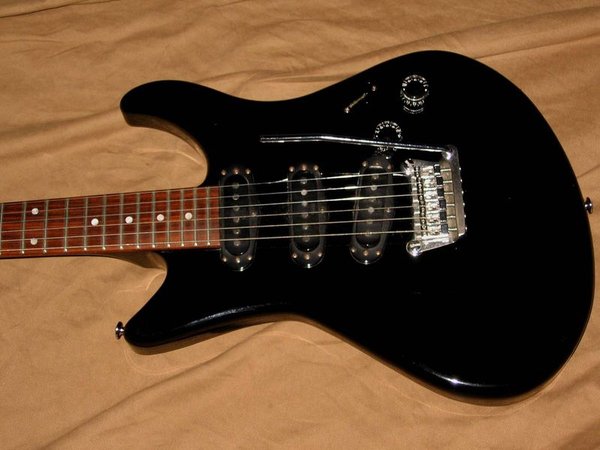 The top left picture the guitar on the left is a 400t the next two are from the Ebay auction and the last picture is of Buzzard's guitar