Bill Alston
Vintage Telecasters Made in Mexico
Classic series 50s
First issued in 1999 this guitar has remained virtually unchanged to the present day and still is available in 2018 on the Fender Web site. With the exception of any FSRs the colours have been 2 colour sunburst, white blonde and up until 2018 when it was dropped black
Specs:
Body Ash poly finish laquer version available at various times
Neck Maple with Maple board 21 vintage frets 7.25" radius and a 1.625" synthetic bone nut
Pickups 2 vintage alnico single coils
Bridge 3 saddle chrome vintage with through body stringing
Vintage Tuners
Single ply white 5 screw pickguard
Chrome Hardware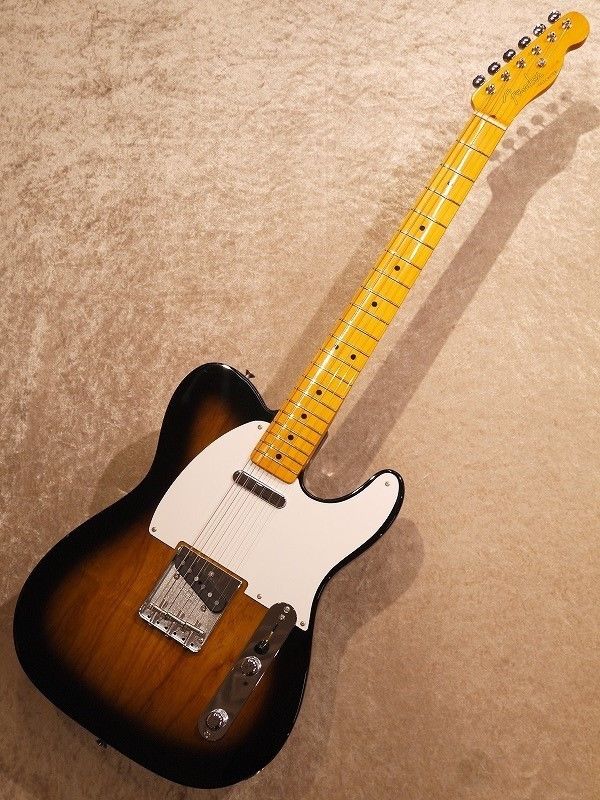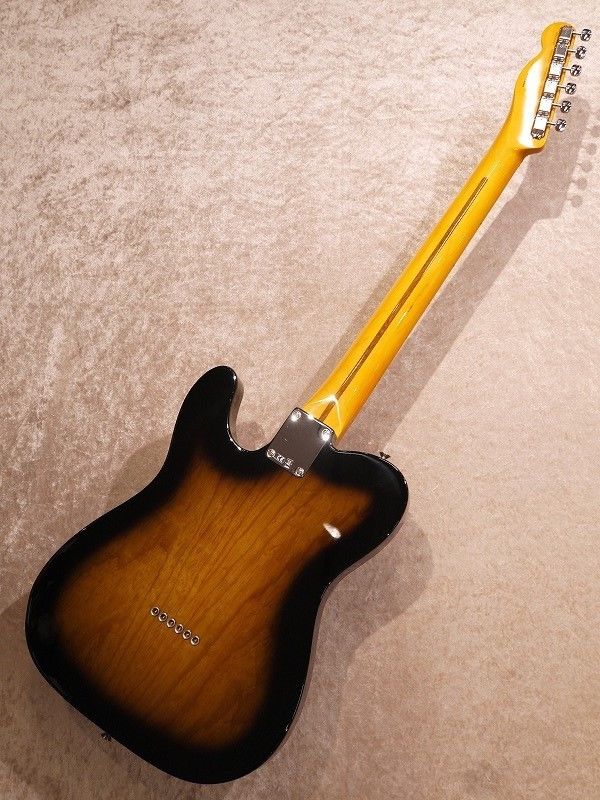 This one is a laquer finish
Classic series 60s
This guitar was launched around 2001 and is still on Fender's web site in 2018 with what would appear to be alomost the same specs. The only difference is the replacement of the Rosewood board with Pau Ferro for obvious reasons. With the exception of any FSRs the colours have remained constant as Olympic White, Candy Apple Red and Black. Although in 2018 black has been dropped.
Specs:
Body Alder with a poly finish I believe a lacquer version has been available at times
Neck Maple with a Rosewood board now Pau Ferro board. 21 Vintage Frets 7.25" radius C shape 1 butterfly string tree
Mint Green 3 ply 8 screw pickguard
Truss Rod adjustment at heel
Split Vintage Tuners
Bridge Vintage style 3 chrome saddles through body stringing
Hardware Chrome



Classic Series 60s Candy Apple Red
Classic 50s Esquire
This is a reissue of Fender's first and most basic guitar a single pickup telecaster although the routing is there for a neck pickup to be fitted. It was first available in 2005 and whilst it isn't on Fender's 2018 web site you can still find some new ones for sale so suspect production has only recently ceased.
Specs:
Ash body with semi transluscent poly finish no lacquer available
Maple neck and board with 21 vintage frets 7.25" radius and a 1.625" synthetic bone nut
1 black 6 pole vintage tele alnico pickup slanted in bridge position
Vintage chrome bridge with 3 steel saddles and through body stringing
Chrome Hardware
1 volume 1 tone and a 3 way switch Position 1. Volume Control No Tone Control with Capacitor Activated for Darker Tone, Position 2 Normal Volume/Tone Control, Position 3. Volume Control Only
Colours 2 colour sunburst, white blonde or black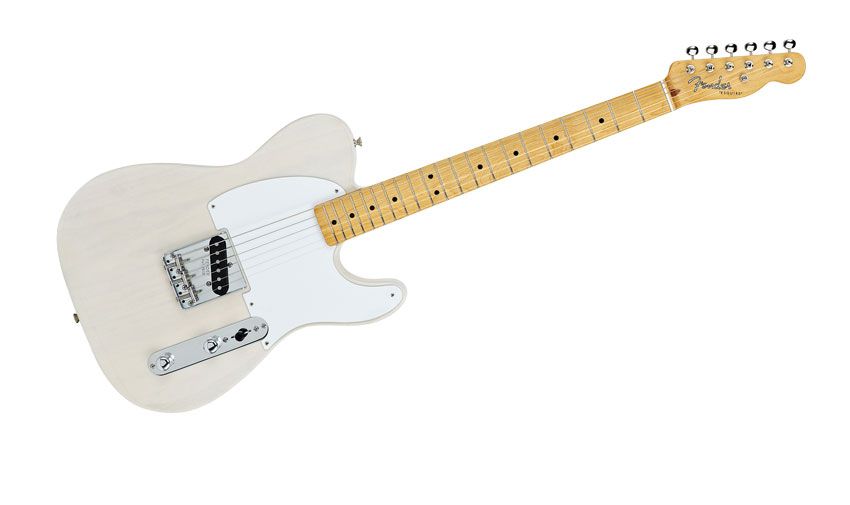 Classic Player Baja
Body: Ash 3 or more pieces, generally heavy
Neck: One-piece maple, soft V profile, pretty beefy. 21 frets, 9.5 inch radius. Vintage style truss-rod access;
Pickups: Twisted Tele (neck), Broadcaster (bridge);
Wiring: comes with factory 4-way switch and S-1 thing, which gives out of phase sounds when both pickups are combined in series or parallel;
Tuners: vintage style
Bridge: vintage-style 3 brass saddles, string-through body
Finish: Super thick poly
Frets: medium jumbo
All the above information is provided by Rafasounds from Brazil via the Stratocaster forum.
To add Colours at launch in 2006 were Blonde or Desert Sand. Black and Sunburst were available from 2012 Desert Sand had gone but Blonde remained.
June 2019
According to Fender the Baja is now discontinued to be replaced or rebranded in the near future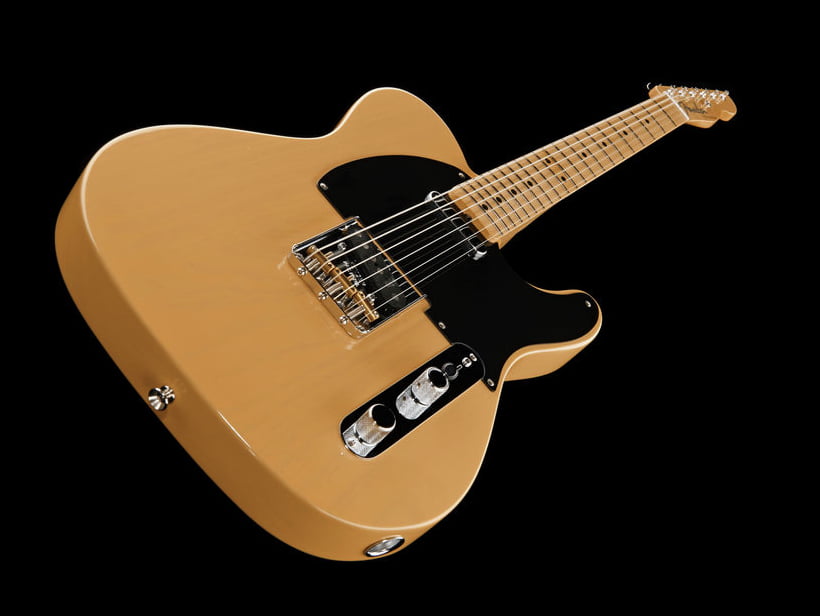 Baja Telecaster in Blonde
In 2009 a Lake Placid Blue SE was released in very limited numbers about 70 in the UK Not sure how many elsewhere. This is it below

Classic Player Baja 60s Tele
As the Baja this is also designed by Chris Fleming who works in the custom shop and is a 60s take on the Baja.
Launched 2015 now discontinued
Alder Body
Rosewood Fretboard
60s C Neck
American Vintage Pickups
C Neck Profile
Same tone circuitry and switching as the Baja
Available in Sunburst, Faded Sonic Blue or Candy Apple Red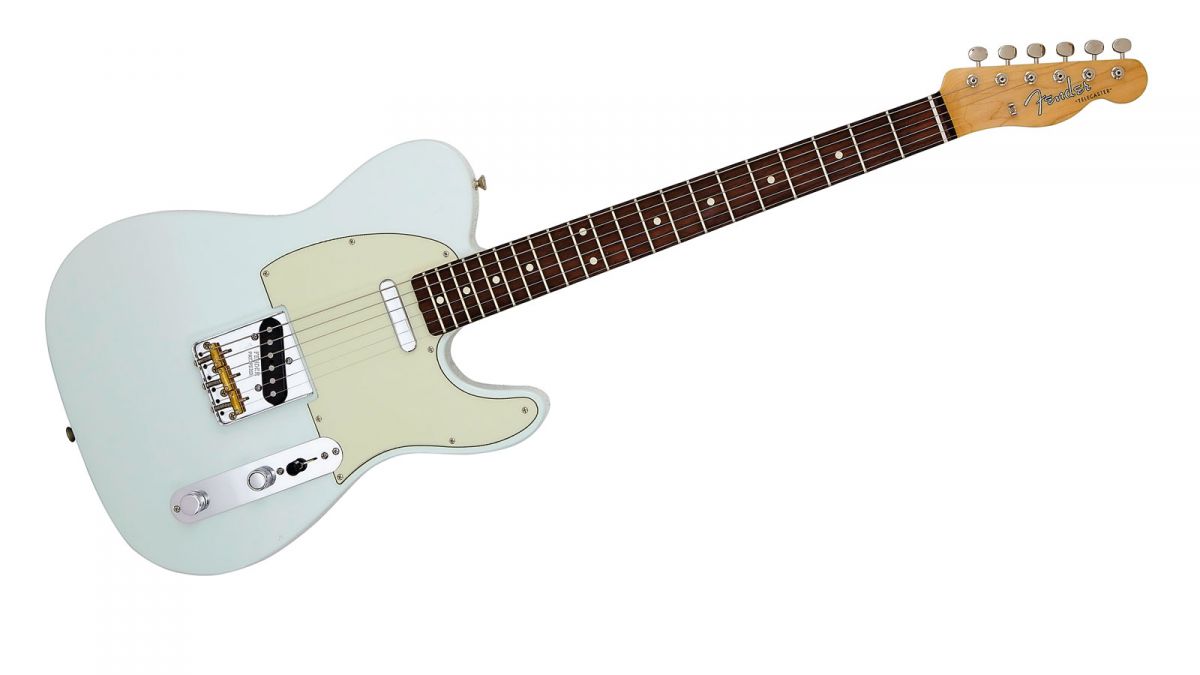 A Baja 60s in Faded Sonic Blue
Classic Player Deluxe Black Dove
This is based on the 70s tele deluxe and has the Fender Black Dove DE 9000 P90 style single coils. It doesn't belong in the 72 reissues as it has a 4 bolt neck. Launched in 2010 and discontinued after 2012
Specs:
Body Alder
Neck 4 bolt c shaped maple neck with maple board 21 medium jumbo frets 12" radius
Headstock Large 70s strat style headstock with 2 round string trees bullet style truss rod adjustment
Nut 1.65"
Controls 2 volume and 2 tone black skirted amp style 3 way switch
Pickup 2 P90 style black doves
Bridge 6 saddle chrome through body stringing
Tuners vintage Fender Schaller style F type
Scratchplate Black 3 ply
Colours Black or Crimson Red Transparent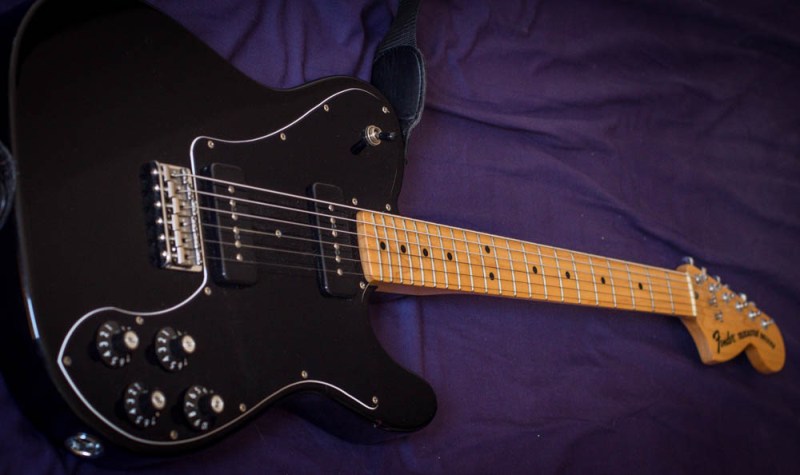 Classic Player Deluxe with Trem
This is a rather strange beast being a telecaster with a strat trem unit and 3 bolt microtilt strat style neck. Launched 2010 discontinued after 2012
Specs:
Body Alder
Neck 3 bolt c shaped maple neck with maple board 21 medium jumbo frets 12" radius
Headstock Large 70s strat style headstock with 2 round string trees bullet style truss rod adjustment
Nut 1.65"
Controls 2 volume and 2 tone black skirted amp style 3 way switch
Pickups 2 wide range humbuckers
Bridge Strat Vintage style trem unit
Tuners vintage Fender Schaller style F type
Scratchplate Black 3 ply
Colours Black or 3 colour sunburst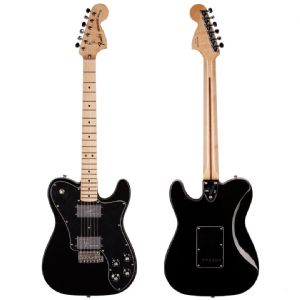 Classic Player Thinline Deluxe 2010
This was launched in 2010 and only lasted for about 2 years
Body: Semi-Hollow Ash
Neck: 1-Piece Maple C Shape (Gloss Urethane Finish)
Fingerboard: Maple, 9.5" Radius (241 mm)
No. of Frets: 21 Medium Jumbo Frets
Pickups: 2 Fender "Wide Range" Humbucking Pickups,
Controls: 2 volume 2 tone
Pickup Switching: 3-Position Toggle
Bridge: Vintage Style Strat Strings-Through-Body Hardtail Bridge
Machine Heads: Fender Schaller Vintage F Style Tuning Machines
Hardware: Chrome
Pickguard: 3-Ply Parchment
Scale Length: 25.5" (648 mm) Width at Nut: 1.650" (42 mm) Unique Features: F Hole, Skirted Amp Control Knobs, Chrome Pickup Covers, "Bullet" Truss Rod Nut, Synthetic Bone Nut
Colours 3 Colour Sunburst or Black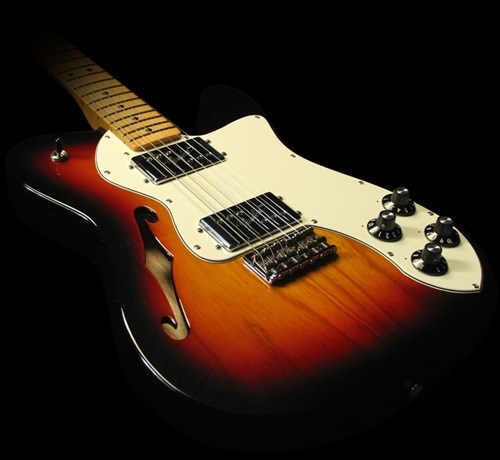 The Sunburst
Classic Player Triple Tel
Fender's marketing blurb says this is designed by Custom Shop master builder Todd Krause. The more cynical view is that this didn't take much designing is just various existing Fender bits put together. Launched 2015 no longer available.
Body Alder finished in Gloss Polyester
Neck C shaped Maple finished with gloss poly with Maple board 9.5" radius 21 vintage style frets
Nut Synthetic Bone 1.65"
Neck Plate saying Custom Shop Designed
Pickups 3 black 6 polepiece angled Custom Shop single coil Nocaster pickups
Vintage Tuners
3 ply 8 screw black pick guard
Knurled Chrome knobs 1 volume and 1 tone 5 way switch with black tip
Bridge through string vintage style with 3 brass saddles
Colours Black only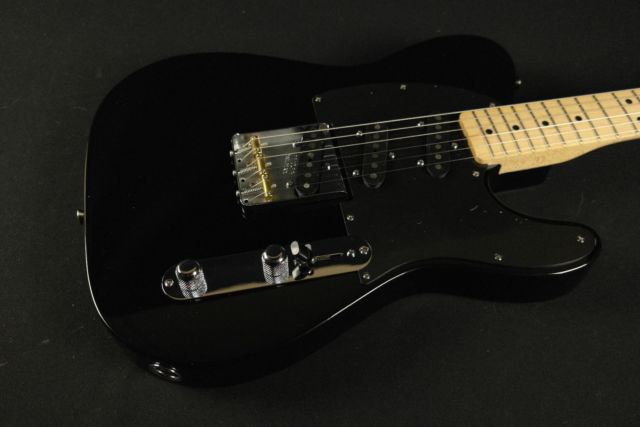 Classic Series 69 Thinline
The following information is mainly from Stratman323 on the Strat talk forum
Body: Light Weight Semi-Hollow Mahogany Body, Ash if Sunburst
Neck: Maple Polyurethane Finish
Fingerboard: Maple, 7.25" Radius 184 mm
21 Vintage Style Frets
Scale Length: 25.5" 648 mm
Width at Nut: 1.650" 42 mm
Hardware: Chrome
Machine Heads: Fender/Schaller Vintage F Style Cast/Sealed
Bridge: Vintage Style 3-Saddle Strings-Thru-Body Tele Bridge
Pickguard: 3-Ply White Pearloid
Pickups: 2 Single Coil Tele Pickups Neck & Bridge
Pickup Switching: 3-Position Blade:
Controls: Master Volume, Master Tone
Colors: Sunburst, Lake Placid Blue, Daphne Blue, Candy Apple Red, Inca Silver, Shoreline Gold, Surf Green,
Polyurethane Finish
U.S. MSRP: $949.99
Further comment from Stratman on the colours
But I have never seen any in Inca Silver or Shoreline Gold, this list also suggests that none were made in Shell Pink, but I have one which proves there were some or at least one.
At various times there have been other colours both 2 and 3 colour sunbursts, black and natural and probably others including FSRs.
Stratman's comment on the woods
They also claim that the pastel colour Thinlines are mahogany, but looking at the cavities they look like ash to me. Or maybe alder, but certainly not mahogany. This is why I have so little faith in Fender's published specs, they seem to me to be a sort of rough guide to what things might have rather than the definitive document that some people see them as.




The three beautiful guitars pictured by kind permission of stratman323
Thinline Deluxe
This is the current 2018 offering based on the 69 Thinline. Still current 2020 RRP &pound919
Body: Semi-Hollow Alder
Neck: 1-Piece Maple C Shape Satin Urethane Finish
Fingerboard: Maple, 12" Radius (305 mm)
No. of Frets: 22 Narrow Tall Frets
Pickups: 2 Fender Vintage Noiseless single coil Telecaster Pickups,
Controls: 1 volume 1 tone
Pickup Switching: 4-Position Toggle
Position 1. Bridge Pickup, Position 2. Bridge and Neck Pickups (In Parallel),
Position 3. Neck Pickup, Position 4. Neck and Bridge Pickups (In Series)
Bridge: 6-Saddle String-Through-Body Hardtail With Block Saddles
Machine Heads: Deluxe Cast/Sealed Locking with Vintage Style Button
Hardware: Nickle Chrome
Pickguard: 4-Ply Aged White Perloid
Scale Length: 25.5" (648 mm) Nut: Synthetic Bone 1.650" (42 mm) Colours 3 Colour Sunburst or Candy Apple Red



CAR Deluxe Thinline
Roadworn 50s
This guitar was released in 2009 and first appears in the 2010 Frontline. It is still a current model in 2018.
Body Alder with a Thin Nitrocellulose roadworn finish
Maple C Neck with a roadworn Urethane finish with a Maple Fretboard 7.25" radius 21 6105 Narrow Jumbo Frets. 1 round string treee
Chrome Finish Tarnished/corroded hardware
Pickups 2 Tex Mex single coils 1 metal covered 1 angled six polepiece black.
Bridge Vintage Through body with 3 chrome saddles
Scratchplate 5 hole black Nut Synthetic bone 1.65"
Tuners Vintage Style
Controls 1 volume 1 tone Knurled Chrome and a 3 way switch with a black barrel tip.
Colours 2 colour sunburst or blonde



Roadworn Player
A short lived model released in 2011.
Body Alder lightly worn lacquer
Neck Maple Modern C Lightly worn Urethane
Fretboard Maple 21 medium jumbo frets 9.5" radius
Headstock 1 butterfly string tree truss rod adjustment
Tuners Roadworn Cast Steel Tuners
Pickups Seymour Duncan 59 Humbucker in neck Tex Mex Single coil in bridge
Controls Chrome 1 volume 1 tone 3 way switch with black tip
Nut 1.65" synthetic bone
Hardware Chrome
Bridge Roadworn 6 saddle chrome
Pickguard 3 ply black white black 8 screw
Colours Black or Candy Apple Red
Years available 2011
Weight 7.5lbs