Bill Alston
Artist Telecasters Made in Mexico
James Burton Standard Telecaster
There is also an American made version still in production. The standard first came into production in 1995 in Candy Apple Red. Colours were added so it was also available in Black, 2 Colour Sunburst, Vintage Blonde and Vintage White. In 1999 it was again Candy Apple Red only which was the case right through to 2017 when it was discontinued.
Body Alder Polyester finish see note
Neck 1 piece maple polyurethane satin finish 60s U shape
Fretboard Maple 21 Vintage frets 9.5" radius
Headstock 50s style logo signature on front 1 butterfly string tree
Tuners Fender Vintage style ping
Pickups Texas Specials metal covered at neck black 6 polepiece angled at bridge plate
Controls Knurled Chrome 1 volume 1 tone 3 way switch
Nut 1.65" synthetic bone
Hardware Chrome
Bridge 6 saddle raised sides through body stringing
Pickguard 8 screw single ply white plastic.
Note These are the specs as at the end of the model. Some minor differences may have occured over the long period of the life of this model. What is certain is that as well as the colours the body wood was different in the earlier models. The body would have been poplar until around 2000 and the 2 colour sunburst was poplar with Ash veneer front and back.



A modern James Burton Standard
Muddy Waters Telecaster
This is essentially a Classic Series 60s guitar with some modifications. Produced from 2001 to 2009.

Body Ash slightly thicker than normal
Neck Maple C shaped
Fretboard Rosewood 21 medium jumbo frets 9.5" radius
Headstock Fender in silver custom telecaster in black 1 string tree no signature truss rod adjust at body
Tuners Vintage style Ping
Pickups Metal covered vintage single coil at neck 6 polepiece angled black with staggered Alnico 5 magnets in bridge plate
Controls Black Skirted type 1 volume 1 tone 3 way switch with black tip
Nut 1.65" synthetic bone
Hardware Chrome
Bridge Vintage Style raised sides 3 brass saddles
Pickguard 9 screw white single ply plastic
Colours Candy Apple Red only



The Muddy Waters Telecaster
John 5 Telecaster
This guitar is one of several John 5 models. In addition to the 2 MIM versions there are custom shop and Squier versions. This guitar was available from 2005 to 2009. The three a side tuners provide plenty of space between the nut and the tuners to bend the strings by pressing them above the nut.
Body Bound Ash
Neck Maple Modern C Gloss Urethane
Fretboard Rosewood 22 Medium Jumbo Frets 12" radius
Headstock Enlarged Painted black with silver Fender and Telecaster no string tree Truss rod adj at head
Tuners 3 a side Black Fender Schaller Deluxe staggered
Pickups Custom Shop twisted tele metal covered in neck and Black coverless enforcer wide range humbucker in bridge plate
Controls 2 heavily knurled shrome volume knobs no tone control Gibson style chrome 3 way in upper bout
Nut 1.6875
Hardware Polished chrome
Bridge American Tele humbucker bridge 6 saddle flat chrome
Pickguard Brass covered with polished chrome to match the control plate and bridge
Colours Black only



A J5
John 5 Triple Tele Deluxe
This guitar also known as the John 5 HHH Telecaster was released in 2007 it appears in the 2015 front line but is not in the 2018 offering so was discontinued sometime after 2015.
Body Alder Bound top and back polyester finish
Neck Maple 60s C shape gloss urethane finish
Fretboard Rosewood 22 Medium Jumbo Frets 12" radius
Headstock Large 70s strat style painted black no string tree truss rod adjustment at headstock
Tuners Vintage F style
Pickups 3 metl covered split polepiece enforcer wide range humbuckers
Controls Knurled chrome 1 volume and 1 tone gibson style 3 position toggle switch on upper bout
Nut 1.6875" synthetic bone
Hardware chrome
Bridge Strat style 6 pivot vibrato bridge
Pickguard 13 screw 1 ply chrome
Colours Black only



The interesting looking J5 Triple tele deluxe.
Joe Strummer Telecaster
Available from 2005 to 2007 the first 1500 came with stickers stencils and album art by Shepard Fairey the man responsible for the Obey Propaganda Squier guitars. They have a Revolution Rock Neckplate.
Body Alder Black over grey roadworn finish polyuretnae
Neck Maple C shape Gloss poly finish
Fretboard Rosewood 21 vintage style frets 7.25"radius
Headstock 1 string tree truss rod adjustment at heel
Tuners Vintage Ping style
Pickups standard tele 1 metal covered at neck six pole piece black angled in bridge plate
Controls distressed chrome 1 volume 1 tone 3 way switch with black barrel tip
Nut 1.65 synthetic bone
Hardware distessed chrome
Bridge vintage style raised sides through body stringing 3 blackened chrome saddles
Pickguard 8 screw laminated mint green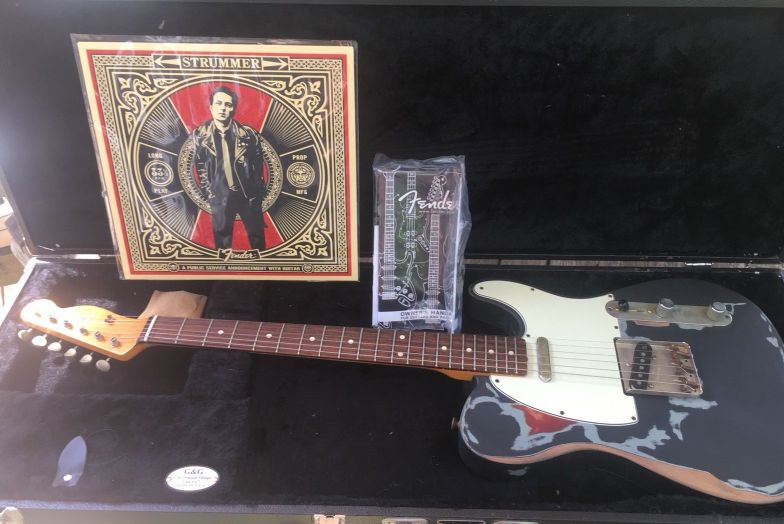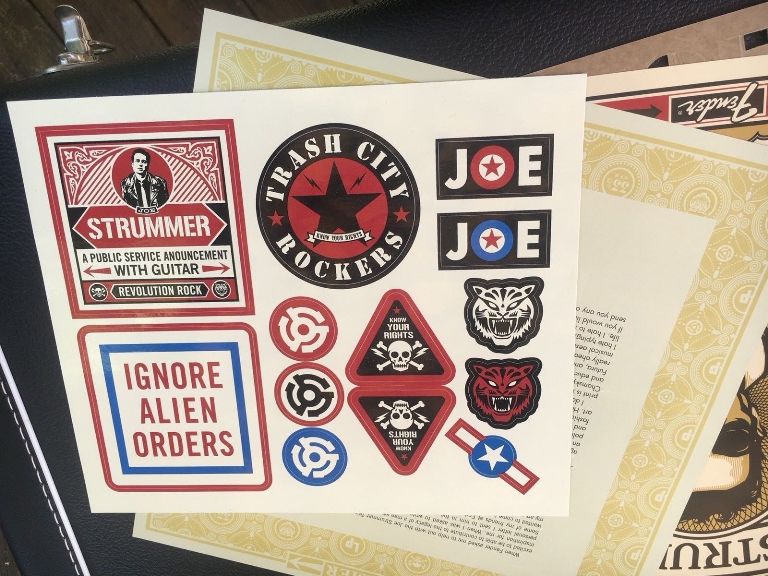 The Joe Strummer and The stickers that came with the first 1500 produced.
Wilko Johnson Telecaster
This really a classic 60 with a changed pickguard, it was a limited run of 200 available in the UK only, announced in 2013 but some didn't reach the shops until 2014.
Body Alder Polyester Finish
Neck Maple C Shape
Fretboard Rosewood with 21 Vintage Frets 7.25" radius
Headstock 1 Buuterfly String Tree Spaghetti Logo TRA at heel
Tuners Vintage Style
Pickups Standard Tel single coils metal covered at neck angled 6 pole at bridge
Controls Chrome 1 volume 1 tone 3 way switch with black tip
Nut Synthetic bone 1.65"
Hardware Chrome
Bridge 3 chrome barrel vintage style through body stringing
Pickguard Red 8 screw single ply
Colours Black
Years available 2013 2014



Wilko's signature model
Jim Root Telecaster
The Slipknot Guitarist's signature model still current he also has a Squier version of this.
Body Mahogany Finished with Satin Nitro
Neck Maple Modern C
Fretboard Originally Maple or Ebony changed to Ebony only in 2015 22 Medium Jumbo Frets 12" radius
Headstock Black logo 1 black round string tree Truss Rod at Headstock signature on back
Tuners Locking Black
Pickups EMG active Humbuckers Black covered with logo EMG 60 at Neck EMG 81 at Bridge
Controls 1 volume black plastic 3 way switch black plastic tip
Nut Synthetic Bone 1.65"
Hardware Black coated
Bridge small 6 saddle black through body stringing
Pickguard 8 screw black or white 2015 Black only
Colours Flat Black or Flat White 2015 Flat white only
Years available 2007 to date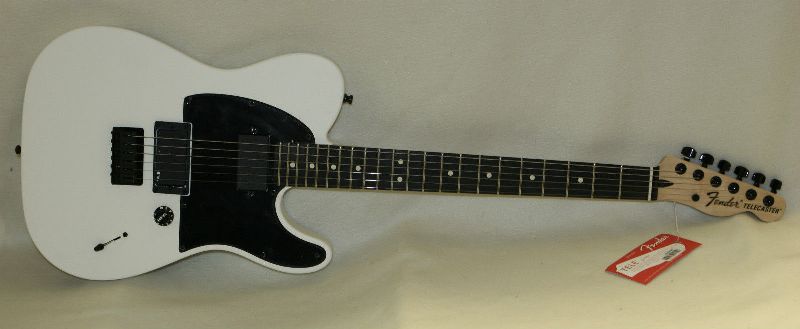 The two available Jim Root colours
Graham Coxon Telecaster
Released in Europe only. Perhaps Blur were not that popular in the Americas

Body Ash finished with milky transluscent poly
Neck Maple C shaped with Gloss Urethane finish
Fretboard Rosewood 21 medium jumbo frets
Headstock Black 70s style logo 1 butterfly string tree signature on back
Tuners Vintage Style
Pickups Seymour Duncan 59 Humbucker in neck tele style vintage single coil 6 polepiece black in body
Controls Knurled Chrome 1 volume 1 tone 3 way switch with black top hat tip
Nut 1.65" synthetic bone
Hardware Chrome
Bridge 3 chrome saddle raised sides
Pickguard 8 screw 4 ply laminated tortoiseshell
Colours Blonde only
Quite a heavy guitar at 9.5lbs

Years available limited release in 2011 re-released in 2013 it is no longer available


The Graham Coxon in the only colour available
Chris Shifflet Telecaster
I love the look of this guitar launched in 2013 in Arctic white only now available in 2018 in Shoreline gold only. Either the pickups have changed or they are now being described differently. It's based on a 72 deluxe

Body Alder with a poly finish
Neck 1 piece maple with urethane finish C shape 3 bolt microtilt
Fretboard Rosewood 12" radius and 21 Medium Jumbo frets
Headstock Large 70s style with Black 70s style logo bullet truss rod 2 butterfly string trees and signed on the back
Tuners Vintage F style
Pickups Originally described as 2 high output humbuckers now being described as a CS1 and a CS2 Humbucker Chrome covered
Controls 2 volume 2 tone black skited 3 way switch round black tip
Nut synthetic bone 1.65"
Hardware chrome
Bridge 6 saddle strat style hardtail with through body stringing
Pickguard 4 ply white pearl



The very nice Chris Shiflett Deluxe
Brad Paisley Roadworn Telecaster
Launched in 2017 and still available.
Body Paulownia core with Spruce top and back finished in roadworn lacquer
Neck Oiled Maple Enhanced V profile
Fretboard Maple with 9.5" radius 21 medium jumbo 6105 frets
Headstock Silver logo 1 butterfly string tree and stylised stetson hat logo
Tuners vintage style
Pickups Standard twisted metal covered tele in neck Brad Paisley spec angled black six polepiece in bridge plate based on a 64 tele
Controls knurled chrome 1 tone 1 volume 3 way switch with black switch tip
Nut Synthetic Bone 1.65"
Hardware Chrome
Bridge raised side with 3 compnsated brass saddles
Pickguard clear with black and silver paisley
Colours silver sparkle
Years available 2017 onwards
Quite light at 6.18 lbs



Johnny Hallyday Telecaster
Limited edition in 2003 sources vary on the numbers some say 300 made some say initial run of 250 with a second run of another 150.
Specs not complete information needed
Body Lacquered Alder
Neck Maple Modern C
Fretboard Rosewood 21 frets
Headstock Painted Black silver spag logo 1 butterfly string tree
Tuners vintage style
Pickups standard tele pups 2 chrome covered single coil and one staggered black six polepiece single coil
Controls chrome 1 volume 1 tone 5 way switch with chrome tip
Nut Synthetic Bone 1.65"
Hardware Chrome
Bridge Ashtray 6 saddle chrome
Pickguard Chrome
Colours silver Black only
Johnny Hallyday on neckplate special edition on back of headstock
Released Europe only with booklet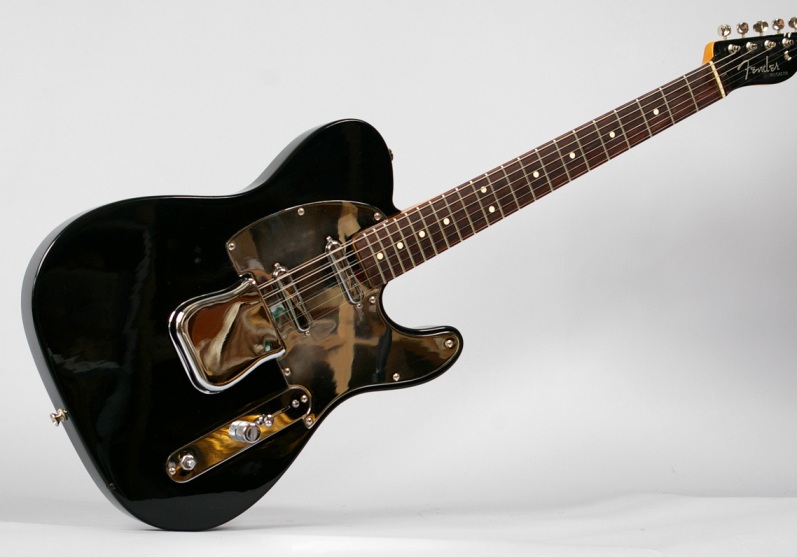 The Johhny Hallyday Telecaster