Telecasters Made in Mexico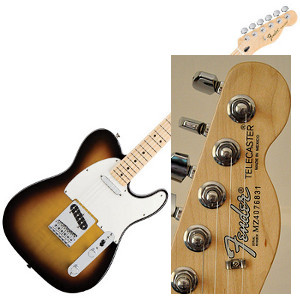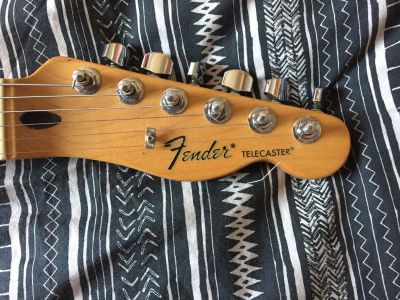 A Standard in Sunburst and the 2010 logo change
The intention is to cover in due course details of all of the Mexican made Telecasters. They were first produced at the beginning of the 1990s and are still being produced, there are a huge number of varieties and models. I am going to fairly arbitrarily divide them into 4, Standard style models, revised models, vintage reissues and artists models. There is no science to this just a convenient separation. Some you may consider to be in the wrong section but as I said it's arbitrary.
Standard Telecaster
Listen to a demo

The good people at The Local Pickup who are based in South Carolina have made an excellent demo of the Mexican Telecaster it is on their website and on YouTube. It is well worth a listen as are the many other guitar demos they have done the video on their website is here
Telecaster Demo
and on YouTube
Telecaster Demo YouTube
Thanks guys for allowing me to use it.


The Guitar
At launch this guitar had the following specs:
Body Poplar
Neck Fretted Maple Modern C 21 Vintage Frets Skunk Stripe
Headstock Thick Silver Logo with 1 string tree serial number on the front
Truss Rod Adjuster at the headstock with black plastic cover.
Radius 9.5" Scale 25.5"
Pickups Single Coil Alnico 1 metal covered and 1 black angled 6 polepiece in bridge plate
8 Screw white single ply pick guard
6 Saddle Chrome Bridge without through body stringing
Usual Controls 1 volume 1 tone 3 way switch with side mounted jack
Hardware Chrome

The earliest colours offered were Arctic White, Lake Placid Blue, Black, Sunburst and Crimson Red Metallic in the late 90s the Crimson Red Metallic was replaced by Midnight Wine.
A word about available colours
I have shown some of the colours that were available at different times for some of these guitars if you see one in other colours it doesn't mean it isn't genuine, there are lots of FSRs and short runs of colours which never appear in catalogues. Email me with pictures if you are in doubt



Changes
In 1998 it changed to a string through body bridge, it was also available in Midnight Blue at that time.
Around 2000 the body changed from Poplar to Alder
2002 Sees the first appearance of the Left Handed Model it is available in all the colours of the right handed version these are Sunburst, Black, Agave Blue, Midnight Wine, Arctic White and Midnight Blue.
2006 Pickups changed described as new hotter single coils, which I think are Ceramics, and the Frets are now Medium Jumbo body cavity shielding now incorporated.
2010 70s style Black Logo with serial number on the reverse of the headstock. Now has a tinted neck and parchment pick guard

Traditional and Squier Series
First released as the Squier Series in 1994 the name changed to the traditional in 1996 and production ended in 1998. This is a cheaper guitar with cheaper components such as nasty Trapezoid tuners. They are easily distinguished from the standard model by the thick black logo.
Body Poplar
Neck Maple with 21 vintage Frets No Skunk Stripe or Black plastic Truss Rod cover 1 string tree
9.5" radius 25'5" scale
Single Ply White Pick Guard became 3 ply on the traditional
6 saddle flat bridge with no through body stringing
Pickups as standard model
Tuners Trapezoid
Colours Black, Torino Red or Arctic White.

Satin Telecaster
Essentially a standard telecaster in a Satin Urethane finish this model first appears in 2014. It differs from the Standard as follows:
Fretboard Rosewood
Pickups Dual Single coil
Three ply black, white,black pickguard
Black Plastic Controls
The colours are described as Flame Orange, Ocean Blue Candy, Arizona Sun and Blaze Gold.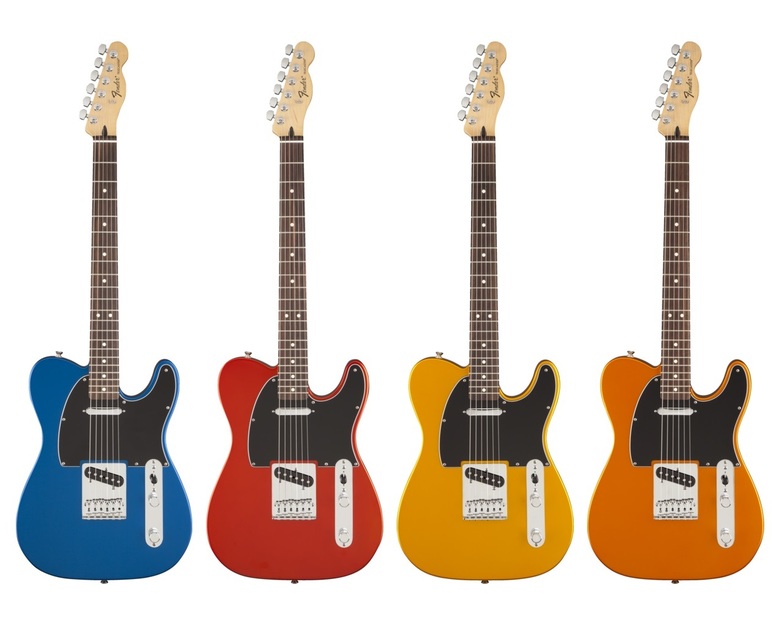 The Satin Series
Some FSRs and Limited Editions
There have been many limited editions, special runs amd collectibles I will detail some of them and add details as I come across more.

Beggars Banquet Telecaster
As the name suggests this is based on the Roling Stones album of that name. It is a 2013 limited edition of 300 guitars. The design is based on the album art and there is a load of case candy. Includes special edition Clearly Classic Beggars Banquet album produced from the original masters and pressed on 180-gram clear vinyl. All in a printed cardboard case.
The guitar is otherwise fairly standard.
Alder Body Polyester Finish
21 Medium Jumbo Frets
C Shaped Neck 9.5" Radius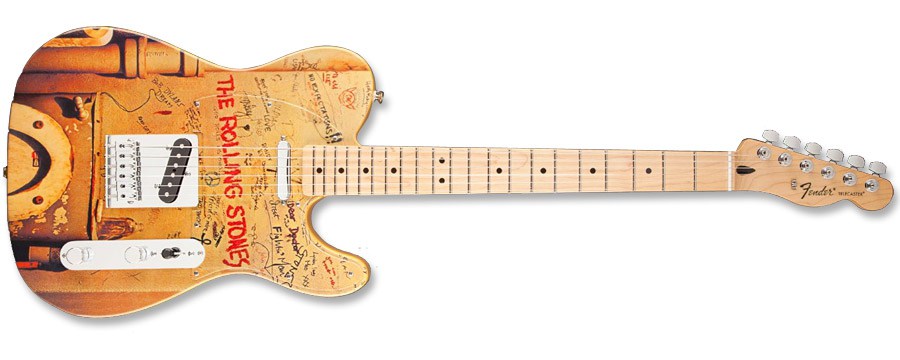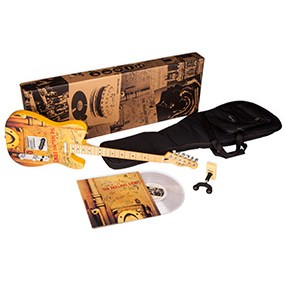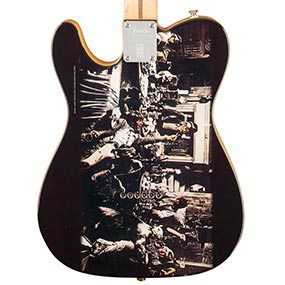 Beggars Banquet Details

Black Paisley Telecaster
This is just a 2012 Standard with a black paisley finish a limited edition not sure how many.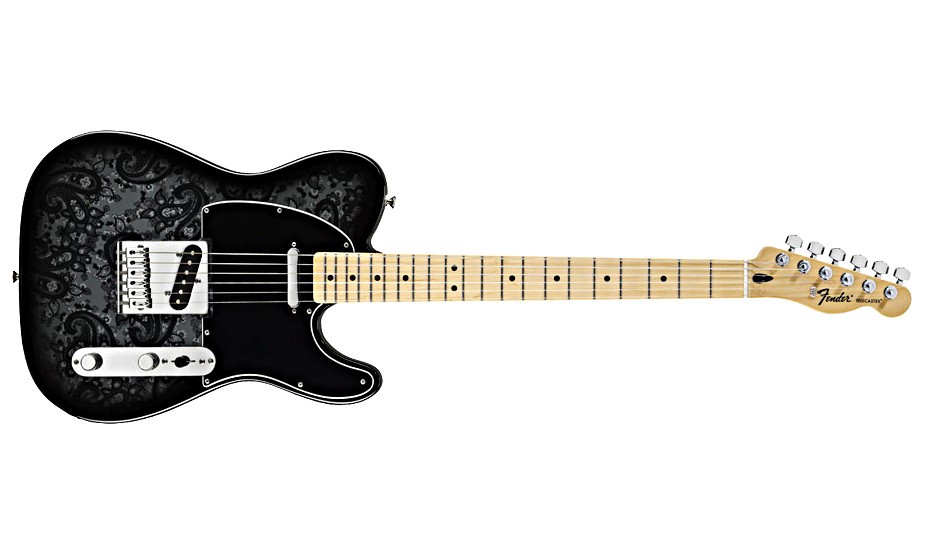 Well I think it looks cool
Rosewood telecaster
In the early 2000s a limited number of these were produced. They had 60s specs including a 7.25" radius neck. The body is actually Alder with Rosewood veneer on the front and back to avoid excessive weight.



This one has had the saddles changed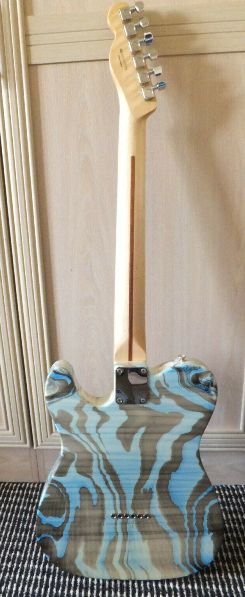 This Swirl FSR was made in 2013 It's a standard spec Alder bodied Tele Fender's list doesn't say how many were made.
In 2018 all the models above are superseeded by the player series.