Artist Fender Stratocasters Made in Mexico
Buddy Guy
Strangely most reference books are wrong when it comes to this model and Fender's catalogues are incomplete. The reference books say that the only Buddy Guy strat available in the 90s was an American one in Sunburst or Blonde. In fact Mexican made polka dot ones were available in at least 1996 and 1997. I have seen them for sale and they are clearly genuine. Officially the Polka Dot Mexican Buddy Guy was launched in 2002. Perhaps the mid 90s ones were special runs.
The guitar is still available today.
Body Alder with a polyester finish
Neck 4 bolt Maple with a satin urethane finish soft V profile
Fretboard Maple 21 medium jumbo frets 9.5" radius
Headstock 1 butterfly string tree Gold spaghetti logo
Tuners Vintage style Fender
Pickups 3 vintage style single coils
Controls Black Plastic 1 volume 2 tone 5 way switch
Nut 1.65" synthetic bone
Hardware chrome
Bridge vintage style 6 pivot vibrato
Pickguard 3 ply black white black except on red body where it's 3 play white 11 screw
Colours at least black with white dots, white with black dots or red with white dots. In 2018 only the Black with white dots is available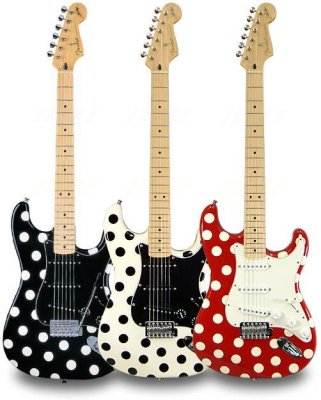 The standard offering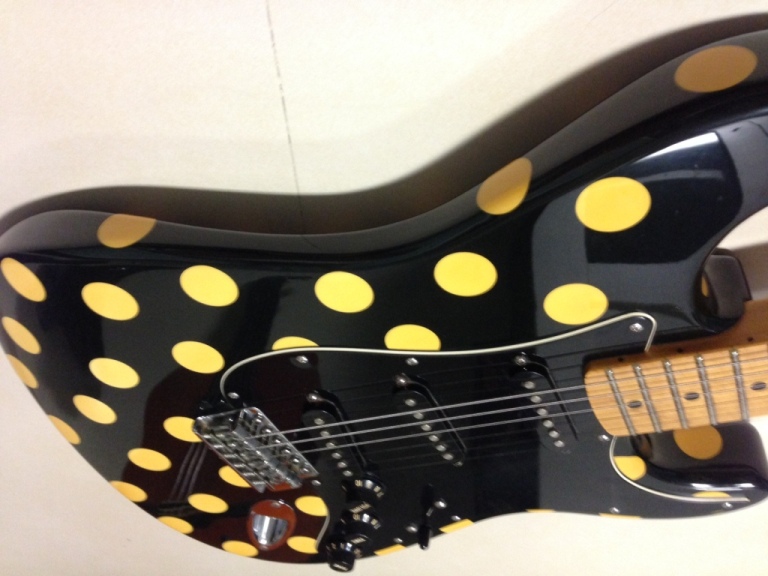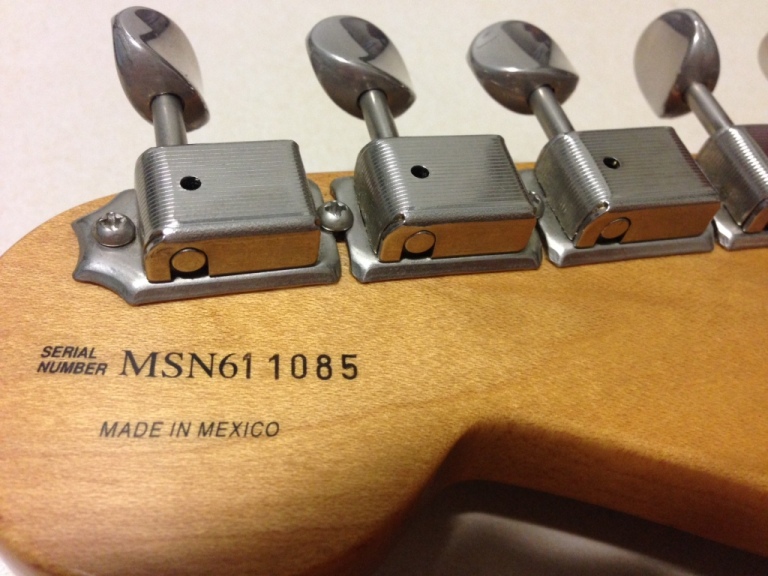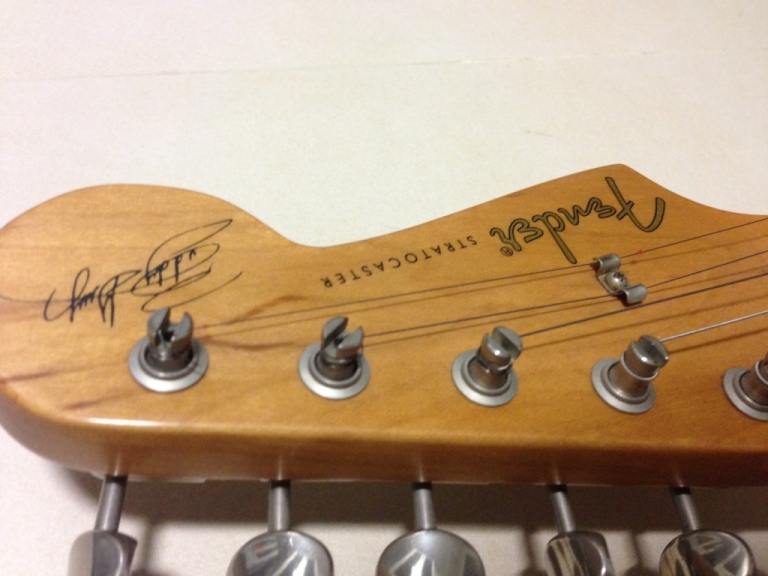 One of several mid 90s polka dot I have seen. I think the dots were white and have yellowed
Richie Sambora Standard
There are several Richie Sambora signature models made in the USA and Japan. The Mexican version is known as the Richie Sambora standard strat. It was first launched in 1994 and discontinued at the end of 2002.
Body Poplar with polyester finish
Neck 4 bolt maple with a satin polyurethane finish modern C shape
Fretboard Rosewood 21 medium jumbo frets 9.5" radius
Headstock small gold spag logo signature on front truss rod adjustment at headstock single bar string guide
Tuners Standard ping style
Pickups 2 white covered single coils at neck and middle 1 DiMarzio Custom PAF pro humbucker uncovered at bridge
Controls white plastic 1 volume 2 tone 5 way switch with white plastic tip
Nut 1.65" locking nut
Hardware chrome
Bridge Floyd Rose 11 double locking 2 pivot
Pickguard 3 ply white 11 screw
Colours Lake Placid Blue, Black, Candy Apple Red, Arctic White and for a short time early on Crimson Red Metallic
I have seen comments that some were made with Alder bodies but nothing in the Fender literature I can find supports this.


A Richie Sambora in Arctic White
Jimmie Vaughan Tex Mex
This guitar was launched in 1997 partly as a replacement of the short lived Tex Mex. It is still available today although only in Olympic White.
Body Poplar until 2003 when changed to Alder Polyester Finish
Neck 4 bolt Maple soft v although the early ones were more true to Jimmie's spec a very hard V-profile from nut to 5th fret, then a soft V for a few frets, then a fat C profile. Satin polyurethane finish
Fretboard Maple 9.5" radius 21 Medium Jumbo Frets
Headstock Small Gold spag logo 1 butterfly string tree truss rod adjust at head signature on back
Tuners Vintage Fender Gotoh style
Pickups White covered Tex Mex single coils bridge extra hot the other two overwound
Controls White Plastic 1 volume and 2 tone the tone controls are for the neck and bridge pickups 5 way switch white plastic tip
Nut 1.65" Synthetic bone
Hardware Chrome
Bridge Fender Vint sync trem unit 6 pivot
Pickguard single ply white 8 screw until 2003 11 screw thereafter
Colours launched in Olympic White only soon added 2 colour sunburst, black and candy apple red
Schaller strap locks



A Jimmie Vaughan in white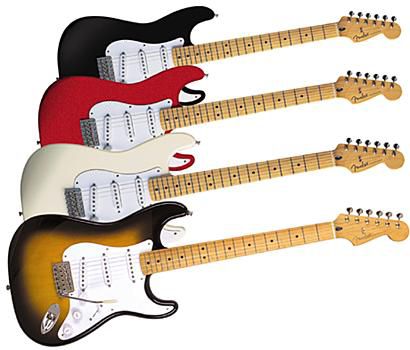 Jimmie Vaughan colours until 2018
Hank Marvin
This is just a version of the Traditional see Standard Mexican SSS page for details
Hank Marvin Classic
This was a limited release of 250 guitars in 2000. It is Classic Series 50s with Hank's signature on the headstock and a special designed vibrato arm it was only available in Fiesta Red. Specs are on the Classic Series page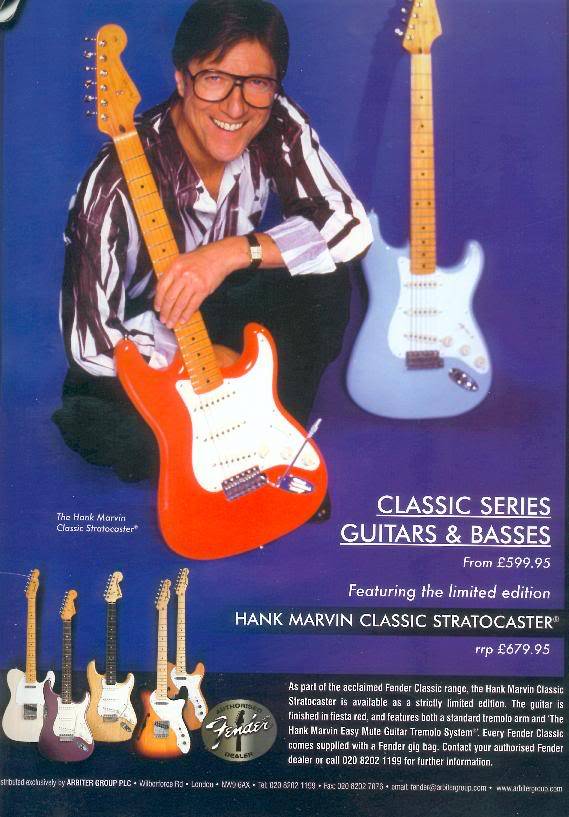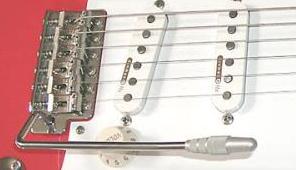 Arbiter advert for the classic series and a picture of the trem unit note the pickups have been changed on that guitar
Chris Rea
This was a limited run of 500 guitars for the European market only. It is based on Chris Rea's Fiesta red 62 which he calls pinky. All artist's royalties went the NSPCC it is a modified Classic Series 60s meant to be used for slide with a blocked trem. It came with a video by Chris explaining how to set it up and use it for slide. Some specs
Body Poplar
Neck 4 bolt Maple D shaped neck
Fretboard Rosewood 21 vintage frets 7.25" radius
Headstock small1 string tree gold spag logo signature on front Truss rod adjustment at body
Tuners Vintage Kluson Style
Pickups 3 white 6 polepiece single coils
Controls 3 white 1 volume 2 tone 5 way switch white switch tip
Nut 1.65"
Hardware Chrome
Bridge Vintage 6 pivot trem.
Pickguard Mint Green 11 screw laminated aged white controls and switch tip
Colours Faded Fiesta Red also called Salmon Pink



A Chris Rea with all the candy
Tom Delonge
A very basic strat indeed very like some early Yamahas with a single Humbucker. The MIM version was produced from 2001 to 2003 but there is also a Squier version.
Body Alder with a polyester finish
Neck 4 bolt Maple Modern C satin polyurethane finish Neckplate with Tom Delonge on
Fretboard Rosewood 21 Medium Jumbo Frets
Headstock Large 1 string tree Black 70s logo
Tuners Fender Vintage Ping style
Pickups 1 white Seymour Duncan Invader at Bridge
Controls 1 white plastic volume
Nut 1.65"
Hardware Chrome
Bridge Six saddle small hardtail bridge
Pickguard 11 screw laminated white or white pearl
Colours Daphne Blue, Black, Surf Green or Grafitti Yellow, see below



In Seafoam Green
A Tom Delonge in what I think is Shell Pink a colour not mentioned in Fender's literature as far as I can find.
Robert Cray
This guitar was first produced in 2003 and is still available today. It is based on a classic series 60s.

Body Alder with polyester finish
Neck 4 bolt Maple with polyurethane finish 60s C shape
Fretboard Rosewood 21 Medium Jumbo Frets 9.5" radius plain neck plate
Headstock Small gold spag logo 1 butterfly string tree signature on front truss rod adjust at body
Tuners vintage style
Pickups 3 custom shop vintage style single coils
Controls 1 volume 2 tone all white plastic 5 way with white switch tip
Nut 1.65" synthetic bone
Hardware chrome
Bridge 6 saddle through body hardtail
Pickguard 3 ply mint green
Colours 3 colour sunburst, Inca Silver and until 2018 Violet



Robert Cray in 3 Colour Sunburst
Ritchie Blackmore
Released in 2009 this model is still available
Body Alder Polyester Finish
Neck 3 bolt maple with polyurethane finish U shaped F stamped neckplate
Fretboard Rosewood Scalloped 21 vintage style frets 7.25" radius
Headstock large signed on front black 70s logo bullet truss rod
Tuners vintage fender F style
Pickups 2 seymour duncan quarter pounder flat SSL4 no middle pickup dummy only
Controls 1 volume 2 tone black plastic 3 way switch black plastic tip
Nut synthetic bone 1,65"
Hardware Chrome
Bridge Vintage style sync trem 6 pivot
Pickguard 3 ply white black white 11 screw
Colours White only



Ritchie's very 70s guitar
Jimi Hendrix Strat
Released in 2015 a reversed headstock guitar still a current model
Body Alder Polyester Gloss Finish
Neck Maple 4 bolt C shaped poly finish
Fretboard Maple 21 Medium Jumbo frets 9.5" radius
Headstock Reversed Large with signature on rear Gold thick logo 1 Butterfly string tree truss rod adjust at head
Tuners Vintage style
Pickups Vintage 65 Grey Bottom reversed slant bridge pickup
Controls 1 volume 2 tone white plastic 5 way switch with white plastic tip
Nut Synthetic Bone 1.65"
Hardware Chrome
Bridge 6 saddle sync trem 6 pivot
Pickguard 3 ply white 11 screw
Colours Black or White now white only
Neck Plate with Jimi silhouette and the words Authentic Hendrix
No left handed option
Update Nov 2018
This guitar is now available in Olympic White, 3 Colour Sunburst or Ultra Violet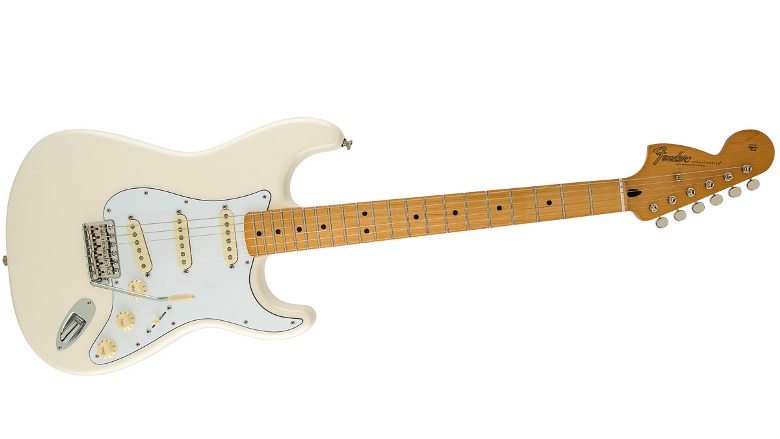 Hendrix Strat in Olympic White
Jimi Hendrix Monterey Strat
A replica of the famous Monterey strat burned by Jimi on stage released 2017 and still current
Body Alder with the Monterey artwork
Neck Maple 4 bolt C shaped
Fretboard Pau Ferro 7.25" radius 21 vintage style frets
Headstock 60s style Gold spag logo 1 butterfly string tree signature on back truss rod adjust at heel
Tuners vintage style
Pickups 3 single colis
Controls White plastic 1 volume 2 tone 5 way with white switch tip
Nut 1.65" synthetic bone
Hardware Chrome
Bridge 6 saddle vintage hardtail
Pickguard white 11 hole
Colours Red with white and Monterey Artwork
Neck Plate with Jimi silhouette and the words Authentic Hendrix



The Monterey
Kenny Wayne Shepherd Strat
Launched in 2007 although appears first in the 2008 Frontline this guitar is advertised as inspired by Kenny's famous 1961 strat so naturally has 60s style features. It was available until at least 2015 but not any more.
Specs
Body Alder with Polyester finish
Neck Maple "true C"
Fretboard Rosewood 21 Dunlop 6100 Jumbo Frets 12" radius
Headstock 60s style truss rod adjust at body 1 butterfly string tree signed on the back
Tuners Vintage style
Pickups 3 single coil custom voiced Kenny Wayne Shepherds middle reverse wound
Controls 1 volume 2 tone white 5 way with white switch tip tone 1 is neck and middle tone 2 bridge
Nut 1.65"
Hardware Chrome
Bridge Vintage style 6 pivot sync trem with Graph tec saddles
Pickguard 3 ply mint green except on the black which is black white black
Colours 3 colour sunburst, Black with a racing stripe or Arctic white with cross graphic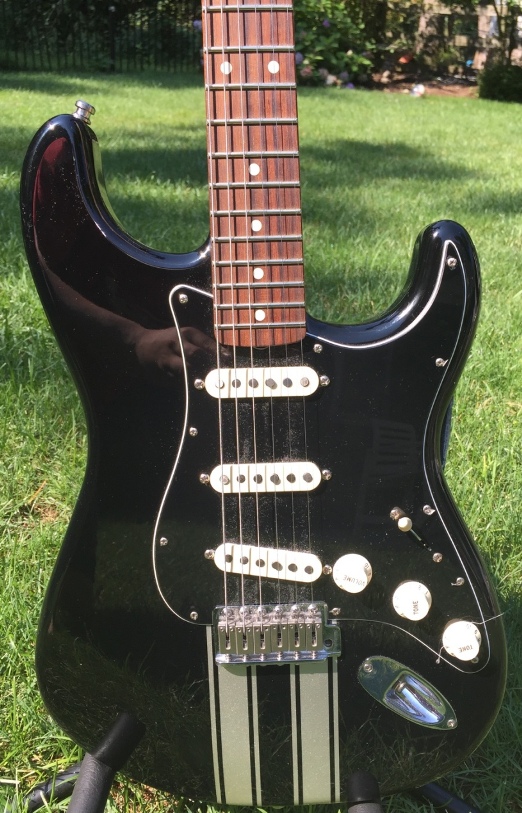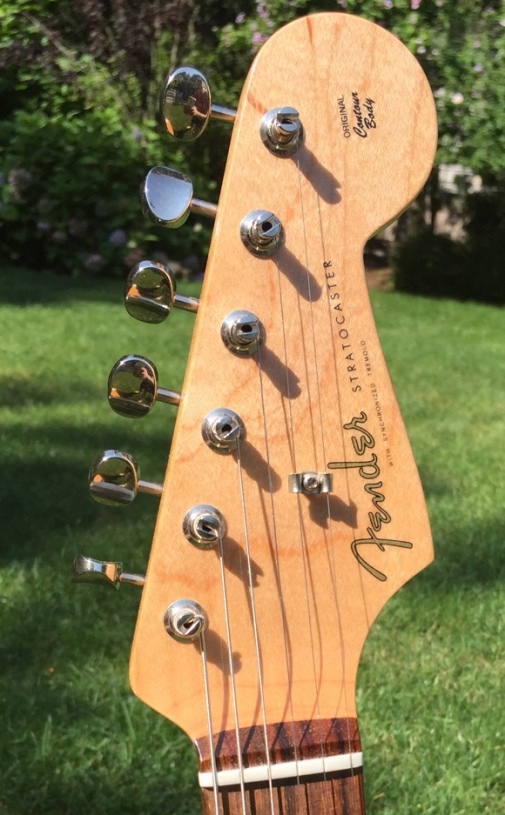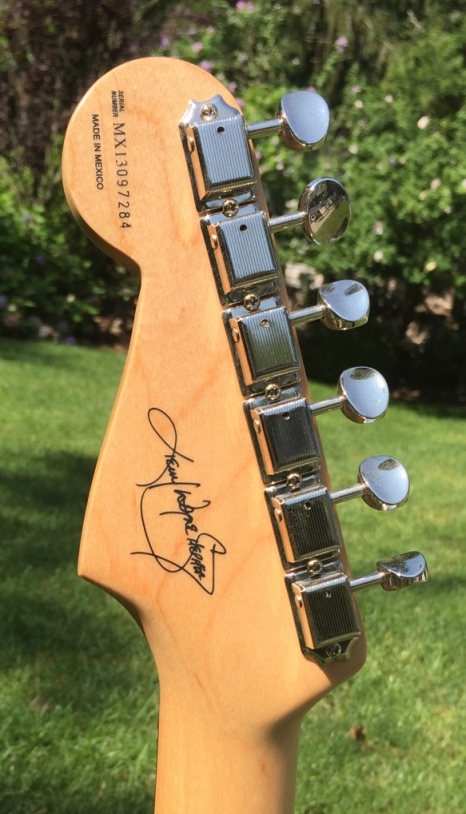 These pictures were kindly sent to me by a member of the strat forum little_wing142. My thanks to him
Ed O'Brien Sustainer Strat
This otherwise relatively ordinary strat is distinguished by it's unique electronics. The bridge pickup is a Fernandes sustainer with an active sustainer driver circuit, which has a separate on off switch for the sustain. On it provides almost infinite sustain the three way selector for the sustain gives either sustain of the notes played, sustain of the 5th Harmonic or both. Off it is a standard single coil pickup.
Body Alder Gloss Polyurethane finish
Neck Maple Satin finish 10/56 V profile 4 bolt flower of life neckplate
Fretboard Maple 9.5" radius 21 Medium Jumbo Frets
Headstock Small gloss finish Gold spag logo 1 butterfly string tree truss rod adjust at headstock
Tuners Vingae style Chrome
Pickups 1 Fernandes Sustainer neck, Texas Special Single coil middle, Seymour Duncn JB Jnr Humbucker t bridge
Controls sustainer controls as above where jack socket usually is then usual 1 volume 2 tone 5 way all white
Nut 1.65" synthetic bone
Hardware Nickel Chrome
Bridge 6 pivot vintage style trem
Pickguard 3 ply parchment 8 screw
Colours White
Years available Current model in 2018
Jack socket in side of body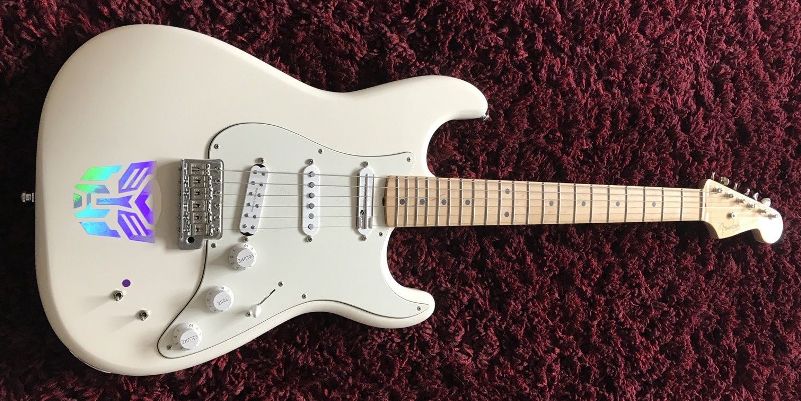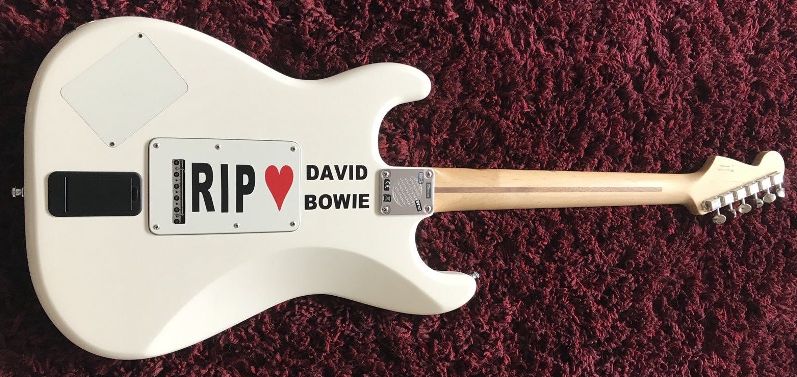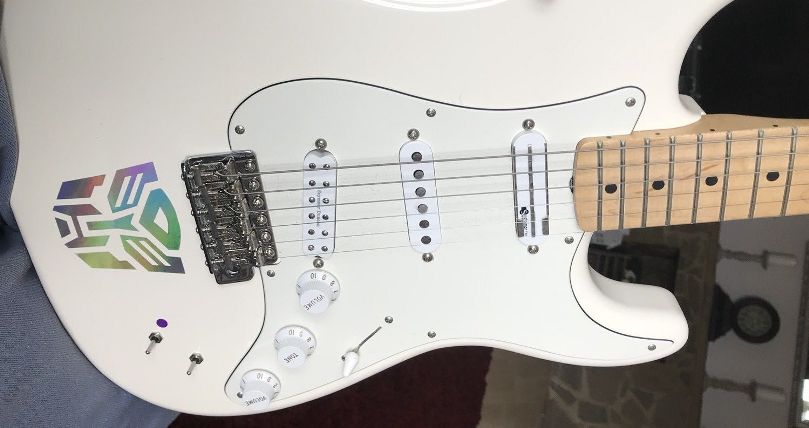 Front back and controls
Wayne Kramer Strat
The signature guitar for the MC5 guitarists was launched at the 2011 NAMM show. It doesn't appear in any catalogue that I can find so suspect it was a relatively short lived model. I have only seen 2011 models.

Specs:
Body: Alder Lacquer Finish Red and White Stripes Reliced
Neck Shape: Maple C Shape Urethane Finish
Fretboard: Rosewood 21 Vintage Frets 7.25" radius synthetic Mother of Pearl Inlays
Nut Width: 1.650"
Tuners Fender F style vintage
Headstock: Large 70s Style Blue with large white stars 1 butterfly string tree, truss rod adjust at body end.
Neck Plate: 4-Bolt Neckplate Engraved with This tool kills hate
Bridge and Neck Pickups: Vintage Style Single-Coil Middle Pickup: Reliced Seymuor Duncan 59 Humbucking
Hardware: Chrome
Pickguard 11 hole blue with large white stars
Bridge: American Vintage Strat Strings-Through-Body Hardtail Bridge
Unique Features: Original Wayne Kramer Flag paint, custom Stars & Stripes headstock/pickguard, red stripes on body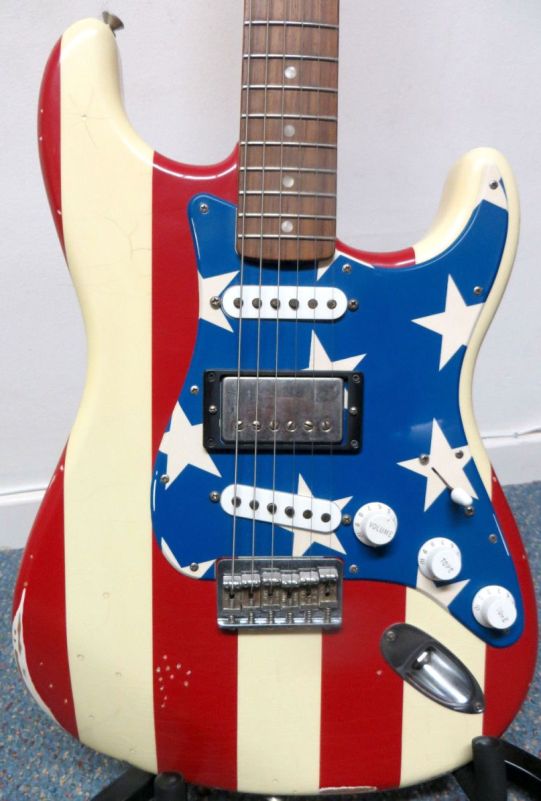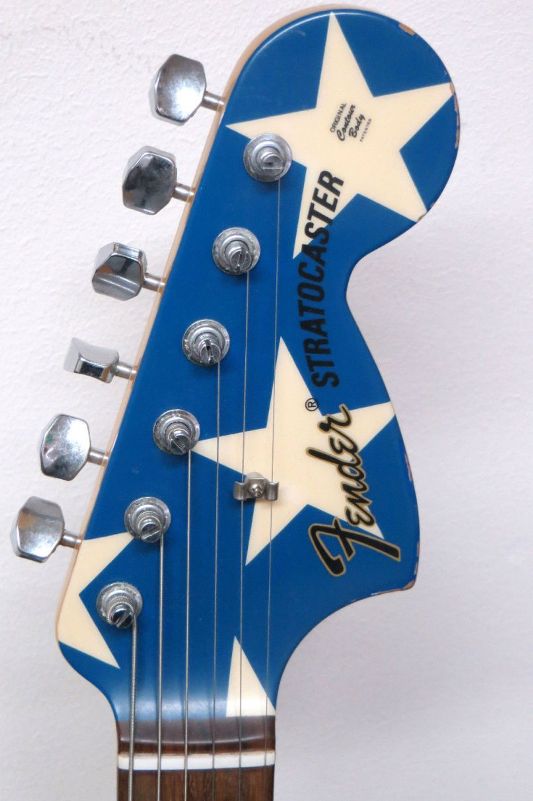 Albert Hammond Jnr Strat
The Strokes guitarist wanted to make an affordable strat based on his 1985 MIJ ST 72 this guitar is that.
Specifications
Body Alder Gloss Polyester Finish
Neck C shaped Maple Gloss Polyurethane finish 3 bolt with F stamped neck plate
Fretboard Rosewood 21 frets
Headstock Large 70s style with black 70s logo and 2 butterfly string trees bullet truss rod adj his signature on the back
Tuners Vintage style F stamped
Pickups 3 custom Ceramic single coils
Controls 1 volume 2 tone parchment plastic with unusual switching
Switching positions 1 Middle 2 Bridge and Middle 3 Bridge 4 Bridge and Neck 5 Neck
Nut 42mm synthetic bone
Hardware Chrome
Bridge Vintage style 6 pivot trem set flat to body no trem arm supplied
Pickguard 11 screw 3 ply parchment
Colours Olympic white
Years available 2018 onwards
Microtilt neck

The Albert Hammond Jnr Strat
Dave Murray Strat
The signature model of the Iron Maiden Guitarist was first released in 2015 and is still available today.

Specifications
Body Alder Gloss Polyester Finish
Neck shallow C shaped Maple Gloss Polyurethane finish
Fretboard Rosewood 21 medium jumbo frets compound radius 9.5" to 14"
Headstock Small one string bar Gold Transition Logo truss rod adj at headstock signature on the back
Tuners Vintage style
Pickups Seymour Duncan Bridge Hot Rails SHR 1B Middle JB Jr. SJBJ-1N Neck SHR-1N Hot Rails
Controls 1 volume 2 tone white plastic usual 5 way switch
Nut 42.86mm Floyd Rose Locking
Hardware Chrome
Bridge Floyd Rose FRT-O1000 Double Locking 2-Point Tremolo
Pickguard 11 screw 4 ply white
Colours 2 colour sunburst only
Years available 2015 onwards
Currently (July 2019) retails around &pound830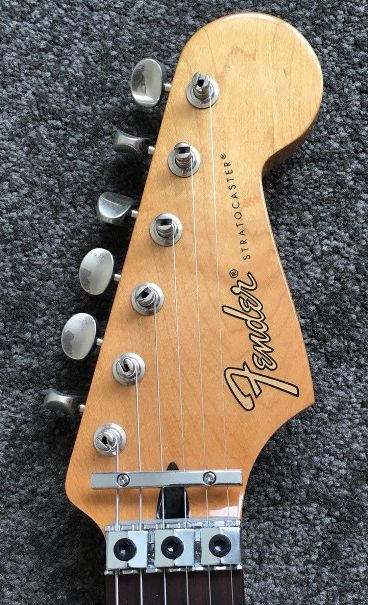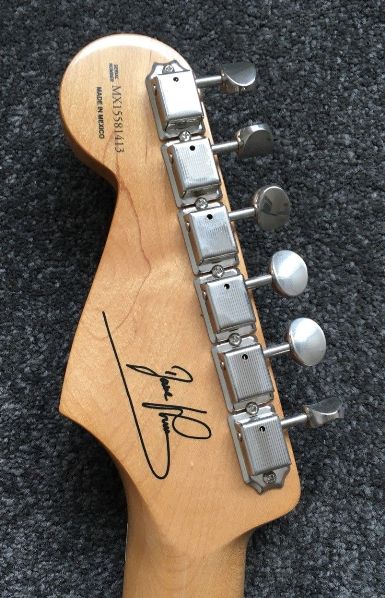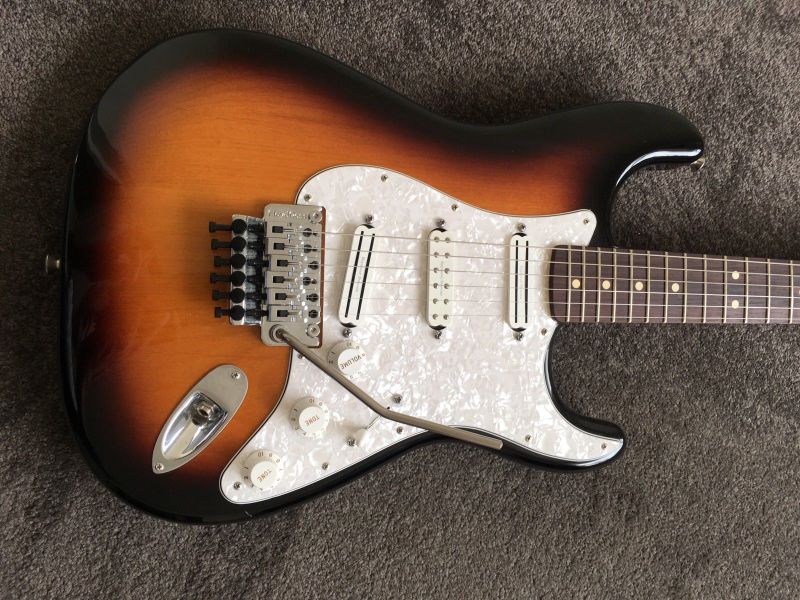 The Dave Murray