Fender Stratocaster Classic Player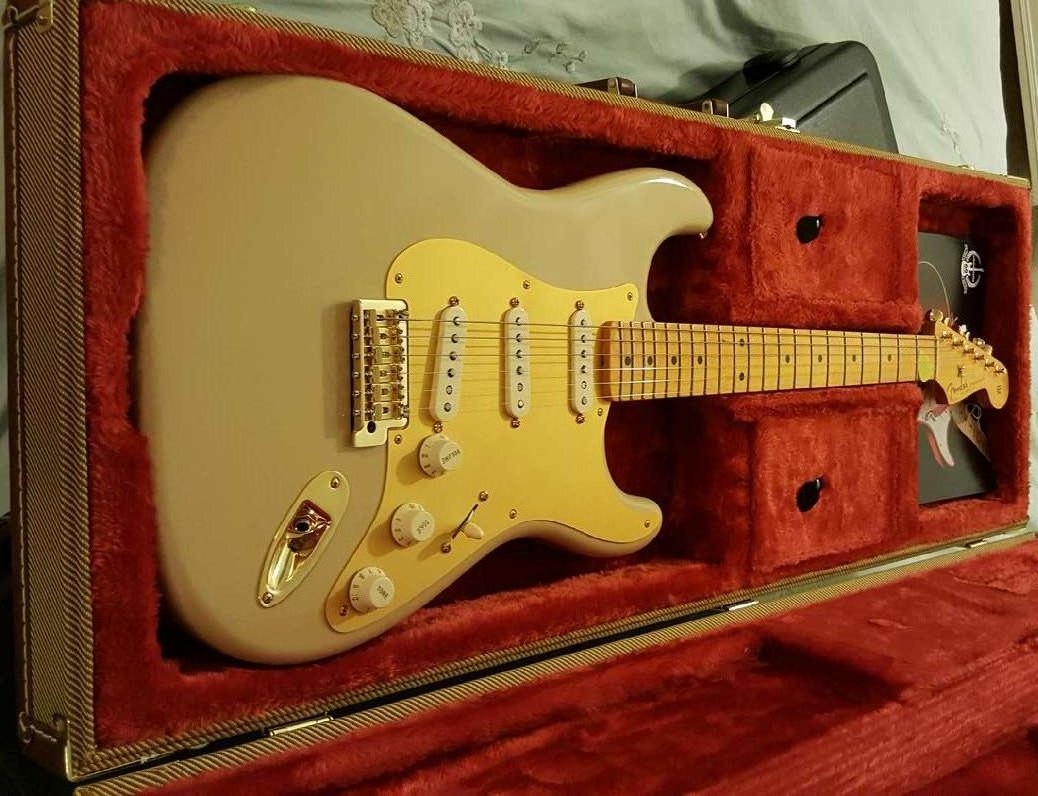 2014 60th Anniversary Classic Player 50s
The Classic Player series launched in 2006 comprises a 50s model and a 60s model. There are several FSRs special editions and variations of these.
Fender Stratocaster Classic Player 50s
Advertised as being designed by Custom Shop's Dennis Galuszka, this guitar is less vintage accurate than the classic series 50s as it has the 2 pivot bridge and flatter board, but has some features which put it above the classic series which is reflected in the price. In 2019 these are retailing in the UK for &pound650 to &pound750.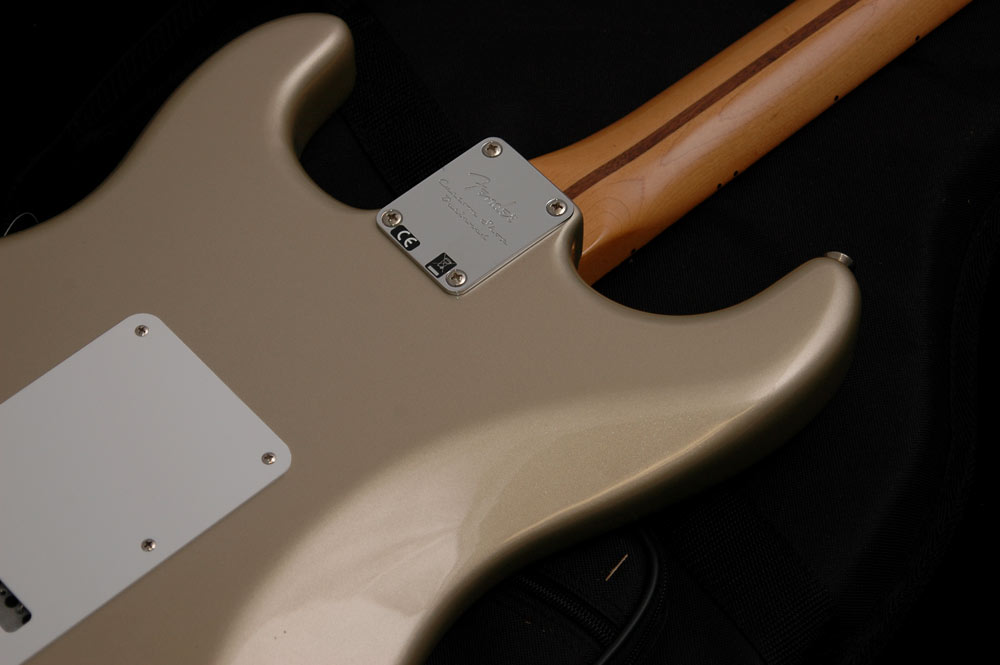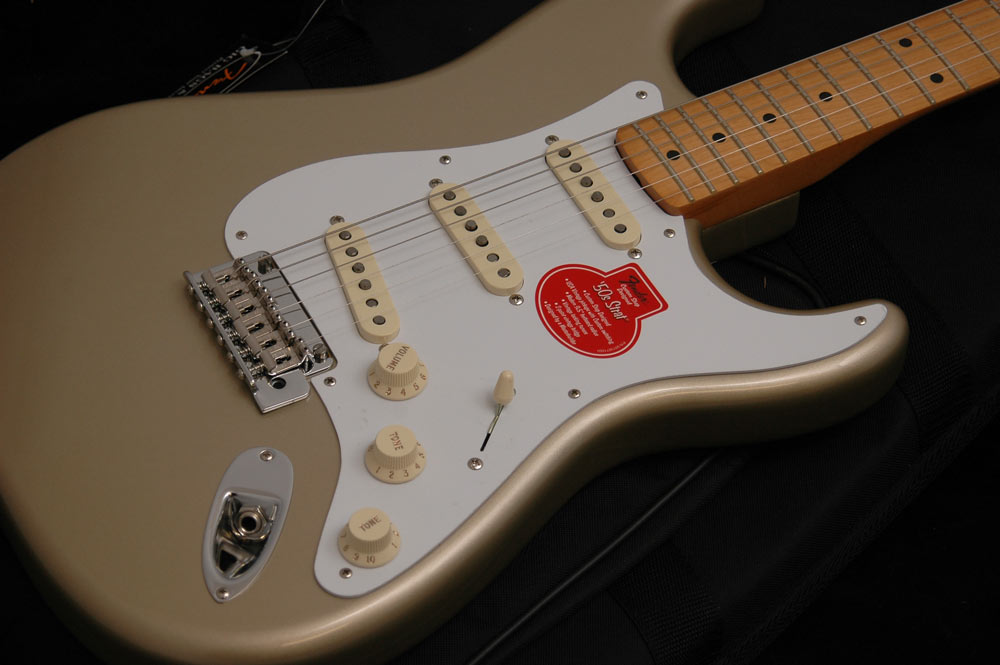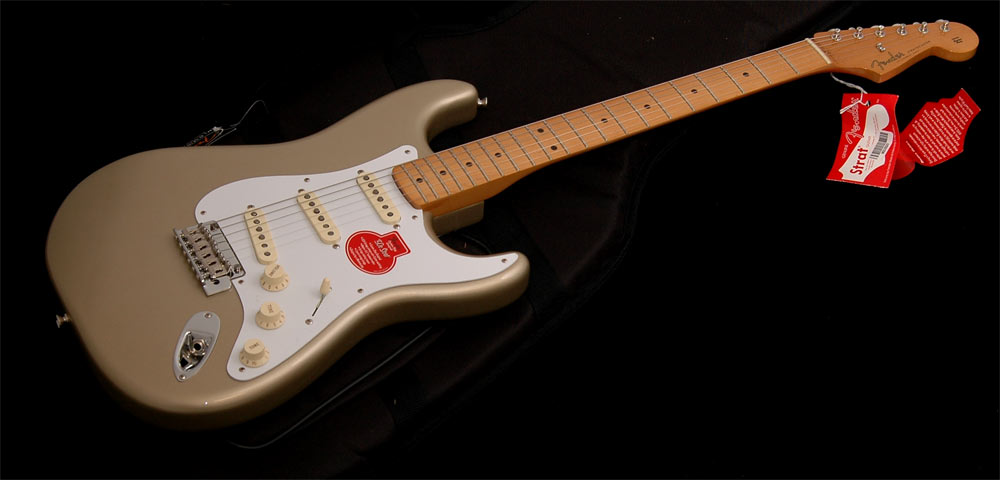 Classic Player 50s in Shoreline Gold
| | |
| --- | --- |
| Headstock | Small with 1 string Tree truss rod adjust at body end |
| Logo | Spaghetti Gold |
| Pickguard | White 8 screw Single Ply with White controls and switch tip |
| Bridge | 2 pivot vibrato |
| Neckplate | 4 screw with custom Shop Designed logo |
| Body | Alder |
| Neck | Fretted Maple Soft V 9.5" radius with 21 medium jumbo frets |
| Pickups | 3 single coil vintage style 57/62s Middle pickup reverse wound |
| Tuners | Vintage Gotoh style locking |
| Colours | 2 colour sunburst or Shoreline Gold |
Update Thrup'ny bit from the strat forum has told me that I have neglected to mention the custom switching on the CP 50. This guitar has a super switch and the 5 way switching is different from standard the switching is:
1) bridge
2) bridge and middle in parallel
3) middle
4) bridge and neck in parallel
5) neck
The second tone control, controls the bridge pickup.

In 2014 Fender released for 1 year only a 60th Anniversary Classic Player 50s. It is pictured above Desert Sand Gloss Nitro with Gold Hardware and Gold Anodised Aluminium Pickguard. It included a commemorative book and pro series tweed case.

Alainvey and Yogi from the Strat forum have told me that there was and FSR in 2012 in 2 colour sunburst in nitro with a Tiger striped Maple neck. I have found some pictures see below.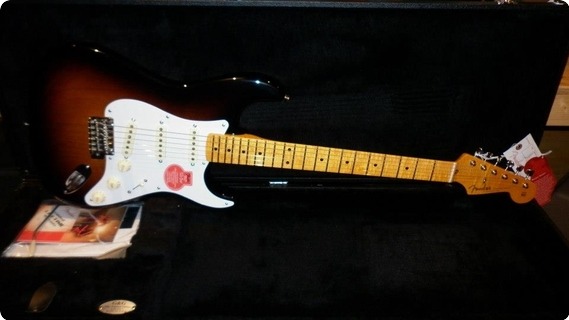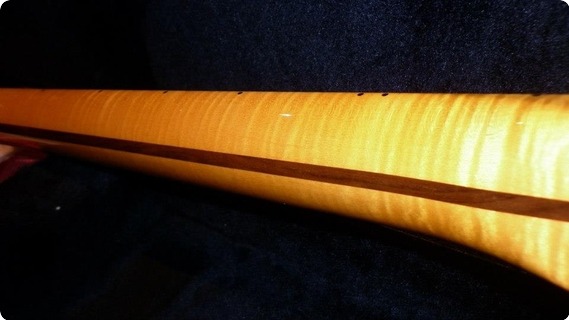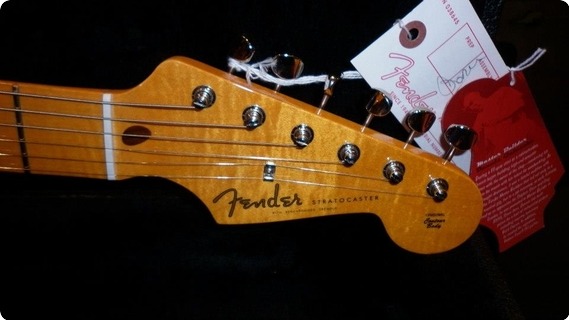 Fender Stratocaster Classic Player 60s
This model is advertised as being designed by Greg Fessler master builder. It is again far from vintage accurate having an even flatter board along with the two point bridge. They currently retail in the UK at around &pound770.

Classic Player 60s in Sonic Blue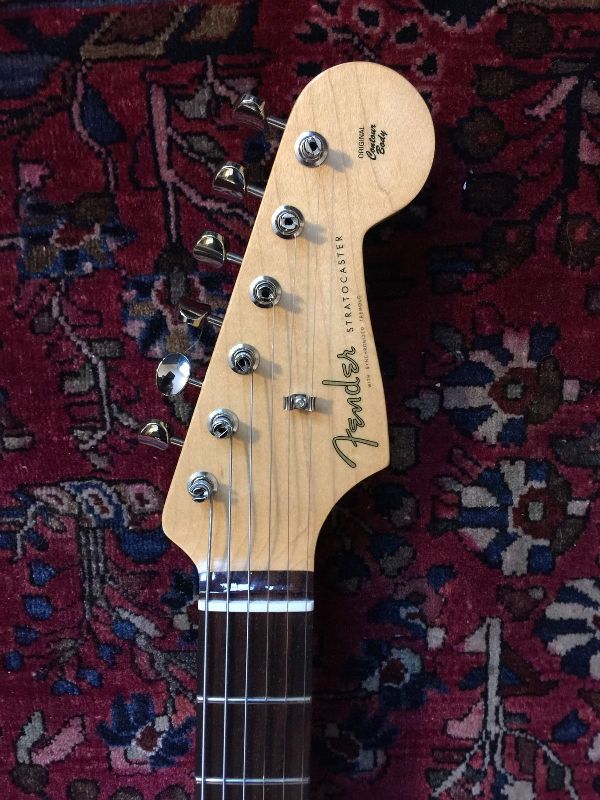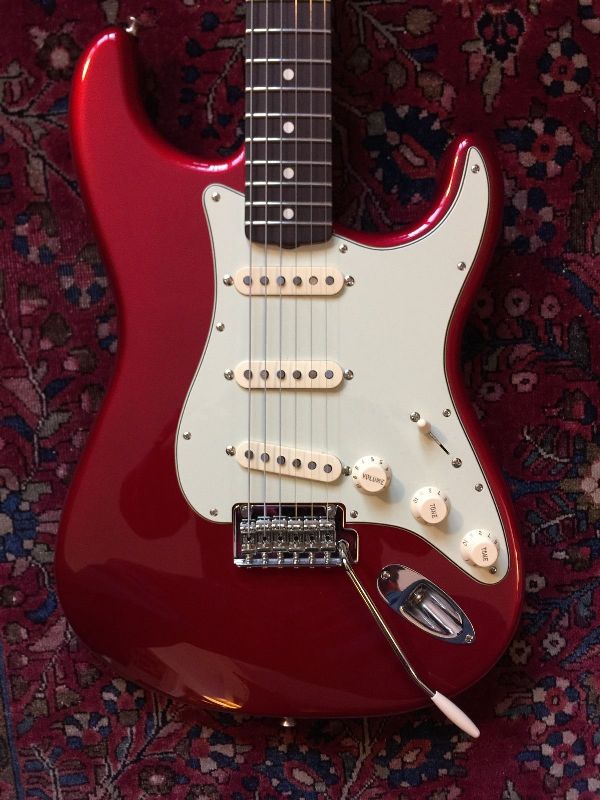 And one in Candy Apple Red
| | |
| --- | --- |
| Headstock | Small with 1 string tree truss rod adjusted at body end |
| Logo | Spaghetti Gold |
| Pickguard | Mint Green 11 hole three ply with aged white controls and switch tip |
| Bridge | 2 Pivot Vibrato |
| Neckplate | 4 screw with Custom Shop designed logo |
| Body | Alder |
| Pickups | 3 white covered strat 69s |
| Neck | Maple with Rosewood Board, 21 Medium Jumbo frets, Yintage C shaped 12" radius |
| Tuners | Vintage Style |
| Colours | 3 Colour Sunburst or Sonic Blue on Launch. Candy Apple Red added later and then removed by 2019 |
Fender Stratocaster Classic Player 60s HH
In 2015 Fender released a curious HH version of the classic player 60s. It's actually a sort of combination of some 60s and some 70s features. It was designed by Yuri Shishkov from the custom shop. It is no longer available.

Body Alder finished in opaque polyester
Neck Maple untinted with skunk stripe 60s C shape
Fretboard Rosewood bound in white plastic 9.5" radius 22 medium jumbo frets
Headstock large 70s style thick gold logo painted as the body stratocaster written in black 2 string trees truss rod adjust at head
Tuners Vintage F logo
Pickups 2 chrome covered wide range Humbuckers splittable
Controls Cream Coloured 1 volume 2 tone 5 way switch to allow for spliting
Nut 1.65" synthetic bone
Hardware Chrome
Bridge Modern 2 pivot trem bridge with 6 vintage style saddles
Pickguard Black White Black 11 screw
Colours Mercedes Blue Gloss only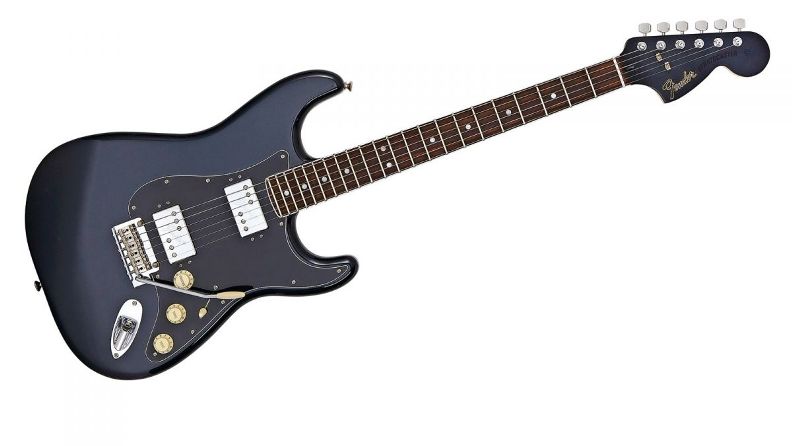 The CP 60s HH
Some Classic Player FSRs
There was an Olympic White FSR issued around 2011/12 said to be 276 exported to Europe.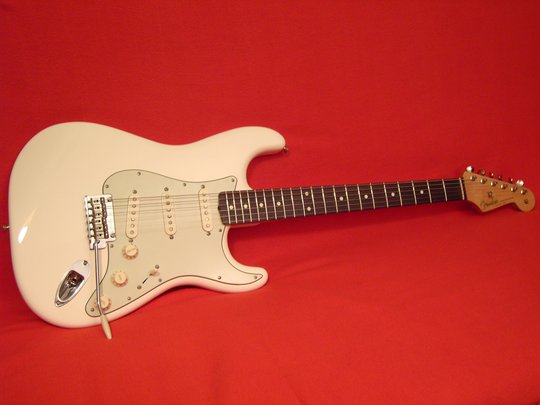 Available in the UK in 2017 is a Vegas Gold Sparkle FSR price ranging from &pound679 to &pound750 certainly different.

This classic player 60s is an FSR from 2009 in Olympic White with Tortoiseshell pickguard. In May 2018 this one sold on Ebay for &pound500