Fender Japan Esquires
These are based on the USA esquires of the 50s and 60s. The USA versions were first produced in 1950 and the run ended in 1969 with a few changes on the way. This included the addition of a custom esquire in 1959. Note that in those days custom meant bound body not a pickup variation.
In the mid 80s Fender Japan introduced their Esquires. The earliest I have seen them is in the 1985 catalogue. They last appear in the first 1993 catalogue.
Esquire TES 54-70 and TES 61-70
These were released as the equivalent of the early 50s model and the bound 60s custom respectively. The 54 was released just in Blonde and the 61 just in 3 Tone Sunburst some other colours crept in along the way including Black for the 54 and Candy Apple Red for the 61. The original USA Esquire had been Blonde with some early models Black. In 1990 the Guitars were renamed as the TES54-650 and TES61-650 along with the system change for most Fender Japan guitars. In 1992/3 they returned to their original names. Despite the TES54 being intended to be a 54 equivalent it has a period incorrect 8 hole guard.
Some Pictures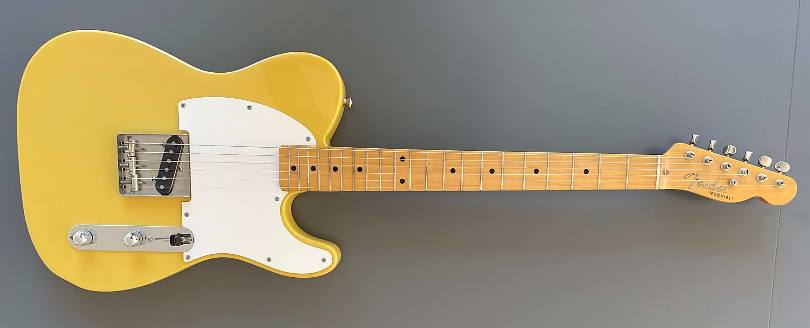 The TES54 this one is a 650 from 1992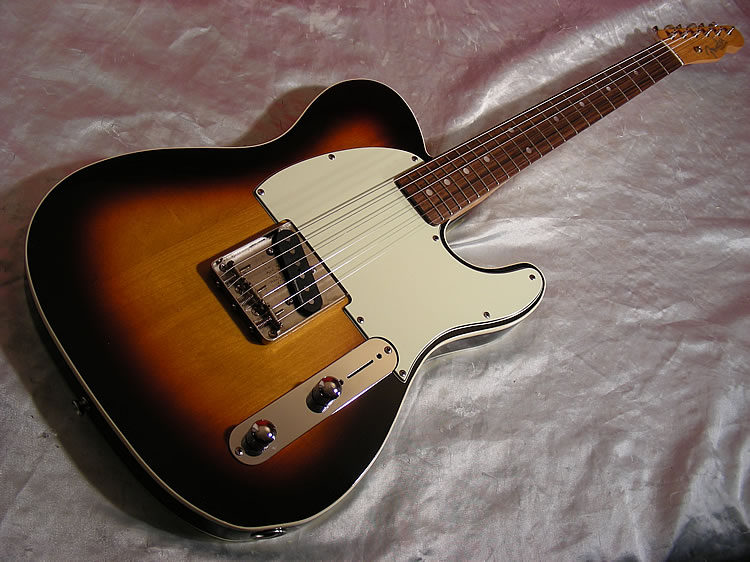 The TES64 this one has had the pickup changed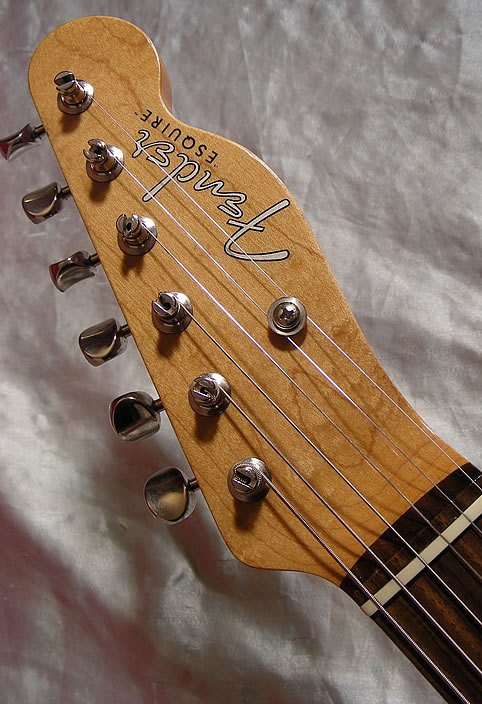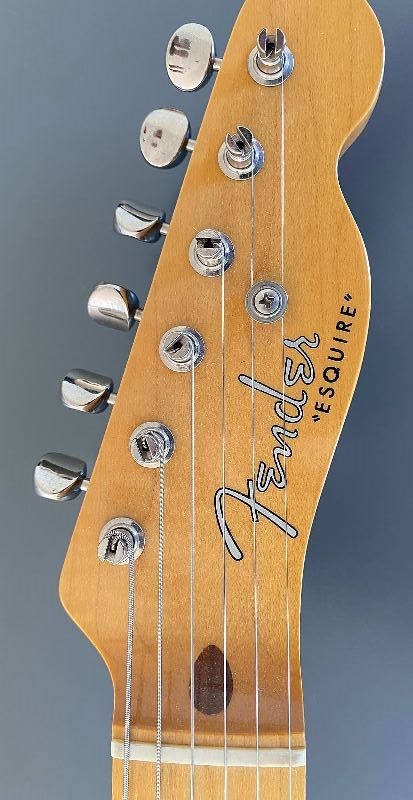 The Headstocks 64 on the left
Specifications
| | | |
| --- | --- | --- |
| | TES54 | TES61 |
| Body | Sen | Bound Alder |
| Neck | Maple U profile 324mm scale | Maple U profile 324mm scale |
| Fretboard | Maple 184 Radius 21 Vintage Frets | Rosewood 184 Radius 21 Vintage Frets |
| Headstock | see above | see above |
| Tuners | Vintage Style | Vintage Style |
| Pickups | USA Made Telecaster Vintage | USA Made Telecaster Vintage |
| Controls | Knurled Chrome 1 Vol 1 Tone 3 way switch* | Knurled Chrome 1 Vol 1 Tone 3 way switch* |
| Bridge | 3 section brass saddles | 3 section brass threaded saddles |
| Nut | 42mms | 42mms |
| Hardware | Chrome | Chrome |
*Switching is
Position 1 Through a capacitor and resistor circuit to give Bass Tones
Position 2 Through the Volume and the tone
Position 3 Through the tone only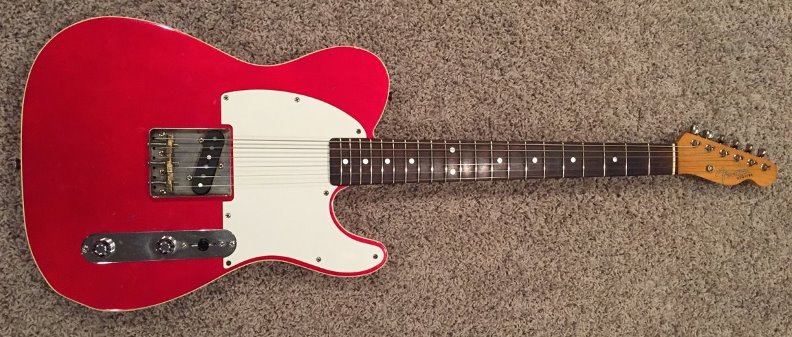 This is a 64 from 1985 in Candy Apple Red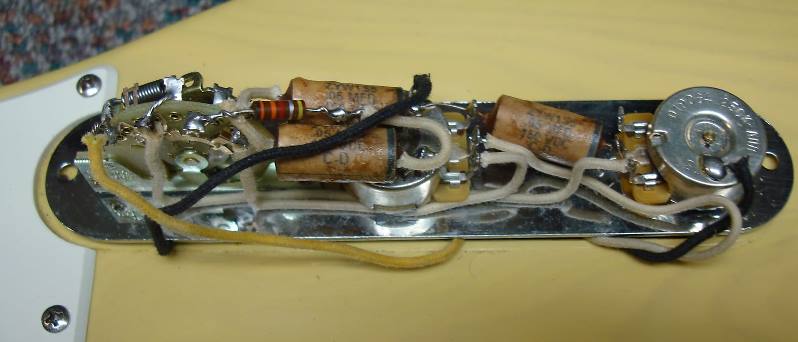 Here's what the wiring looks like
Esquire TLC 54F and 54B
There is very little information about on these they were certainly in existence in the mid 80s and appear to be the equivalent of the TES54-70 and TES61-70 respectively. Why the 61 equivalent is called a 54 when it obviously has 60s features is a mystery, but strangely the TLC54F has a period correct 5 hole guard unlike the TES54. They look broadly similar to the TES equivalents, but they don't appear in catalogues and I can't find any specs. It seems probable that the TLCs are export equivalents of the TES but there isn't an Ex in the pockets
I have seen the 54F in Blonde and the 54B in Sunburst and Candy Apple Red
Best I can do is some pictures firstly all from a TLC54F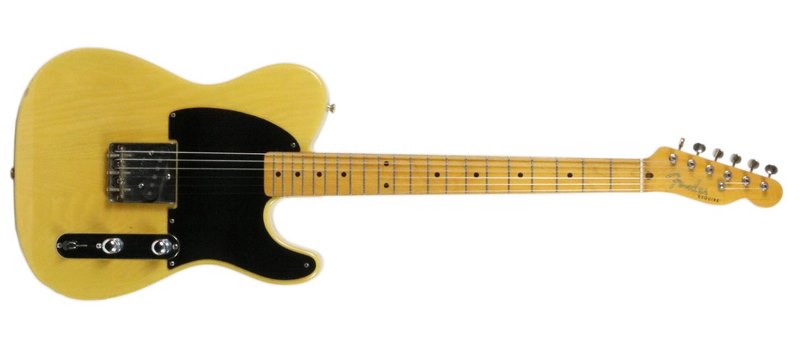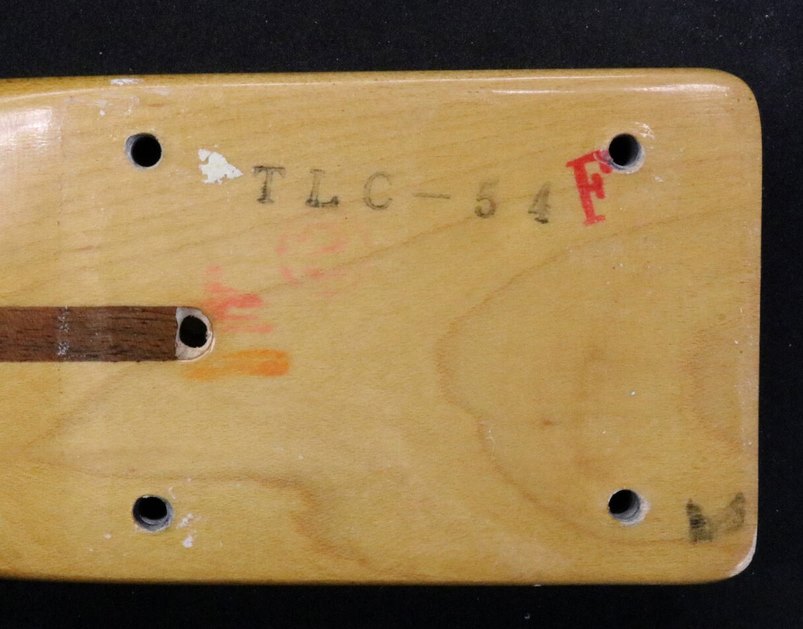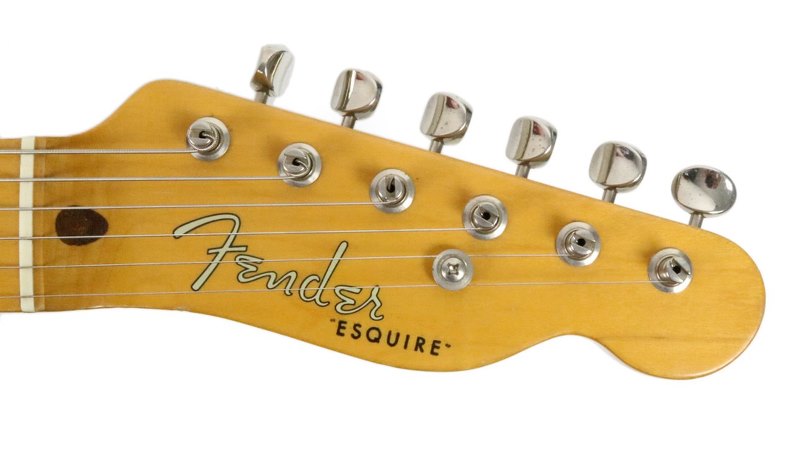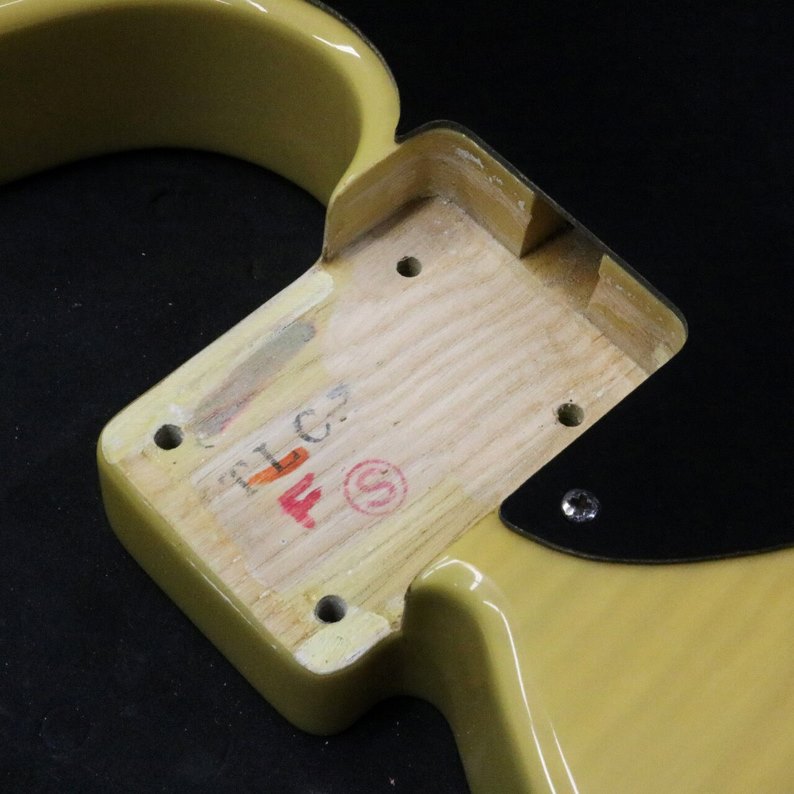 Now from a 54B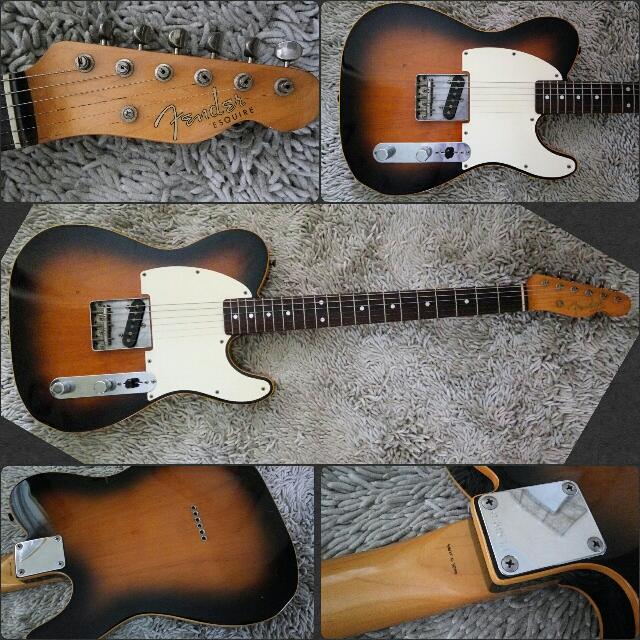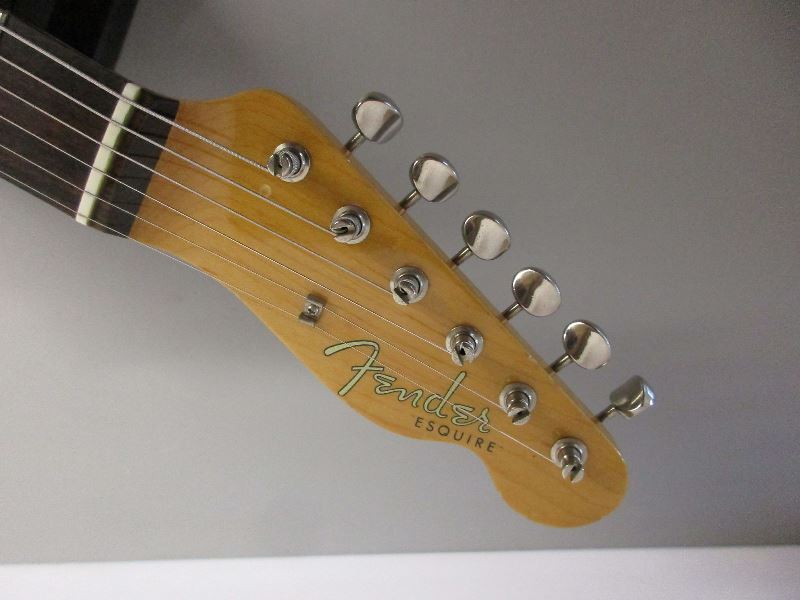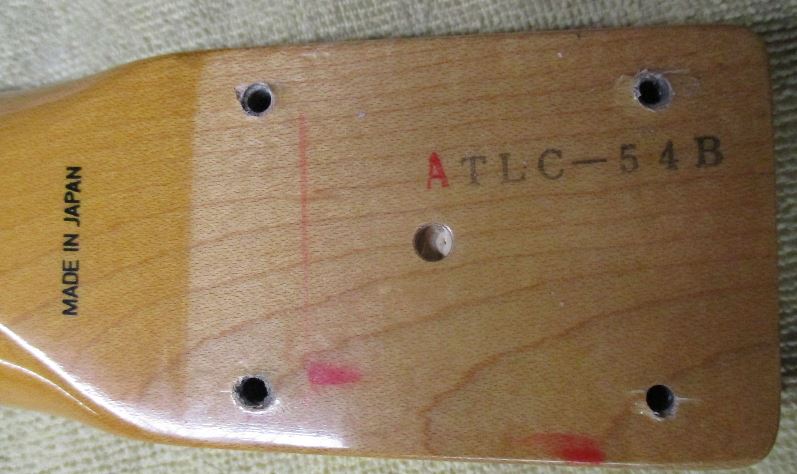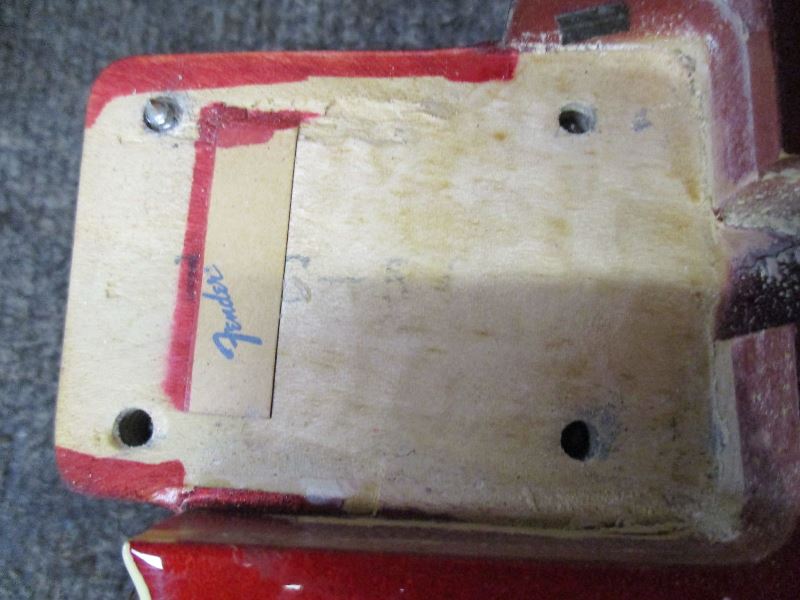 Update April 2022
Dave Woolfall from Melbourne has kindly sent me some pictures of his very nice TLC54
Here they are thanks Dave