Fender Japan Telecaster TL69 Range
There are two distinct series of TL69 Telecasters the first being the funky colours of the various Paisley and Flower designs the second being the all Rosewood models. There are JV versions of both although not easy to find.
As always model numbers can change simply because of price changes or changes of system but they remained the same model
Telecaster TL69 Colour models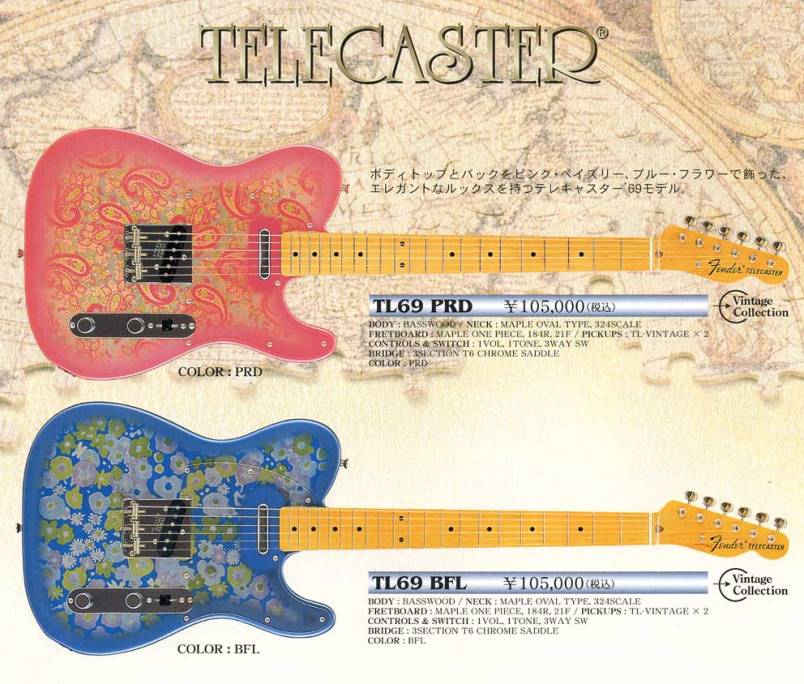 Scan from an 80s catalogue
Timelines
It started as the TL69-75 and remained to the launch of the Japan exclusive series sometime after 2012.
TL69-75 launched in 1983 just in PRD which is Pink Paisley or Red Paisley if you like. Around 1987 Blue Flower BFL was added
TL69-700 in 1990 just because of a change of system and a price reduction
TL69-75 in 1992 system change and price rise
TL69-85 in 1996 price rise
TL69-92 in 2007 no prizes for guessing why
TL69 in 2008 around this time Fender Japan got fed up of linking the model number to the price
TL69 SPL launches
Japan exclusive 69 is now the current model

Specifications
There will as always be variations special editions and one offs from time to time but this model has kept roughly the same specs throughout

Body Basswood
Neck 1 piece maple U profile later described as oval
Fretboard Maple 184mm radius 21 vintage frets
Tuners Vintage Kluson Style
Pickups Telecaster Vintage Single coils 1 black 1 chrome
Controls Standard Telecaster with Knurled Knobs and Black switch tip on the 3 way
Nut 42mms
Hardware Chrome
Bridge 3 section chrome saddles
Pickguard Sometimes clear sometimes none
Colours Pink Paisley or Blue Flower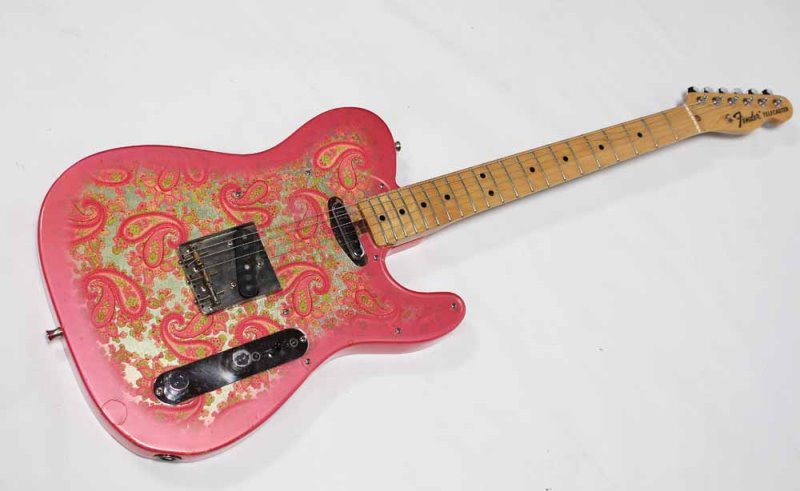 TL69-SPL
In the era 2000s Fender launched several SPL models of Strats and Teles the 69 SPL was one of them appearing in the 2012 catalogue. The only differences to the specs above are;
It has a wide oval neck profile
It is in new colours JBK a black flower JBL a different blue flower and JRD a red flower
It cost ¥ 10000 more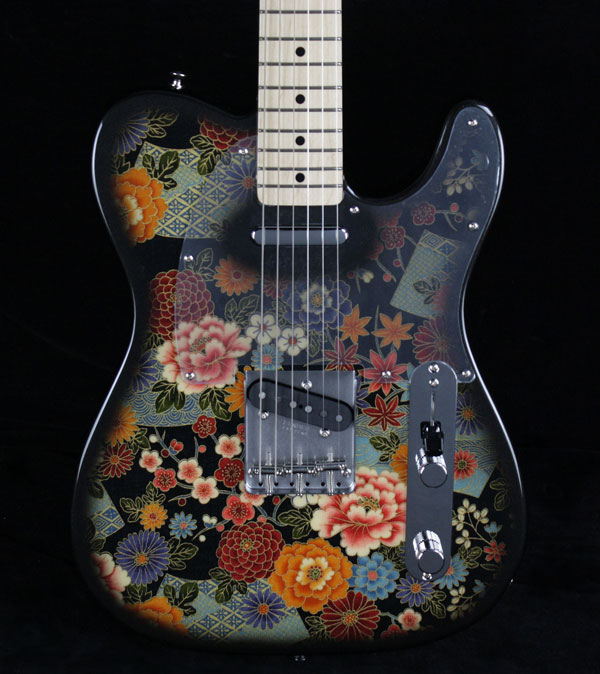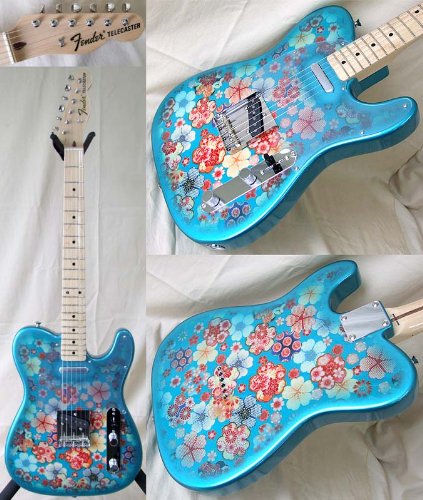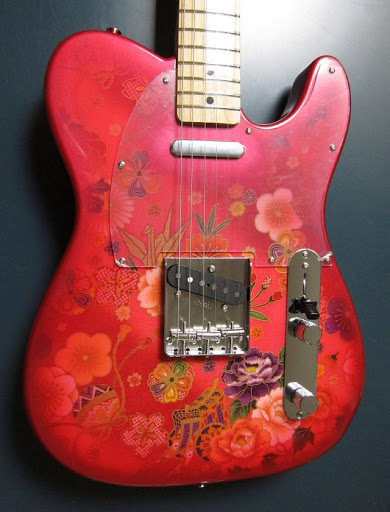 The 3 SPL colours
Telecaster TL69 Rosewood Models
Inspired by George Harrison these guitars are not solid Rosewood but some have chambered bodies to reduce the weight from ridiculous to pretty heavy. Usually around 4 to 4.5 kgs. Others are basswood or other wood with Rosewood back and Top
The TL69-98 and TL69-115 appeared from the early 80s to 1991 although in 1990 the TL69-98 was referred to as the TL69-900.
The TL69-150 appeared from 1996 to 1999.
FSRs are also produced from time to time.

Specifications
These are the specifications from official sources but the actual guitars often vary particularly the bridges I have seen several models with the wrong bridge some will have been changed but some wrong bridges are original. Therefore be wary of identifying the model by the bridge. TC Gakki currently have one for sale (Feb 2020) Body is stamped TL69 90 neck is stamped TL69 115 and the bridge is 6 section chrome?
| | | | |
| --- | --- | --- | --- |
| | 115 | 98 | 150 |
| Body* | Rosewood around a thin layer of Maple | Rosewood around a thin layer of Maple | Rosewood around a thin layer of Maple |
| Neck | Rosewood Maple stripe U shape | Rosewood Maple stripe U shape | Rosewood Maple stripe U shape |
| Board | Rosewood 184mm radius 21 Vintage Frets | Rosewood 184mm radius 21 Vintage Frets | Rosewood 184mm radius 21 Vintage Frets |
| Logo | Transition Gold | Transition Gold | Transition Gold |
| Tuners | Vintage Kluson Style | Vintage Kluson Style | F Schaller Vintage |
| Pickups | Vintage Made in USA Telecaster 1 Chrome 1 Black | Telecaster Vintage Made in Japan 1 Chrome 1 Black | Vintage Made in USA Telecaster 1 Chrome 1 Black |
| Controls | Standard Telecaster Knurled Silver Knobs Black Switch Tip USA Made | Standard Telecaster Knurled Silver Knobs Black Switch Tip | Standard Telecaster Knurled Silver Knobs Black Switch Tip |
| Nut | 42mms | 42mms | 42mms |
| Hardware | Chrome | Chrome | Chrome |
| Bridge but see above | 3 section Brass | 6 section Chrome | 3 section Chrome |
| Pickguard | Black 3 ply | Black 3 ply | Black 3 ply |

This is a TL69-98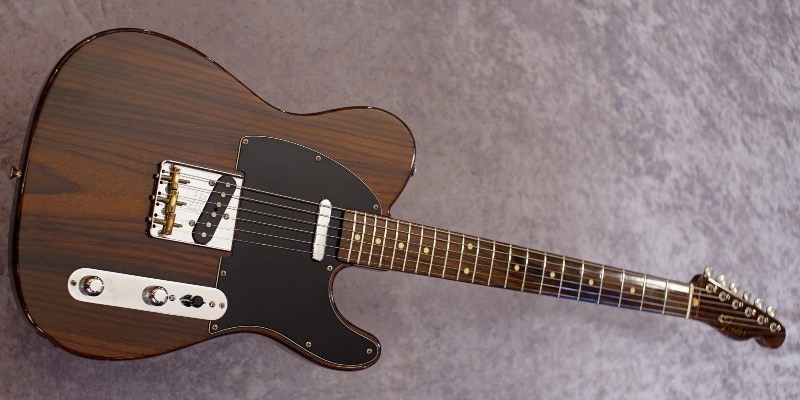 This a 115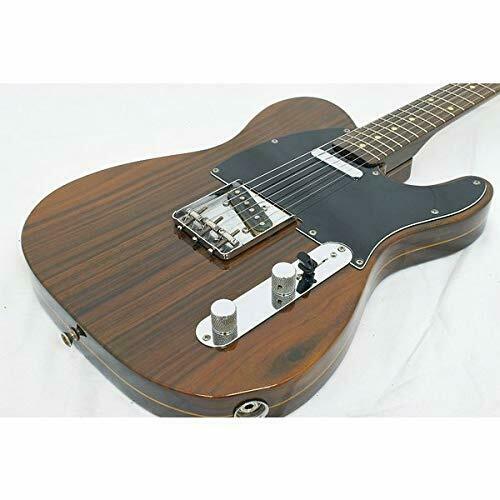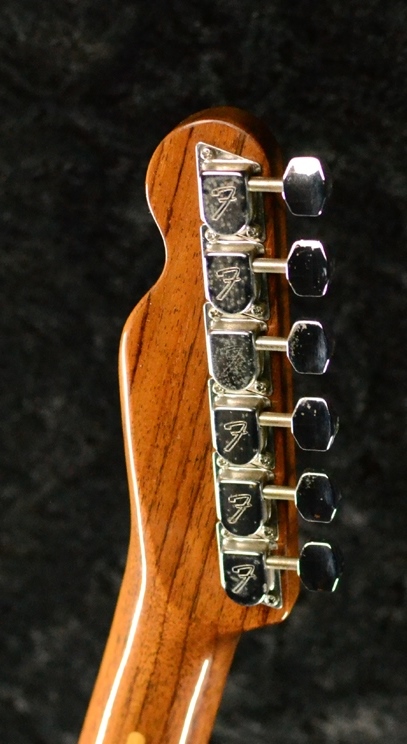 These details are from a 150