Important
The catalogued models are the ones made by Fender for the domestic market some of which were exported but they also made guitars solely for export and except for the 1990s Collectable series most of these weren't catalogued and specs can vary some will be the equivalent of the high end models and some the lower end ones but may not be an exact match.

Fender Japan Telecasters TL-52
These guitars are made to similar specs to the original 1952 Telecasters, as always they are not styled as reissues (with one exception) and with the exception of the Extrad range are not meant to be exact replicas.
Japanese manufacturers never make life simple and Fender Japan excels itself with the TL52 range. It is one of the most difficult to catergorise I have ever come across. Only exceeded by some Yamahas.
The difficulty is that designations change sometimes it is the same model sometimes there are slight variations and even more difficult sometimes a model will be released that has the same name as a previous one but is a different guitar.
So a TL52-70 was released as a new model in 1994 even though there was aTL52-70 in 1985 that was a completely different guitar.
I am going to try to make some sense out of this by doing it by eras randomly chosen to get as clear a picture as I can.

General
All TL52 models unless I tell you otherwise later will have all these features in common
Neck Maple with a Maple board or 1 piece Maple 324mm scale 7.25" radius
21 vintage frets
Pickguard Black single ply 5 hole
Bridge 3 saddle brass through body
Vintage Tuners
1.65" Nut
Neck shaped varied from U shaped to full C and some V shapes I will clarify with each model were I can
A headstock that looks like this picture with this logo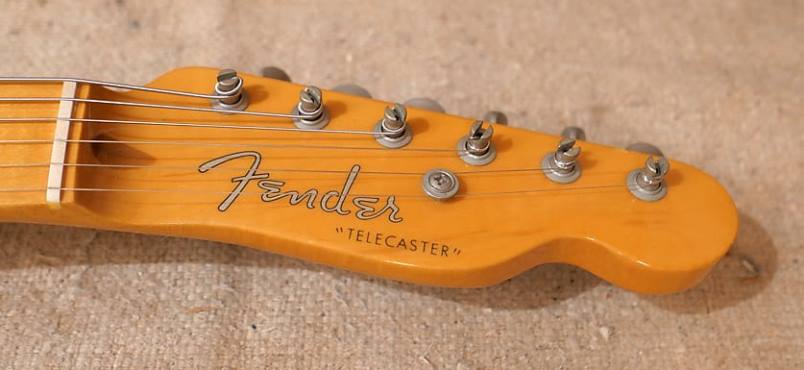 Telecaster TL52s 1980s
The first TL 52 models were made in 1982 and from 82 to 84 there were JV TL52s. I don't intend to cover these excellent guitars please look up the 21 frets website for these
In the mid to late 80s there were 4 distinct models (plus the Extrad covered later), these were
TL52-95 of which some left handed guitars were produced
TL52-70 which became the TL52-75 due to a price increase in 1986
TL52-65
TL52-70SPL described in the Collectors section of the catalogue

Specifications comparisonsAll as general above

| | | | | |
| --- | --- | --- | --- | --- |
| | TL52-95 | TL52-70 and 75 | TL52-65 | TL52-70SPL |
| Body | Sen | White Ash | American Basswood | White Ash |
| Pickups | 2 USA made Vintage Tele | 2 Tele Vintage | 2 Tele vintage | 1 Vintage Tele 1 Dragster Humbucker at the neck |
| Colours | Blonde or Butterscotch Blonde | as 95 plus Natural | Charcoal Burst | Blonde |
All models are described as having U shaped necks
Colours are as per the catalogue there is no doubt that there will be others about especially as there will be export models with variations.
Note The SPL has an incorrect bridge in that it is 6 saddle.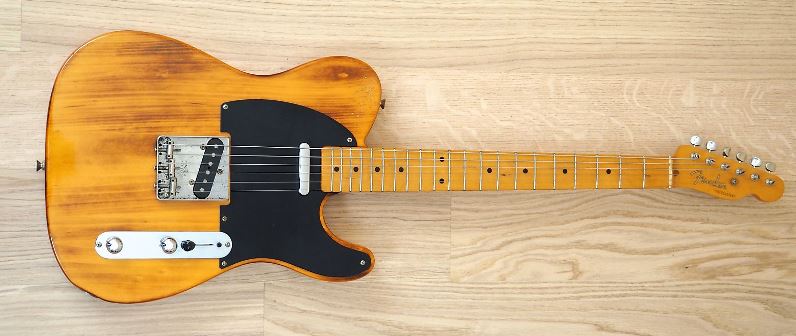 This is an TL52 in Charcoal Burst (CCB) it may not be a TL65 as the body is said to be Ash shows the difficulty.
Telecaster TL52 1990 1991
In 1990 Fender Japan changed their designation system whereas the last number had represented the release price in 1000 yen the new system represented the price in 100 yen so a TL52-95 had been 95,000 yen the new TL52-900 was 90,000 yen.
The replacement models and changes were
New models are TL52-900, TL52-700, TL52-600 and TL52-650SPL
The TL52-900 replaced the TL52-95 but with some significant changes which were
The body was now a lacquer finish on a Light weight Ash body and a new colour option of Natural was added
The 700 replaced the 75 body now described as Light Weight Ash but still a poly finish again Natural added as a colour option
The 600 replaced the 65 with no changes except it is now said to have a USA made bridge for some reason
The 650SPL replaced the 70SPL with no changes
What seems a little strange is despite models staying the same and any changes being improvements any price changes are reductions
They are now describing all necks as "Oval type" which can be anything usually a deep C or still a U this description of the necks continues to the present day. It is worth bearing in mind that there have been at least three different factories building these and it would be surprising if the necks didn't vary but "oval" covers anything really.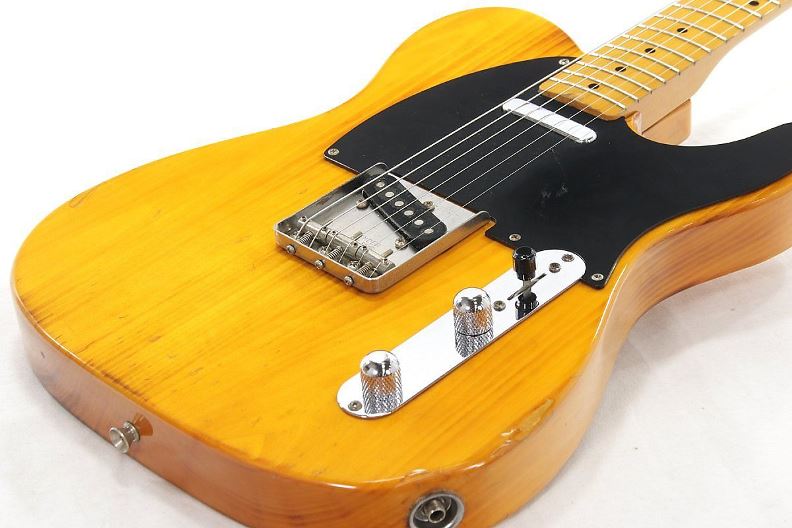 This is the body of a TL52-600 in CCB again, you would hard pushed to tell the model from photos
Telecaster TL52 1992 to 1995
In 1992 Fender Japan changed back to the earlier system of the last numbers referring to 1000 yen and the model numbers were back to the same as 1989. So once more we had a TL52-95 75 a 65 and a 70SPL
These models continued through to 1994 with slight designation changes to refect price changes but with the same specifications as the 900 the 700 and the 600 the 80SPL had the same specifications as the SPLs before.
So the 1993 onwards TL52-95 and the TL52-75 are not the same guitar as the pre 1990 models but are the same as the 900 and the 700, I said this was confusing. The changing designations are shown below
1992
52-95
52-75
52-65
52-70SPL
1993
52-95
52-75
52-65
52-70SPL
1994
52-110
52-85
52-75
52-80SPL
1995
52-110
Gone but see below
52-75
52-80SPL
The changes between 1993 and 1994 actually happened in a second issue of the catalogue in 1993 so some 1993 guitars will have the 1994 designation
In the later 1993 catalogue a new model TL52-70 appears and is shown as a new model but when it appears in the second 1994 catalogue but when it appears in the 1995 catalogue it is still described as a new model.
It can also be seen that the 52-75 in 1995 is the same guitar as the 52-65 of 1993 not the same as the 1993 52-75
Another new model the TL52-200BB appears in the 1993 catalogue
Another curiosity is that the TL52-75 in 1994 now has Chrome Saddles instead of Brass.

TL52-70 New Model mid 1994
Body Light Weight Ash
Neck Fotoflame finish
Pickups TL Vintage
Colours Old White Blonde or Natural
Note this is another model with Chrome saddles

New Model TL52-200BB
This appears in the custom section of the 1993 catalogue the BB indicating a B Bender
Body Light Weight Ash
Pickups USA made tele vintage
Bridge 3 section Brass B Bender type
Colours Vintage Natural, Old White Blonde or Brown Sunburst

Some Pictures first the new TL52-70 showing the Fotoflame neck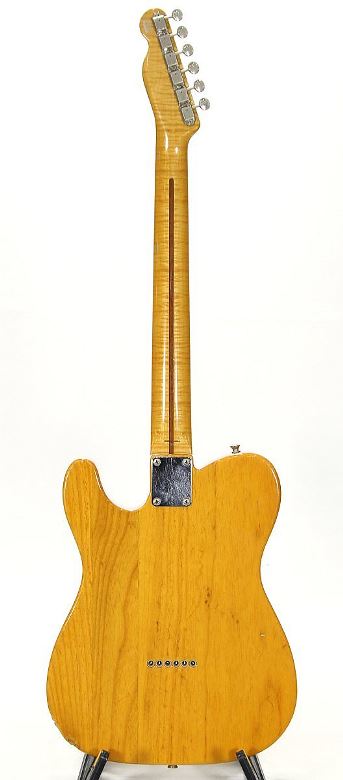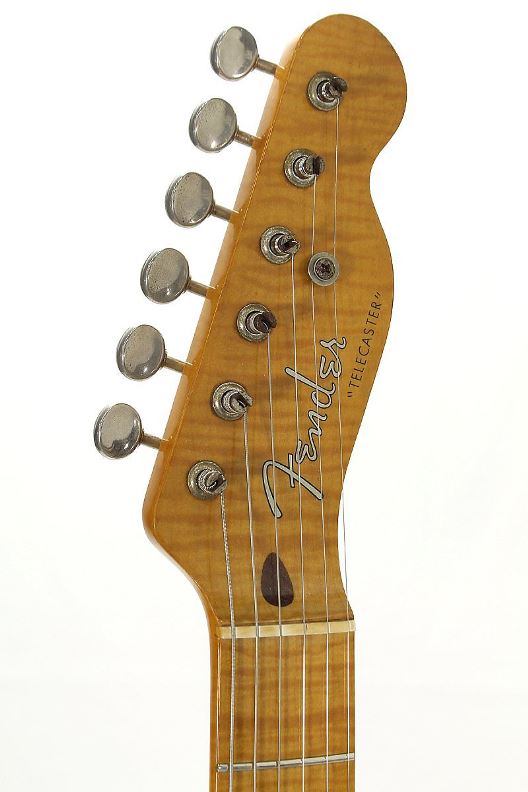 Then the TL52-200BB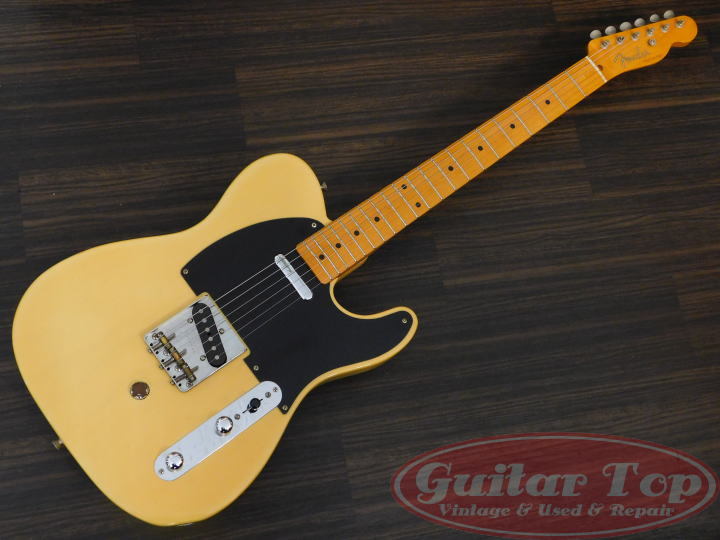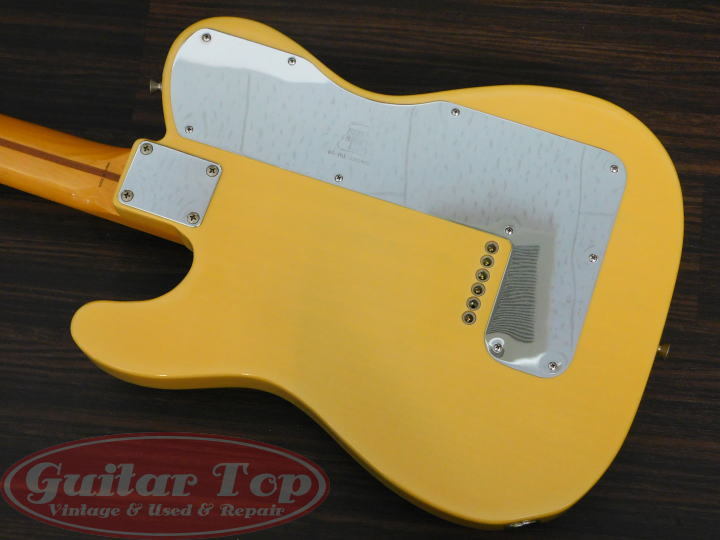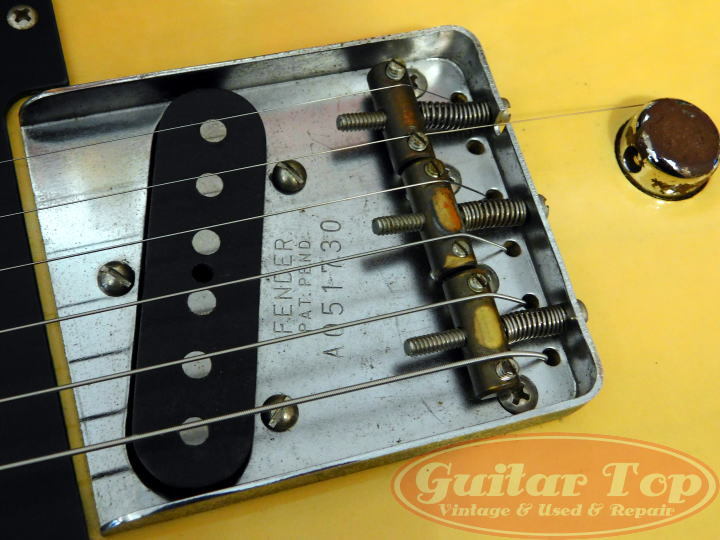 Telecaster TL52 1996 to 2009
1996 all change again the models are in the 1996 catalogue: TL52-80TX TL52-75 TL52-70 TL52-80SPL, The TL52-75 and 70 are the same as previous years and have gone by the 1997 catalogue which has a new TL52-65 not the same as previous TL52-65

So the 3 new models up to 1997 are the following specs:
| | | | |
| --- | --- | --- | --- |
| | TL52-80TX | TL52-65 | TL52-80SPL |
| Body | Light Weight Ash | Light Weight Ash | White Ash |
| Pickups | USA made Tele Texas Specials | TL Vin | 1 TL Vintage and 1 Dragster Humbucker |
| Colours | Vintage Natural | Vintage Natural or Old White Blonde | Old White Blonde |
Note the 65 has Chrome saddles and as previously the SPL has 6 section Bridge with Brass Saddles
There are no changes in 1998 but in 1999 we lose the TL52-65 and gain a TL52-70US
TL52-70US
Body Sen
Pickups 2 USA made Tele Vintage
Colours Vintage Natural or US Blonde
Again this is a model with Chrome Saddles

2000, 2001 and 2002 saw no changes at all
In 2003 there is a new model the TL52-110BTX, which is a Bigsby Model
Body Ash
Pickups are 2 USA made Texas Specials
Colours Vintage Natural or US Blonde
Bridge 6 Saddles Chrome Bigsby Vibrato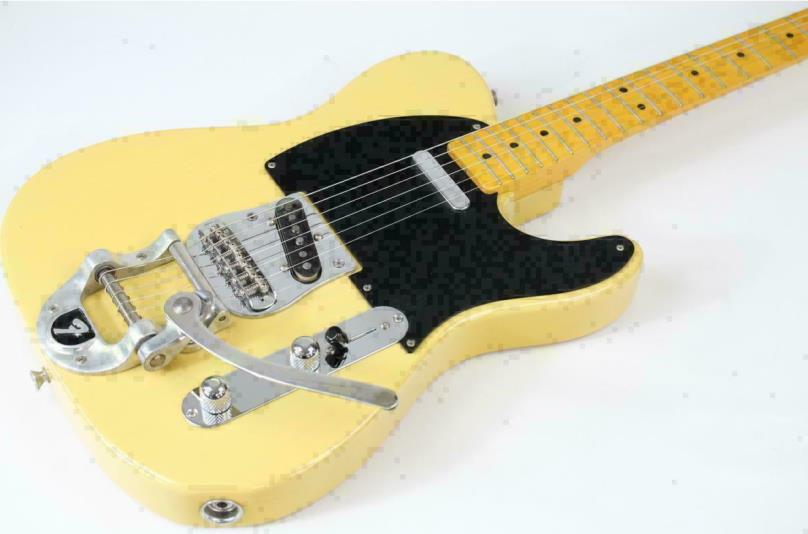 The 110BTX
2004 to 2006 saw no changes and in 2007 there was a small price rise resulting in redesignating all models so we now have
TL52-88TX, TL52 118BTX, TL52-78US and The TL52-88SPL

2008 saw yet another change in the way models are designated. The numbers designating the list price have been dropped, shame they ever used them causing so much confusion. The models are now:
TL52TX TL52BTX TL52US and TL52SPL with no change of specs
Telecaster TL52 2010 to 2013
Another revamp we have 4 models now:
The new vintage special range has a TL52-VSP
The Vintage Premium Range has the 58-TX
The Vintage range has a TL52
The Craft Premium Range has the TL52-SPL Specifications now
| | | | | |
| --- | --- | --- | --- | --- |
| | TL52-VSP | TL52-TX | TL52 | TL52-SPL |
| Body | 2 Piece Ash | Ash | Ash | Ash |
| Pickups | 2 MIJ Custom Alnico Tele | 2 USA Made Texas Special Tele | 2 MIJ Tele vintage | 1 MIJ Vintage Tele 1 Dragster Humbucker at the neck |
| Colours | Vintage Natural | Old White Blonde or Vintage Natural | Old White Blonde or Vintage Natural | Old White Blonde or Vintage Natural |
The VSP and The TX have the traditional 3 brass saddles, the 52 has 3 Chrome saddles the SPL as always has the 6 piece chrome.
Prices in the 2010 catalogue VSP 133350 yen, TX 99750 52 87150 Yen SPL 99750 Yen
2013 is the newest catalogue I have access to and as at 2013 there are no changes
This is The TL52-VSP
Telecaser TL52-DMC Guitars

Some DMC (DiMarzio Collection) guitars have been released from time to time haven't seen any TL52DMCs in catalogues but I know the following exist all DMC guitars feature CTS pots TL52-110DMC This guitar existed in 2005/6 CIJ
Body 2 piece American Ash Lacquer Finish
Pickups: Dimarzio passive single coil DCT-1 Tele set
Colour at least Vintage Natural
V Profile Neck
It continued in 2008 as the TL52-120DMC not sure how long for.

TL52-DMC/VSP
This guitar existed around 2008 to 2010 specs are as the 110DMC above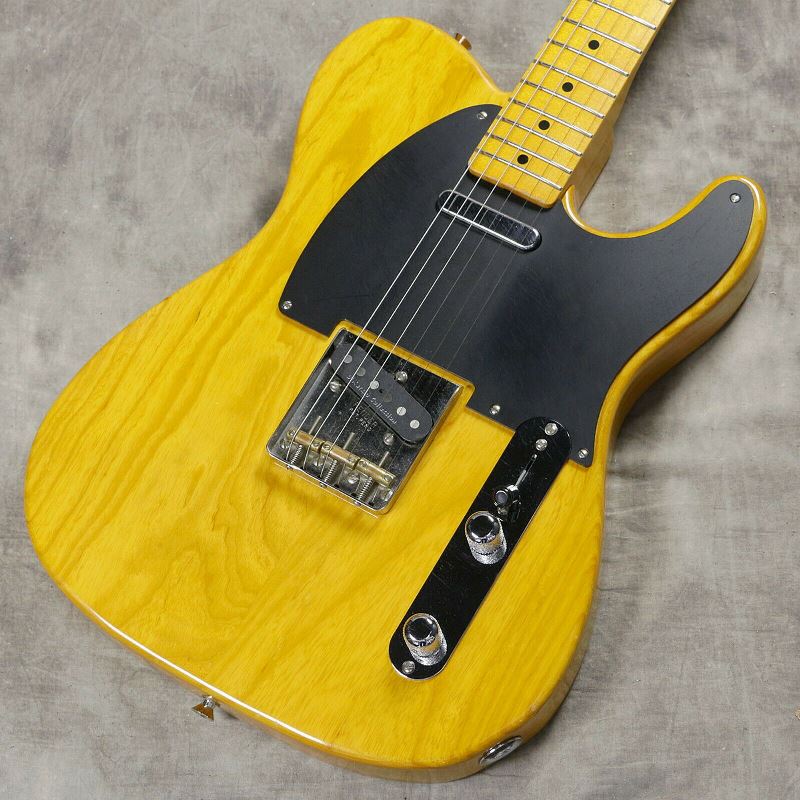 One of the DMC this one is the VSP but you can't tell the difference between them from picture of the body.
Telecaster TL52 Japan Traditional
The vintage style guitars from around 2014 to 2019 were marketed as the Japan Traditional range.
The relevant guitar was the Traditional 50s Telecaster.
Details:
Body Basswood
Neck U shaped
Pickups MIJ Vintage style Tele
Colours Black, Vintage Natural, US Blonde or Sunburst

I believe this colour is US Blonde Nice!
Telecaster TL52 2013 Limited Editions TL52-SPL/DP
In 2013 there were a whole lot of limited editions to mark the 40th Anniversary of Fender Japan. These included a TL52-SPL/DP it really wasn't quite what you would expect from a TL52. Having a very non vintage bridge and DiMarzio pickups.
Specs
Body Ash slightly squared
Neck Maple oval shape (C)
Fretboard Maple 21 Vintage frets 7.5" radius
Pickguard Black single ply
Nut 42mm
Controls knurled Knob Chrome standard Modern Tele white switch tip
Pickups Dimarzio DP173(TWANG KING Bridge)×1 Dimarzio DP103(PAF)×1 neck
Bridge 6 saddle all brass
Tuners sealed diecast
Headstock Standard 52 Tele 1 round string tree.
Colours Old white blonde only
Launch price 125,000 yen
Said to resemble Keith Richard's Micawber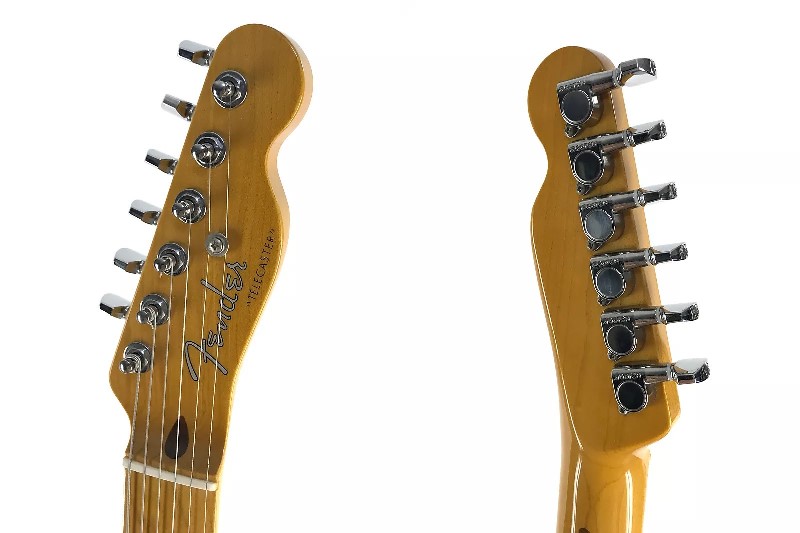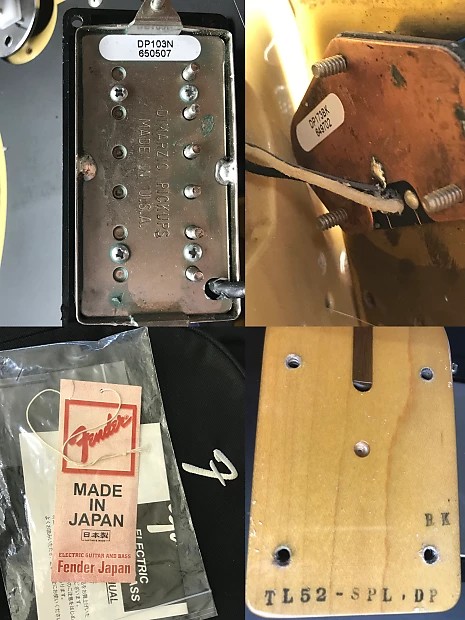 Some detail of the TL52-SPL/DP
Telecaster TL52 More 2013 Limited Editions
As well as the above two other models with a 52 designation were released they were
TL52-22 and TLR52-NLS. Neither are particularly vintage as you can see from the specs.
Specs

| | | |
| --- | --- | --- |
| | 22 | NLS |
| Body | Ash | Ash |
| Neck | 1 piece Maple Oval shape | 1 Piece Maple Oval shape |
| Fretboard | Maple 22 Vintage Frets 184mm radius | Maple 22 wide oval frets 250mm radius |
| Pickups | 2 Single coil vintage Tele Alnico | 2 Fender Vintage Noiselesss |
| Pickguard | Black Single Ply | Black Single Ply |
| Nut | 42mms | 41mms |
| Bridge | 6 section steel | 3 barrel chrome |
| Controls | Standard modern tele with chrome knurled knobs and black switch tip | Standard modern tele with chrome knurled knobs and black switch tip |
| Colours | Natural | Natural or Old White Blonde |
| Launch Price | 95,000 yen | 110,000 yen |
| Tuners | MHG-SD91 IS Vintage Style | MHG-SD91 IS Vintage Style |
Karsten Jensen has written to me about a limited edition of the limited edition.
He says In addition to the TL52-22 you mention and show, there is also a rare 2013 limited edition version of this guitar, which is not in any catalogue. I have one myself, bought in Japan. It is identical to the one shown, but it has a Strat type carve for the belly and the right arm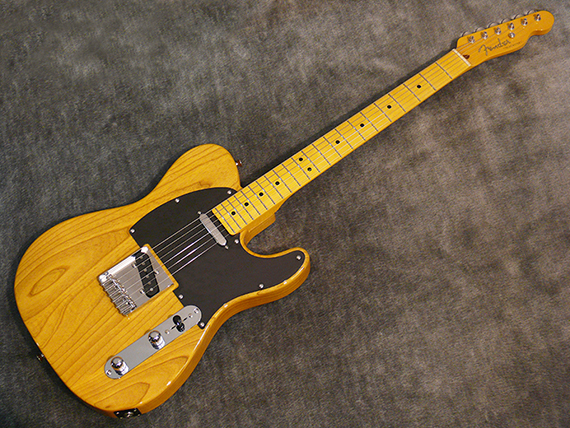 The 22 on the right the NLS on the right
This is the one with the belly cut mentioned by Karsten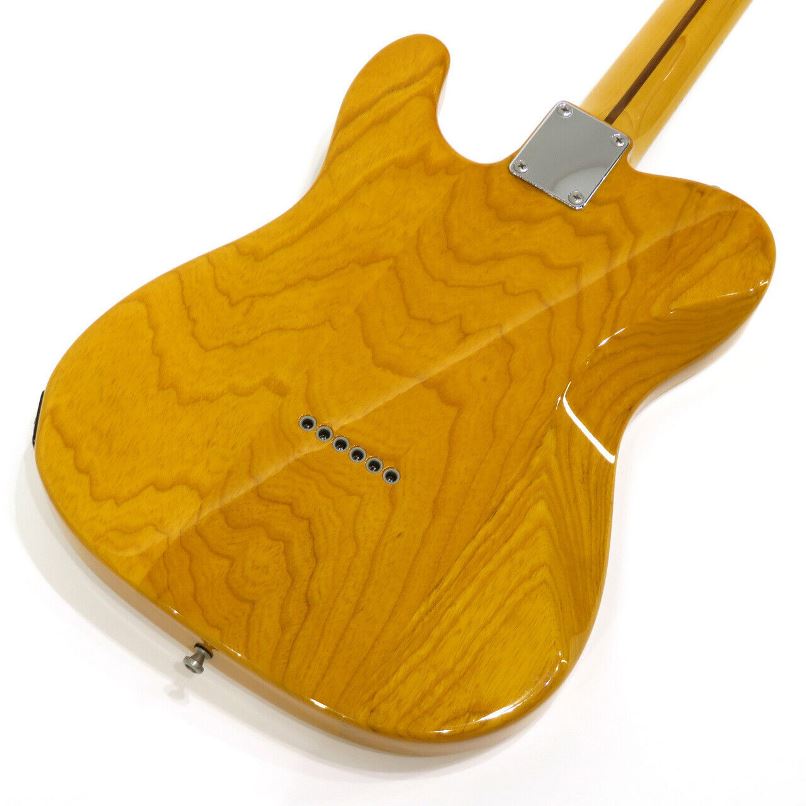 Telecaster TL52 A 2019 limited edition

In 2019 Fender Japan launched a range of "Limited Edition" Guitars this range included a 52 Telecaster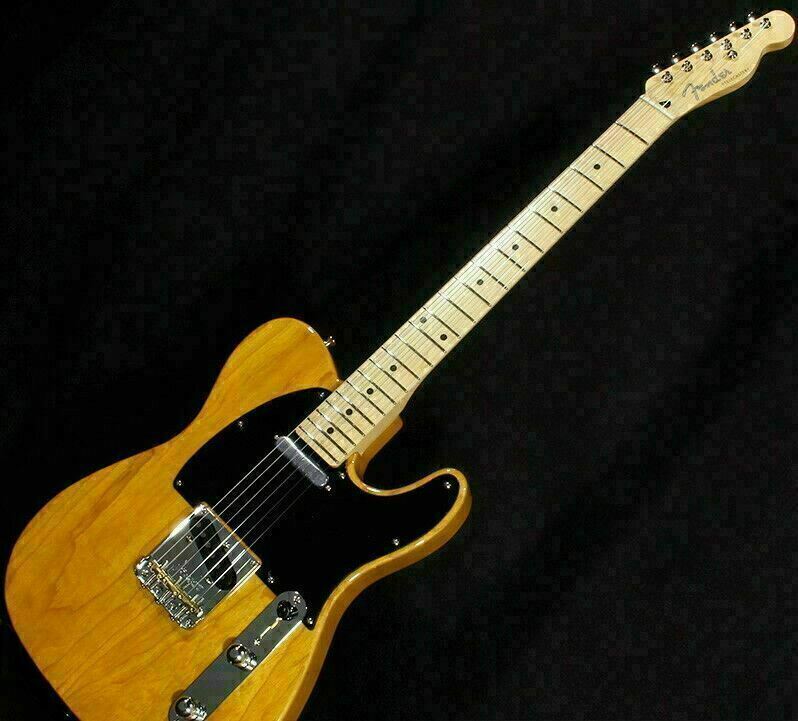 This is the 2019 Limited Edition
The blurb
The Fender Made In Japan 2019 Limited Collection Telecaster has a 2-Piece Select Ash Body, Modern "C" Maple Neck, Maple Fingerboard w/9.5" Radius, 3-Saddle Vintage-Style Strings Through Body Tele® Bridge w/Compensated Brass Barrel Saddles, Vintage-Style Locking Tuners, Custom Shop Twisted Tele® Single-Coil Pickups, Incl. Hard Case.
Obviously some of these features take away from the Vintage style of other models.
Telecaster TL52 Japan Heritage Series
This series was launched in 2020 supposedly under the supervision of ex custom shop Mark Kendrick now director of global build standards. These are domestic only models intended to be much more period correct than previous MIJs including nitro finishes.
The Heritage 50s Telecaster looks like this.

Not sure about the white pickguard
Here's the blurb
Modelled after the original Telecaster introduced in 1951 by Leo Fender, this guitar features an ash body and a 1952 U-shaped maple neck. Tone is provided by a set of Premium Vintage-Style '50s Tele pickups, and tuning stability is courtesy of a Strings-Through vintage bridge that features brass barrel saddles. Nitrocellulose Lacquer Over Urethane Finish available in Butterscotch Blonde or White Blonde.

Specifications
Body Ash Gloss Lacquer Finish
Neck Maple U Shaped Nitrocellulose Lacquer Over Urethane Finish
Fretboard Maple 21 Vintage Frets 7.25 radius
Headstock Standard Tele style Gold Spag Logo and Telecaster on Front Serial Number and Made in Japan on back
Tuners Pure Vintage Style Fender Deluxe
Pickups 2 Premium Vintage Style Single Coil Tele Neck Chrome Bridge Black
Controls 1 Volume 1 Tone 3 way switch
Nut 1.615" Bone
Hardware Nickel Chrome
Bridge 3 brass saddle vintage style tele through body stringing
Pickguard Black on the Butterscotch White on the White 5 screw
Colours Butterscotch Blonde or White Blonde
Years available 2020 Onwards
Made by Dyna Gakki
Telecaster Hybrid 50s
Though not really a 52 I thought I should cover it so I have done it on a separate page here:
Hybrid Telecaster
Telecaster TL 52 Custom Orders etc
Some 52s are custom order models JJLC from the Telecaster forum has provided some information his thoughts are here
Custom Order
Telecaster TL52 Extrad
The Extrad range tries to faithfully replicate the original vintage guitars. They are rare in the west and as such are regarded as collectors items and when offered for sale are offered at pretty high prices. If it is an Extrad it should have Extrad written on the back of the headstock or by the serial number. However TCGakki whilst not clear suggest that some early models don't have Extrad written on. Some came with a Certificate
I would be inclined to the view that if it doesn't say Extrad or have a Certificate it isn't one.
Some people find an EX mark in the neck pocket this does not mean it's an Extrad it indicates an Export guitar

Extrad Guitars included the following models launched in the years stated
1986 TL52-120
1989 TL52
1992 TL52-117
1993 TL52-135
The Extrads don't seem to have been in constant production but came and went. In the main these were 2 piece Ash bodies with Nitro finish on the body and neck. They have USA made vintage pickups and are as close as you will get to a 52 Telecaster. How expensive they were can be seen from the model numbers. Many of them maybe all had serial numbers of just 4 digits see the certificate below.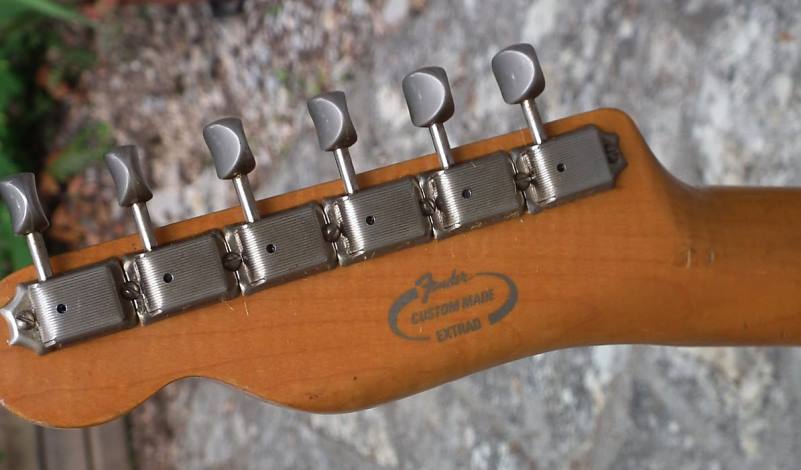 If it hasn't got this on the reverse of the headstock or by the serial number be wary. Unless it has one of these.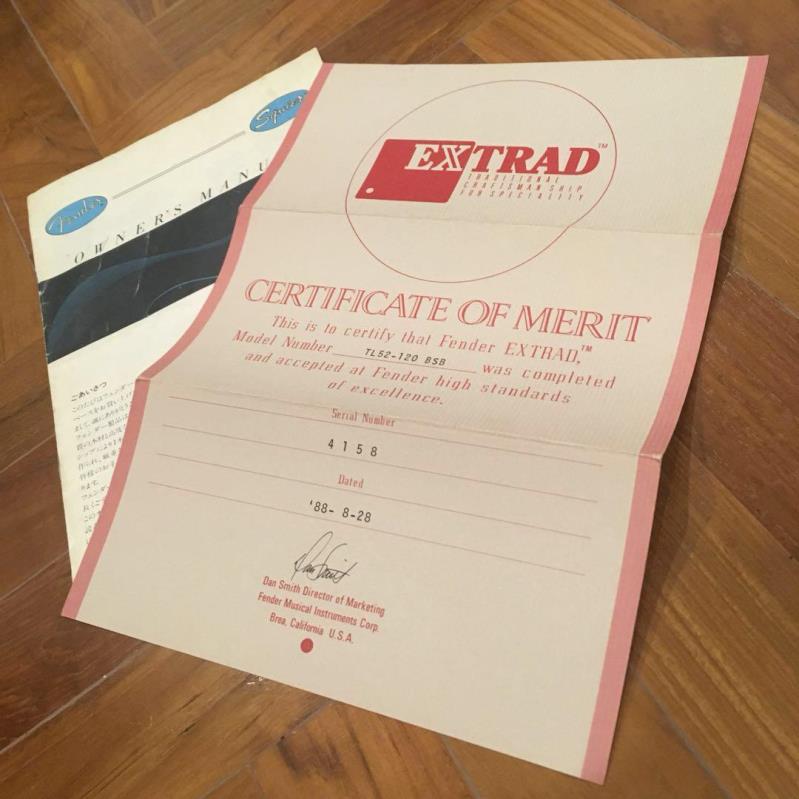 Telecaster TL52 Collectables Western Catalogues
From time to time Japanese guitars feature in Western catalogues they don't always say they are Japanese guitars but you can tell
Some examples of 52s
Starting in 1992 there was a reissues section which later came to be styled Collectables spelled that way. These include a model described as 50s Telecaster
Body Basswood all features are exactly as the lower end TL52s of the time except it has a white pickguard. Also featured are are other MIJ teles including a Paisley 2 Thinlines and 2 Customs.
This continues into the 1996 listing onwards This is the model I own interesting the number of colours it came in
Blonde, Black, 3 Tone Sunburst, Candy Apple Red, Shell Pink or Sonic Blue, the Left handed model Blonde only. At the same time the 1996 Under reissue in the Fender Frontline there is an MIJ 50s Telecaster with all the same specs except a white pickguard. Strangely the 50s Telecaster MIJ appears in the 1997 Frontline but pictured with a black pickguard on a blonde guitar with all the same colour options as before so maybe the white pickguard is only on some colours
By 1999 the 50s Telecaster in the frontline was one made in Mexico.
This is my guitar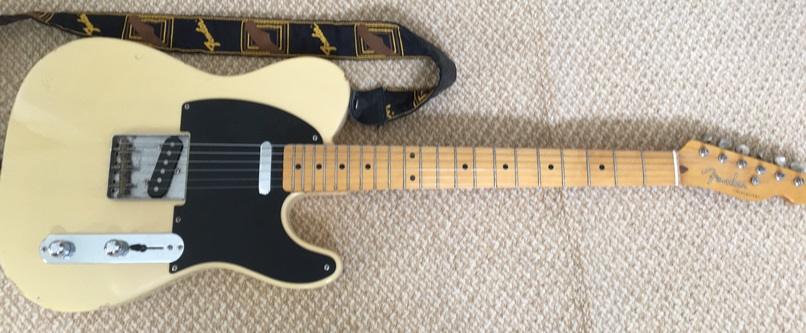 The neck markings and the catalogue scan