Fender Japan Telecaster Custom
The Japanese Telecaster Customs are in most cases similar to the vintage USA models. Originally Custom referred to having a bound body, the Japanese equivalent of this is the TL62B range which I have covered in the TL62 pages. In the early 1970s it came to mean a Telecaster with a humbucker as the neck pickup the Japanese version is the TC72 models which, with some exceptions are the ones I will cover on these pages.

Timeline and designations
First seen in the 1983 catalogue as TC72-65
in 1985 the price had reduced and it became TC72-60 which it remained until 1989
In 1990 Fender Japan briefly changed thier designation system so that there are 3 numbers at the end representing 100s of yen instead of 1000s of yen. So we now have the TC72-550 another price drop
In 1992 the system changed back and we now have the TC72-60
In 1994 it became the TC72-70 until 2007
2007 now the TC72-78 weirdly though priced at 81900 yen
2008 Becomes the TC72 at 91300 yen
2015 is the start of the Japan Exclusive series of which more later.

This is a 2013 model in Natural this colour isn't in the catalogues
The specs for this guitar remained largely unchanged for 15 years from launch. Some changes happened from around 1999. Obviously there will be some minor changes such as placement of serial numbers MIJ and CIJ etc.

Specifications
Body Basswood until 1999*
Neck Maple Oval (C shaped) 3 bolt
Fretboard Maple 21 Vintage Frets 184mm radius Dot Markers
Headstock 70s style Bullet truss rod CBS Logo and Telecaster Custom on Front 2 Butterfly String Trees
Tuners Gotoh Sealed diecast type.
Pickups Vintage Telecaster Single Coil with a TN Humbucker in Neck Said to be ceramics***
Controls 2 Volume 2 Tone 3 way switch black with silver top witches hat type
Nut 42mms
Hardware Chrome
Bridge 3 section Chrome Saddle
Pickguard Black 3 ply
Colours Black only until 2006**
*In 1999 The body wood changed to Ash
**in 2006 US Blonde added
**In 2008 3 colour sunburst added
***It is more than possible that different pickups were used at different times In 1999 when the body wood becomes Ash it is described as a new model in the Vintage Collection series but in reality only the wood has changed.
Some Pictures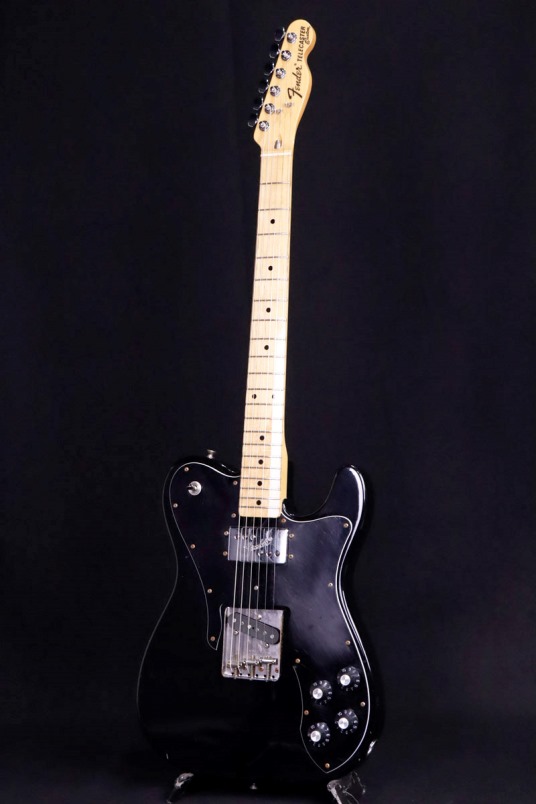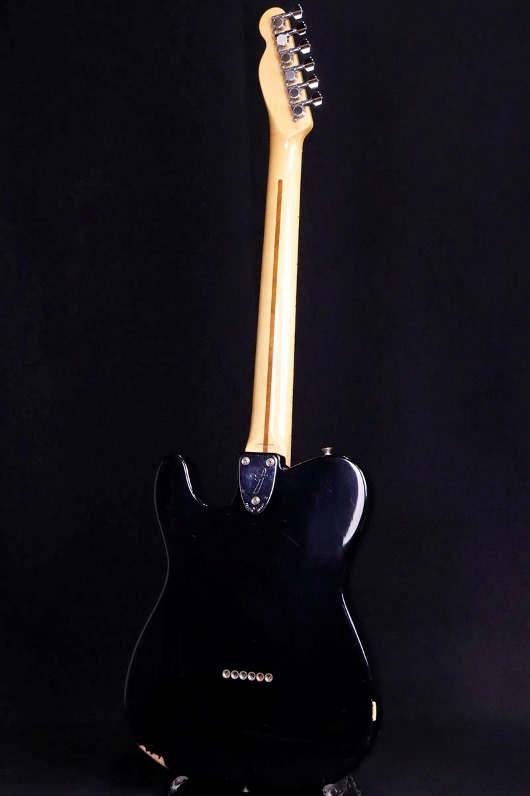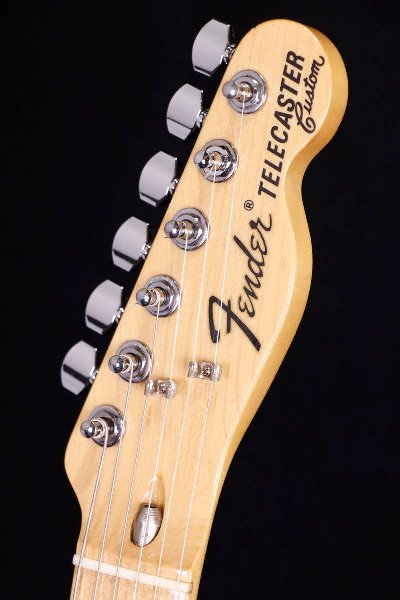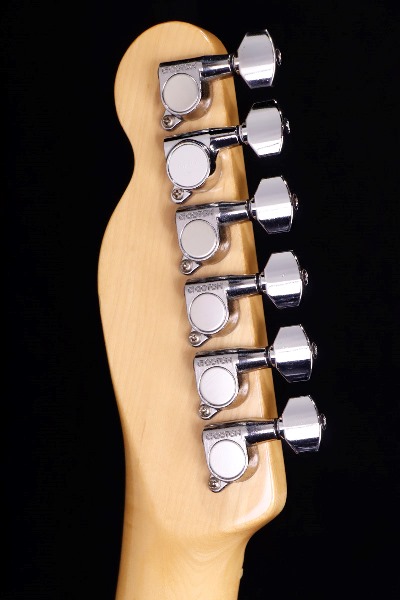 Telecaster Custom Japan Exclusive
In 2015 the Domestic Japanese Vintage Fenders were produced as the Japan Exclusive Range. The Custom was featured with very little change. The main one being the Tuners are the more correct F stamped type. Visually the same as previous models.
Specs
Body Material : Ash
Neck 1 piece Maple C shape
Fretboard Maple 21 Vintage Frets 184mm radius
Headstock 70s style Bullet truss rod CBS Logo and Telecaster Custom on Front 2 Butterfly String Trees
Nut 42mm
Pickups Standard Single Coil Tele Fender Wide Range Humbucker (probably ceramics)
PickGuard 3 Ply black
Hardware Chrome
Colours Black*
Manufacturer's suggested retail price ¥101,520
*Only seen black could be others
Made exclusively for the domestic Market
Telecaster Custom Japan Traditional Series
The first range of the Traditional series came out in 2017 and featured a Custom 60s and a custom 70s the second series from 2020 just featured a Custom 70s. The traditional Telecaster range is covered elsewhere on this site see menu.
Telecaster Custom Japan Heritage Series 2020
Just a Custom 60s Model and again covered in its own section.
Telecaster Custom JV Modified Series 2022
Just a Custom 60s Model.
Japan Hybrid Telecaster Special or Limited Editions
Hybrid Telecaster Custom 70s
This special edition is a limited release of 50 units outside Japan.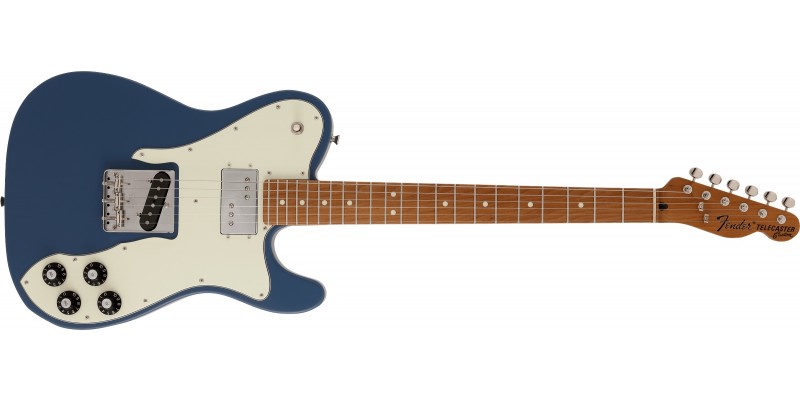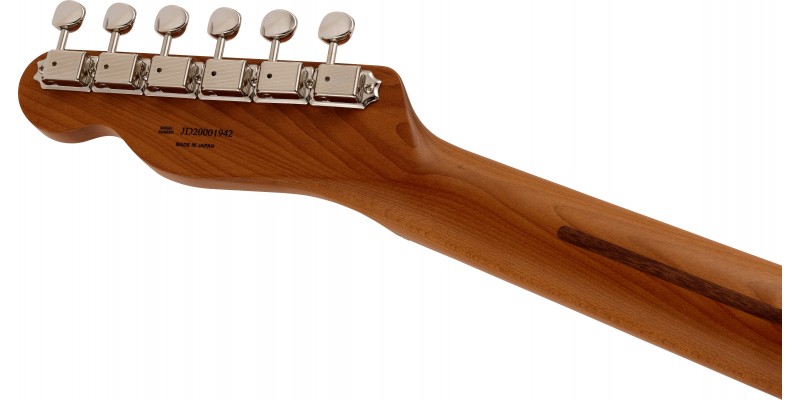 Note the tuners
Specs
Body Alder with Satin Polyurethane Finish
Neck 3 bolt Roasted Maple U shape Satin Polyurethane Finish
Fretboard Roasted Maple 241mm radius 22 Medium Jumbo Frets white dot markers
Headstock See picture below
Nut 42mm Bone
Pickups Vintage Style Single Coil Tele with Fender wide range Humbucker
Controls 2 volume 2 tone 3 way switch Black Silver Top Witches hat style
Tuners Vintage Style Locking
3 Barrel Chrome saddles
Hardware Chrome
Pickguard 3 ply mint green
Colour Indigo Only

Telecaster Custom Abe Futoshi Model
The dates for this are not very clear the earliest I have seen is around 1997 and the latest around 2006. I can't find them in any catalogues but plainly they exist. The model designation is TC72TS and there are some differences from the TC72 models shown above. Seem to be quite a bit of variation on these.
The main modification from the TC72 models is the removal of one tone control to allow the 3 way switch to be put in its place rather than in the "Gibson" position.
Specs
Body Ash
Neck Maple 1 piece slim Oval 3 bolt
Fretboard Maple or Rosewood 21 Vintage Frets 184mm radius Dot Markers white on the Rosewood Black on the Maple
Headstock 70s style Bullet truss rod CBS Logo and Telecaster Custom on Front 1 Butterfly String Tree
Tuners Vintage Style F stamped
Pickups Vintage Telecaster Single Coil with a TN Humbucker in Neck Said to be ceramics***
Controls 2 Volume 1 Tone 3 way switch witches hat type
Have seen white control knobs, All black control knobs and Black with Silver top
Nut 42mms
Hardware Chrome
Bridge 3 section Chrome Saddle
Pickguard Perloid 3 ply Seen Red, silver and White
Colour Black Gloss
Some Pictures showing variety