Bill Alston
ST 57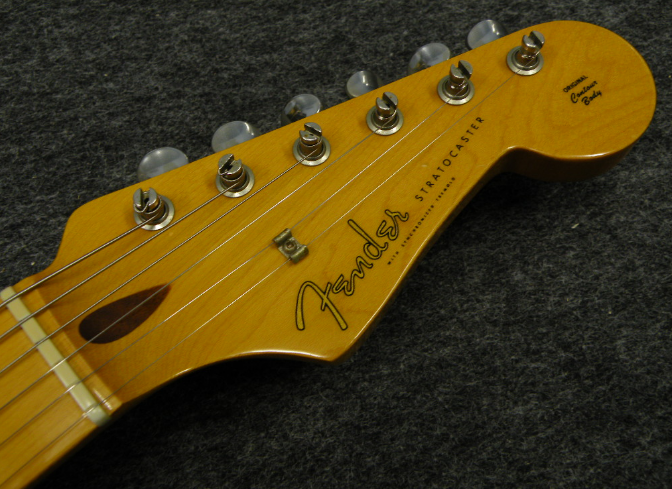 The headstocks of all 57s should look like this unless a special edition matching headstock or similar
Note left handed models often just have the Fender logo on the headstock
These guitars are made to similar specs to the original 1957 Stratocasters, as always they are not styled as reissues and with the exception of the Extrad range are not meant to be exact replicas. The models vary in quality the most basic being basswood with ceramic pickups others are quite high spec. You cannot easily tell some of the models apart without taking them apart.


Specs and models
Specifications common to all ST 57s
Neck: Maple usually 1 piece skunk stripe oval profile
Fret board: Maple 21 frets 7.25" radius
Headstock: Small Pre CBS style Gold Spaghetti Logo 1 Butterfly string tree
Tuners: Vintage Style see pictures
Pickguard: White 8 hole single ply
6 pivot vibrato unit.
If you see one with a round string tree it's either replaced or more likely it's an ST54 Manufacturing through the years at different factories may have produced variancies especially in the neck profile they certainly don't all feel exactly the same.

The Models 1985 to 1989
The models in the 1985 catalogue (post JV) all continued until the designation changes in 1990 except for the ST57-85 which vanished after 1987
ST 57-115
Body Alder
Pickups Vintage USA Made
Bridge Steel Block Vintage
Colours 2 Tone Sunburst, Vintage White, Black, Fiesta Red and Candy Apple Red

ST 57-85
Body Alder
Pickups Vintage USA Made
Bridge Steel Block Vintage
Colours 2 Tone Sunburst, Vintage White, Black, Fiesta Red and Candy Apple Red

ST 57-70
Body Alder
Pickups Vintage USA Made
Bridge Diecast Block
Colours 2 Tone Sunburst, Vintage White, Black, Fiesta Red and Candy Apple Red

ST 57-55
Body Basswood
Pickups Described as ST Vintage probably Ceramics
Bridge Diecast Block Vintage
Colours 2 Tone Sunburst, Vintage White, Black, and Candy Apple Red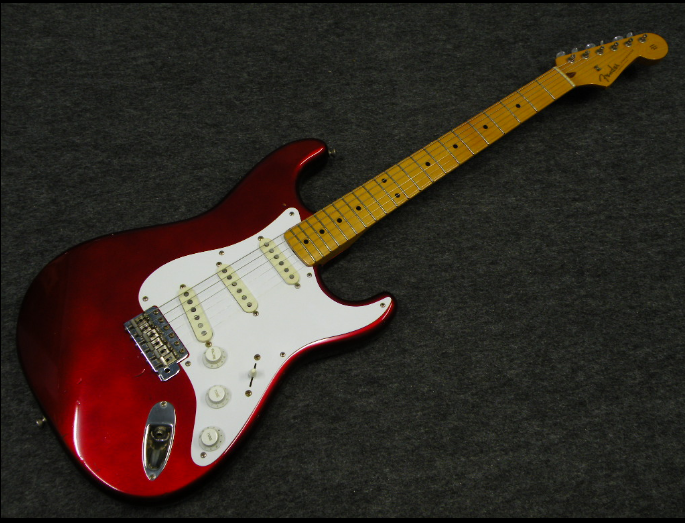 This is an ST57-85 e serial number in Candy Apple Red
1990 and 1991
In 1990 the model numbers changed to reflect the price in 100s of yen rather than 1000s, this continued in 1991 in all the prices were lower the range before was 115,000 yen to 55,000 yen whereas the new range was 90,000 yen to 48,000 yen The models were
ST 57-900
Body Alder with Lacquer Finish
Pickups Vintage USA Made
Bridge Steel Block Vintage
Colours 2 Tone Sunburst, Vintage White, Black, and Candy Apple Red

ST 57-650
Body Alder
Pickups Vintage USA Made
Bridge Diecast Block
Colours 2 Tone Sunburst, Vintage White, Black, Fiesta Red and Candy Apple Red

ST 57-500
Body Basswood
Pickups Vintage probably ceramic
Bridge Diecast Block
Colours 2 Tone Sunburst, Vintage White, Black, Fiesta Red and Candy Apple Red

ST 57-480
Body Basswood
Pickups Vintage probably ceramic
Bridge 6 saddle pressed
Colours 2 Tone Sunburst, Vintage White, Black, Fiesta Red and Candy Apple Red

ST 57-770LS
Body Alder
Pickups USA made Lace Sensor Gold mid boost and active circuitry
Bridge Diecast Block
Colours 2 Tone Sunburst, Black, or Pewter


1992 to 1995
In 1992 the designations reverted to 1000s of yen instead of 100s the models really were very similar with the 900 getting a slight price rise, becoming the ST57-95 and later ST57-110.
The ST57-95 becoming the ST57-110 in 1994
The redesignation of the ST57-900 identical specs and colours

ST57-70
Redesignation of ST57-650 with identical specs and colours except no Fiesta Red

ST57-53
A redesignation of the ST57-500 again identical specs and colours but no Fiesta Red

ST57-85LS becoming the ST57-95LS in 1994
Redesignation of the ST57-770LS identical specs and colours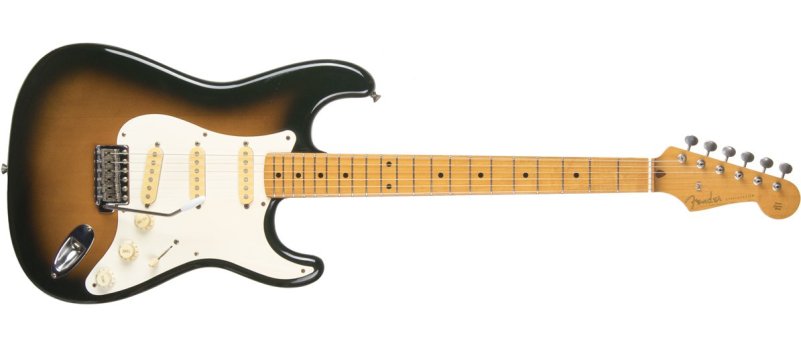 Bottom of the Range ST57-53
1996 to 2009
In the 1996 all previous models have gone except the ST57-53 which continues unchanged. A new model appears the ST57-70TX in 1998 the ST57-53 has gone and another new model the ST57-58US appears. These two models continue until 2006 when the price goes up and the numbers change to ST57-78TX and ST57-68US. Many funky colours are added along the way. Further price increases in 2008 and now the models are just called the ST57-TX now 90300 yen with an ALG model at 108150yen and The ST57-US at 79800 yen.
ST 57-70TX ST57-78TX and ST57-TX
Body Alder
Pickups Texas Specials USA Made
Bridge diecast S5D Block Vintage
Colours 2 Tone Sunburst, Vintage White, Black, and Candy Apple Red
In 2002 the colour collection options are added Including Fiesta Red, Lake Placid Blue, Sonic Blue and OTM which I think is Ocean Turquoise Metallic by 2008 a colour called US Blonde has also been added.
In 2008 there is a variation the ST57TX ALG this differs from the standrd model by being an Ash body in US Blonde only and being more expensive

ST 57-58US ST57-68US and ST57US
Body Basswood
Pickups Vintage AlnicoTexas Specials USA Made
Bridge diecast S5D Block Vintage
Colours 2 Tone Sunburst, Vintage White, Black, and Candy Apple Red
These also got the Colour Collection and as above Fiesta Red, Lake Placid Blue, Sonic Blue and OTM which I think is Ocean Turquoise Metallic are added. By 2008 Sonic Blue is also included


2010 onwards
The ST57-TX and the TX/ALG are still with us as is the ST57-US all models unchanged but 2 new models arrive the ST57 at 71,400 yen and the ST57VSP at 120,750 yen. It is possible that the basic ST57 was available a year or two earlier but just not featured in the catalogues. In 2011 the offering is the same but with the addition of an ST57/Ash at 126,000 yen. This continues unchnaged until at least 2016. ST 57

Body Basswood
Pickups MIJ single coil ceramics
Bridge diecast S5D Block Vintage
Colours 2 Tone Sunburst, Vintage White, Black, Fiesta Red Sonic Blue and Lake Placid Blue

ST 57/VSP

Body 2 piece Alder
Pickups Vintage Alnico MIJ
Bridge Steel S8F Block Vintage
Colours 2 Tone Sunburst
There is also an ST57DMC/VSP specs as the 57/VSP except US made DiMarzio pickups still 2 tone sunburst only

ST 57

Body Ash
Pickups MIJ single coil ceramics
Bridge diecast S5D Block Vintage
Colour Trans Pink only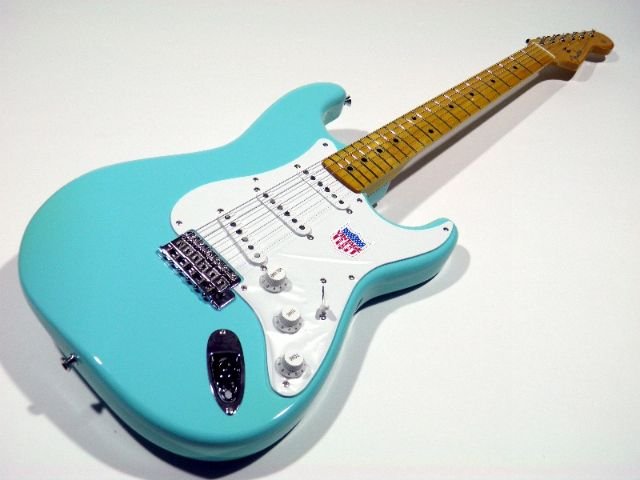 Nice 57-US in Sonic Blue

Catalogue scan ST57DMC/VSP
Striking Gold
There are a few models made with a gold finish detail isn't always easy to find but here's what I know. There are models between 1990 and 1994 designated ST57G-65 and 85 the 65s appear to be earlier and I have seen a few from 1990 and 1991 during 1990 and 1991 I would have thought they should be designated 650 but doesn't appear to be the case. They do not appear in the catalogues until 1993 and 1994 but only the 85 not the 65. Here are the specs of the 85
ST57G-85
Body American Basswood*
Pickups MIJ single coil ceramics
Bridge diecast S5D Block Vintage Gold
Gold Hardware
Colours Charcoal Green, Old Candy Red or CCM which is a blue/purple colour
*American Basswood is a completely different species from the other dozens of types of Basswood
The ST57G-65
Not in catalogues so what we know from sales etc is
Body said by some owners to be Sen this looks right on the various trans colours
Colours I have seen all look spectacular they are a Vintage Blonde Mary Kay style a Trans Green and a Trans Red
Some Pictures first the ST57G-65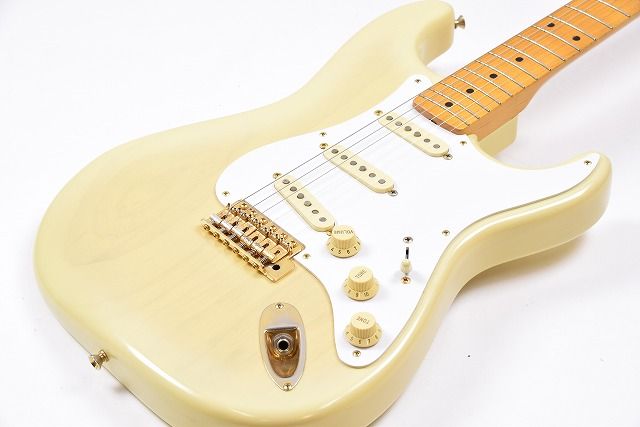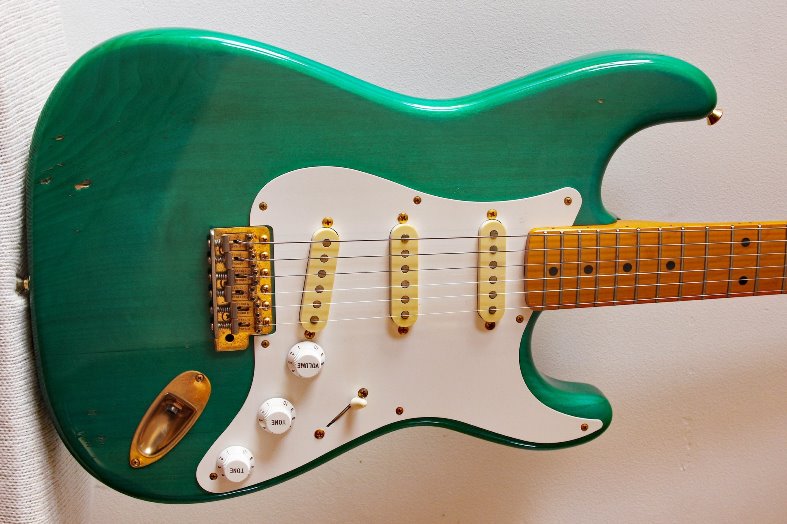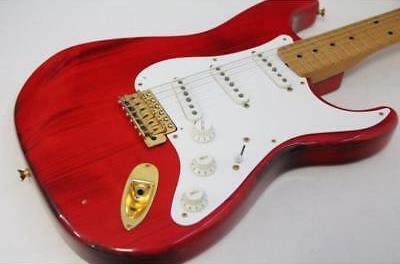 The ST57G85 catalogue scan and from a Russian Website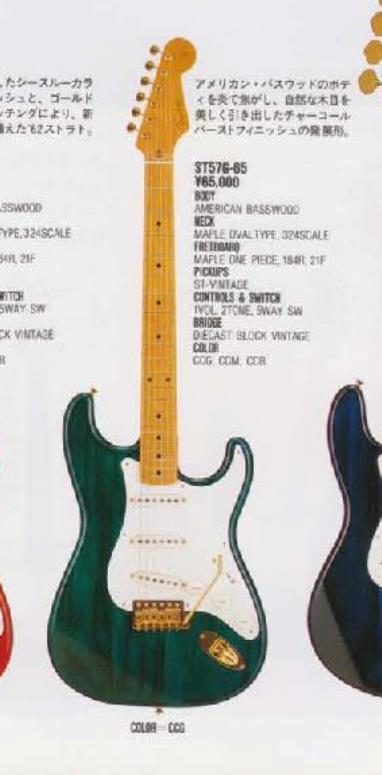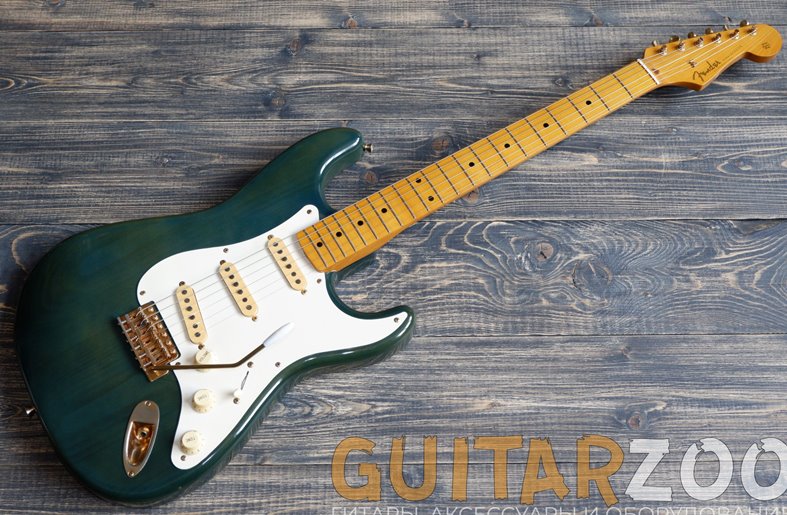 ST57G-TX
This is a 2006 Crafted in Japan model released for a short time. It has the Mary Kay look with the addition of USA made Texas special pickups. Body is Light Ash with a Soft V Maple neck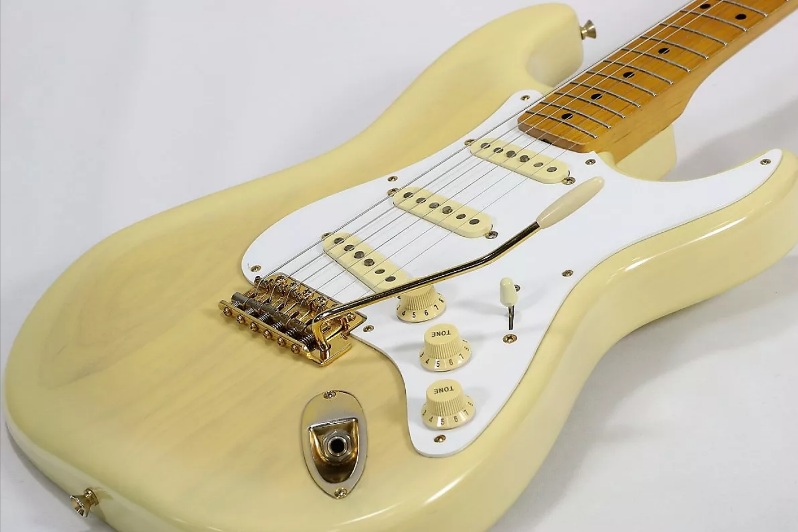 ST57G-QT
This was a 2014 SE for Musicland Japan with A Quilted Maple Top on a Basswood body Honeyburst Amber in colour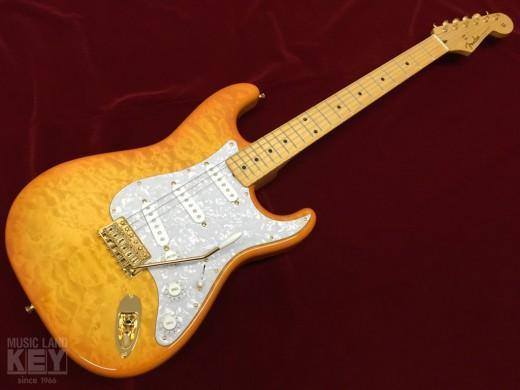 Striking Looking Guitar
The Extrad
The Extrad range tries to faithfully replicate the original vintage guitars. The Extrad 57 guitars were launched in 1986 as the ST 57-140. Intended for the Japanese market few of these made it to the west and as such are regarded as collectors items and when offered for sale are offered at pretty high prices. If it is an Extrad it should have Extrad written on the back of the headstock or by the serial number. However TCGakki whilst not clear suggest that some early models don't have Extrad written on. I would be inclined to the view that if it doesn't say Extrad it isn't one unless it comes with a certificate of authenticity.

Features
Body Alder or Lightweight Ash
Finish Thin Nitro lacquer
Pickups Vintage USA made
Coloours Black and Sunburst but could be others not shown in the catalogues.
Launch Price 140,000 yen in 1986 which at current exchange rates is &pound990 a lot of money in 1986 Available in 1986 and 1987 then the catalogues just show ST57 Extrad at slightly lower prices 120,000 for the Ash or 110,000 for the Alder
Then in the 1986 and 1987 catalogues they show ST57-145 145,000 for the Ash and 135,000 yen for the Alder