Important
The catalogued models are the ones made by Fender for the domestic market some of which were exported but they also made guitars solely for export and except for the 1990s Collectable series most of these weren't catalogued and specs can vary some will be the equivalent of the high end models and some the lower end ones but may not be an exact match.
Fender Japan Stratocaster ST54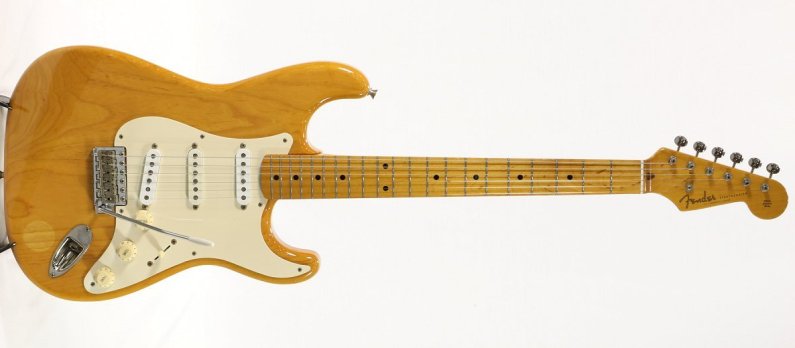 This is an ST54-80AM
These guitars are made to similar specs to the original 1954 Stratocasters, as always they are not styled as reissues and with the exception of the Extrad range are not meant to be exact replicas. They first appeared in the 1986 catalogue as The ST 54-115. More models were added over the years in total around 20 of them although some are the same guitar with different designations. This is due to designations sometimes reflecting prices so the 54-85LS became the 54-95LS when the price increased. This way of designating models a practice largely now discontinued by Fender Japan
The models vary in quality the most basic being basswood with ceramic pickups others are quite high spec. You cannot easily tell some of the models apart without taking them apart.


Fender Stratocaster ST54 Specs and models
Specifications common to all ST 54s
Neck: Maple usually 1 piece skunk stripe soft V profile
Fret board: Maple 21 frets 7.25" radius
Headstock: Small Pre CBS style Gold Spaghetti Logo 1 round string tree
Tuners: Vintage Style see pictures
Pickguard: White 8 hole single ply
6 pivot vibrato unit.
Manufacturing through the years at different factories may have produced variancies especially in the neck profile they certainly don't all feel exactly the same.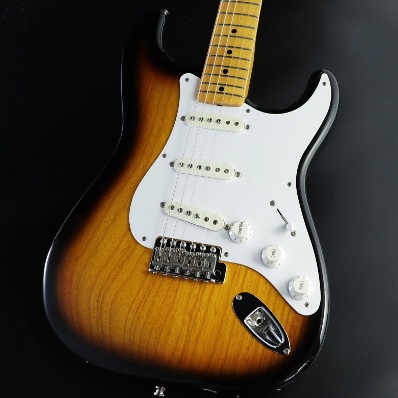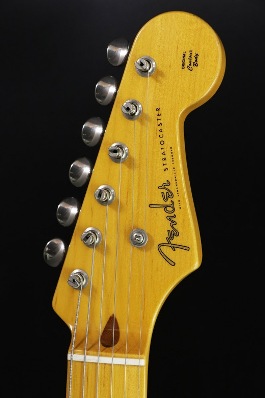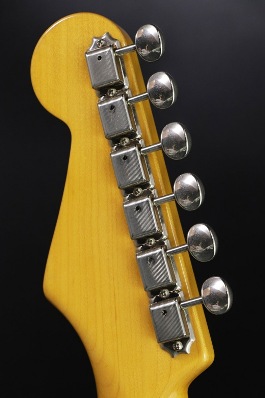 All ST 54s will have tuners and headstocks like this and all will have bodies like this except the pickups and the bridges will vary.
Stratocaster ST54 The Models
ST 54-115
This is the first ST 54 to appear in the catalogues in 1986, quite a high spec model some features are:
Body Alder or White Ash
Pickups Vintage USA Made
Bridge Steel Block Vintage
Colours Tobacco Sunburst at Launch later Vintage White, Black and Candy Apple Red
Comments Produced until around 1989
ST 54-55
A lower end model appearing in the 1987 catalogue.
Body Basswood
Pickups Described as ST Vintage probably Ceramics
Bridge Diecast Block Vintage
Colours Tobacco Sunburst or Black
Comments Produced for 2 years or so.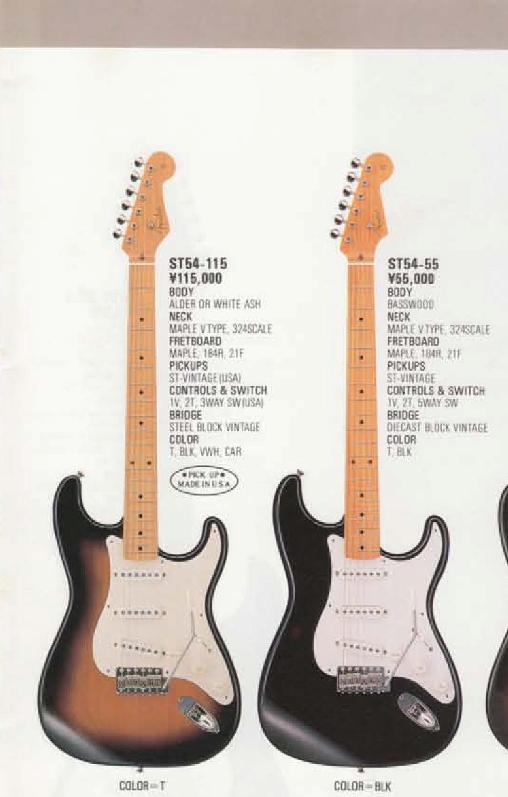 1989 Catalogue scan showing the first two models

From 1990 more models started to appear several just different designations for the same guitar, the next three models were launched in 1990 and the fourth one in 1991
ST 54-770LS
The first ST 54 with Lace sensors and a mid boost.
Body Alder
Pickups Lace Sensor Gold USA
Bridge Diecast Block Vintage
Colours Black Pewter or Red but see later
Comments Continued as the 65LS, the 95LS , the 100LS and then simply ST 54-LS until around 2008



A 95 LS in Pewter

ST 54-900
Body Alder
Pickups ST Vintage Alnico USA
Bridge Steel Block Vintage
Colours Tobacco Sunburst, Black, Vintage White or Candy Apple Red
Comments Launched 1990 continued as the 95, and the 110
ST 54-650
Body Alder
Pickups ST Vintage Alnico USA
Bridge Diecast Block Vintage
Colours Tobacco Sunburst, Black, Vintage White or Candy Apple Red
Comment Launched 1990 continued as the 70
ST 54-500
Body Basswood
Pickups Described as ST Vintage probably Ceramics
Bridge Diecast Block Vintage
Colours Tobacco Sunburst, Candy Apple Red, Vintage White or Black
Comments Launched 1991 replaced in 1992 by the ST 54-53
ST 54-53
1992 Model all as the ST 54-500 except only available in Tobacco Sunburst or Black.
ST 54-70
1992 model all as the ST 54-650 except only available in Tobacco Sunburst and Black
ST 54-95
1992 Model all as the ST ST 54-900 Colours 2 Tone Sunburst, Vintage Natural or Black
54-85LS
Launced 1992 all as the 54-770LS
ST 54-110
1993 Model all as the ST 54-95
ST 54-95LS
As the previous LS models except at launch in 1993 it came in black only, but in 2005 added Vintage White, a Red designated TRD and a Blue designated UGB. This model continues to appear up to and including the first 2006 catalogue but in the second 2006 catalogue it has been redesignated as the ST54-100LS.
ST 54-75RV
This is a Real Vintage Guitar made by the Japanese Custom Team to more vintage accurate specs. It has a stamp on the reverse of the headstock similar to the Extrad logo, see pictures. Available in 1992 and 1993. It is in the 1993 Japanese catalogue but nothing much is made of the vintage features
Body Ash or Sen nitro finished
Pickups ST Vintage Alnico USA
Cloth covered wiring
3 way switch
Bridge Diecast Block Vintage
Colours 2 Tone Sunburst or Vintage Natural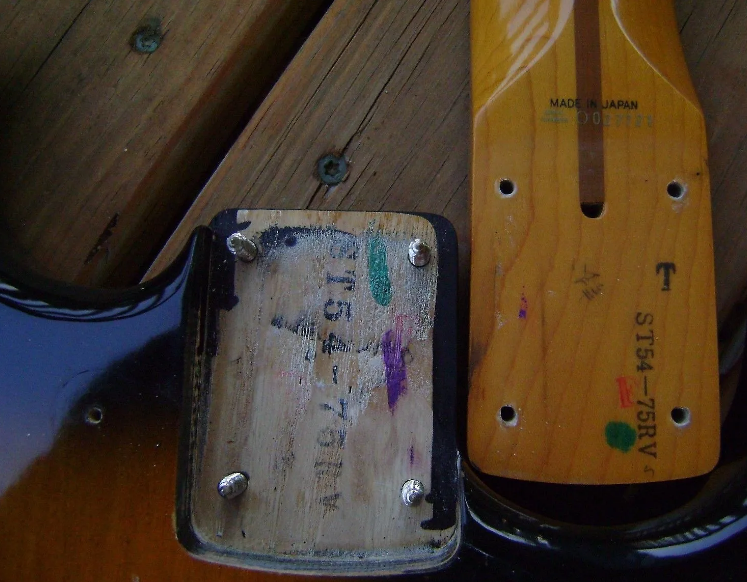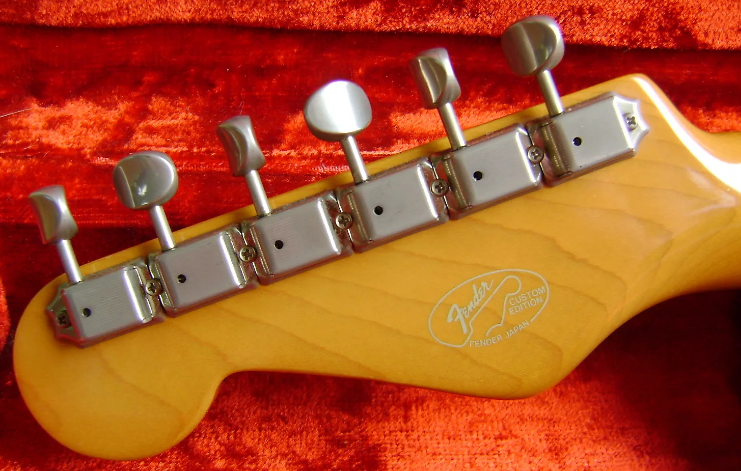 The stamps and logo

ST 54-85RV
This model was launched in 1994 a replacement the ST54-75RV. It still has the Custom Team Logo on the back although I have seen some without the logo. It almost certainly has the features of the 75 cloth wiring, nitro finish but the catalogues don't mention it. It certainly still has the 3 way selector switch.
Body Lightweight Ash
Pickups ST Vintage Alnico USA
Bridge Diecast Block Vintage
Colours 2 Tone Sunburst or Vintage Natural
Comments Gone by the 1996 catalogue
ST 54-80AM
Again not sure what the letters stand for maybe Ash Maple? With some similarity to the ST 54-85RV this guitar first appears in the 1992 catalogue and is described as a Vintage Premium model. At this stage it is the only 54 available except for the 95LS model
Body Ash
Pickups USA made American 50s
Bridge Steel Block Vintage
Colours 2 Tone Sunburst or Black
Comments Appears in catalogues up to and including 2004.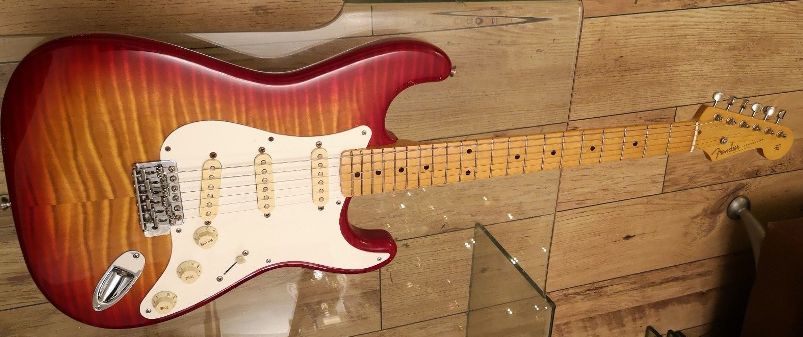 This Fotoflame is from 1995/96 so is likely to be a ST 54-80AM but it's by no means certain to be.
ST54-70AS In 1994 there were some Anniversary models issued amongst them two ST54 models. The 150AS is described later.
he ST54-70AS had the following specs

Body Lightweight Ash
Neck Fotoflame Maple
Anniversary Neckplate
Pickups ST Vintage Japanese
Colours According to catalogue 2 Tone Sunburst, Black or White Blonde
Comments Despite the catalogue I have seen one in Candy Red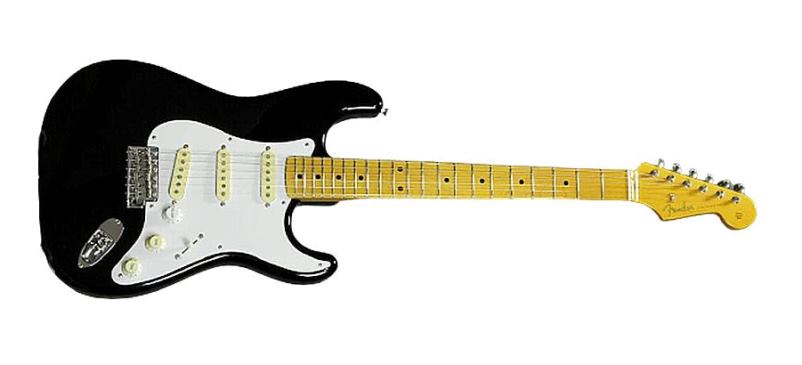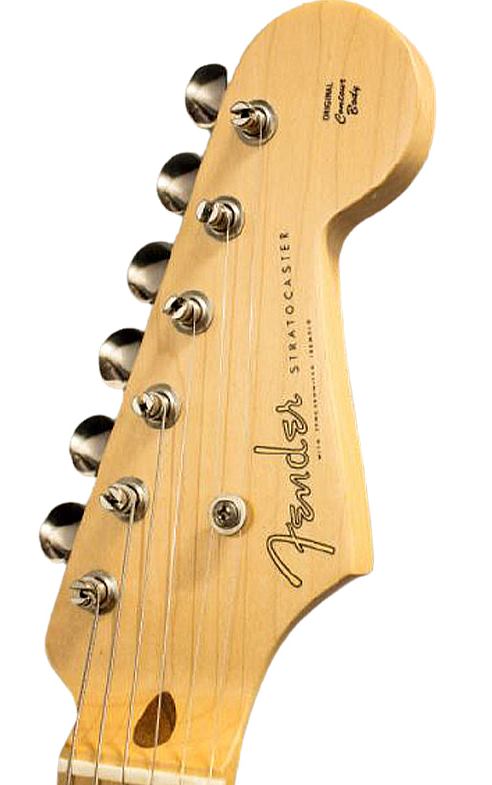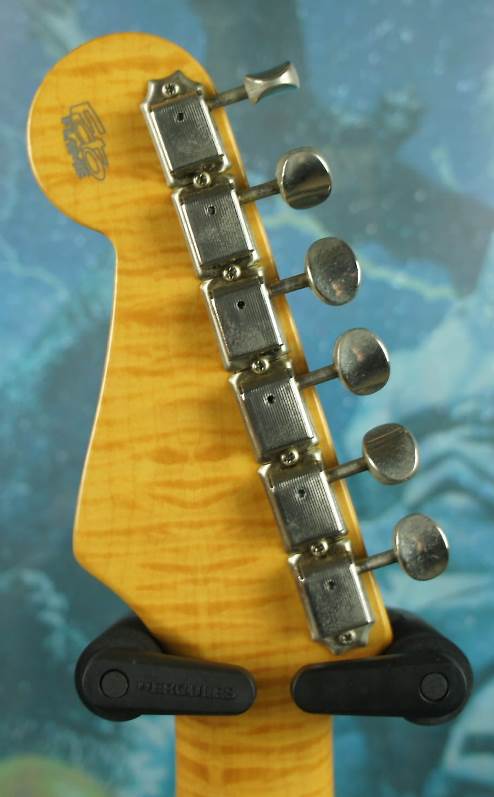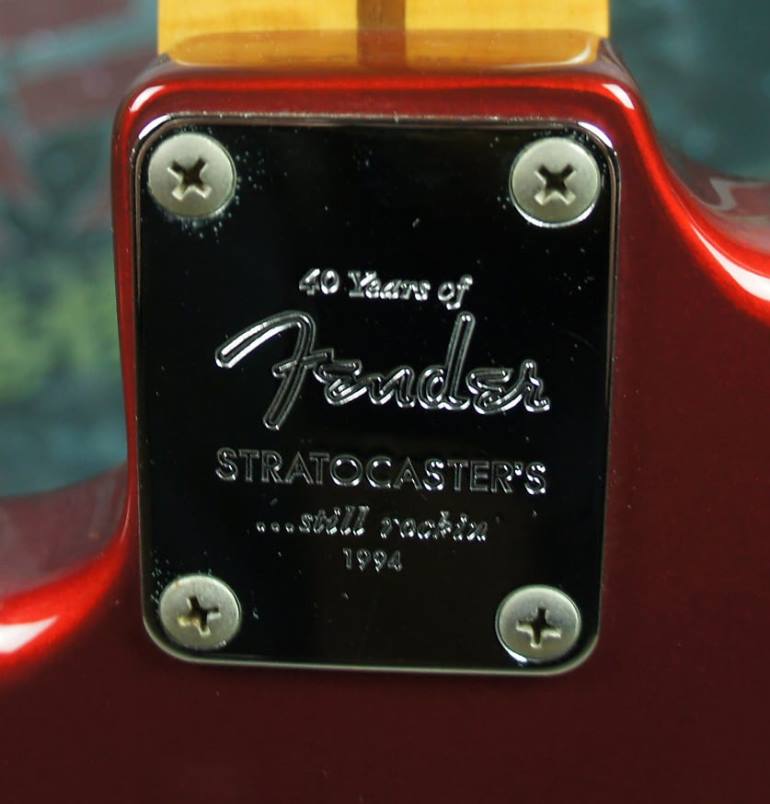 ST 54-100LS
Just a redesignation of the 54-95LS see above. It is the only 54 in the 2006/7 catalogue
ST 54-DMC
This appears in the 2008 catalogue and as might be obvious it has DiMarzio pickups.
Body Ash
Pickups DiMarzio Classical Vintage DCS-1
Bridge Diecast Block Vintage
Colours 2 Tone Sunburst, Vintage Natural or Black
Comments gone by 2010
ST 54-LS
A redesignation of the ST 54-100LS in the 2008 catalogue. Colours unchanged gone by 2010.
ST 54/VSP
Launched 2010 and at that stage the only 54 available. Part of the new Vintage Special Range.
Body 2 piece Ash
Pickups Alnico Custom MIJs
Bridge Steel Block Vintage
Colours 2 Tone Sunburst or Black.
Comments It doesn't appear to be a current offering in 2018.
ST 54-150AS
A special edition Mary Kaye style 54 realeased in 1994, made by the Custom Edition team at Fujigen Gakki only 40 guitars made.
Body 2 piece Ash with a very thin matt white finish
Neck 1 piece flame maple
Pickups DiMarzio Blue Velvets
Pickguard White Aluminium
Bridge Steel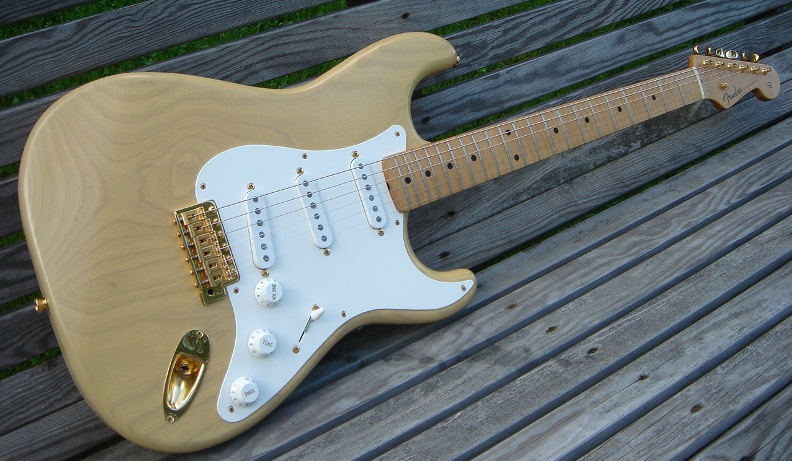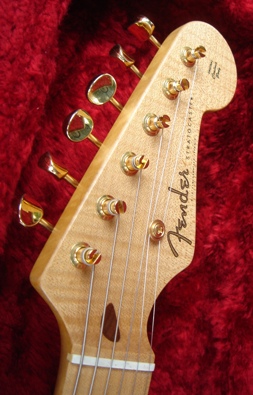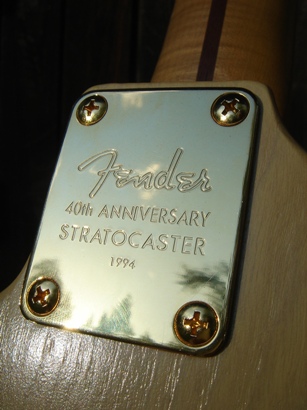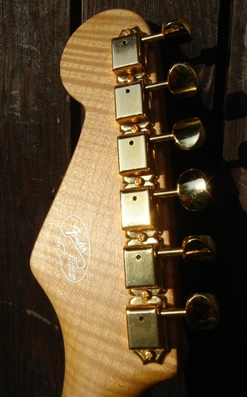 The 54-150AS
Update July 2020
It would appear that I have got the time lines slightly wrong here is an extract from an Email from Sean Purdy It's a tiny detail, but I have a ST54-85LS (in Lipstick Red) with an E9 serial number. The 85LS is actually in the *1989* catalogue, and precedes the 54-770LS which is in the 1990 catalogue. So actually the 85LS came first :) And the 1992 catalogue has the ST54-95LS not the 85LS.
Many thanks Sean
Hardtail
Whilst not common some hardtail models were produced the ones I have seen are from around 1990 to 1994 the only model reference I have seen is ST54-48 some have NT stamped in the neck pocket presumably no trem. Here are a few pictures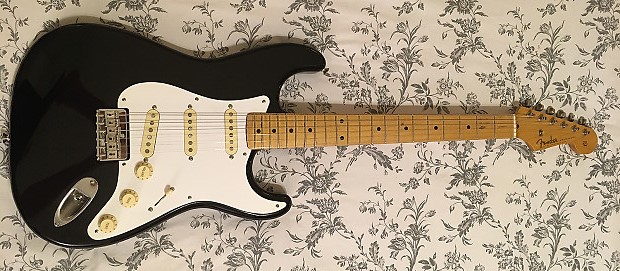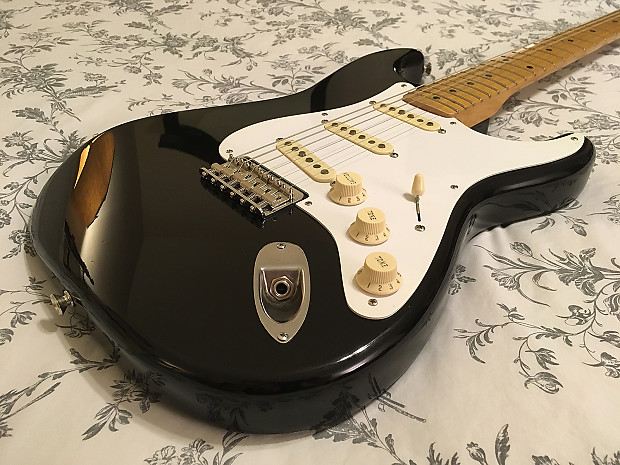 The above 2 pictures are of a 1990 model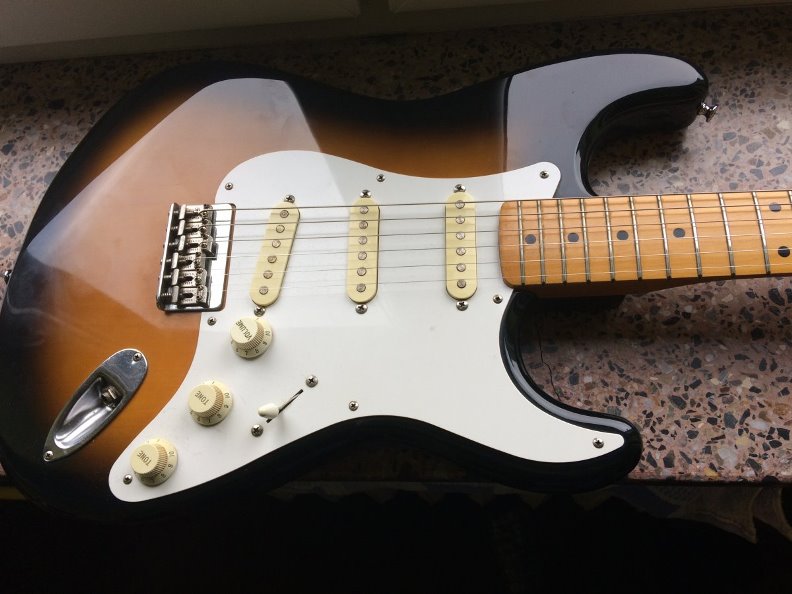 This is a 1992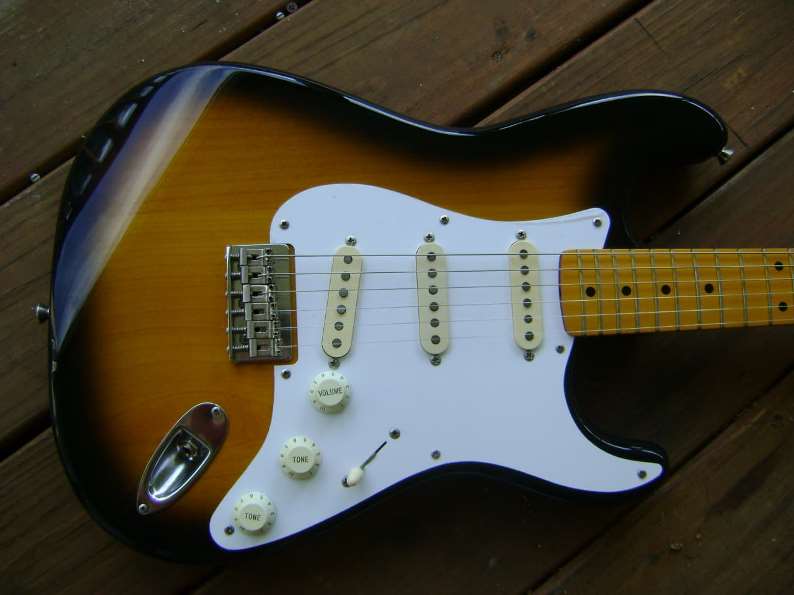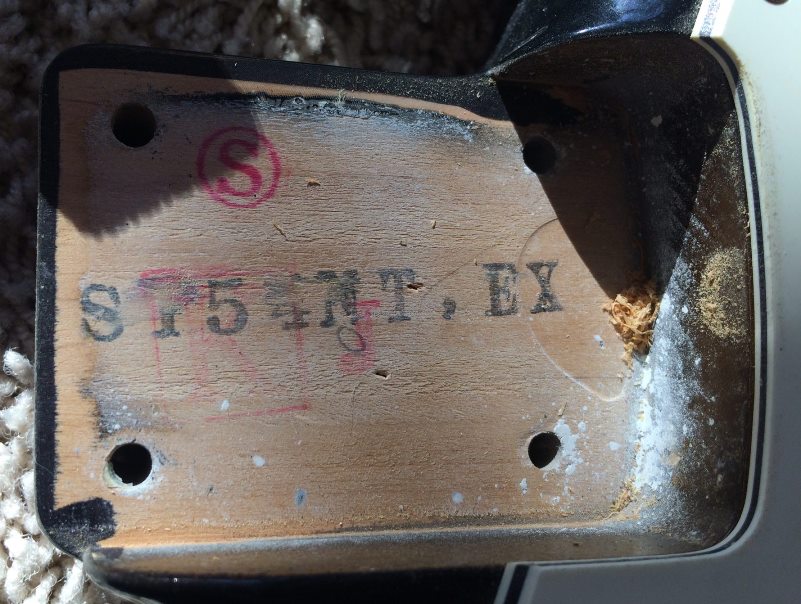 This is a 93/94
The Extrad
The Extrad range tries to faithfully replicate the original vintage guitars. The Extrad 54 guitars were launched in 1986 as the ST 54-140 which in 1990 became just the ST 54. Intended for the Japanese market few of these made it to the west and as such are regarded as collectors items and when offered for sale are offered at pretty high prices. If it is an Extrad it should have Extrad written on the back of the headstock or by the serial number. However TCGakki whilst not clear suggest that some early models don't have Extrad written on. I would be inclined to the view that if it doesn't say Extrad or have a COA it isn't one.

Features
Body Alder or Lightweight Ash
Finish Thin Nitro lacquer
Pickups Vintage USA made
Colours 2 Tone Sunburst or Vintage White
Launch Price 140,000 yen in 1986 which at current exchange rates is &pound990 a lot of money in 1986 Available from 1986 to around 1995
They appear up to the 1992 catalogue and are mentioned in the 1993 and 1994 catalogue without any details.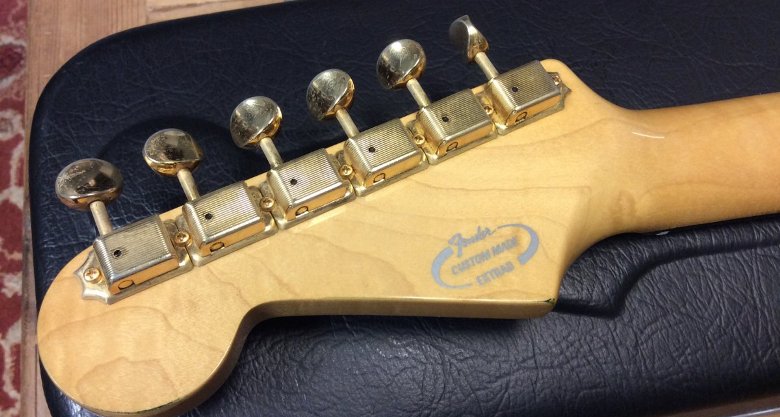 If it hasn't got this on the reverse of the headstock or by the serial number be wary.
Miscellaneous thoughts and views
Julian Hankinson has written to me about his export ST54 his knowledge and experience are definitely worth sharing. He has written about several guitars here's a section of his email on his ST54.

Now, he was really gassing for a Foto-Flame Strat - your site says they came in 95/6, but I remember them being here in 93/4, since I actually talked him out of getting one, because I was concerned they might have the same issues as the Paisley finished guitars did in the 70s. I was with him in mid-94 when he bought this Strat, brand new, from Rhythm House in Stockport, where they also had Foto Flame Strats and Teles on the wall that day. He was under strict instructions NOT to take anything larger than a small screwdriver near this one! The ONLY things he ever did to it was switch the middle pickup tone control to the bridge pickup, fit Schaller strap locks and change strings, when required. About 5 years ago, at the end of a visit to my parents, he handed the case to me and just said, "Take this with you. It'll save the hassle when I snuff it." I'm pleased to say, he's very much still alive and kicking and in great health. I don't think he ever really bonded with it. He still plays that Squier, which is now looking much better than it did 20 years ago, and doesn't own any other electrics anymore. Okay, I said it was 99,9% original... it was, but last weekend I decided to give it a strip down and some general TLC. I've since improved the electrics and pickups (don't panic, I basically built everything on to a new scratchplate, so if required, it's no more than three solder joints to return to original), and I've ordered a replacement trem. Aside from the above, what I've discovered is the neck and pocket are stamped 'A ST54-EX', the neck has a red dot, and is dated '93-12-8' in pencil. Other than 'Made In Japan', the serial number and the usual 'Fender' etc logos, there are no other logos, stamps or markings on the neck. The guitar is 2 tone sunburst over ash (I assume ash, because I haven't seen grain like this in any other guitar wood type) and maple, with a round string tree and v profile. Logos are what you'd expect for a '54 style' reissue. The pickups are wound on black plastic bobbins, no markings, so could be anything from cheap generic Japanese pickups to Fender US production pickups. Either way, they aren't that good. Pots are CTS 250k, I don't know the cap value, but it's a dark green square plastic thing. Switch is a 5 way CRL switch, which I can't remember whether that was standard or he fitted it (the JV Squier had a three way as OEM). Based on the scratchplate having countersunk holes and the screws not have countersunk heads, I suspect the guitar came with a three way switch, and my Dad fitted the 5 way. The trem has a cast, non-magnetic (ie. not steel) block and though it has nickel finished saddles with Fender stamps, something about it doesn't look/feel as 'authentic' as the one fitted to his Squier. All the dimensions are vintage spec, but there's just something about it that seems different. The tuners are Kluson-a-likes. Logic says the hardware would probably be by Gotoh, but in my experience, it's not up to their standards. I think that covers it. It very much reminds me of a Tokai I got recently - an outstanding body and neck, let down by the hardware they screwed to it.


If you have any thoughts on this or any other Guitar matter please email me.