Fender Japan Heritage Series Introduction
The Heritage series launched in 2020 is an attempt to get very close to the original vintage models. Overseen by Mark Kendrick ex Custom Shop Master Builder and using material from Fender USA archives to get as much detail right as possible. In a way this is a modern attempt to re-create the Extrad, although I am not suggesting these are anything like that quality.
These are domestic only models although some will find their way into the western markets it will be interesting to see what sort of price they fetch when they do. These are considerably more expensive than the traditional seriies. One slightly disappointing thing is the lack of colour choice and I haven't seen any left handed models. All models are made by Dyna Gakki

The blurb from Fender
Made in Japan Heritage is a series that pursues the supreme playing experience that vintage musical instruments give to players. It is packed with specs that attract vintage fans, and was adopted under the supervision of Mark Kendrick, who has made a name for himself as a master builder at the Fender Custom Shop and boasts a deep knowledge of vintage instruments. All models in the Heritage series are designed based on USA product profiling data, and body shapes and neck shapes are also adopted according to the age. It inherits the orthodox lineage of Fender in every detail, such as the cross-wire pickup, pickup settings and tones, and body color reproducibility. Made in Japan Heritage 60s Stratocaster® has a lacquer finish on the alder body, and the color becomes deeper with age. A 7.25 inch radius Thick "C" shaped maple neck with 21 vintage style frets, a 6 saddle vintage style Synchronized Tremolo bridge, and pickups specially selected for the Heritage series, everything that makes up the product. The specifications have been carefully selected to achieve classic playability and a sweet vintage tone. Experience the unique playability and tasteful tone of Fender, which has captivated many great musicians, in the Heritage series.
Fender Japan Heritage 50s Telecaster

Specifications
Body Ash gloss lacquer finish
Neck Maple 50s U shaped Nitrocellulose over urethane finish
Fretboard Maple 21 Vintage style frets 7.25" radius
Headstock 50s Tele style Spag logo and Telecaster on front serial number and Made in Japan on back 1 round string tree
Tuners Pure Vintage style Fender deluxe
Pickups Alnico Premium Vintage style tele single coils chrome at neck black at bridge
Controls Knurled Chrome 1 Volume 1 Tone 3 way switch
Nut 1.615" bone
Hardware Chrome
Bridge 3 saddle vintage through body brass barrel saddles
Pickguard 1 ply Black on the Butterscotch White on the White Blonde 5 screw
Colours White Blonde or Butterscotch
Price at launch 163350 yen


The Butterscotch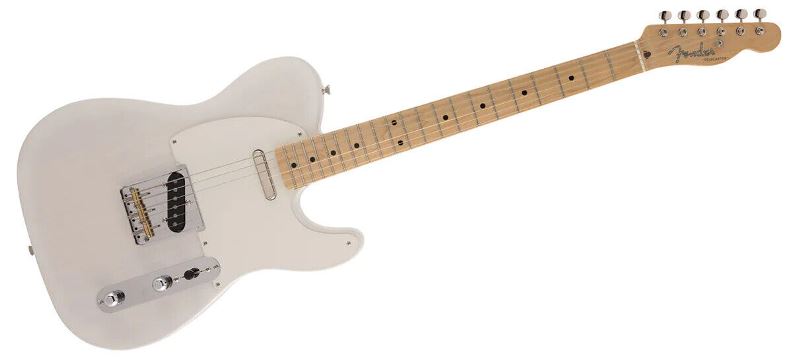 The White Blonde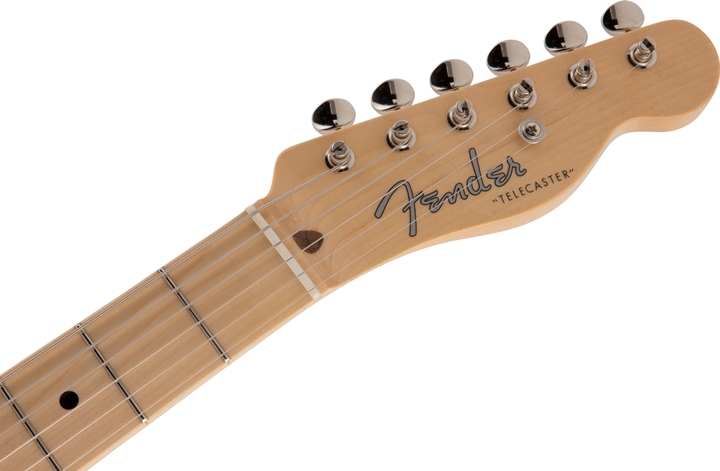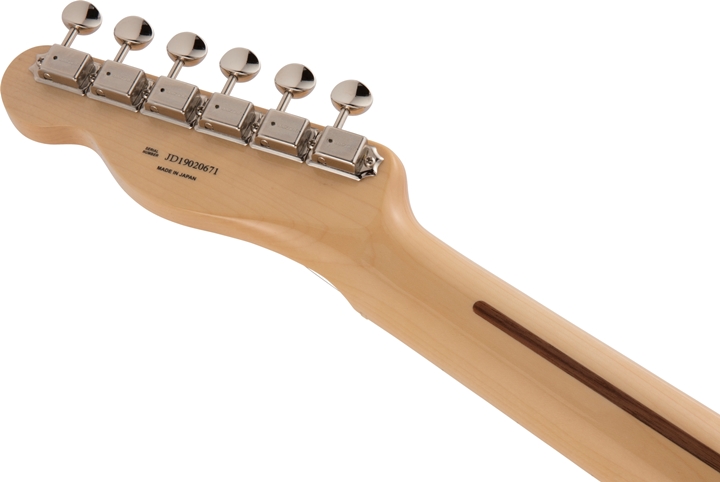 Fender Japan Heritage Custom 60s Telecaster
A fairly accurate reproduction of a 60s Tele custom
Specifications
Body Alder Bound in Black Nitro finish
Neck Maple 60s C shaped Nitro over urethane finish
Fretboard Rosewood 21 Vintage style frets 7.25" radius
Headstock Standard Tele Gold Spag logo + Custom Telecaster on the front 1 Butterfly string tree with Made in Japan and Serial Number on the back
Tuners Pure Vintage style Fender Deluxe
Pickups Premium Vintage style 60s tele chrome at neck black at bridge
Controls Knurled Flat Top Chrome 1 Volume 1 Tone 3 way switch
Nut 1.615" bone
Hardware Nickel Chrome
Bridge 3 saddle vintage through body threaded steel saddles
Pickguard 3 ply Mint green 8 screw
Colours 2 colour sunburst only
Price at launch 163500 yen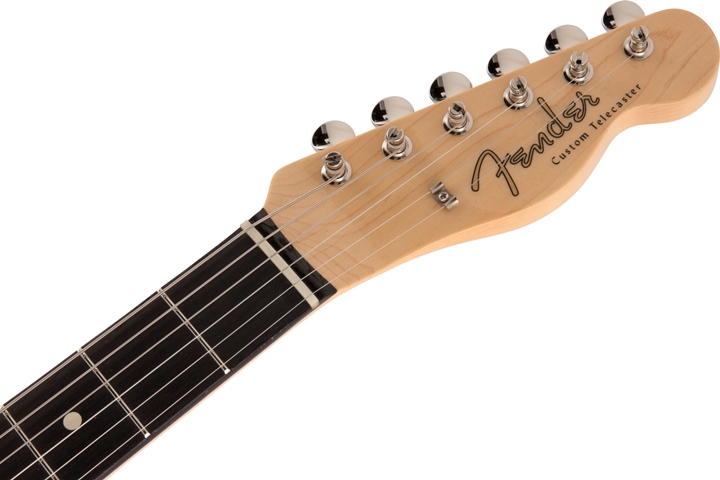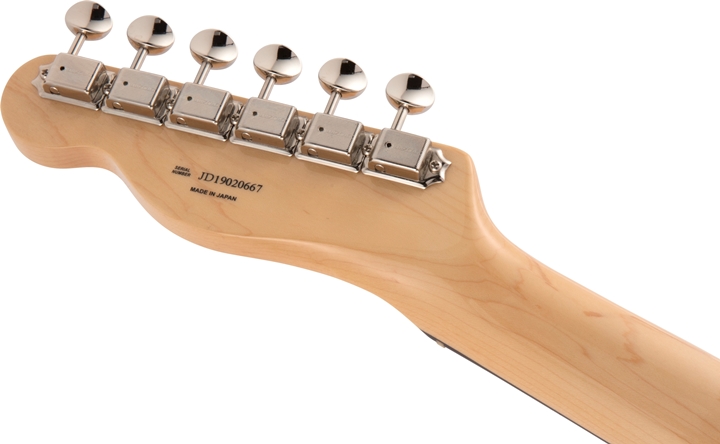 Fender Japan Heritage 60s Telecaster Thinline
Again an attempt to faithfully re-create the 60s model
Specifications
Body Aah semi hollow Nitro finish
Neck Maple 60s C shaped Nitro over urethane finish
Fretboard Maple 21 Vintage style frets 7.25" radius
Headstock Standard Tele Black CBS logo + Telecaster on the front 1 Butterfly string tree with Made in Japan and Serial Number on the back
Tuners Fender Vintage F stamp
Pickups Premium Vintage style 60s tele chrome at neck black at bridge
Controls Knurled Flat Top Chrome 1 Volume 1 Tone 3 way switch
Nut 1.615" bone
Hardware Nickel Chrome
Bridge 3 saddle vintage through body slotted steel saddles
Pickguard 3 ply Aged white pearl large style
Colours 2 colour sunburst only
Price at launch 163500 yen