Bill Alston
SSS Strats Made in Mexico
<

Standard in Arctic White
The intention is to cover in detail all of the SSS Stratocasters Made in Mexico. They were first produced at the beginning of the 1990s and are still being produced, at the time of writing Donald Trump hasn't taken any drastic anti Mexican action, there are a huge number of varieties and models.
Standard Series
There are too many colour changes to attempt to list these so I won't. Specifications changed many times too and I will try and list these changes although in some cases the exact year isn't clear or different sources claim different years.
| | |
| --- | --- |
| Headstock | Small with a single string tree and truss rod adjuster at headstock |
| Logo | Modern thick silver changed to Black 70s style in 2009 around this time the serial number was moved to the back of the headstock. |
| Pickguard | White laminated 11 screw white controls, changed to parchment 2009 |
| Bridge | 6 pivot vintage vibrato unit |
| Neckplate | 4 bolt no micro tilt |
| Neck | Fretted Maple or Maple with Rosewood satin finish tinted from 2009 profile see below 9.5" radius |
| Frets | 21, vintage until 2002 medium jumbo thereafter |
| Body | Poplar changed to Alder around 2003 veneered until 2011 see below for left handed models |
| Pickups and controls | 3 white single coil ceramics 6 polepiece 5 way selector |
| Switches and Pots | Cheap switch and small pots until around 2000 when switched to CTS pots and better switch the same ones as the US standard |
Some specification notes
In the 90s the neck profile was described as shallow U, the first reference to it being modern C is in 2003, whether this represents a drastic change or just a terminology change is hard to tell without getting hold of two guitars of the different periods and comparing.
Strangely the body of the early left handed models is made of Basswood changed to Poplar in either 1997 or 1998. Maybe the basswood bodies for these were imported from Asia.
The trem block was changed to a high mass block in 2006 and full shielding was included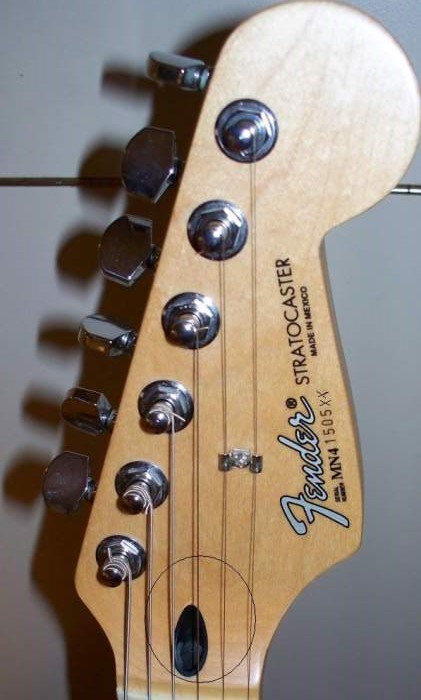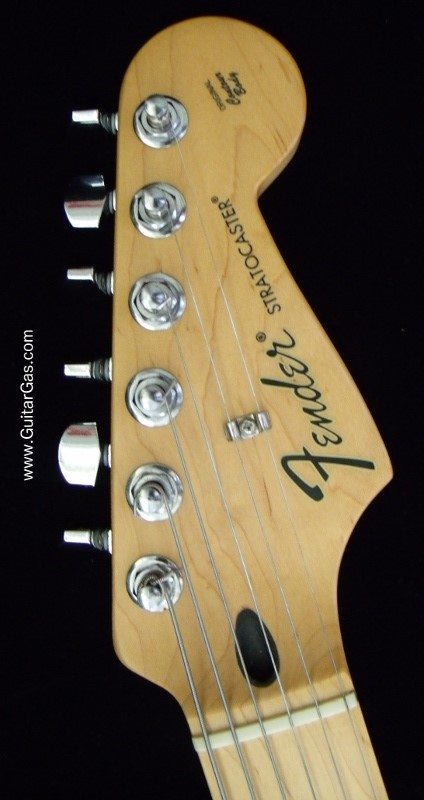 Pre 2009 headstock and post 2009 headstock
Note also the truss rod cover, that type is on all MIM Strats with truss rod adjustment at the headstock end
Variations and Special Editions
There were many of these here are the ones I can find details of at the moment:
| | | |
| --- | --- | --- |
| Model Name | Dates | Features |
| Splatter | 2003 | Body painted in splatter colour with matching pick guard |
| Satin | 2003-2006 | Satin finish 3 black six polepiece pups and black 11 screw laminated pickguard |
| FMT | 2005-6 | Satin finish with black laminated 11 screw pickguard in Candy Apple Red, Gun Metal Blue, Midnight Blue and Midnight Wine. Maple or Rosewood Boards |
| 60th Anniversary | 2006 | Silver Grey Body, Maple neck and commemorative neckplate |
| Roland Ready | 1998 onwards | Rosewood on Maple board Roland pickup and controls added |
| Tex Mex | 1996-7 | Vintage style thin logo in gold, 3 white tex mex pickups |
| Plus Top | 2014 | Flame Maple Top 3 ply parchment pickups and controls Rosewood Board and Tobacco Sunburst or Maple Board with Cherry Burst |
| Satin | 2014 onwards | Satin Finish, Rosewood Board with Flame Orange or Ocean Blue, Maple with Arizona Sun or Blaze Gold |
Flip Flop
This is a special edition of 200 units made in 2004. It has a body and matching headstock in a sparkle which flips from green to blue depending on light, angle and such.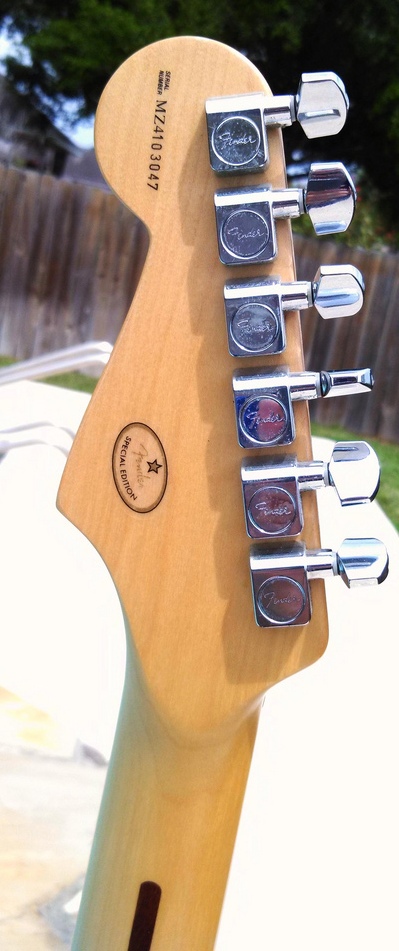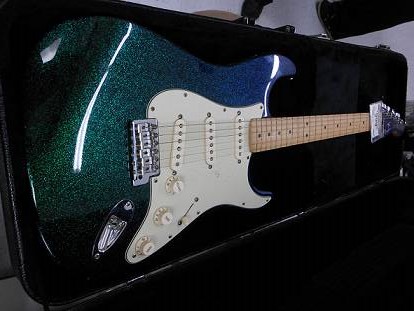 The Flip Flop
Specs of the Flip Flop are similar to the Standard other then the finish, the Mint Green 3 ply pickguard and the Fretboard is Maple only.
This is a 2016 limited edition in Opal White with one off plastic and matching headstock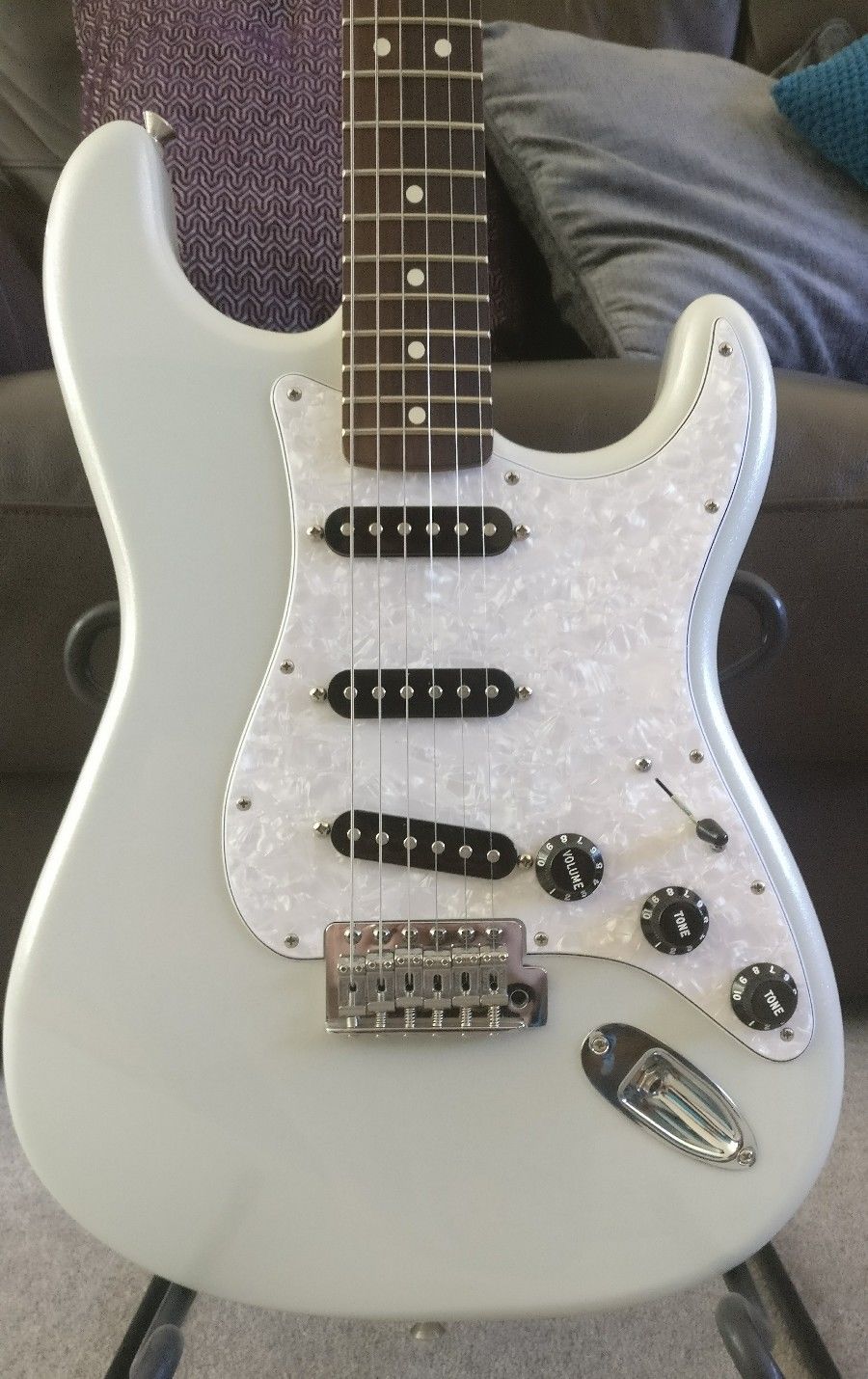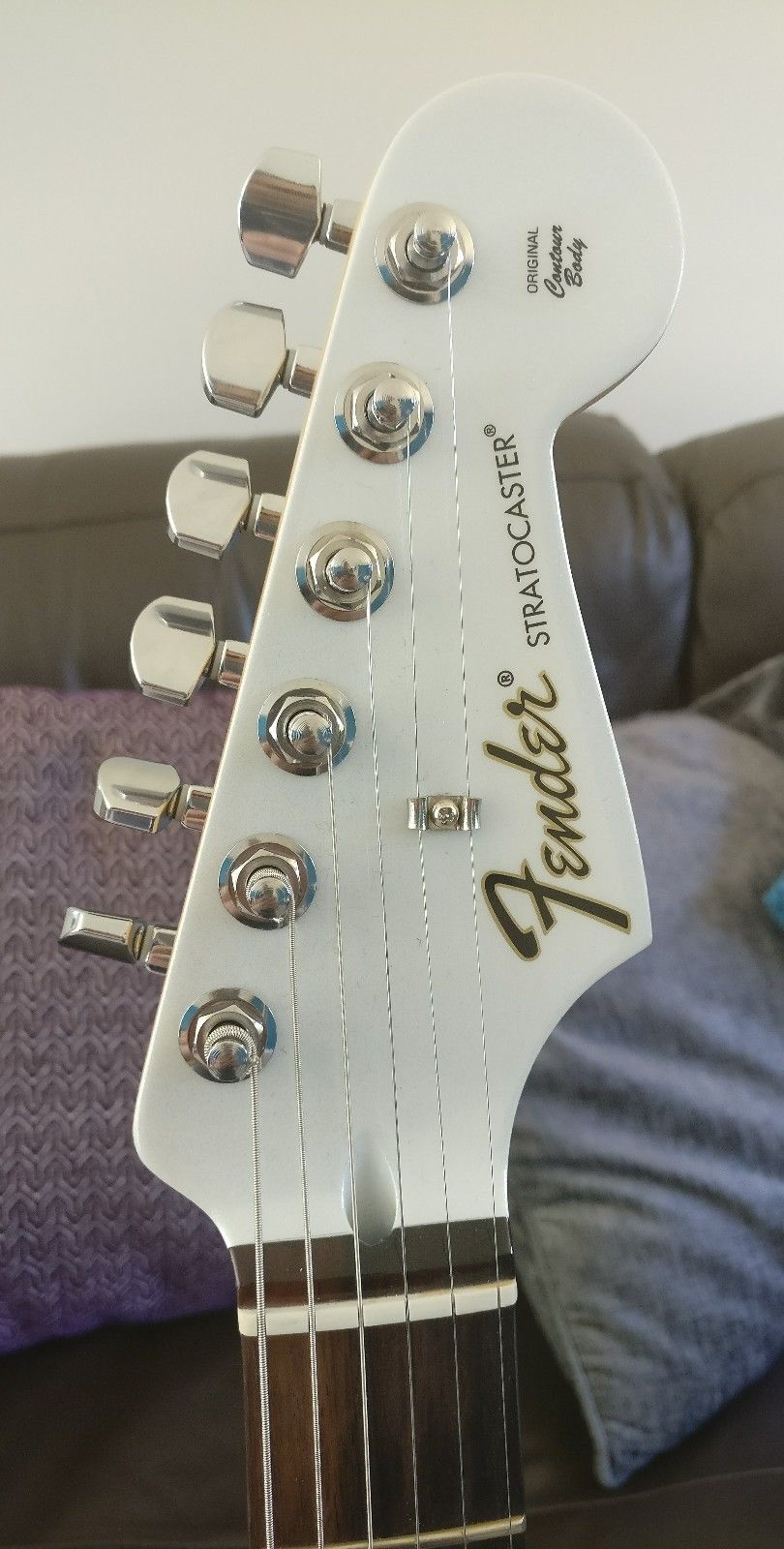 This unusual finish is a 2002 FSR not sure how many there are but this one was in the UK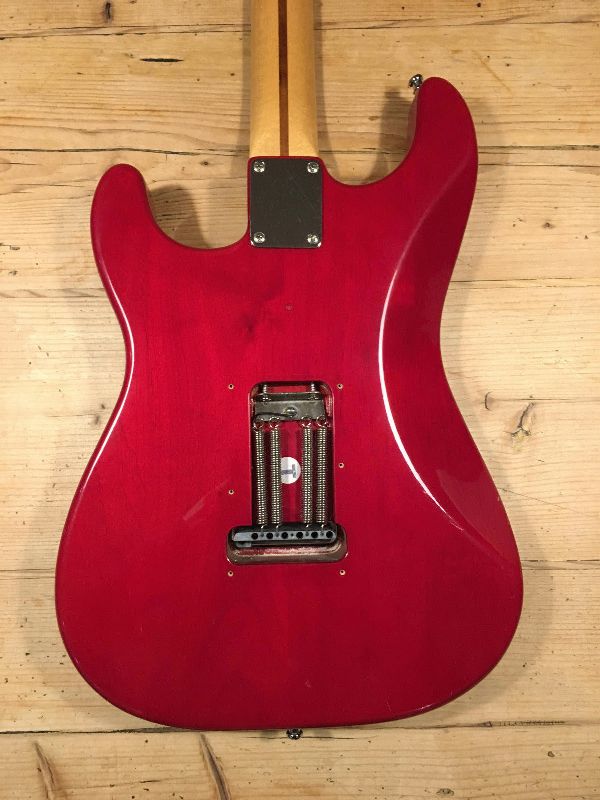 As at February 2017 the SSS Standard is available in the UK in Arctic White, Black, Brown Sunburst, Candy Apple Red or Lake Placid Blue all with Maple or Rosewood. Retailing at around &pound550 or so. The Plus top version being around &pound650 is available in Aged Cherry Burst with Maple or Tobacco Sunburst with Rosewood.
Squier Series and Traditional
The Squier series and the Traditional are the same guitar the name was changed in 1996 but nothing else. They are a cheaper guitar than the Standard model having cheaper components fitted, such as the Trapezoid tuners.
Specifications

| | |
| --- | --- |
| Dates | Squier Series 1994-1996 Traditional 1996-1998 |
| Headstock | Small with single string tree truss rod at headstock end |
| Logo | Thick Black |
| Pickguard | White 11 screw laminated plastic with white controls |
| Bridge | 6 pivot vintage style vibrato unit |
| Neckplate | 4 bolt no micro tilt |
| Neck | Fretted maple* or maple with rosewood 21 frets 9.5" radius |
| Body | Poplar, Black, Arctic White or Torino Red* |
| Pickups | 3 White pole piece single coil ceramics 5 way selector |
* The left handed version was only available with a Rosewood board and wasn't available in Torino Red.
In 1997 they produced a limited edition of Hank Marvin signature stratocasters in Fiesta Red. 300 units were produced of what was just a different coloured traditional with a signature and only available with a Maple board.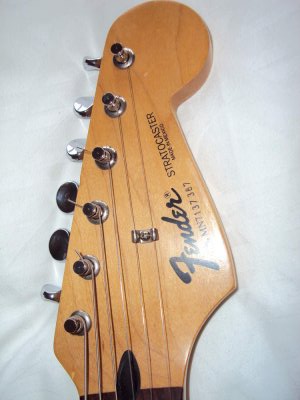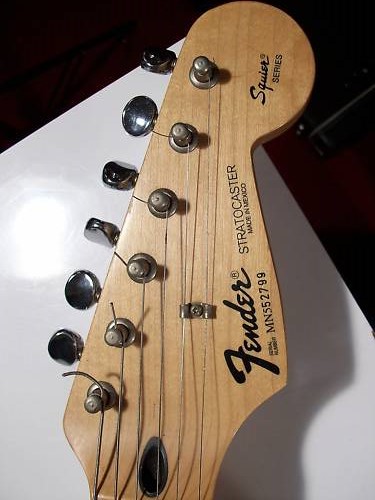 Traditional series headstock and a Squier series headstock.
Classic Series
Details of these here:Classic Series

Classic Players
Details of these here:Classic Players

Roadworn
Details of these here:Roadworn Models

Vintage Player
Details of these here:Vintage Players

Deluxe Models
Details of the Roadhouse Deluxe here: Roadhouse Deluxe
Details of the Deluxe here: Deluxe
Details of the Deluxe player: Deluxe Player
Details of the Powerhouse and The Superstrat: Deluxe Powerhouse and the Deluxe Superstrat


Artist Models
Awaiting start

A word about available colours
I have shown what colours were available at different times for some of these guitars if you see one in other colours it doesn't mean it isn't genuine, there are lots of FSRs and short runs of colours which never appear in catalogues.