Bill Alston
Yamaha Sessions and SEs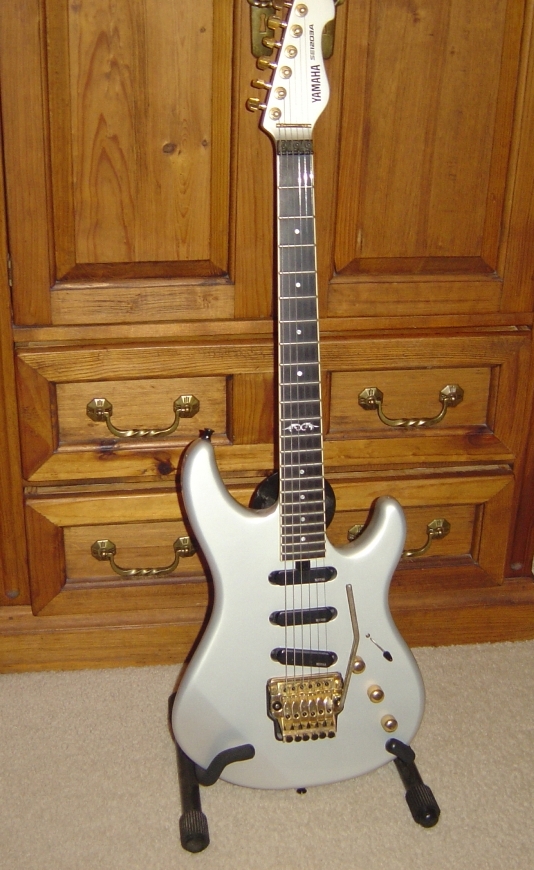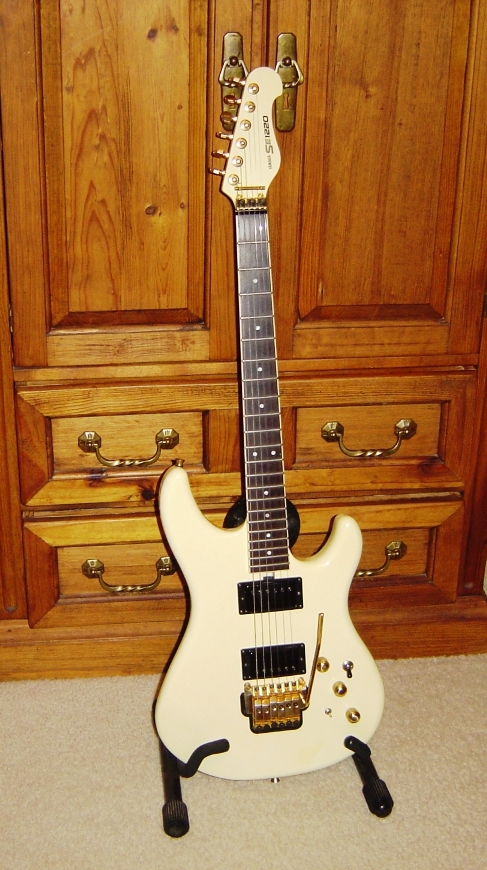 Two beautiful guitars courtesy of Jeff Plogger on the left an SE1203a on the right an SE1220 Thanks Jeff
Note the difference in the script sizes on the Headstocks




This is a developing project and needs your help to become a real resource for these guitars. Please let me have any corrections additional information and the like via my Email contact any pictures catalogue scans etc are always appreciated.

Updates
April 2016
A post from Luthier Atlanta on Strat Talk other guitars has put a bit of a spanner into the works. He has posted pictures of his SE700HE which he thinks is from much earlier than the October 1985 launch date quoted in Yamaha's archive or the 1985 catalogue which shows them as a new model, he has documentation and in due course will try to let me know the exact date. Quite telling though is known format serial number which specifically dates it to January 1984. Anyone out there with a 700 series with a pickup date or serial number? Jeff Plogger has confirmed that his 700 is from October 1984 so it looks as if they were making these at least 12 months before Yamaha says and before they appeared in any catalogues.
April 2016
Discovered a catalogue page on the 610 models describes them as part of the maniac series, but not much else about them they seem to be available in black or white.
June 2017
I have obtained a brochure on the 150, the 250 and the 350s pages updated and corrected

Introduction
The Sessions or SEs are an important step in the development of Yamaha's range they are the precursors to the Pacifica range first appearing in 1985 and ending at the end of that decade before the first appearance of the Pacificas in 1990. These guitars on launch were priced in the region of 60,000 yen in Japan which is about 350gbp, compare that with the cheapest SA of the time at around 110,000 yen and you can see that these are aimed at the budget market but still have that Yamaha quality. A wider range was launched in the UK with some higher quality models.
The first models
These guitars first appeared in the 1985 catalogues. There appeared in the winter of 1985 newcomers catalogue (Japanese) three models all priced at 60,000 yen. These were the Session 503, 512 and 520. In the English catalogue for 1985 many more models are available these are SE 200, 300, 450,700E, 700M, 700 HE and the 700 HM in the last four models the M is a maple fingerboard and the E an ebony one.

More Details of the first models
First Models Japan
First Models English

Model Designations
This is Yamaha so rules are guides and exceptions will be found. The model designations of SEs follow the following rules. All start with SE, Session or Session11 these are broadly interchangeable and other than Session11 came after Session indicate nothing although Session tends to be used in Japan and SE in the West. All have 3 or 4 numbers and some will have some letters.


The first of the 3 numbers, or the first 2 of a four number model number indicates the grade the higher the number the better the grade.
The second number indicates the number of humbuckers sometimes, other times where the second number is 5 a letter H will be added to indicate humbucker
The third number indicates the number of single coils, sometimes it is not obvious looking at the guitar whether you are looking at a humbucker or 2 single coils in the same mounting.
The letters are:
E Indicates an Ebony Board
M Indicates a Maple Board
P Usually indicates a non locking trem type
A Indicates active pickups
H Indicates Humbucker(s) only
J No idea anyone help?
This system is similar to the system adopted on Pacificas

A word about woods

Nato also known as Eastern Mahogany and Bubinga (or Buvinga) known as African Rosewood are often used by Yamaha so where Mahogany and Rosewood appear in the specs there is a fair chance it is Nato and Bubinga.

Further discussion of the other models starts with the index page here
Index all models