Bill Alston
The Yamaha Super Axe series
This page is a constantly changing project and needs your help. It is a long way from being complete. If you can add to or correct any of my information please contact me by E-mail from my contact page.



Updates
13th April 2015 Added the link to the 1000 which I had missed and minor corrections to 2000s both after information from TheSupposedStringMeister Thanks Sean
16th April 2015 Received good information on the 800 from A member of the telecaster forum from West Lothian. No name to thank but thanks. This has been added to the 800 sheet. There is also a suggestion that this model has Spinex pickups, I am trying to verify that.
18th April 2015 Leon from the Vintage Yamaha Guitar Site (see links) has sent me lots of catalogue and similar scans. This has enabled me to verify that the 800 does have Spinex pickups and provided more information on the following models which have been updated SA800, SA1800, SA2000s and SA2100 and there will be more as I get through them thanks
19th April 2015 More from Leon's information changes to the SA2000 and the SAs by year.
7th May 2015 More information on the SA1100 mystery still not quite nailed the made in Taiwan period any more information appreciated.
Now sure that the 2100 was made in both Japan and Taiwan pdf updated

23rd May 2015 59Bassman (Mark) Has kindly sent me some information on the 800 pdf now updated. Thank you Mark
1st June 2015 Apparently there is a model I have missed the SA950 it is very rare and information is very sparse see pdf, if you know anything about this model please contact me.
18th June 2015 Useful additional info on the 503TVL from Buzzard from the Yamaha Forum thanks Peter
25th August 2015 Discovered a little bit more about the mysterious SA950 I have updated the pdf. I still need more information about this model please
9th January 2016 A member of the Yamaha forum who I know only as Ego_Shredder has made available some catalogue scans this has brought to light some information on the SA 2100 details updated any clarification on the pickups issue would be appreciated. pdf updated
10th January 2016 From various recently available catalogues discovered that the 1200s was still being sold in the UK in 1985 also that in 1981 the USA/Canada catalogue contained different models than the UK catalogue so 1200s pdf and SAs by year pdf updated.
25th January 2016 Just seen the latest catalogue from guitar auctions (see links page) they have an SA1100 from Taiwan dated 1999 serial no. PH05177 a year later than the previously known newest one pdf updated I have Japanese and English catalogues from this period and the 1100 doesn't appear in any of them any thoughts rom anybody?
27th February 2016 A special SA2200GS has been issued for the 10th Anniversary of the Guitarshop new pdf attached
8th March 2016 Just seen another 950 on a Japanese auction site at around 650GBP a red sunburst, seller confirms that these were only made in 1992 in very limited numbers. Added some pictures to the pdf
3rd April 2016 Recently acquired catalogues show an error in the dates for the 2000s and provide some more details on that model and the 1800 pdfs amended accordingly.
31st August 2016 Whilst looking at Ebay Japan I found a couple of SA 900s that are made in Japan making yet another guitar made in both Japan and Taiwan at the same time. The 900 pdf has been replaced with a web page. I will be replacing all pdfs this way in due course.
2nd September 2016 A little more information and pictures on the 1800 and 1800L many pdfs now converted to web pages and various minor updates
8th September 2016 Now completed the conversion from pdfs to web pages lots of bits of information added and updated, still need more on some models, such as the 2200-11, can you help.
17th January 2017 Found a model not previously known to me SA1300W information is sparse, see relevant page, can you help. added a small amount of extra info on the 950.


All update notes are now on my home page





In the early 90s I bought a Yamaha SA1200s it had belonged to a professional jazz musician who thought he was upgrading by changing to a Gibson. Everything about this guitar screams quality and by all accounts this is true even at the lower end of the range. I still have this guitar and it would be the last guitar in my collection that I would ever sell.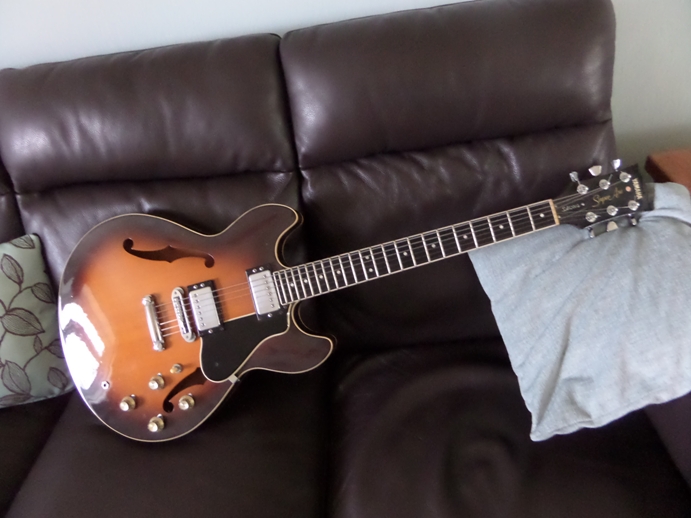 My Yamaha SA1200S




I see a bewildering variety of SA models for sale and on the web. I decided I would try and make a resource to gather together as much information about these as possible. I discovered early in this that there is a wonderful website by TheSupposedStringMeister dedicated to pre 1977 SAs. You must visit his site here TheSupposedStringMeister
I will concentrate on the models from 1977 onwards except that because they are not included in the SupposedStringMeister's site I will include the SA15 and 15d which date from 1968. Information is from personal experience and discussion, Japanese and English Yamaha Catalogues, Yamaha Archives and photographs. Sometimes there is information from good sources that I can't verify where this is the case I will indicate it by red italics.

The first step was to ascertain what models were made in what year and even that wasn't easy this pdf is the result of my investigations so far.