Bill Alston
Squier Classic Vibe Series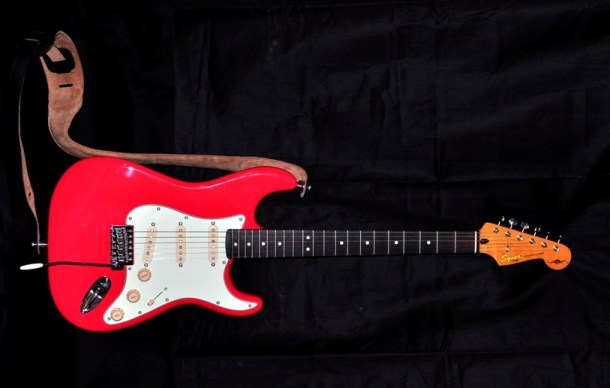 Simon Neil Signature Stratocaster
These guitars are highly regarded as being great value for money and as an affordable way to get that vintage feel Fender guitar I have owned a couple of these including a Simon Neil signature and they really do feel like a guitar that is double the price or more. They are made in China and all have Gold Logos and Vintage Style tuners making them relatively easy to identify, below are some headstock photos illustrating this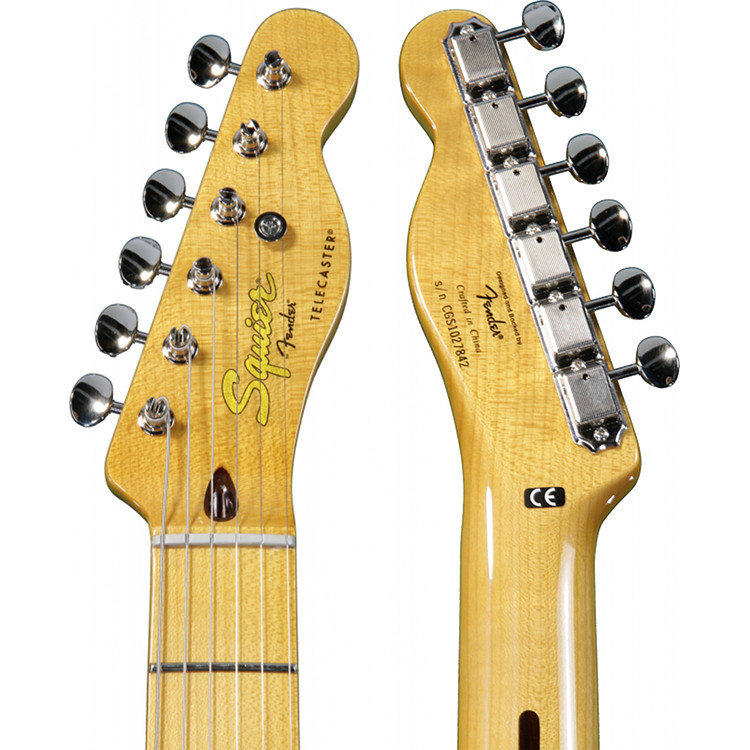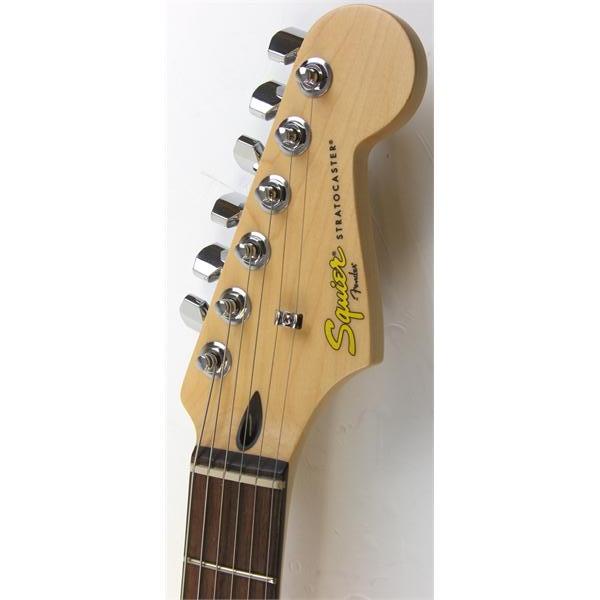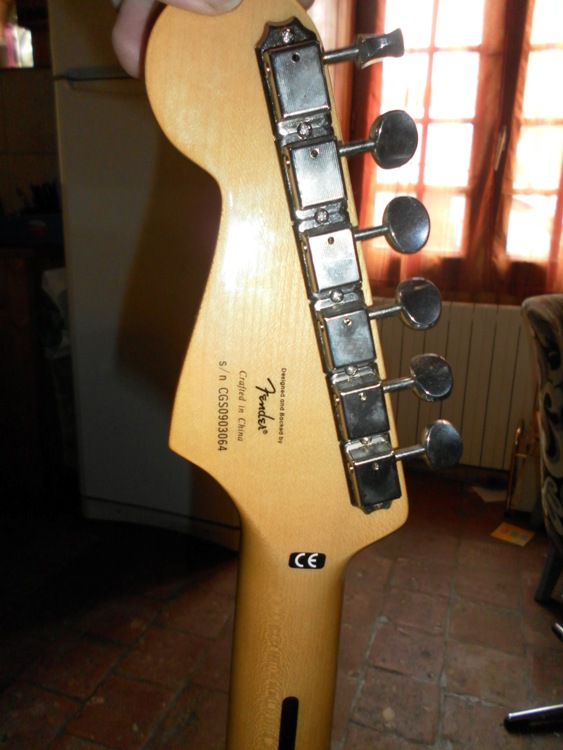 A Thinline Telecaster and a Stratocaster
A word on electronics
Pots
Early models had small Chinese made pots and later models full size Alpha pots if anyone knows more exact details I would appreciate knowing. I do know that a 2009 had small size pots and a 2012 had Alphas.
Pickups
It has been said in various places that these guitars have Tonerider pickups. Strictly speaking this is not the case The factory that made the CVs also makes pickups for Tonerider and they have made Fender branded pickups to similar specifications to Tonerider sets:
Strat CV 50 has Alnico iii pickups marked STA5 which are very similar to the Tonerider Surfari TRS5 set
Strat CV 60 has Alnico v pickups marked STA3 which are very similar to Tonerider Classic Blues TRS3 set
Telecaster CV 50s has a set similar to the Tonerider Hot classic TRT2 set
The Simon Neil has a bridge pickup partly Alnico V and Partly Alnico 111 the rest are Vs similar to the Tonerider City Limits set.
Details of the series from launch
2009 Catalogue
50s Stratocaster Maple Fretboard in two colour sunburst
60s Stratocaster with Rosewood Fretboard in three colour sunburst
50s Telecaster Maple Fretboard in Blonde
50s Duosonic Maple Fretboard in desert sand

2010 and 2011
50s Stratocaster Maple Fretboard in two colour sunburst added Lake Placid Blue and Olympic White
It says Rosewood Fretboard in the 2010 catalogue but in the 2011 catalogue only says Maple Fretboard The Rosewood is a catalogue misprint.
60s Stratocaster with Rosewood Fretboard in three colour sunburst added Candy Apple Red
Added a Thinline and a Custom to the Telecaster range both three colour sunburst
50s Duosonic Maple Fretboard in desert sand

2012 Catalogue
First left handed versions available. Stratocaster 50s in two colour sunburst with Maple Stratocaster 60s in three colour sunburst with Rosewood plus a Telecaster 50s in Butterscotch Blonde
50s Stratocaster Maple Fretboard Colours now two colour sunburst Olympic White Fiesta Red
60s Stratocaster with Rosewood Fretboard in three colour sunburst or Candy Apple Red
50s Telecaster Butterscotch Blonde and Vintage Blonde now the colour options
No Duosonic now discontinued.
This catalogue is the first appearance of the Simon Neil (Biffy Clyro) signature Strat. This is a variation on the CV 60s in Fiesta Red with a mint green pickguard and a mixture of Alnico 3 and 5 vintage style pickups. It may have been available earlier.

2013 Catalogue
No changes

2014 Catalogue
Added Stratocaster 50s 60th Anniversary model in Aztec Gold with gold hardware currently still available at around &pound478
At some point Lake Placid Blue 60s Classic Vibe Stratocaster with a matching headstock was introduced but isn't in any catalogue that I can find and isn't on the current UK website nor on the Squier USA website. See picture below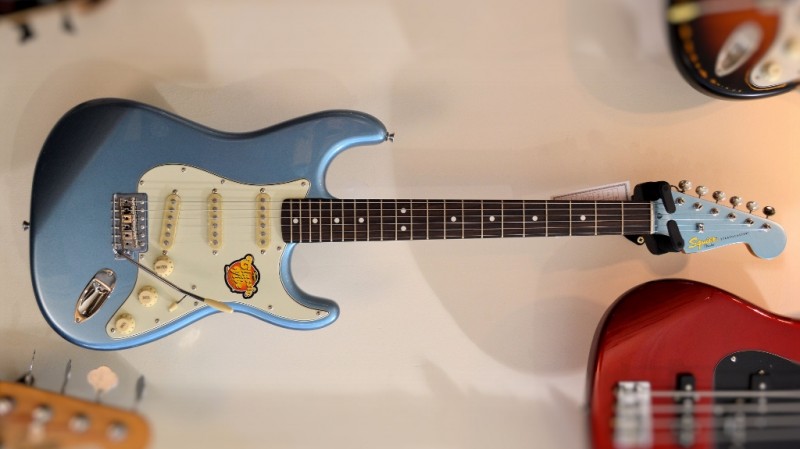 2015 from the UK website with MSRPs shown

A quick look around shows that retailers are charging a bit below MSRP but usually less than 10% lower but with the odd real bargain to be found.
Stratocaster 50s Now Available in 2 colour sunburst, Olympic White, Sherwood Green Metallic with a matching headstock now added. Left handed version unchanged &pound360.
Fiesta Red available on the USA website. Now discontinued in US also Nov 2015
Stratocaster 60s Three colour sunburst (left handed version available) &pound360 Candy Apple Red &pound420
Burgundy Mist with matching headstock available on USA website
Stratocaster 50s 60th Anniversary model in Aztec Gold still available &pound415
Telecaster 50s Butterscotch Blonde (Left handed version available) and Vintage Blonde both black pickguard both &pound360
Telecaster Custom Three colour Sunburst Rosewood neck, mint green pickguard &pound380
Telecaster Thinline Natural Finish white perloid pickguard Maple neck &pound405
New Model introduced in the previous year but not in 2014 catalogue Deluxe HSH Stratocaster Crimson Transparent White Pearl pickguard Rosewood neck 2 point bridge &pound445
Simon Neil (Biffy Clyro) signature Stratocaster &pound370



Classic Vibe Deluxe HSH
Update November 2015 The 50s Strat is no longer available in Olympic White.
The 60s Strat is no longer available in Candy Apple Red but the matching headstock Burgundy Mist is available in the UK


July 2016
Stratocaster 50s Available in 2 colour sunburst, Olympic White is back and Sherwood Green priced &pound360 to &pound390 depending on colour
Stratocaster 60s Burgundy Mist or 3 colour sunburst &pound390
Simon Neil Still available &pound390
Telecaster 50s Butterscotch Blonde or Vintage Blonde &pound390
Telecaster Custom Sunburst &pound410
Telecaster Thinline Natural &pound410

2018 Offering
On Fenders UK website as at July 2018 the following models are on offer
Strat 60s 3 colour sunburst only with Indian Laurel board on maple neck and perloid pickguard
Strat 50s Sherwood Green Metallic or 2 colour sunburst with a white pickguard left handed version in sunburst only
Telecaster 50s In Butterscotch Blonde or Vintage Blonde a pine body, maple neck and board with a black pickguard the left handed version in Butterscotch Blonde only.
Thinline 68 Telecaster Natural only Maple neck and board white pickguard
All models show a price of &pound455 except for the Thinline and the Left Handed Telecaster 50s which both show &pound480. Obviously retailers charge less.
Not on the UK site but still on the USA site is the Telecaster Custom in 3 colour sunburst with an Indian Laurel board. Some UK retailers do have this model but whether the site is wrong or they are selling old stock isn't clear.
Update November 2016
I have had an Email from Mark Cochrane from Manchester. Mark has a CV50 Classic Vibe Mary Kaye model. He tells me that this guitar was available for a short time only and that he bought his in 2013. The serial number begins CGS12 suggesting a 2012 or 13 manufacture. These don't appear in the catalogues that I can find. I guess this was a special run and that fairly limited numbers are around. Here are a couple of pictures. Thanks Mark much appreciated.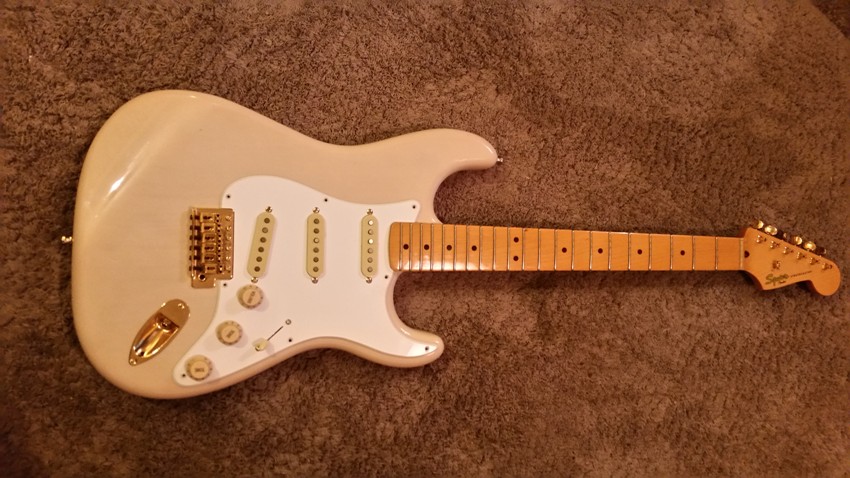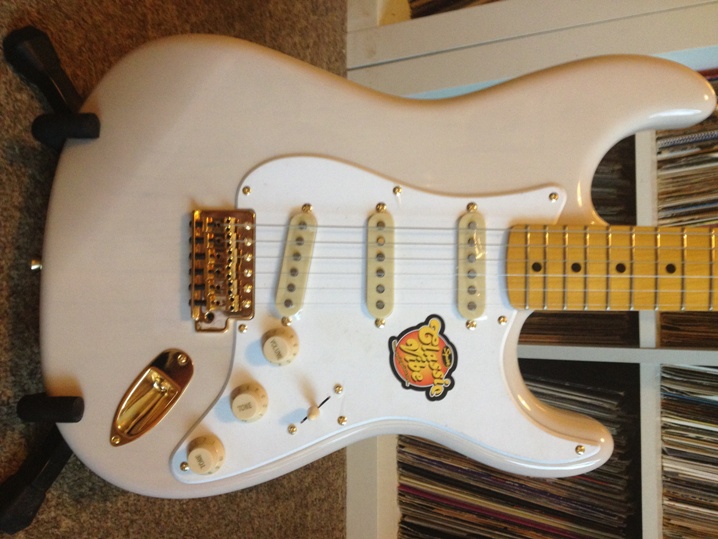 Beautiful guitar indeed
I have also found a FSR Telecaster Custom in Gold Bronze, made in very limited numbers. 28 were available in the UK but how many in other countries I am not sure. They were available in late 2014 I have seen one bought in the UK and one bought in the Netherlands it is a superb looking guitar as the pictures below show.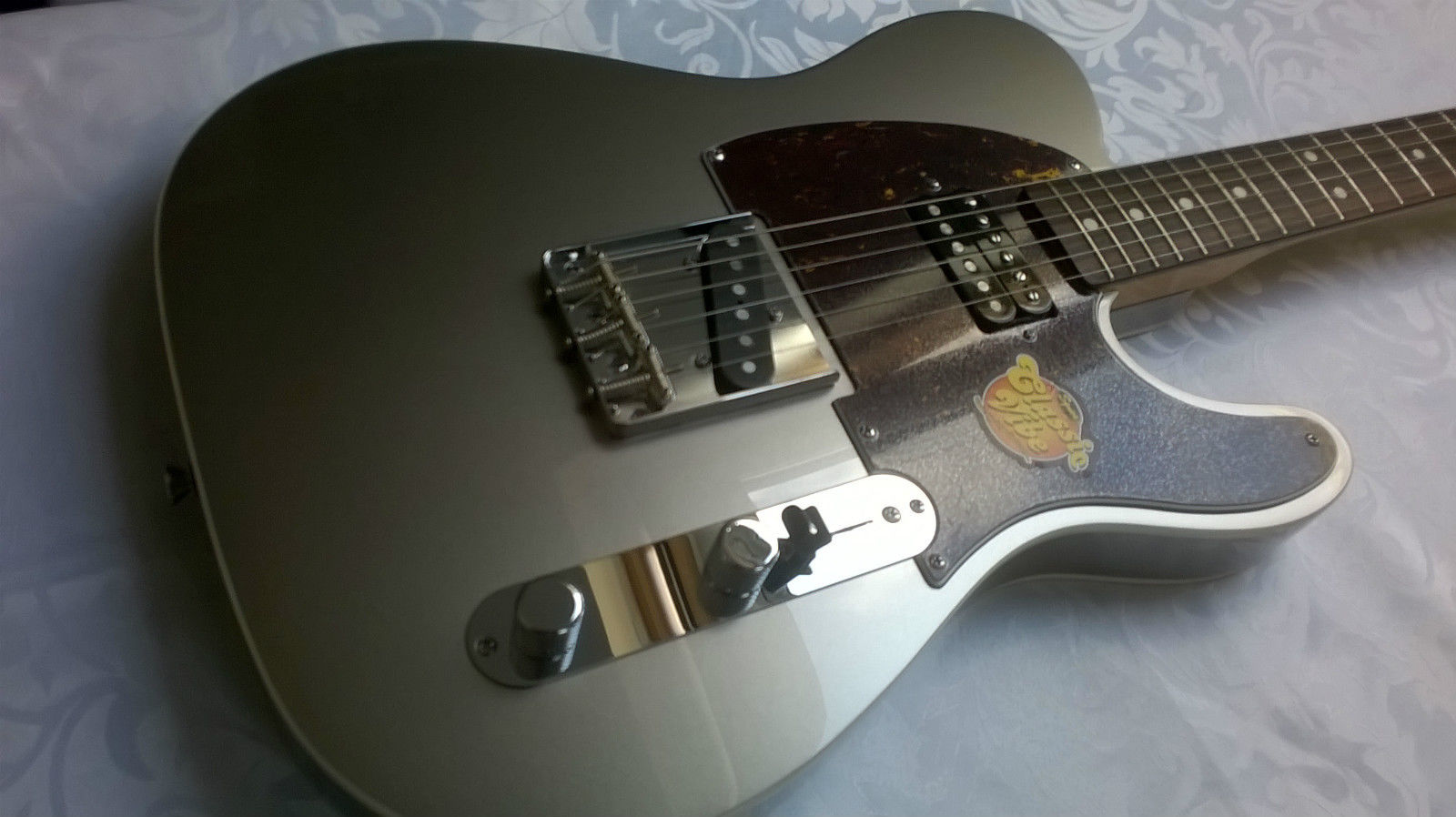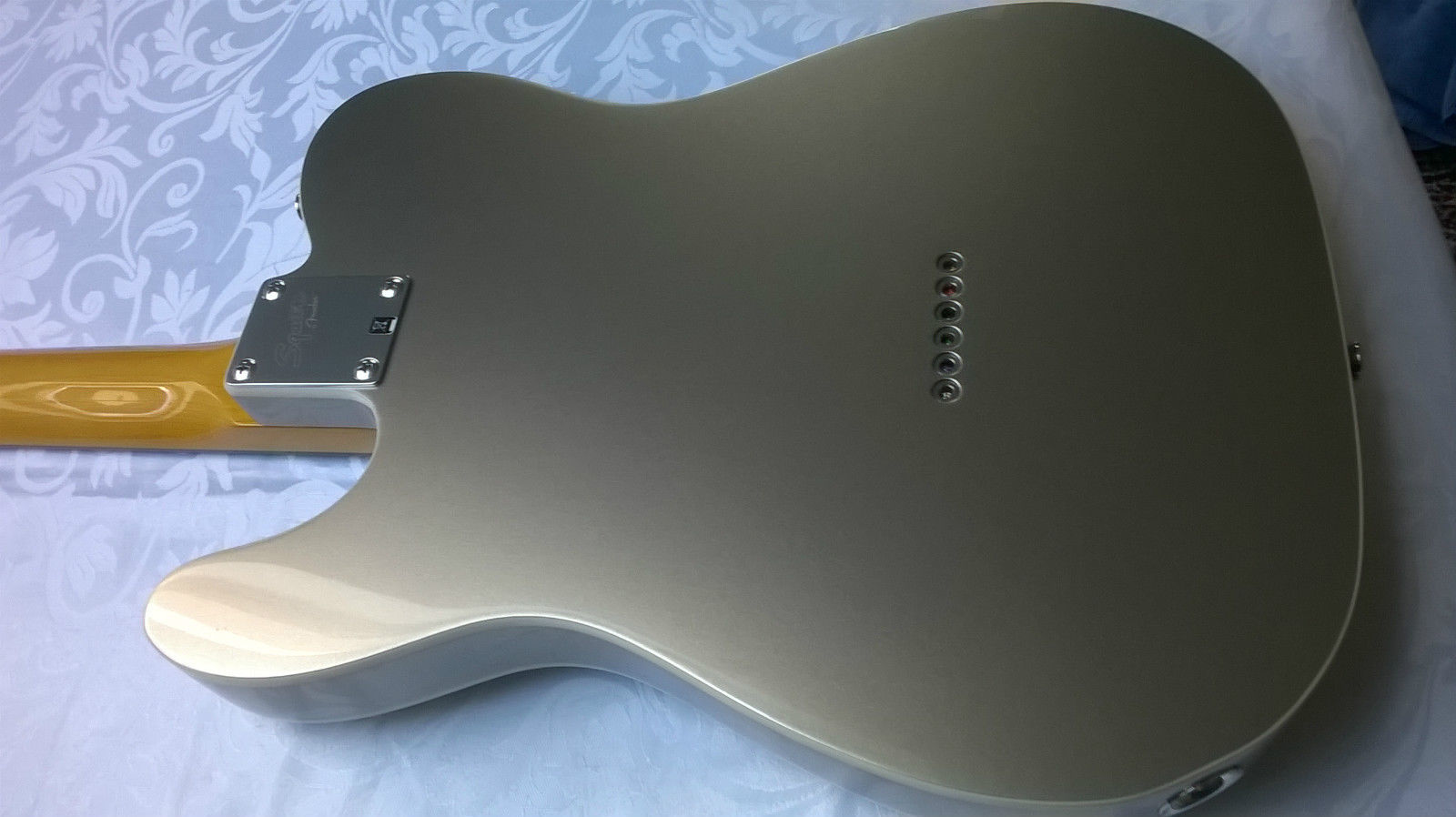 Thanks to Alainvey of the Strat forum I now know that there is a Stratocaster version of the Gold Bronze. Again we are told only 28 to be imported to the UK.


The Gold Bronze Strat
This Olympic White 60s FSR was still available in Feb 2017 for &pound398 at gear for music but only three left.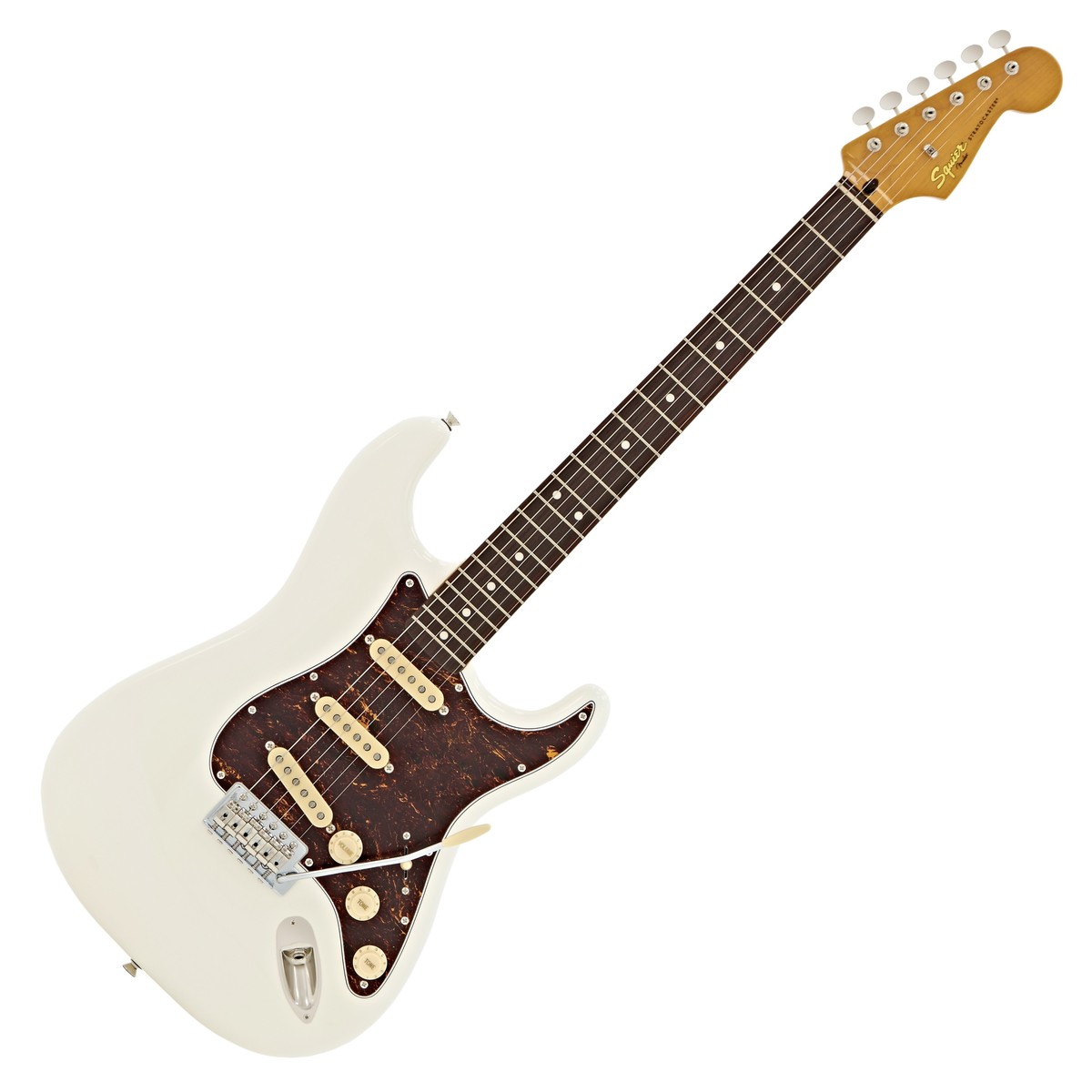 This seafoam green strat was an FSR in 2013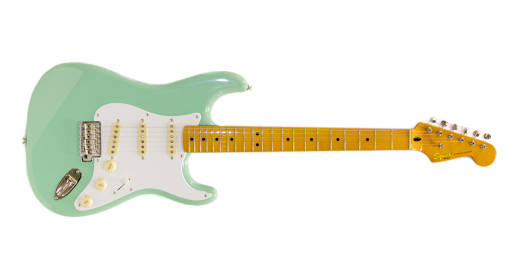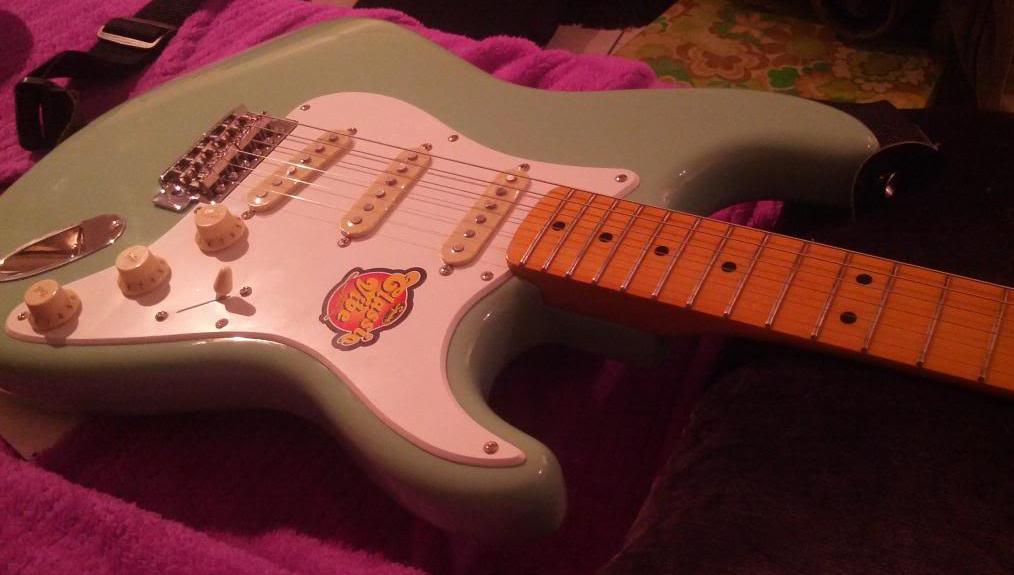 This guitar is said to be Burgundy Mist but looks like purple sparkle to me.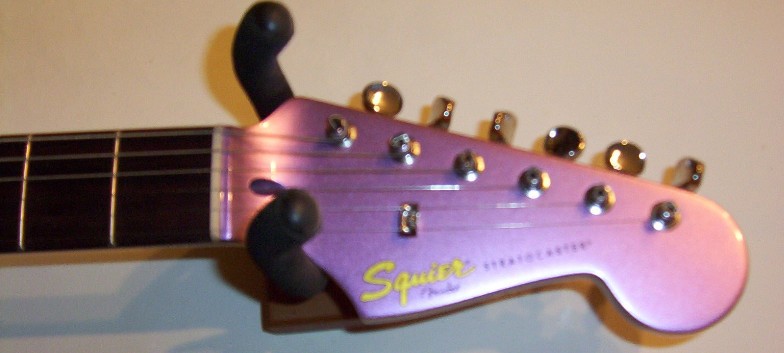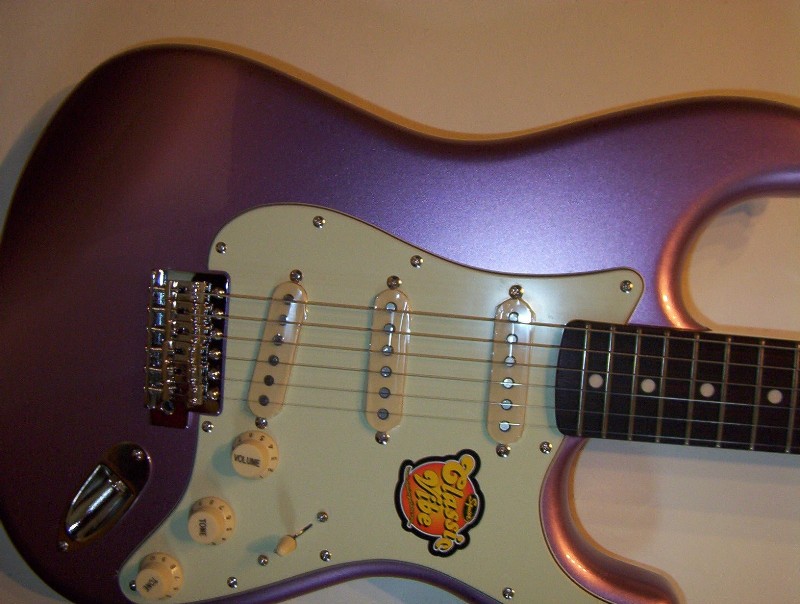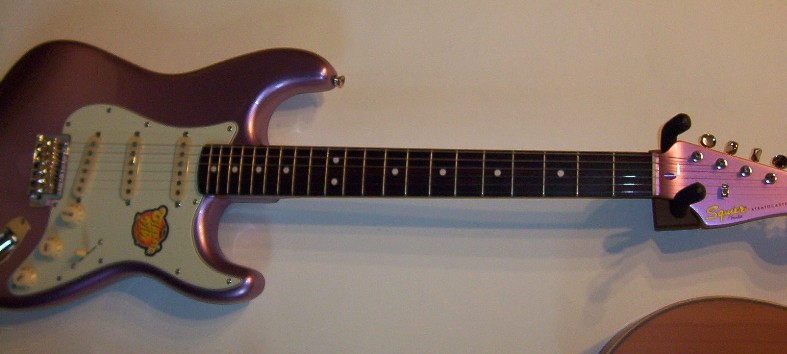 Update April 2018
Two FSRs have just sold on Ebay both from 2013. The first is a Strat 60s in some kind of blue or purple sparkle with a matching headstock the second a Black Telecaster Custom. Some pictures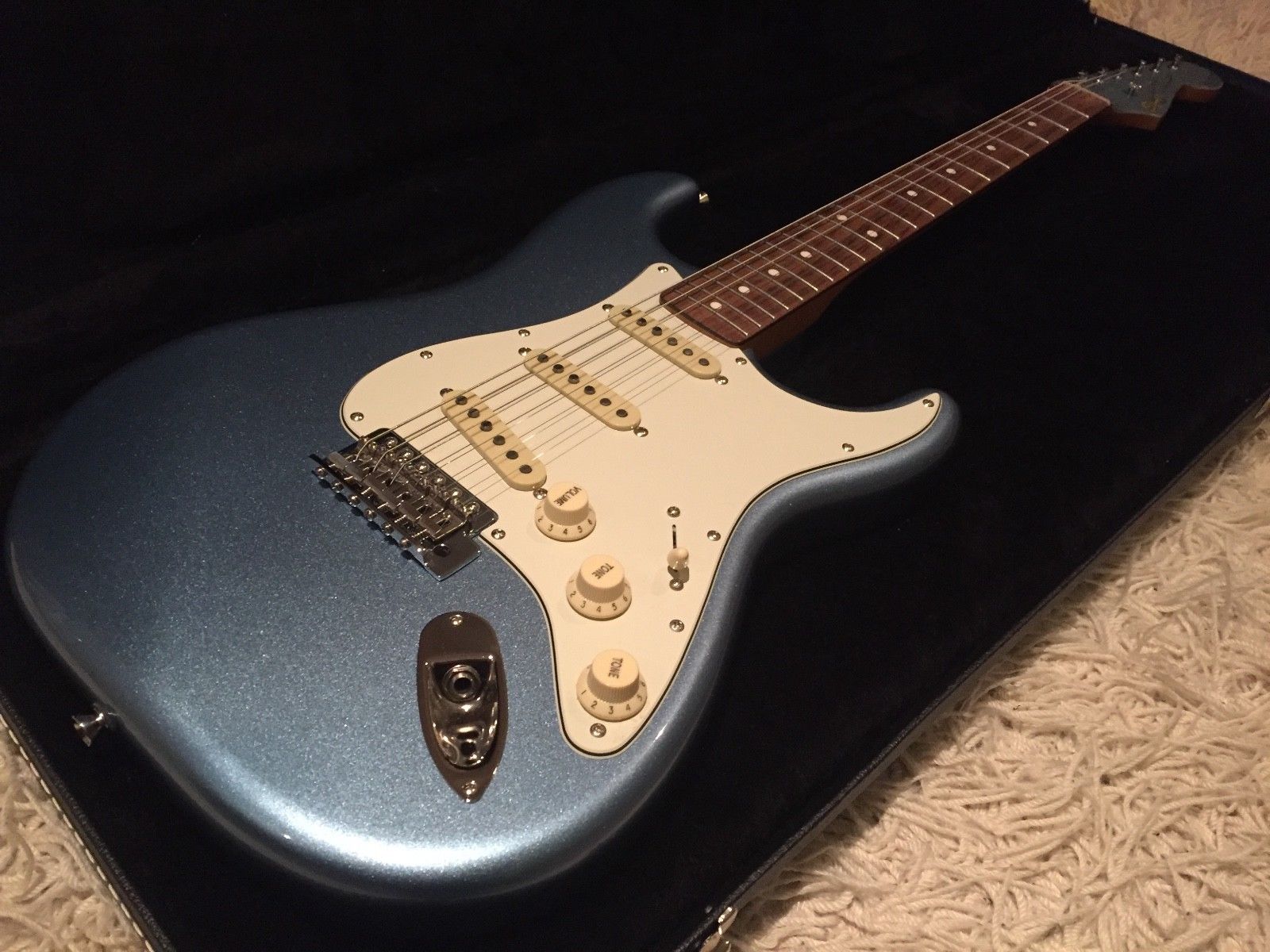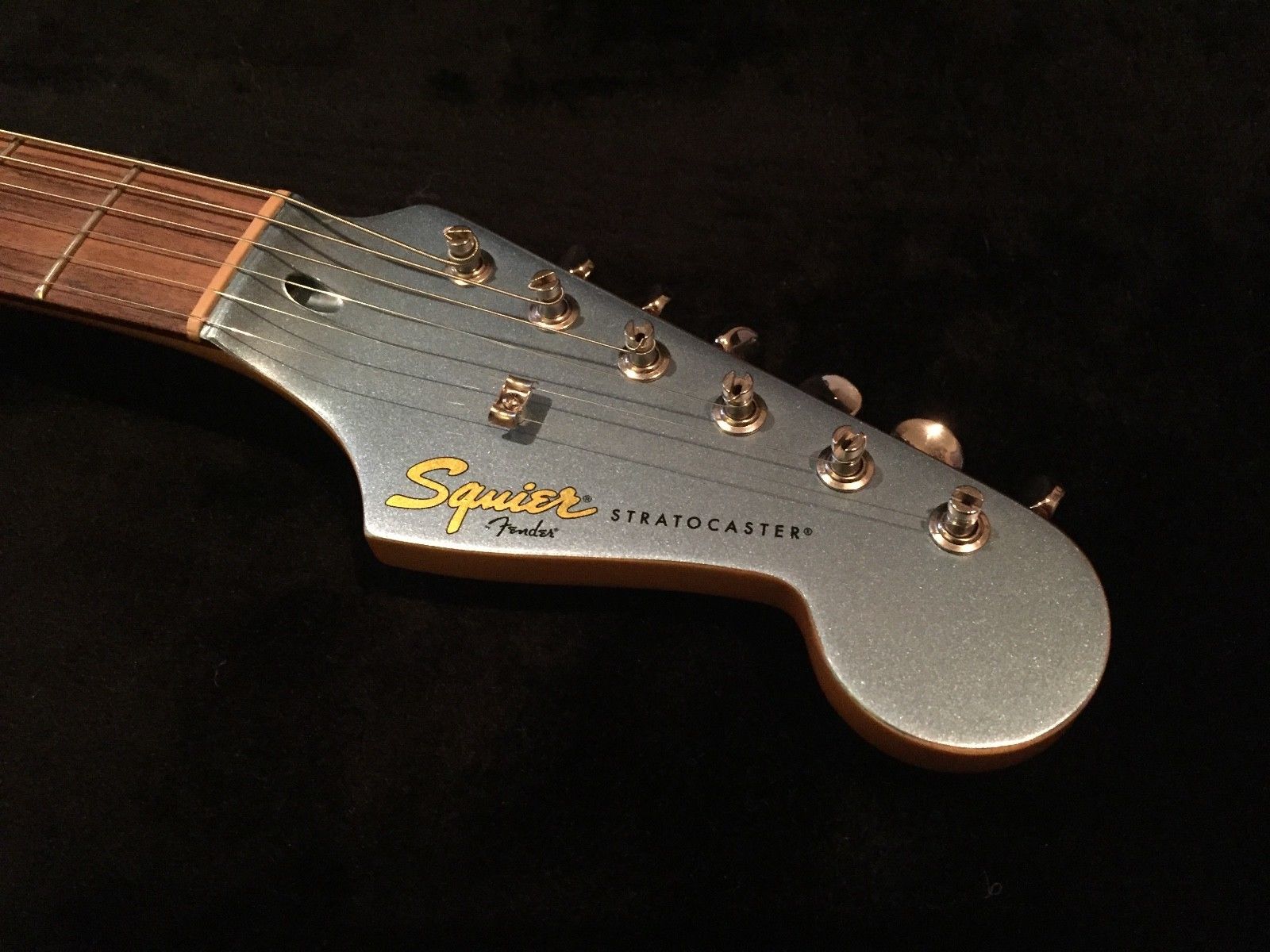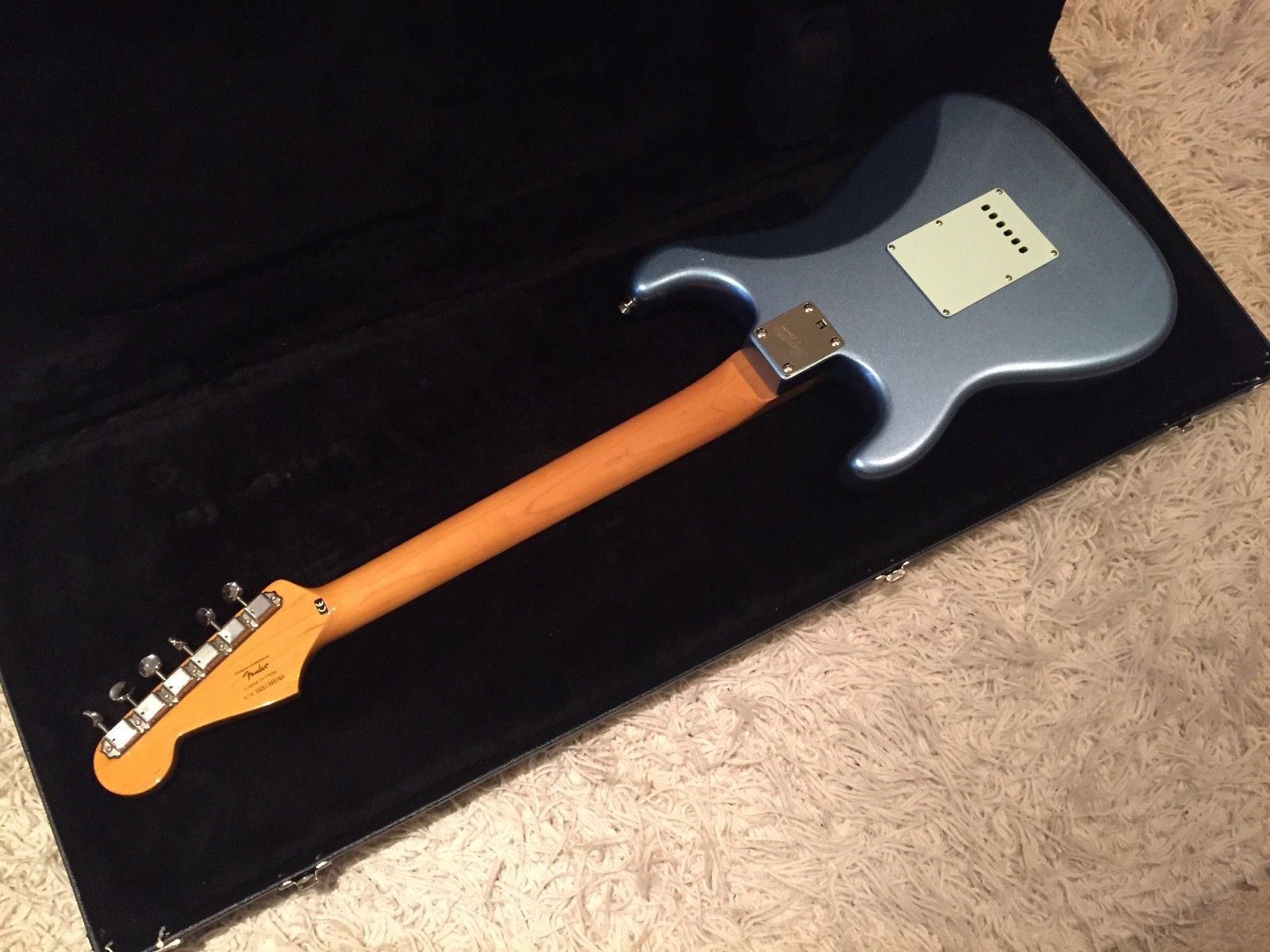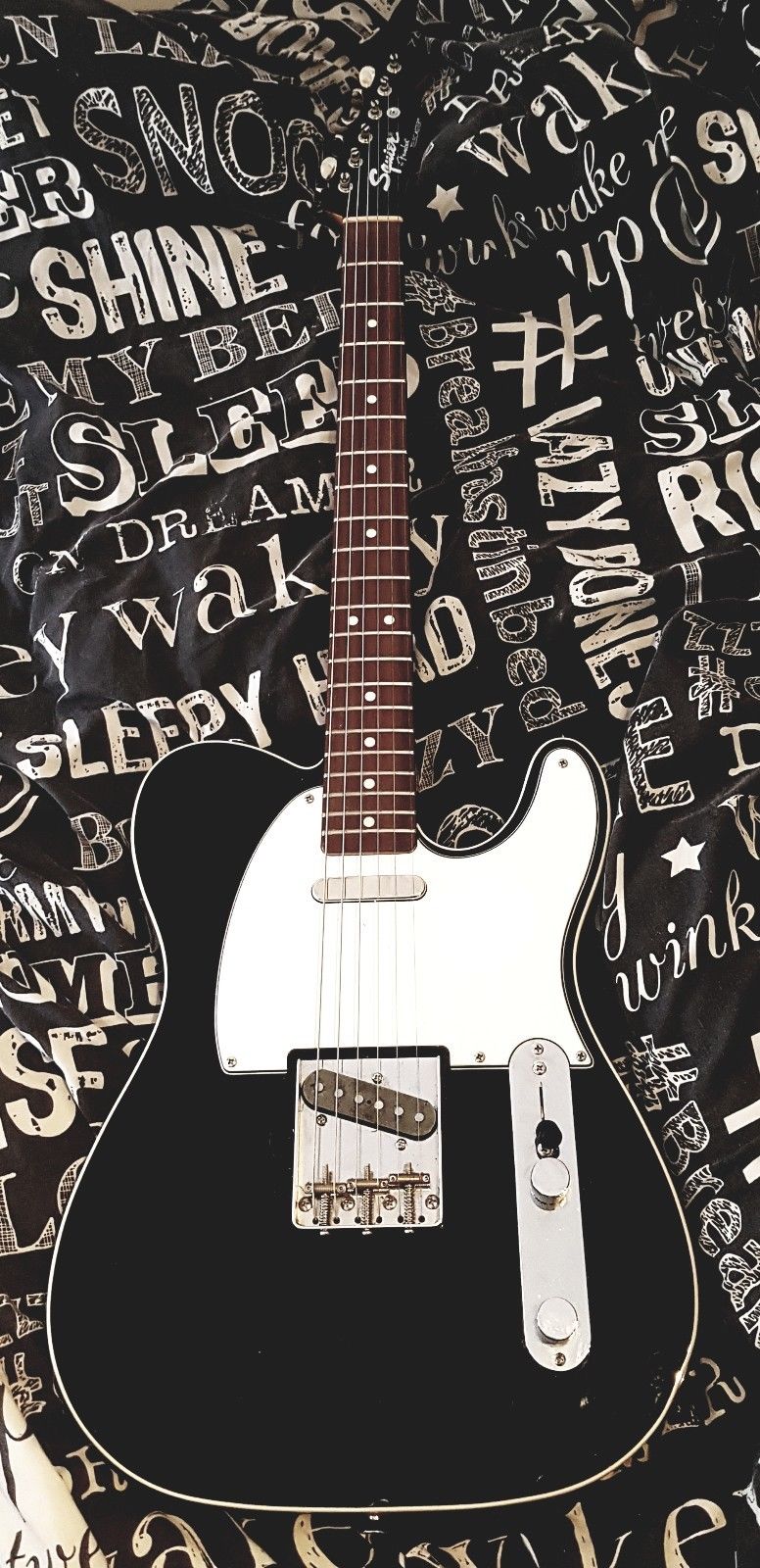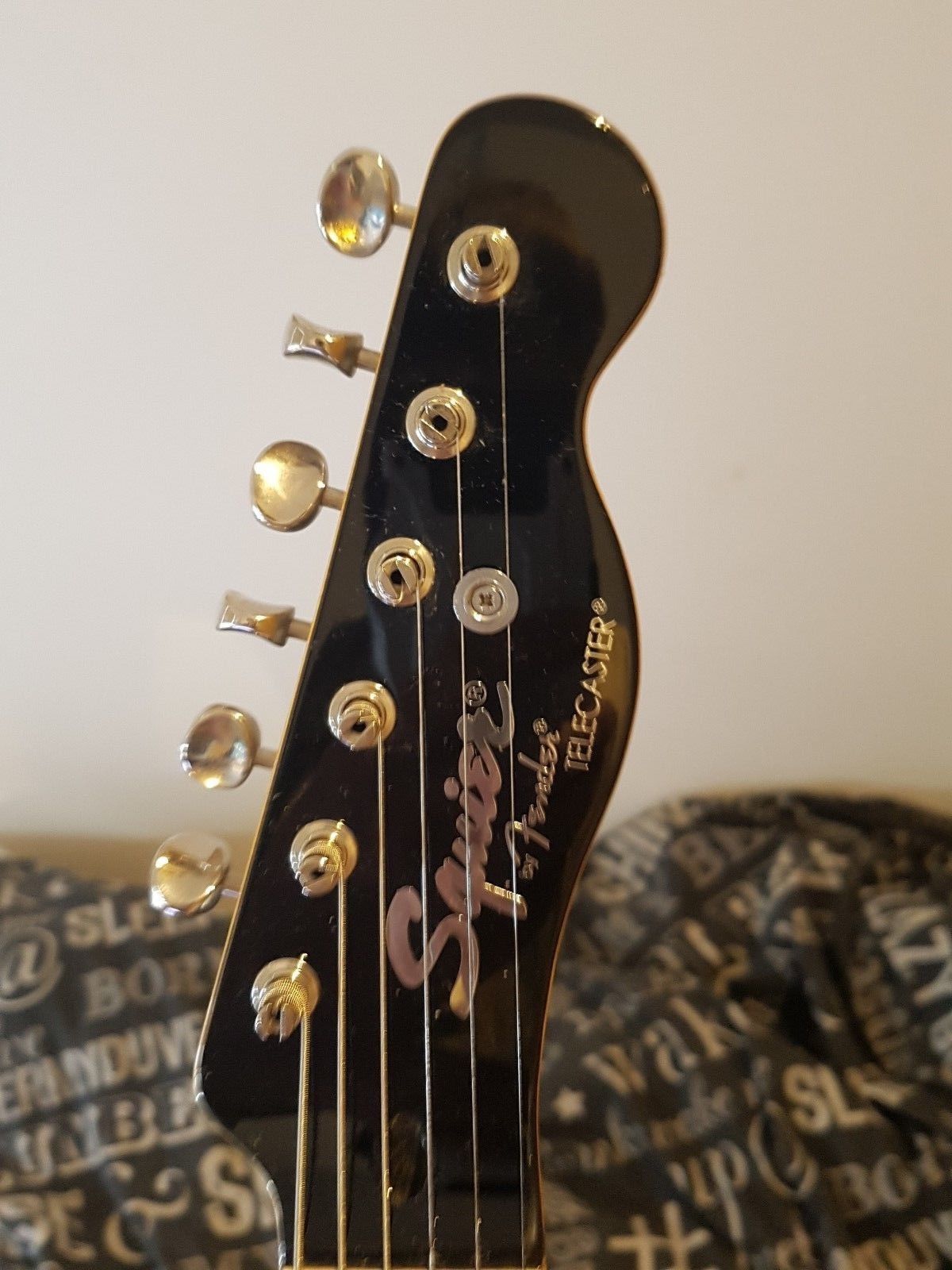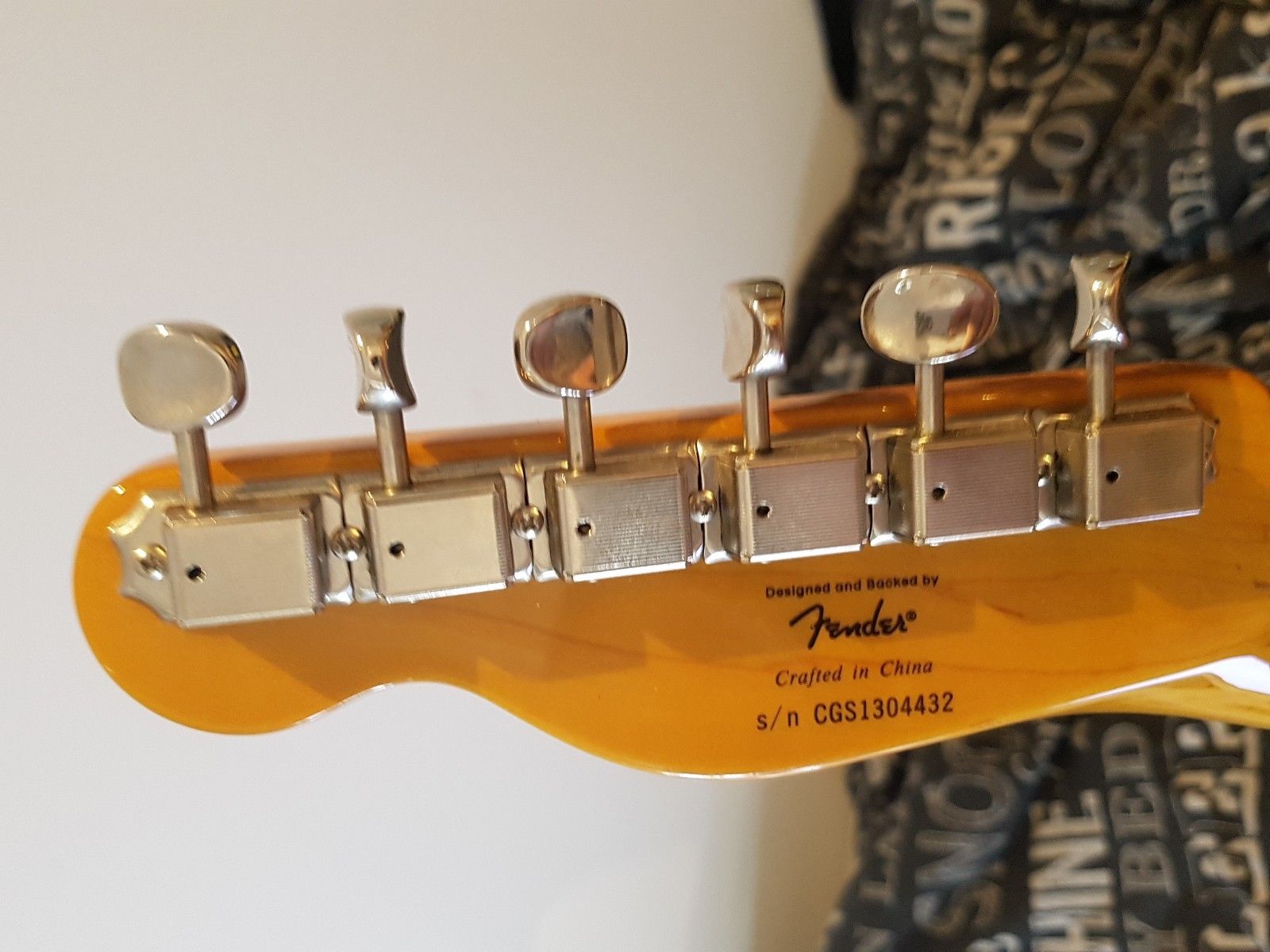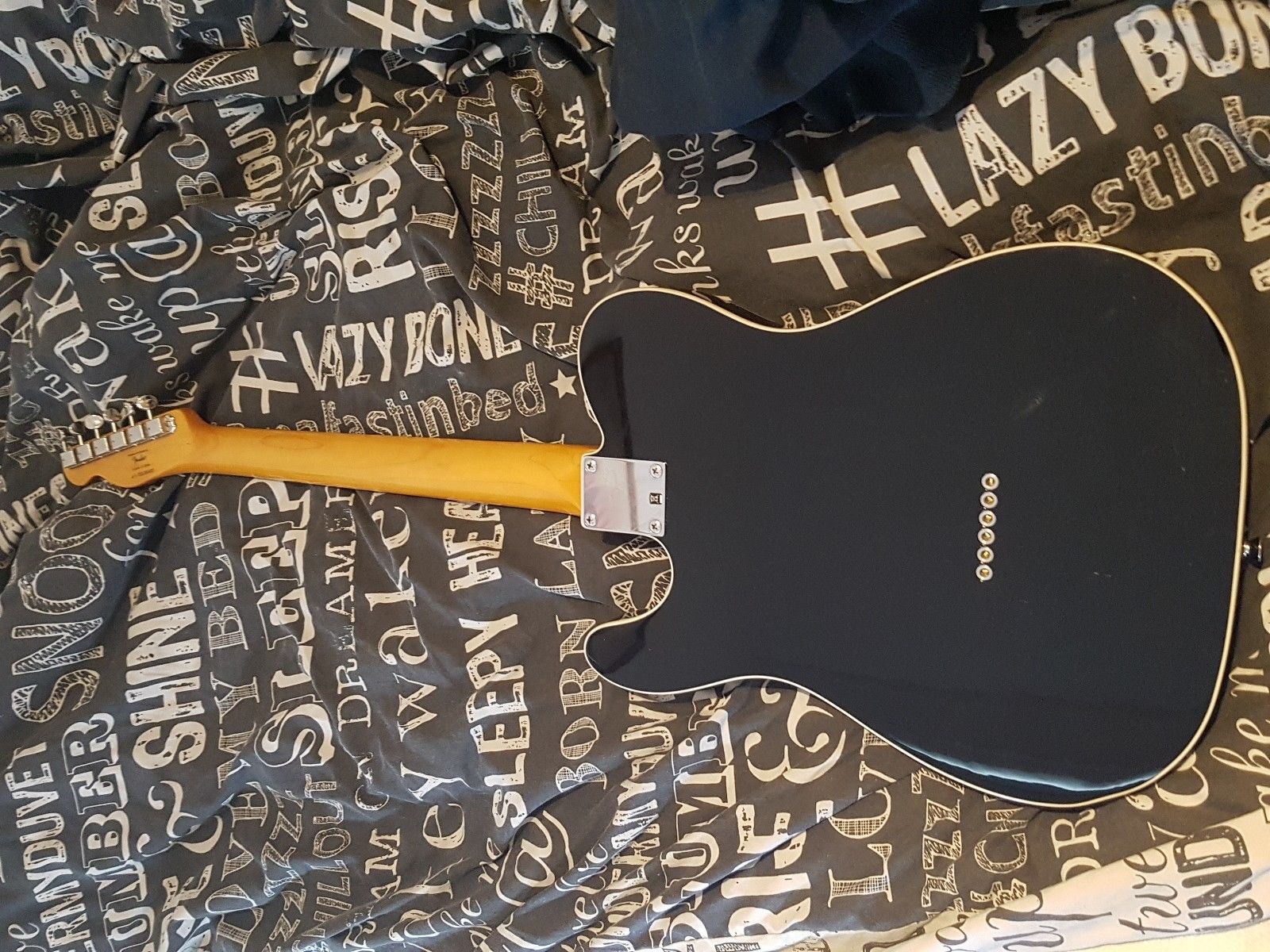 2019
Fender have added to their classic vibe range by renaming the Vintage Modified series production of these continues in Indonesia, whether or not the production of the original classic vibes continues and remains made in China isn't yet clear.
Further Update
The Fender USA web site in July 2019 shows the new range it shows that all models are now made in Indonesia some changes are evident throughout all models. The UK website doesn't appear to have caught up yet.
Headstock logos are different and feature Crafted in Indonesia on the back
Frets are now Narrow Tall
Nuts are now 1.65" bone not synthetic bone.
Body woods and colours are different
Strat and Tele Models
Strat Classic Vibe 50s Body wood is Pine colours are 2 colour sunburst, Fiesta Red, Black or White Blonde
Strat Classic Vibe 60s Body wood is Nato colours are 3 colour sunburst, Candy Apple Red or Lake Placid Blue
Strat Classic Vibe 70s Body wood is Poplar colours are Olympic White, Natural or Black
Strat Classic Vibe 70s HSS Body wood is Poplar colours Black or Walnut
Tele Classic Vibe 50s Body is Pine colours are White Blonde or Butterscotch Blonde Black Pickguard
Tele Classic Vibe 60s Custom Body is Nato 3 colour sunburst
Tele Classic Vibe 70s Custom Body is Poplar colours 3 colour sunburst or Black
Tele Classic Vibe 70s Deluxe Body is Poplar colours Olympic White or Black
Tele Classic Vibe 60s Thinline Body is Nato colour Natural
Tele Classic Vibe 70s Thinline Body is Soft Maple 3 colour sunburst or Natural
Specifications Pre 2019
All models have Modern C shaped necks with a 9.5" radius board so not strictly vintage, some later models had Indian Laurel boards instead of Rosewood because of CITES.
| | | | | | | | | |
| --- | --- | --- | --- | --- | --- | --- | --- | --- |
| Model | Body | Fretboard | Neck Finish | Frets | Nut Width | Pickups see also above | Bridge | Finish |
| Strat CV 50s | Alder | Maple | Gloss Polyester | Medium Jumbo | 1.65" | Vintage Style SC Alnico iii | 6 saddle vintage style | Gloss Polyester |
| Strat CV60s | Alder | Rosewood | Gloss Polyester | Medium Jumbo | 1.65" | Vintage style SC Alnico V | 6 saddle vintage style | Gloss Polyester |
| Tele CV 50s | Pine | Maple | Gloss Polyester | Medium Jumbo | 1.625 | Vintage style Tele SCs | 3 saddle string through body brass barrel saddles | Gloss Polyester |
| Tele Custom CV | Alder | Rosewood | Gloss Polyester | Medium Jumbo | 1.625" | Custom Vintage SC Tele Alnico | 3 saddle American Vintage string through body threaded steel barrel saddles | Gloss Polyester |
| Tele Thinline CV | Mahogany Semi Hollow | Maple | Gloss Polyester | Medium Jumbo | 1.625" | Custom Vintage SC Tele Alnico | 3 saddle American Vintage string through body threaded chrome barrel saddles | Polyester |
| Strat HSH Deluxe CV | Basswood Maple Venner top | Rosewood | Polyurethane | Jumbo | 1.65" | Bridge HB Ceramic Middle Vintage style SC Alnico Neck HB Alnico Alnico | 2 point sync trem block saddles | Polyurethane |
| Simon Neil Strat | Alder | Rosewood | Gloss Polyester | Medium Jumbo | 1.65" | Bridge Alnico V and iii others Alnico v | 6 saddle vintage style | Gloss Polyester |