Bill Alston RGX Pages
The RGX 800 range
According to the Archives the earliest of these was launched in 1986 as the 812 and the 820 and were only produced for about 9 months. In 1987 came the 812E, the 812R, the 820E and the 820R. Then in 1990 we had the 812J and the 820J. All of these were Made in Japan.
Later models all made in Taiwan were the 821D and 821DMR said to be launched in 1999 but appear in the 1996 catalogue. In 2002 also Made in Taiwan we got the 820Z.
The 812 and the 820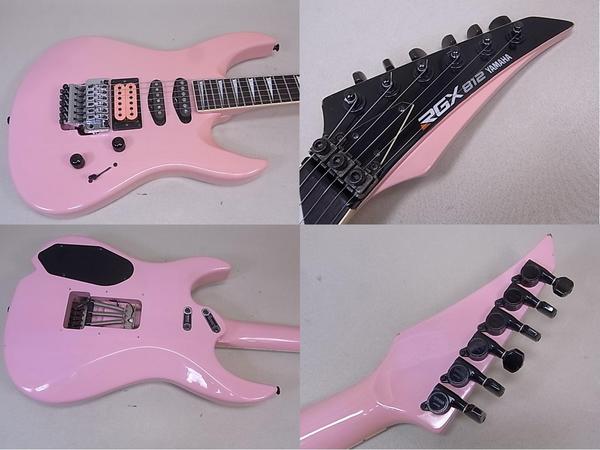 Some details of the 812
These are essentially the same guitar with different pickup configurations
Specifications
Body Basswood
Neck Maple Bolt on Coloured to match the body
Fretboard Rosewood 24 frets 628mms scale 350mms radius Shark tooth markers
Headstock Black with Model details on
Tuners Black Diecast
Pickups 812 SPINEX 1 HB 2 SCs 820 SPINEX 2HBs
Controls 1 volume 1 tone with coil split 5 way switch on the 812 3 way on the 820
Nut Locking
Hardware Black
Bridge Rockin Magic ii
Pickguard None
Colours Black, white, fine red, mellow pink
Years available 1986 only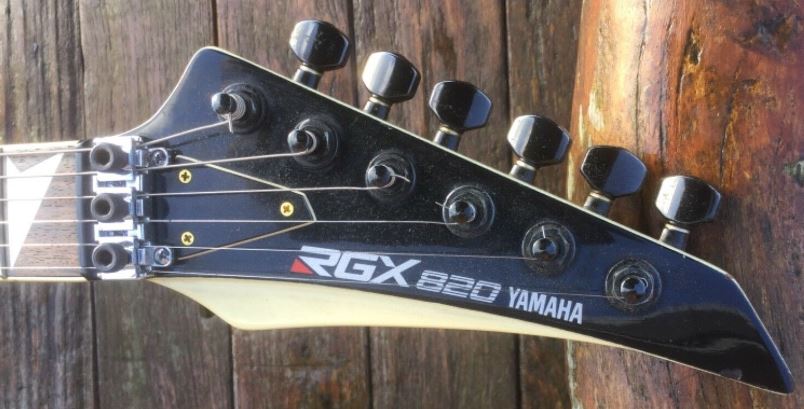 Close up of the 820 Headstock.
The 812 E, 812R 820E 820R
The Es were released late 1986 and appear to be replaced by the Rs in mid 1987, none of the guitars were made after 1987. Again the guitars are pretty much all the same apart from the obvious pickup configuration and the Rs have slightly different Pickups than the Es and the necks on the Es match the body the Rs are plain necks
| | | | | |
| --- | --- | --- | --- | --- |
| Model | 812E | 820E | 812R | 820R |
| Body | Basswood | Basswood | Basswood | Basswood |
| Neck | Maple Bolt on Matching the Body Colour | Maple Bolt on Matching the Body Colour | Maple Bolt on Plain | Maple Bolt on Plain |
| Fretboard | Rosewood 24 frets 350m radius 628mm scale dot markers | Rosewood 24 frets 350m radius 628mm scale dot markers | Rosewood 24 frets 350m radius 628mm scale dot markers | Rosewood 24 frets 350m radius 628mm scale dot markers |
| Headstock | Black with Model Number | Black with Model Number | Black with Model Number Rock'N Road Series and Keep on Rockin and Rollin Produced by Yamaha on the bottom | Black with Model Number Rock'N Road Series and Keep on Rockin and Rollin Produced by Yamaha on the bottom |
| Tuners | Black Diecast | Black Diecast | Black Diecast | Black Diecast |
| Pickups | Low Impedance PU YLG-S1Z x 2, Low Impedance PU YLG-H1Z x 1 | Low Impedance PU YLG-H1Z x 2 | Low Impedance PU YLG-S1ZB x 2, Low Impedance PU YLG-H1ZB x 1 | Low Impedance PU YLG-H1ZB x 2 |
| Controls | 1 volume 2 Tone 3 individual mini pickup switches | 1 Volume 2 Tone 3 way switch | 1 volume 2 Tone 3 individual mini pickup switches | 1 Volume 2 Tone 3 way switch |
| Nut | Locking | Locking | Locking | Locking |
| Hardware | Black | Black | Black | Black |
| Bridge | RMii | RMii | RMii | RMii |
| Colours | Black, pearl white, candy apple red, gunmetal blue | Black, pearl white, candy apple red, gunmetal blue | Black, pearl white, candy apple red, gunmetal blue | Black, pearl white, candy apple red, gunmetal blue |
| Produced | Oct 86 to 87 | Oct 86 to 87 | July 87 to 87 | July 87 to 87 |
The Pickups are active type with Yamaha on the front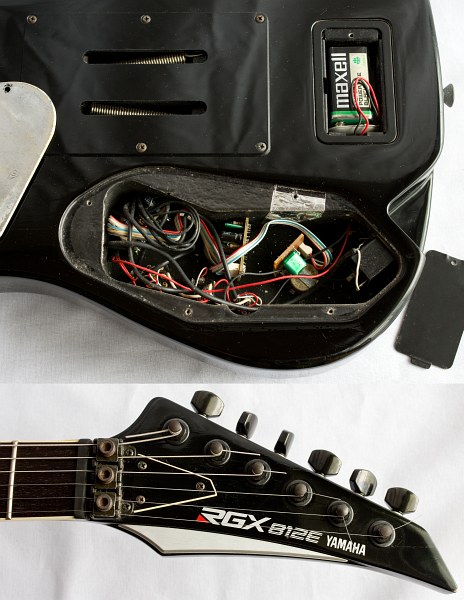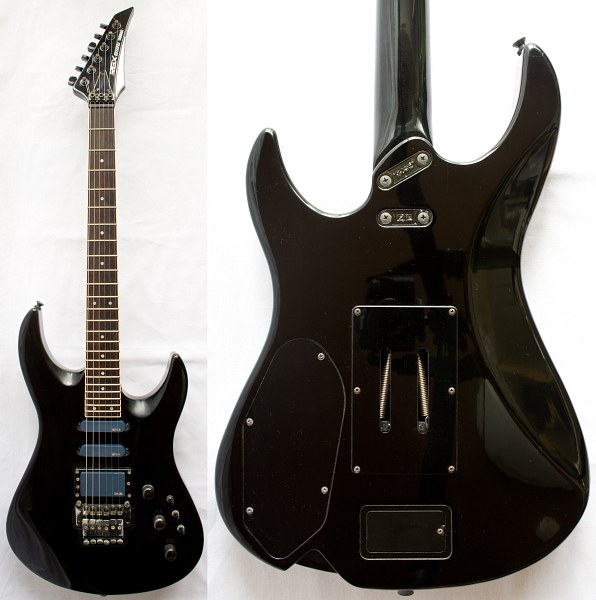 Some detail of the 812E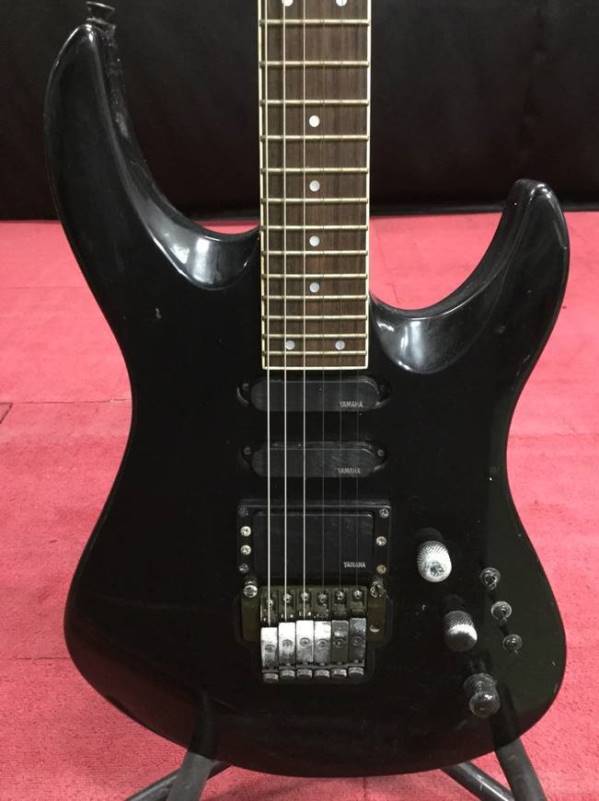 The 812R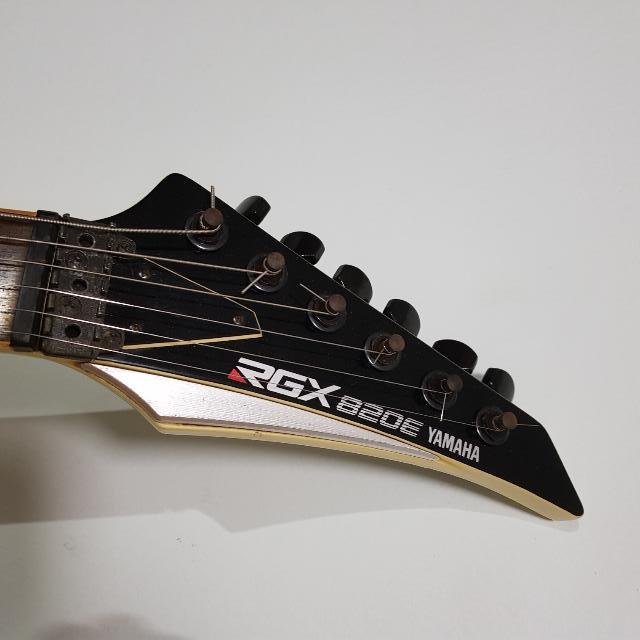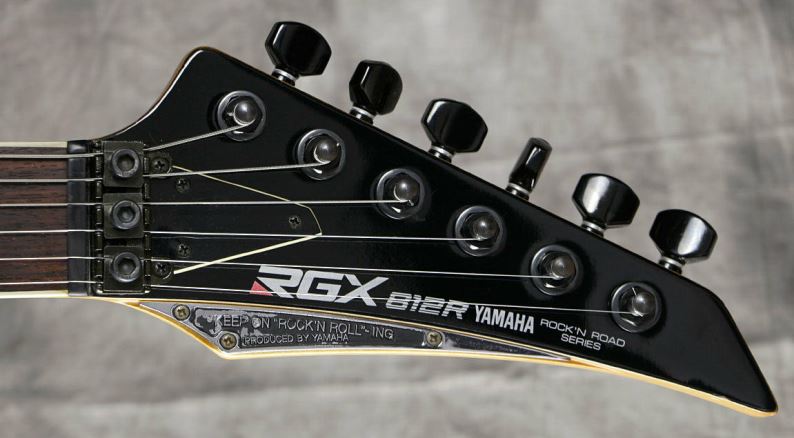 A comparison of the two headstocks
RGX821D and DMR
These made in Taiwan guitars arrived in 1999 according to the archives but I have a 1996 catalogue with them in so the archives are wrong again, also they don't seem to appear in any later western catalogues. They first appear in the Japanese catalogues in 1998 but not any later. The unique features of these two guitars included a partial scalloping of the neck, from the 20th to 24th frets. The DMR differs from the D by having a reversed headstock and a Maple board instead of Rosewood.
Specifications
Body Alder with Laminated Maple Top and Back
Neck Bolt on 1 piece Maple
Fretboard 24 frets 350mm radius 648mm scale Rosewood on the D Maple on the DMR scalloped 20th to 24th Fret
Headstock Matching with 1 string bar Yamaha in large capitals reversed on the DMR.
Tuners Gold diecast
Pickups 2 USA mase Alnico V HBs 1 USA Made Alnico V SC
Controls 1 Volume 1 Tone 5 way switch inc coil tap
Nut 43mms locking
Hardware Gold
Bridge Gold TRS Pro
Pickguard None
Colours Faded Blue, Antique Burst, Black Burst or Violet Burst
Years available 1986 to 1988? see above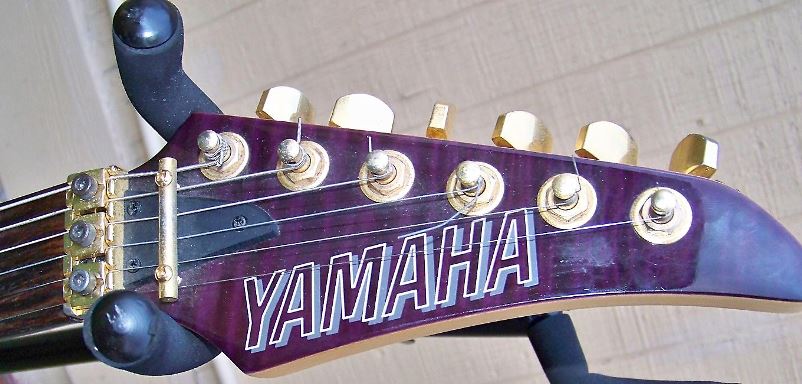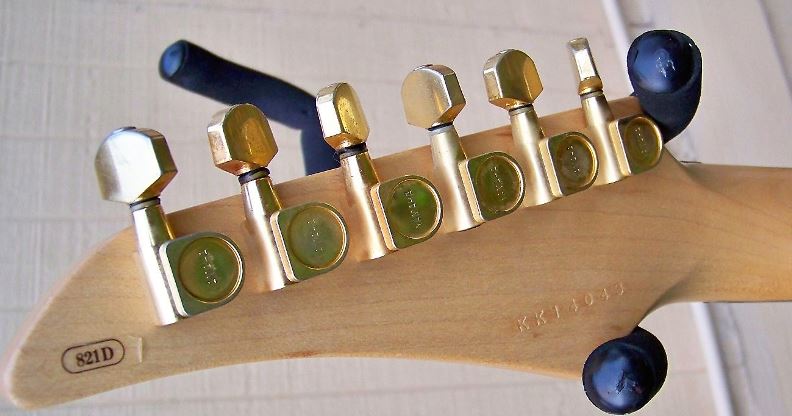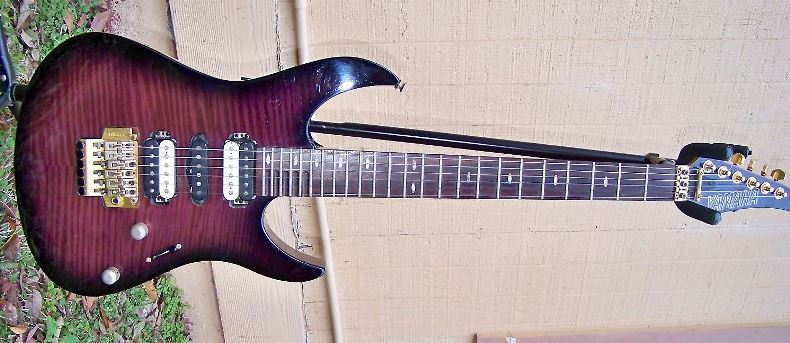 This is the 821D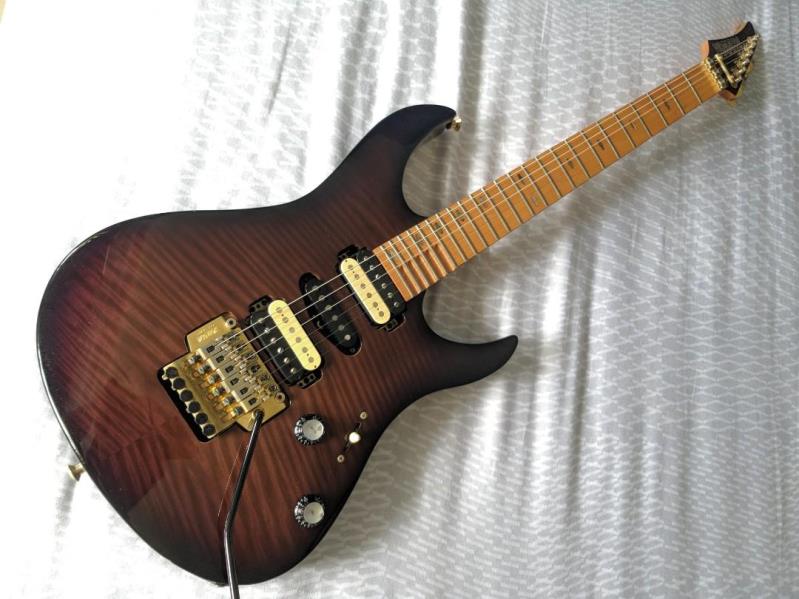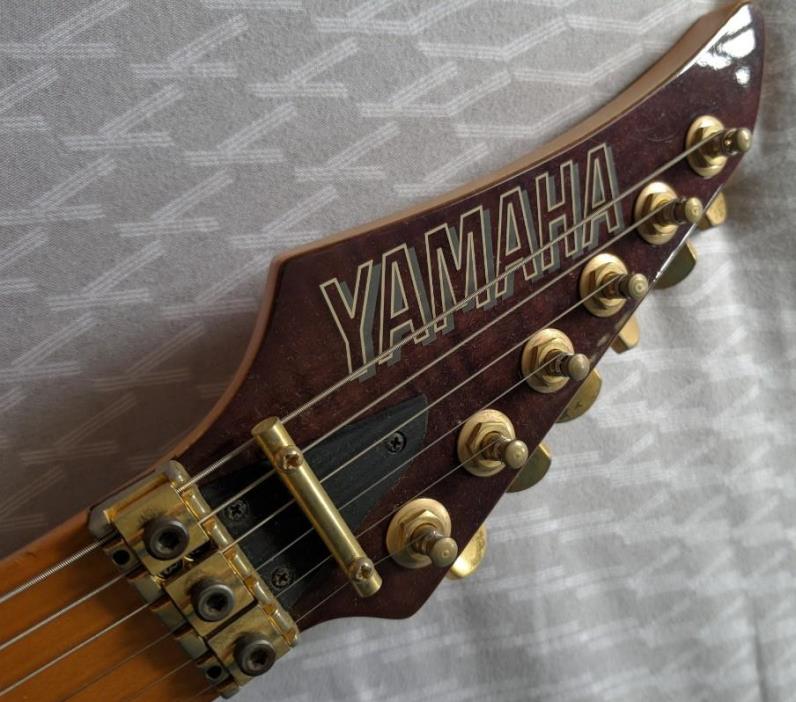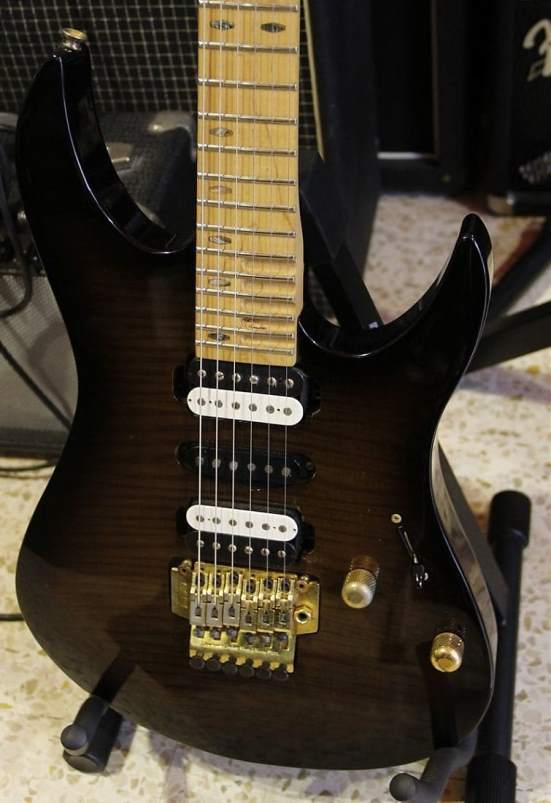 This is the 821DMR
The 820Z
Again made in Taiwan from about 2002 to 2007. A very striking guitar with some unusual features. It includes a Piezo pickup in the bridge and has two jack outputs 1 includes the Piezo the other doesn't. We have now reached the time when the RGX series has moved from the 6 in line tuners to 3 a side tuners.

Specifications
Body Alder
Neck Bolt on 1 piece Maple
Fretboard Rosewood 22 frets no fret markers 350mm radius 648mms scale
Headstock Matching Yamaha and Tuning Fork Logo recessed for tuners
Tuners 3 a side Black Sperzel recessed locking tuners
Pickups Piezo under bridge 1 SD 59 and 1 SD JB uncovered black
Controls see picture below
Nut 43mm non locking
Hardware Nickel
Bridge Yamaha 1000P Stainless
Pickguard None
Colours Amber Burst, Blue Burst or Trans Dark Red
Years available 2002 to 2007
Some later models made in Indonesia

In an aftermarket case none supplied with it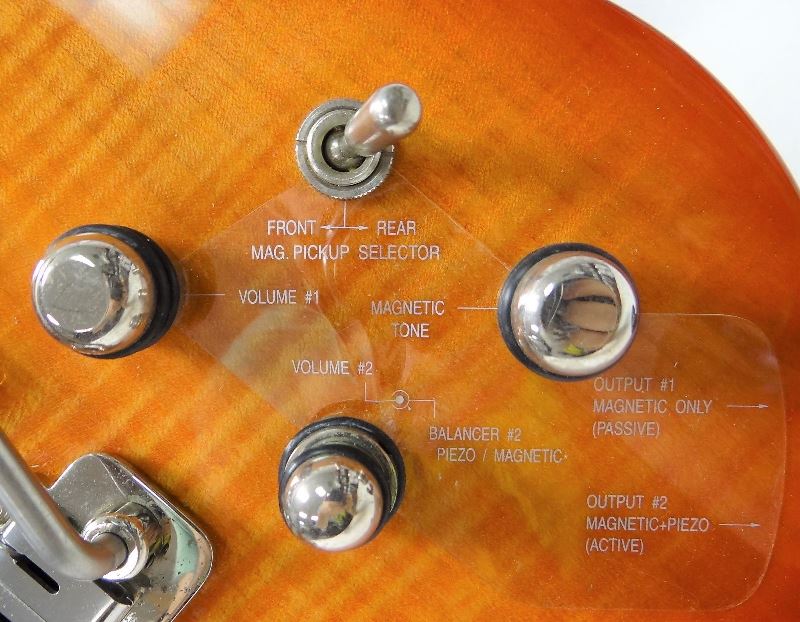 The Controls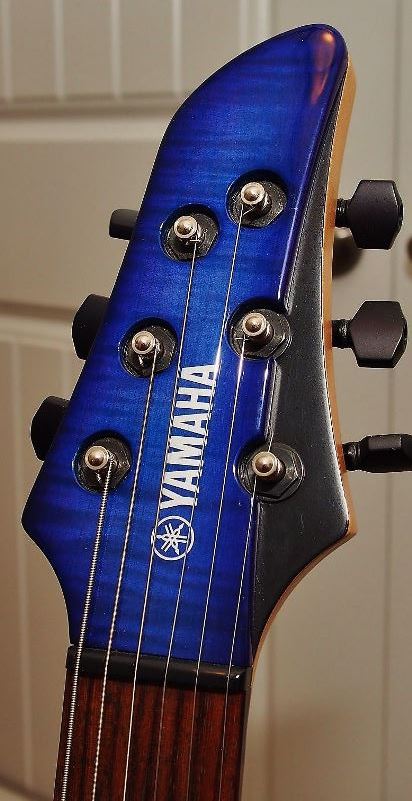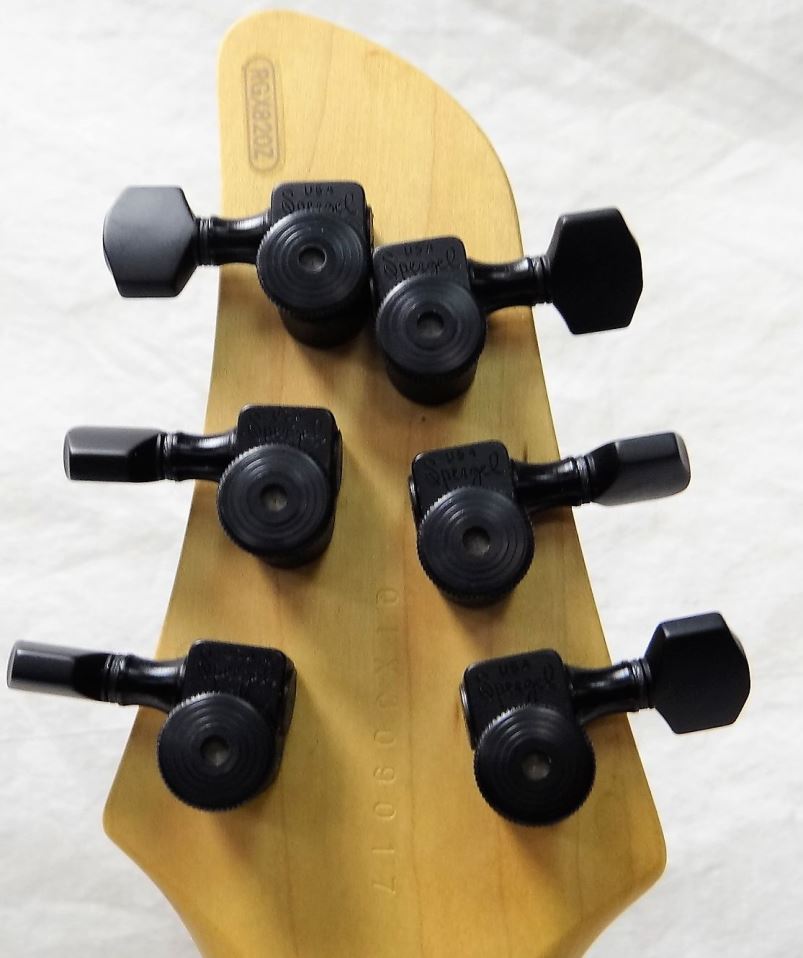 Headstock