Bill Alston RGX Pages
The Current RGX range April 2020
There are 4 models currently on offer 3 standard models and the A2. All made now in Indonesia early ones in Taiwan. The standard models are:
RGX121Z
RGX220DZ
RGX420Zii

RGX121Z

This is the bottom of the range having standard trem unit and no locking nut. It also appears in the starter pack as the ERG121. It sells for around &pound220 to &pound240 April 2020. It is available in a left handed version. Colours Black, Flat Silver or Red Metallic.
RGX220DZ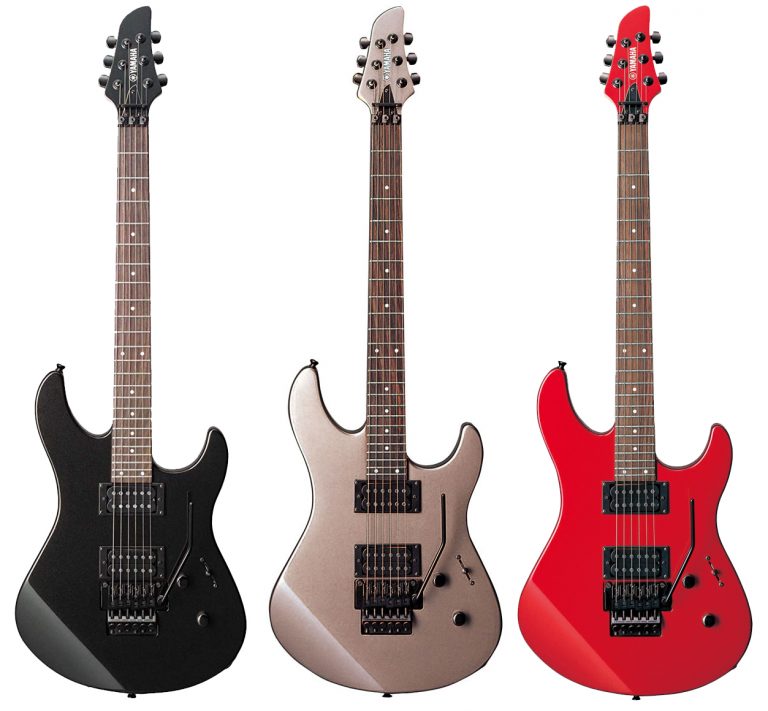 The next step up having double locking trem locking nut and a wider neck. These sell for around &pound250 to &pound270 Colours All Metallic Black, Red, Blue or Dark Gray
RGX420DZii

Top of the range with superior pickups. These currently sell for around &pound400 Colours Black, Satin Black or White

Specs
The following are common to all above models
Scale 25.5"
Radius 13.75"
Neck Bolt on Maple
Medium Frets
Hardware Black
Tuners Black 3 a side Diecast
The 3 and 5 way switching is standard with no coil taps
The rest
| | | | |
| --- | --- | --- | --- |
| | 420DZ11 | 220Dz | 121Z |
| Body | Alder | Alder | Alder, Agathis or Nato |
| Body Finish | Satin | Polyester | Gloss Polyurethane |
| Neck Finish | Gloss Polyurethane Satin Finish | Satin Finish | Satin Polyurethane |
| Fretboard | Rosewood or Laurel | Rosewood or Laurel | Rosewood |
| Frets | 24 | 24 | 22 |
| Nut | 43mms Locking | 43mms locking | 41mms Urea |
| Pickups | EMG H4A and EMGH4 | 2 Ceramic Humbuckers | HSH Ceramics |
| Controls | Master Volume Master Tone 3 way switch | Master Volume Master Tone 3 way switch | Master Volume Master Tone 5 way switch |
| Trem Unit | Locking | Locking | Vintage Style |
The RGXA2

The A2 in White and Aircraft Gray
This is the blurb from Yamaha

In creating a lighter guitar, one absolute condition set down was that sound quality could not be sacrificed. For this reason, a great deal of time and effort went into the creation of numerous prototypes. The A2 project had to combine three crucial factors great sound, light weight, and sufficient strength to withstand the huge forces generated by strings under tension. Intensive research and development led to the creation of A.I.R. (Alternative Internal Resonance) technology. Although it uses a solid body design, the incredible resonance created by the unique construction method produces a big, open sound that resonates throughout the guitar's entire body. To match and compliment this instrument's unique characteristics, original bridge and pickup systems were developed the resulting tone and response shattering the widely accepted concept that "lightweight means light sound". The RGXA2 brings a revolutionary approach to guitar design.The quest for the perfect design naturally took the route of trying to build the lightest possible guitar, but early prototypes, while incredibly light, didn't deliver the sound or playing experience that was essential. The final weight for the RGXA2 was set at around 2.5kg, a perfect balance?around 30% lighter than a regular solid body guitar but with all the feel and sound that players were looking for. This is lightweight design taken to the extreme.

This really is a unique and fine looking instrument made in 2 colours Jet Black or White and Aircraft Gray

Specifications
Body Agathis Falcata AIR with Gloss Polyurethane finish
Neck Bolt on Maple Gloss Finish 25.5cm scale
Fretboard Rosewood 22 medium Frets 13.75" radius no fret markers
Headstock Matching Yamaha on front
Tuners 3 a side chrome with diecast with cylindrical knobs
Pickups 2 Alnico V Humbuckers
Controls Silver recessed 1 Master Volume, 1 Rotary Pickup switch no tone control
Nut Non locking Urea 43mms
Hardware Brushed Nickel
Bridge Unique AIR Mounting System
Pickguard None
Years available 2005 onwards
Switching by the rotary switch indicated by LED lights Bridge Pickup lights Blue neck Pickup Green can have both together
There is a battery but it is only for the lights doesn't affect the pickups etc.

The Black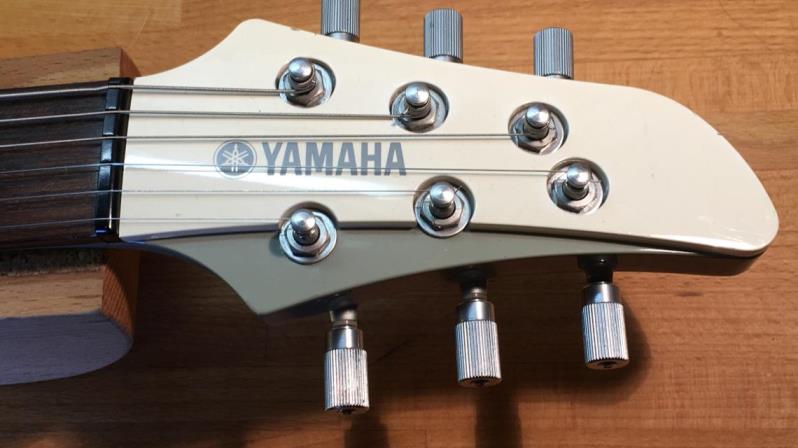 The Headstock and Tuners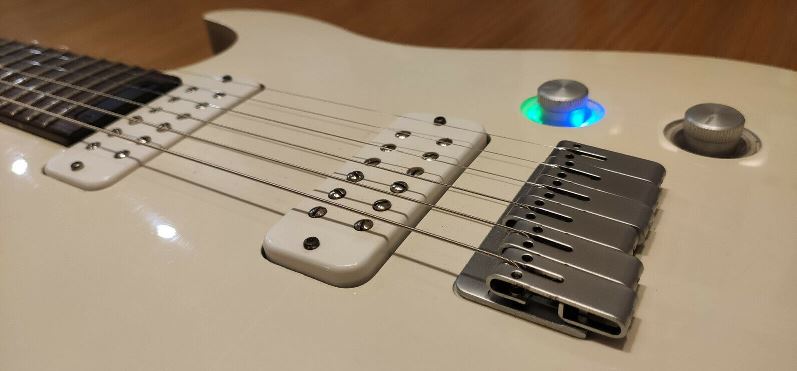 The Bridge and Controls