Bill Alston
Mexican Telecaster 72 Reissues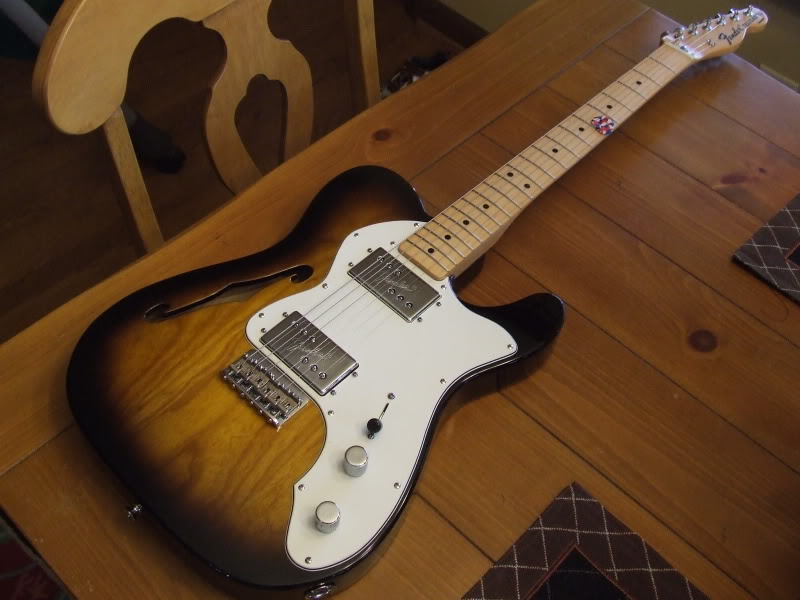 A 72 Telecaster Thinline Sunburst
There are broadly speaking three Telecaster 72 RIs The Thinline, The Custom and The Deluxe. These are easily distinguished, the Thinline is a semi hollow HH with an F Hole the other two are solid bodied, the Deluxe being HH and the Custom SH.


72 Telecaster Thinline
First introduced in 1999 and described by Fender as a faithful 70s reproduction it is in fact a reasonable reproduction of a version 2 thinline. It has an Ash body and was first available just in natural but three colour sunburst was added the following year.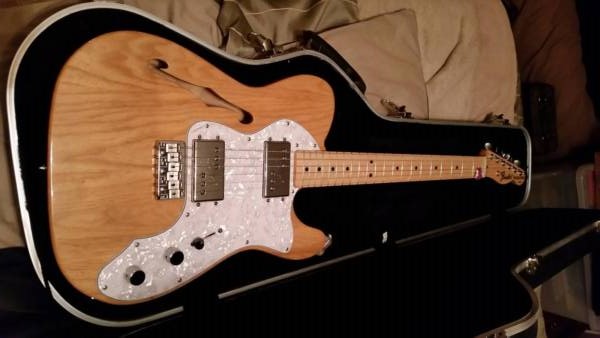 Thinline Natural
72 Telecaster Custom
Also launched in 1999 this is a reasonable reproduction of the 70s custom but the 70s models themselves had some variations in saddles and pickguard. Available in Black or Sunburst the sunburst was alder the black alder or poplar.


72 Telecaster Deluxe
The Deluxe an Alder bodied guitar in Black, Sunburst or Walnut was released in 2004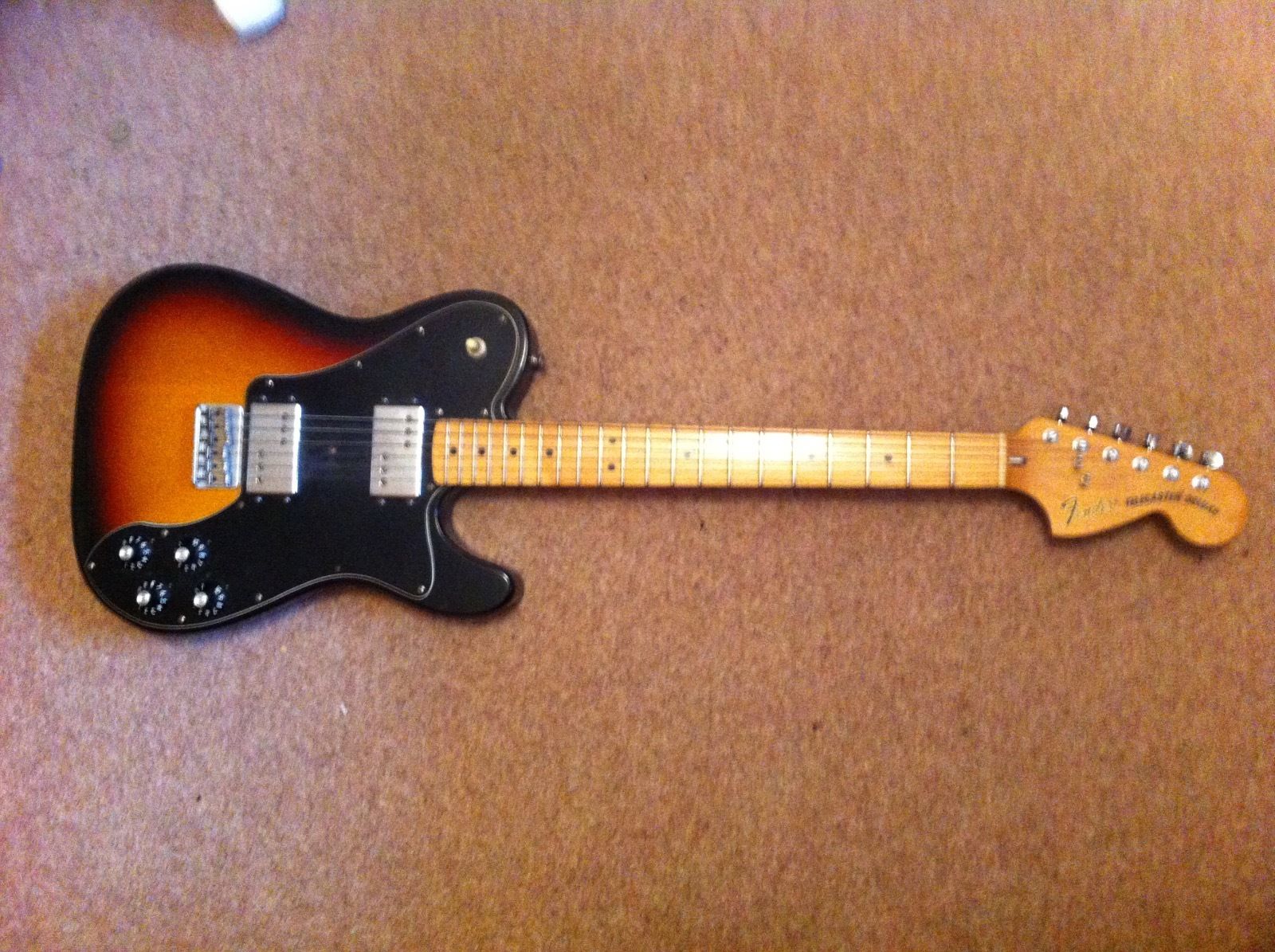 More detail
Model
Thinline
Custom
Deluxe
Body
Ash Semi Hollow
Alder or Poplar
Alder
Fretboard
Maple
Maple or Rosewood
Maple
Radius
7.25"
7.25"
12"
Profile
U*
U
C
Frets
21 Nickle silver vintage
21 Nickle silver vintage
21 Medium Jumbo
Pickguard
White
BWB
Black
Neck attachment
3 bolt microtilt
3 bolt microtilt
3 bolt microtilt
Headstock
Tele style bullet truss rod adj
Tele style bullet truss rod adj
Large strat style bullet truss rod adj
Controls
1 vol 1 tone tele style
2 vol 2 tone skirted
2 vol 2 tone skirted
Pickups
2 wide range HBs
1 tele single coil 1 wide range HB
2 Wide range HB
Colours
Natural Sunburst
Black or Sunburst
Black Sunburst or Walnut
Bridge
6 saddle strat style
3 saddle tele style
6 saddle strat style
* In some of the Fender literature it says the neck profile is C in others U.

Roadworn Models
In 2010 Fender launched roadworn versions of the Deluxe and the Custom. The Custom was available in Sunburst or Black an the Deluxe in Olympic White or Black. These are essentially just roadworn models of the existing range with no significant differences in the specs. It was a very short run in reality an FSR.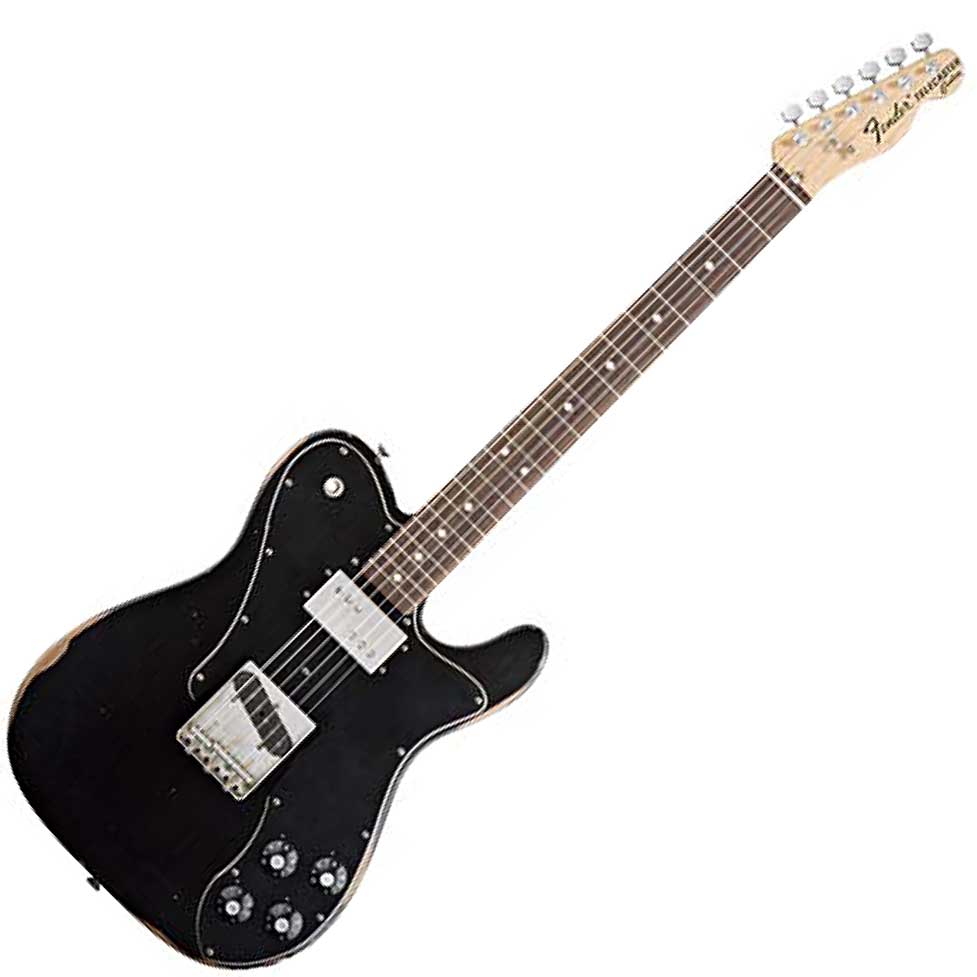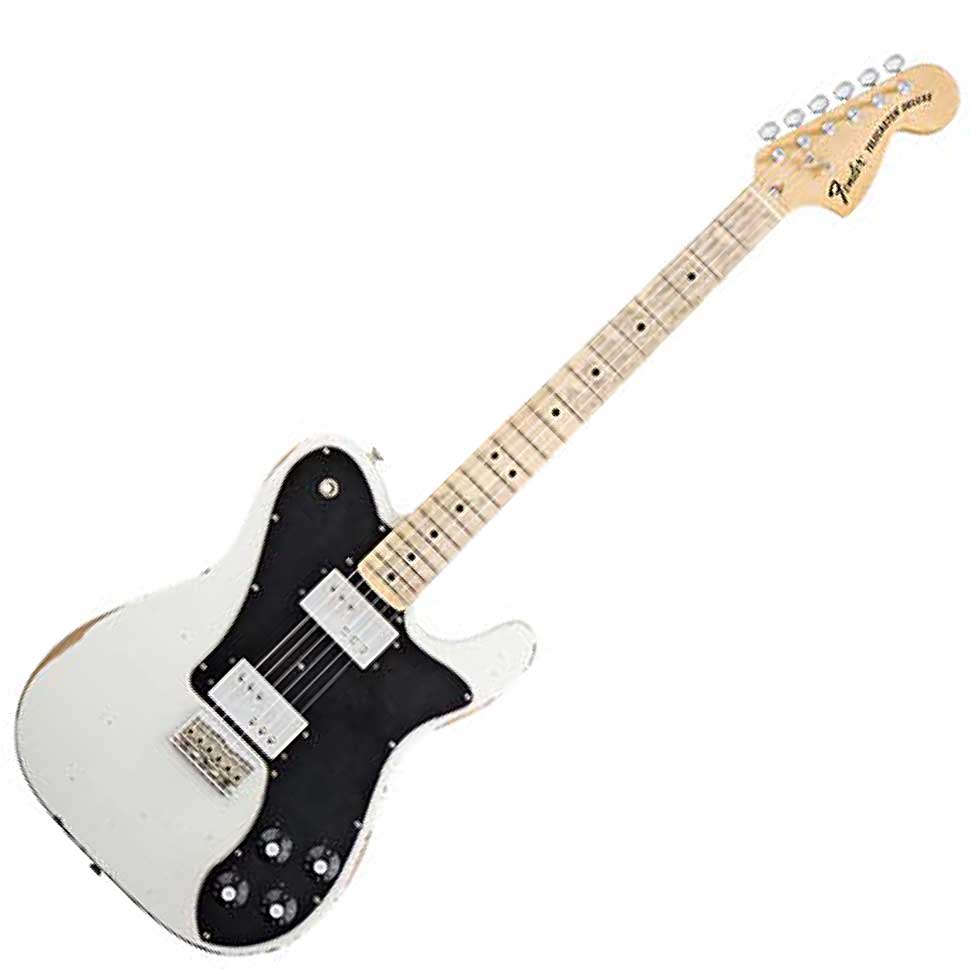 The Roadworns a Custom and a Deluxe
A look at some FSRs
FSRs are Factory Special Runs or Fender Special Runs, opinion seems divided and they are generally for a specific dealer, a different wood or to commemorate a specific occasion, a brand or similar. Sometimes just because Fender want to issue them. There are a number of FSRs for these models here's some of them.


2002 Thinline
This special run was 5 custom colours with a white pearl pickguard. They are based on car colours in theory. The colours are Lake Placid Blue, Daphne Blue, Candy Apple Red, Surf Green and Shell Pink. There is contradictory information on the numbers made, I have heard as few as 25 of each colour often said to be a 100 of each and sometimes more. My view is more as they do not appear to be that rare although certainly not common.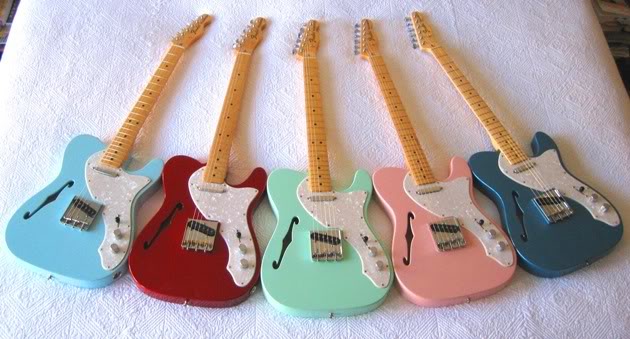 The 2002 FSRs
2012 Deluxe
There was an FSR or more than one in 2012 of the Deluxe in sparkle colours one of these had Vegas Gold, Aqua Flake Blue and Tangerine Flake.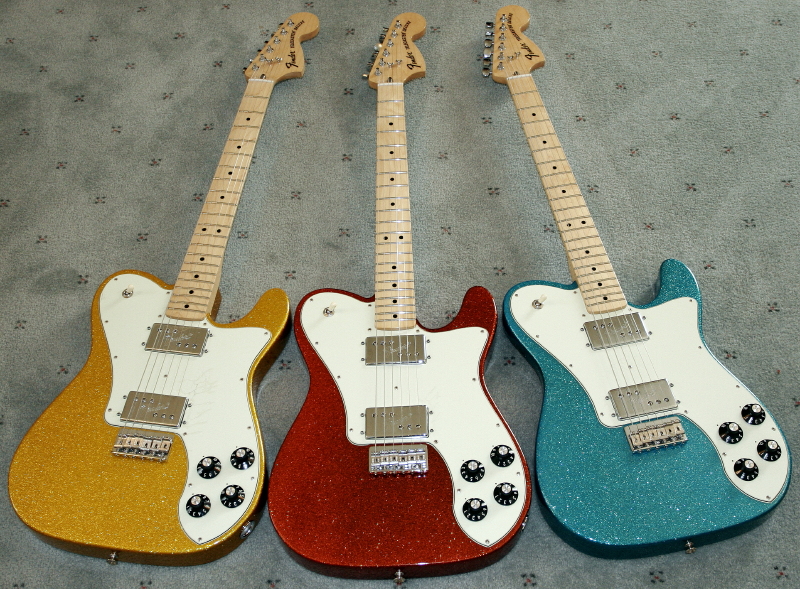 A 2012 FSR
2015 FSR
There has been a recent FSR of the Deluxe with Sparkle Colours Gold Red and Blue.I don't currently have any pictures of these.

Some Miscellaneous FSRs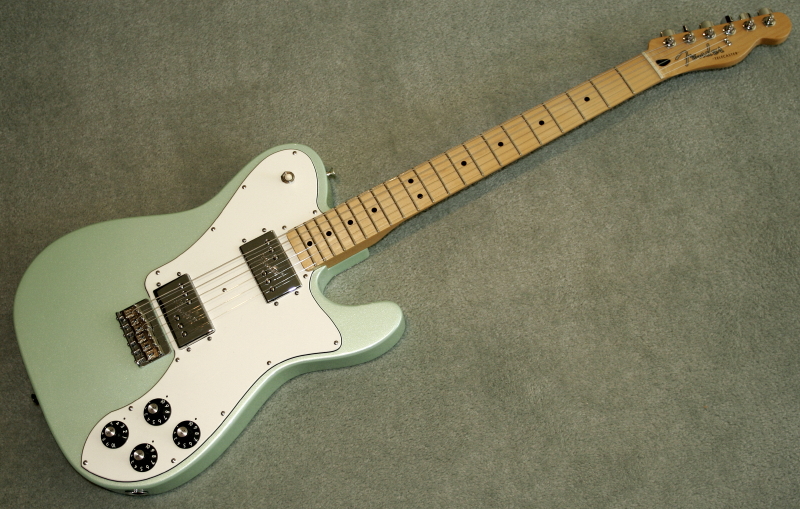 This is a 2010 Deluxe in Sea Foam Pearl note the standard Tele headstock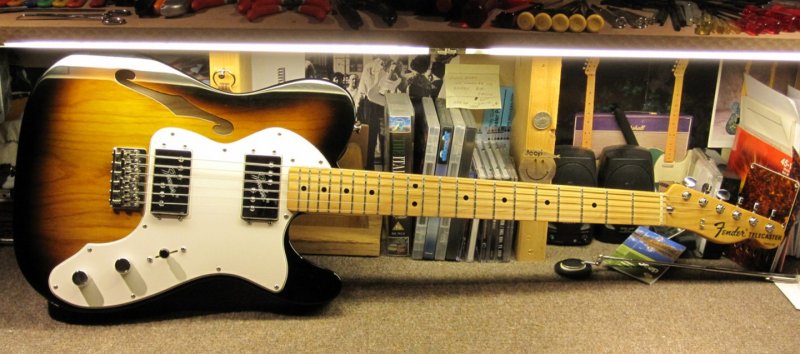 Thinline in 2 tone sunburst don't know the year
In 2016 a faded sonic blue FSR Thinline was made as at December 2016 there are still some available at around &pound950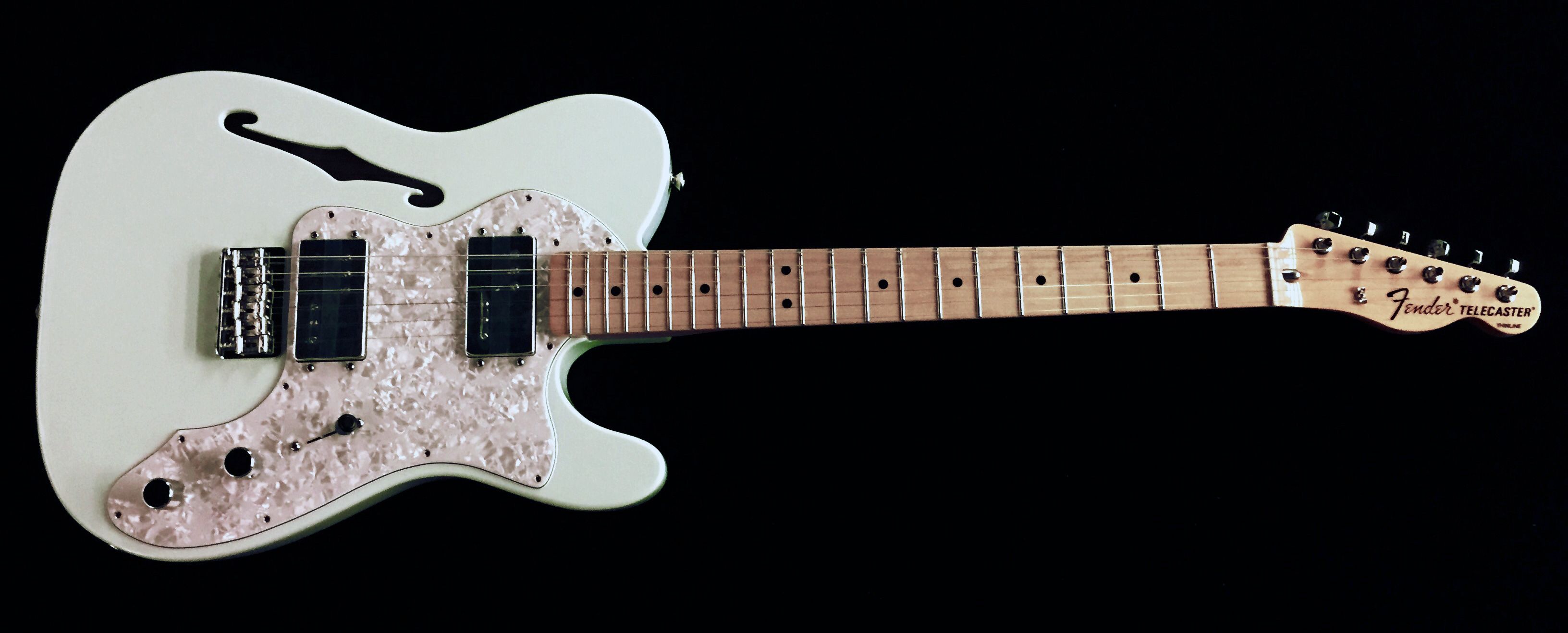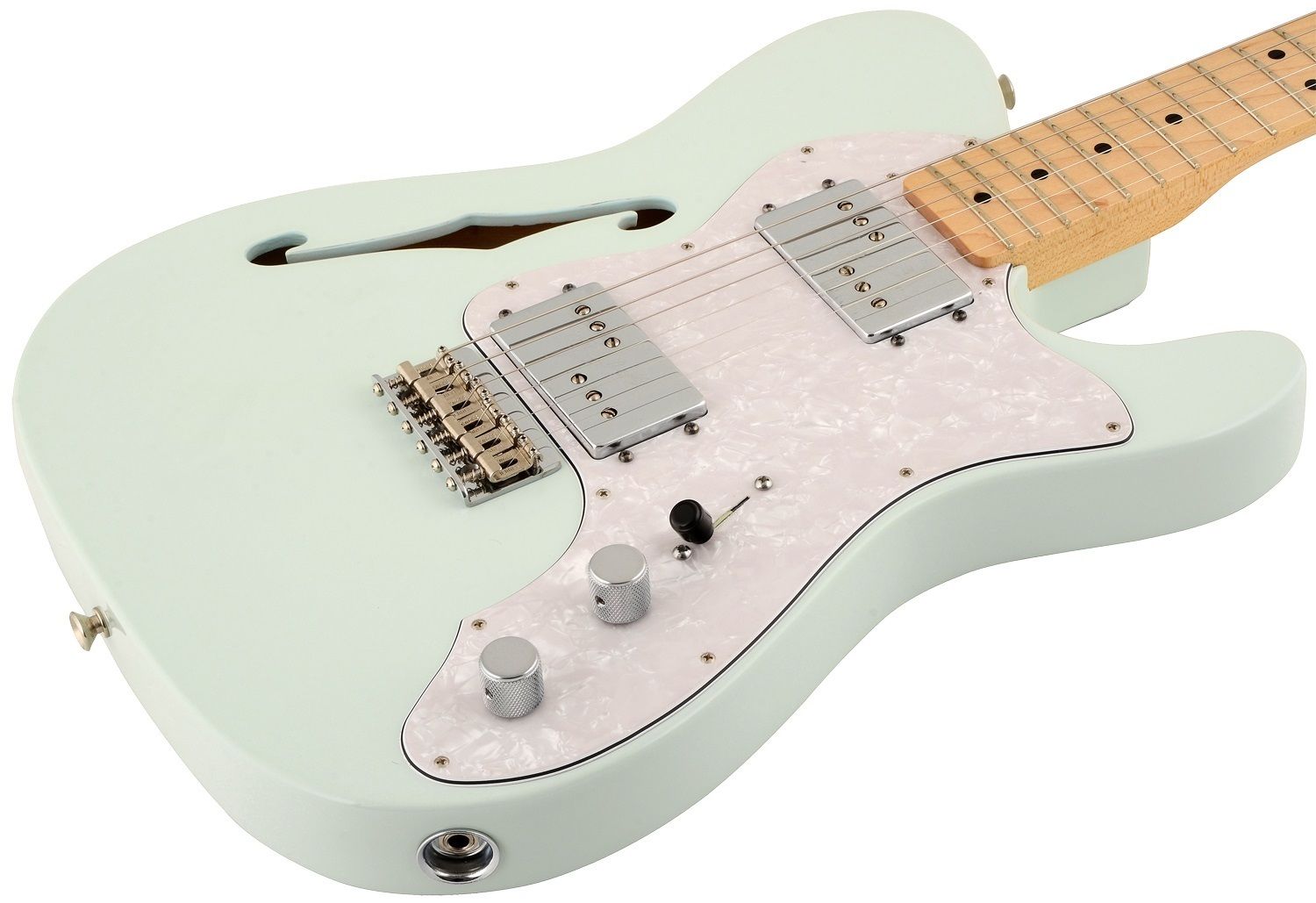 Below is an Olympic White Deluxe an FSR from 2007

In 2011 there was a run of 300 Customs in Sunset Orange Transparent on Polyester. The body was Ash and it featured two P90s.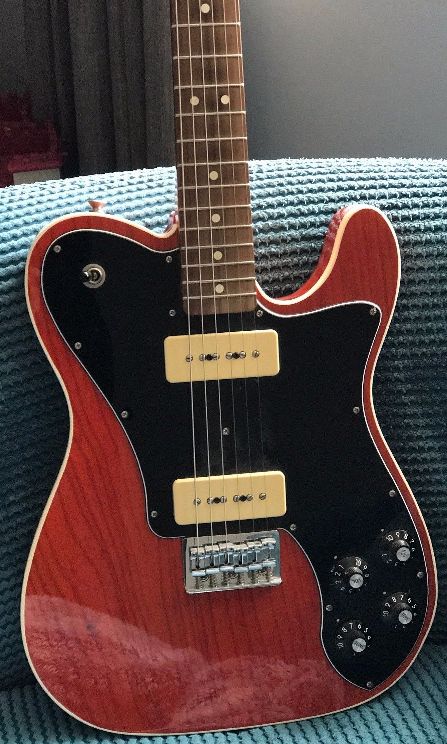 Below is a 2009 Deluxe FSR in natural with very figured wood