Bill Alston
ST 60s style
ST67-85 ST67-770 ST67-95
There are 3 models of ST67 the ST67-85 which appeared in 1989 to be replaced in 1990 by the ST67-770 again only lasted a year then reappeared as the ST67-95 in 1995 again only for about a year. The models all have identical specs except that the 770 has a lacquer finish.
Specifications
Body Alder Lacquer finish on the 770 only
Neck Maple Oval shape 324mm scale
Fretboard Maple 21 vintage frets 184mm radius
Headstock 60s style 60s gold transition logo 2 butterfly string trees truss rod adjustment at body end
Tuners Gotoh Diecast vintage style
Pickups 3 USA made vintage style
Controls 1 volume 2 tone 5 way switch All white
Nut 42mms synthetic bone
Hardware Chrome
Bridge Vintage style Steel block
Pickguard 11 hole white 3 ply
Colours Vintage White only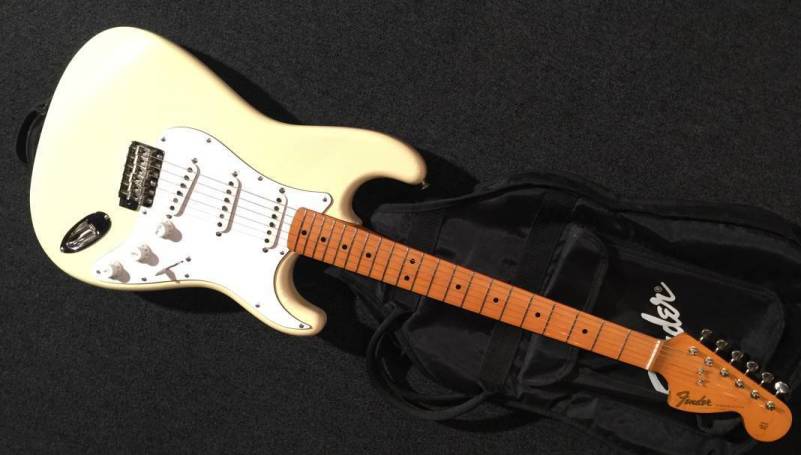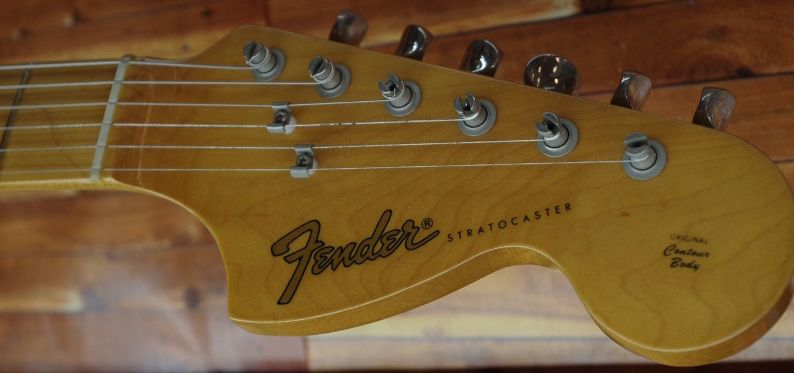 The ST67-95 with headstock detail
Update 28th February 2019
I have had an email from Tom who lives in Texas and has bought an ST67-95, his however is natural rather than vintage white. The guitar looks 100% genuine and I am sure it is. Showing once again that no information on MIJ guitars can ever be thought of as 100% complete. Thanks for the email and pictures Tom.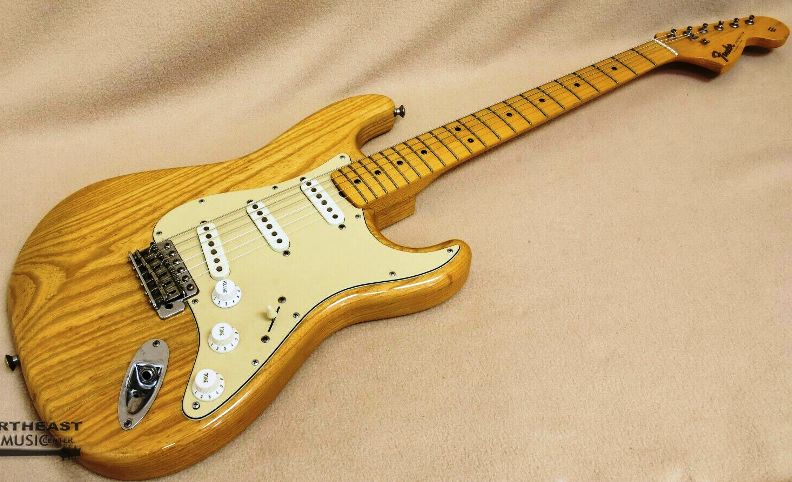 Tom's Guitar from the sale advert.
ST68-85TX ST68-92TX ST68TX
Identical models in all ways except the ST68 had additional colours. Originally released in 1996 as the 85TX became the 92TX around 2006 and the ST68TX in 2008 continued until at least 2013. They are part of the craft premium range.
Specifications
Body Alder
Neck Maple Oval shape 324mm scale
Fretboard Maple 21 vintage frets 184mm radius
Headstock 60s style CBS logo 1 butterfly string tree truss rod adjustment at body end
Tuners Schaller F Key
Pickups 3 USA made Texas Specials
Controls 1 volume 2 tone 5 way switch All white
Nut 40mms synthetic bone
Hardware Chrome
Bridge Vintage style Steel block
Pickguard 11 hole white 3 ply
Colours Vintage White only on all but the ST68TX which had 3 Tone Sunburst and Black as options
As might be expected the ST68-85TX was released at 85,000 yen and by 2013 the ST68TX was just short of 100,000 yen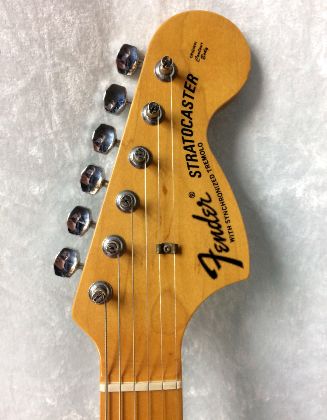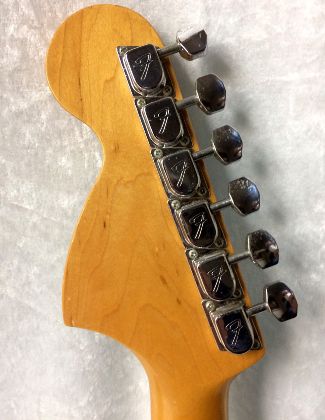 The ST68TX with headstock detail
The ST66G-90TX and The ST65B-88TX
These two models appeared in the 2005/6 catalogue and lasted a little over a year. The G is for gold and the B is for binding. They are very rarely seen in the west.
ST66G-90TX
Specifications
Body Alder
Neck Maple Oval shape 324mm scale
Fretboard Rosewood 21 vintage frets 184mm radius
Headstock 60s style Transition Logo 1 butterfly string tree truss rod adjustment at body end
Tuners Vintage Grover style Gold
Pickups 3 USA made Texas Specials
Controls 1 volume 2 tone 5 way switch All white
Hardware Gold
Bridge Vintage style Steel block
Pickguard 11 hole white 3 ply
Colours Black, Candy Apple Red, and Lake Placid Blue

ST65B-88TX
Specifications
Body Alder
Neck Maple Ivory Binding Oval shape 324mm scale
Fretboard Rosewood 21 vintage frets 184mm radius
Headstock 60s style Transition Logo 1 butterfly string tree truss rod adjustment at body end
Tuners Vintage Grover style
Pickups 3 USA made Texas Specials
Controls 1 volume 2 tone 5 way switch All white
Hardware Chrome
Bridge Vintage style diecast block
Pickguard 11 hole white 3 ply
Colours Black, Candy Apple Red, 3 Tone Sunburst, Vintage White and Lake Placid Blue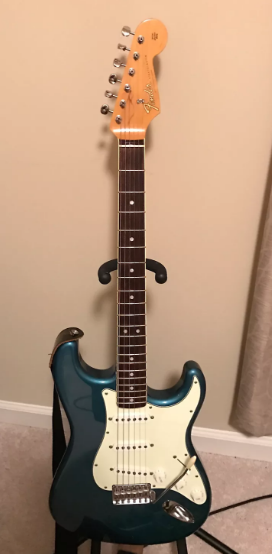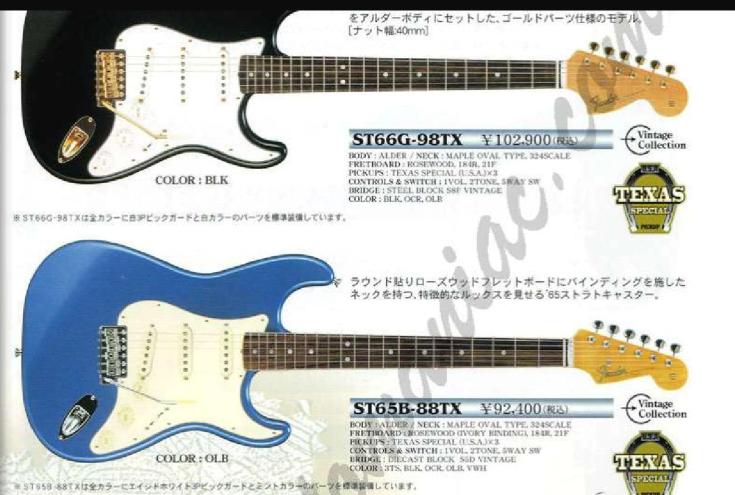 This small picture of the 65B and the catalogue Scan are the only pictures I can find of these. The guitar is Ocean Turquoise metallic which was an FSR
ST-80SPL
The 80 refers to the list price of 80,000 yen. This guitar is a 60s style strat not 80s. They were released in 2002 and lasted 3 or 4 years, they are recognisable by the gold hardware and very unusual colours.
Specifications
Body Ash
Neck Maple Oval shape 324mm scale
Fretboard Rosewood or Maple 21 frets 184mm radius
Headstock 60s style Gold Spaghetti Logo 1 butterfly string tree truss rod adjustment at body end
Tuners Vintage Kluson style
Pickups 3 USA made Texas Specials
Controls 1 volume 2 tone 5 way switch All white
Hardware Gold
Bridge Vintage style diecast block
Pickguard 11 hole white single ply
Colours Black Blue Velvet (BBV) White Purple or Pearl? Passion (WPP) and White Blue Velvet (WBV)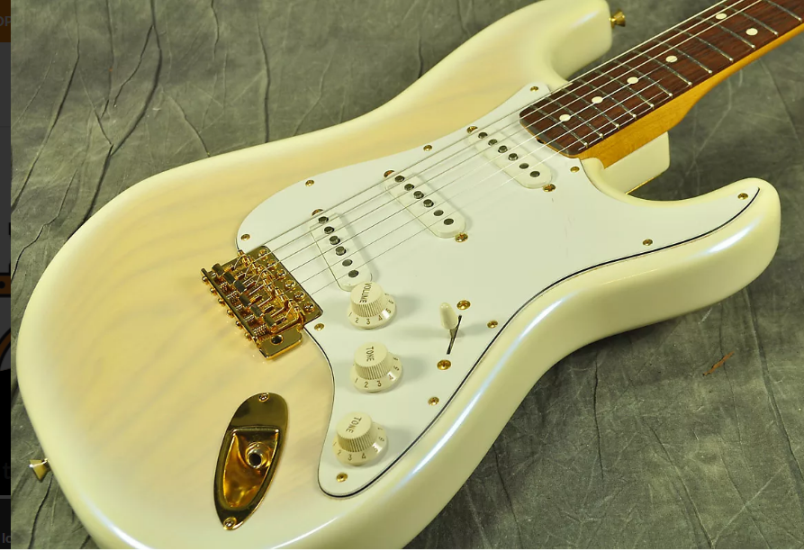 I have seen this colour referred to as White Purple Passion and White Pearl Passion Personally I don't see any purple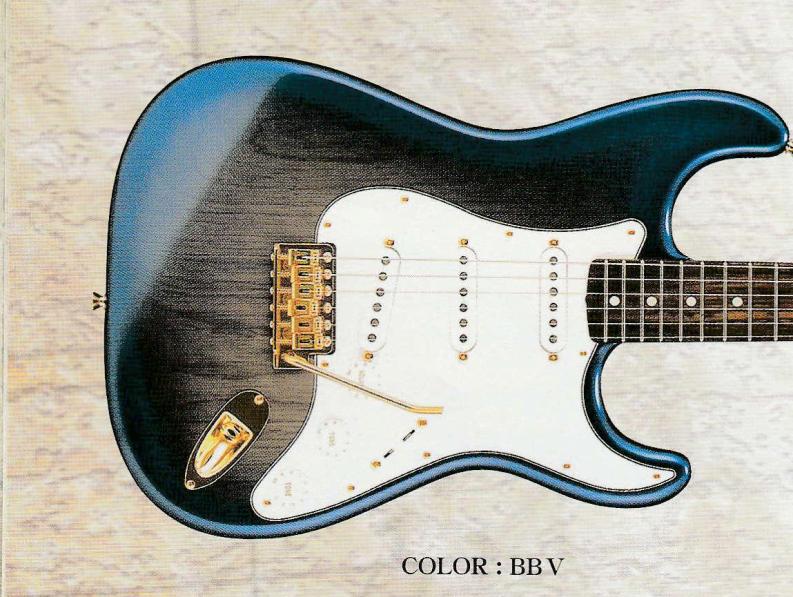 This is the Black Blue Velvet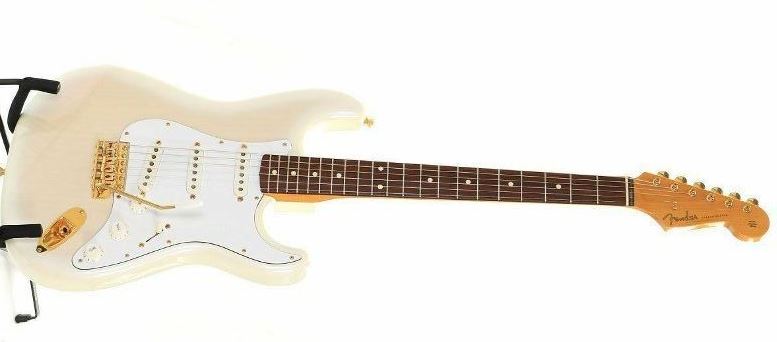 This is the White Blue Velvet doesn't look at lot different from WPP when you see them in the catalogue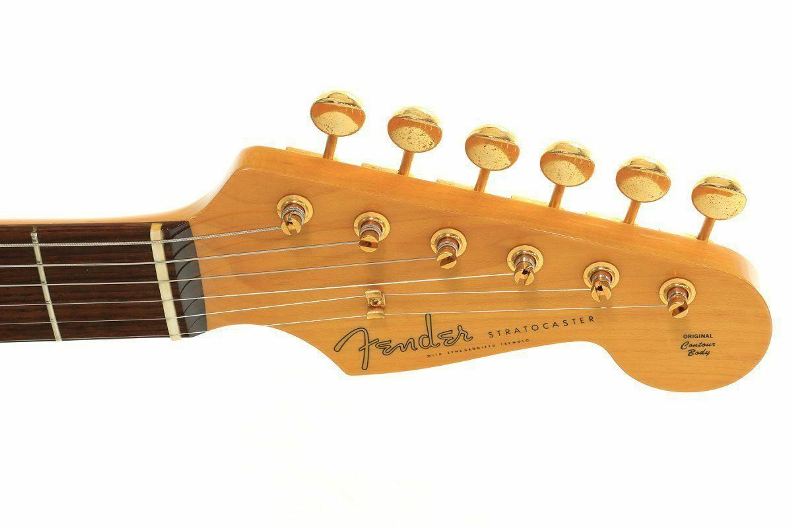 Detail of the headstock